When I wrote my article on IAMGOLD (NYSE:IAG), I said that this gold stock is a higher-cost producer and has several issues at core mines that should be taken into account. But, if 2016 will not be the right year for a rise in gold price, operating issues might cause problems of higher operating costs, and therefore, squeeze the operating margin further.
The strong balance sheet, the strong point of IAMGOLD, starts to deteriorate as well. Let's examine a couple of ratios that measure the financial strength of the company.
A current ratio of 3.8 is well above the ideal value (between 1.5 and 2), meaning that the company can easily fund its current liabilities and is tying up cash that might be used for other purposes, like paying down debt or making new investments. But it is getting worse.
The current ratio:
| | | | | | | | | | | |
| --- | --- | --- | --- | --- | --- | --- | --- | --- | --- | --- |
| In Millions of USD (except for per share items) | As of 2015-12-31 | As of 2014-12-31 | As of 2013-12-31 | | In Millions of USD (except for per share items) | As of 2015-12-31 | As of 2015-09-30 | As of 2015-06-30 | As of 2015-03-31 | As of 2014-12-31 |
| Total Current Assets | 951.90 | 1,184.70 | 736.60 | | Total Current Assets | 951.90 | 1,039.40 | 1,072.00 | 1,110.70 | 1,184.70 |
| Total Current Liabilities | 250.30 | 395.10 | 215.30 | | Total Current Liabilities | 250.30 | 232.50 | 212.10 | 242.60 | 395.10 |
| Current Ratio | 3.80 | 3.00 | 3.42 | | Current Ratio | 3.80 | 4.47 | 5.05 | 4.58 | 3.00 |
| Source: Google Finance | | | | | Source: Google Finance | | | | | |
When leveraging practices are examined, the company is in line with its industry, but needs to pay down debt since the company has difficulties to pay interest expenses on the outstanding debts.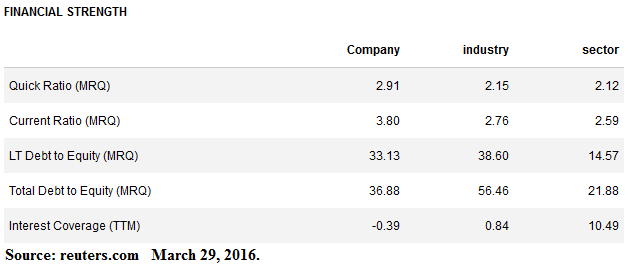 The cost of debt becomes too much for the company to handle at 6.75% coupon rate on $635M long-term debt that is not due until October 2020. During 2015, the company purchased $15.0 million (face value).
IAMGOLD is trying to find other ways to advance its exploration pipeline. After having cut dividend to zero to its shareholders, the company might further strengthen its balance sheet by the issuance of new shares/new debt. Even though there is not any real intention yet, the company might make offerings of common shares, preference shares, debt securities, warrants, subscription receipts or any combination thereof up to US $1 billion during the next 25 months in the United States and Canada.
Disappointing Operating Results
The two mines that contribute the most to the total gold production are Rosebel and Essakane. Together, they made 83% of the total gold production in 2015. But the operating margin is becoming thinner and thinner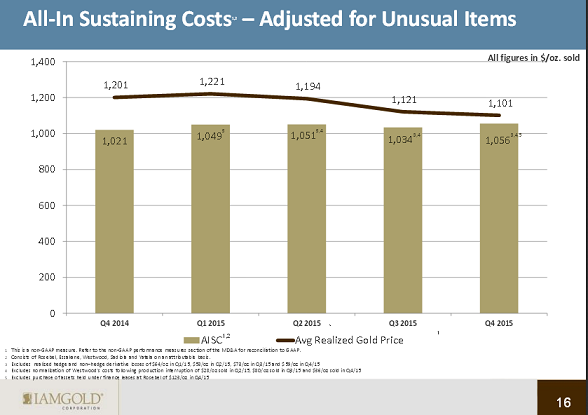 IAMGOLD's goal is to further reduce its AISC:
"Over the last few years we have cut costs by $ 175 million. Our goal at IAMGOLD is to reduce our all-in sustaining costs to $ 1,000 an ounce or lower."
During falling prices of the precious metal, the gold stocks usually manage to neutralize low gold prices by increasing operations at higher-grade mines (less gold production) and reducing operations at lower-grade mines in which costs of extractions are of course higher than those of higher-grade mines.
The production at Essakane, the main driver of IAMGOLD's attributable production in 2015, was a record. This was offset by lower grades at Rosebel and Sadiola, the closure of Mouska and lower production at Westwood. If the price of gold will not continue on its rally we have seen since the beginning of the year, the operating margin may become even smaller. It is not by chance that, in my opinion, the company took advantage of the favourable gold market prices and preferred to sell 135,148 ounces of gold bullion during the period starting February 16, 2016, through March 17, 2016, at an average price of $1,260 per ounce for proceeds of $170.3M. Moreover in 2016, gold production at Essakane is expected to be marginally lower than 2015 due to lower grades deeper in the pit.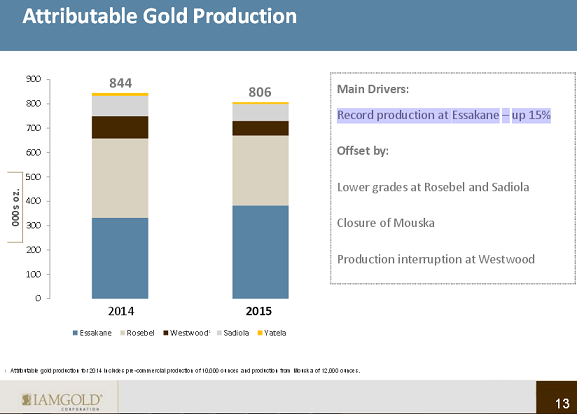 Since I don't think that the price of gold will continue its rally as we have seen since the beginning of this year, the stock will continue to produce disappointing financial results in terms of earnings.
For this reason, I think that at least for the whole year of 2016, the stock is just for short position, and I would keep an eye on analysts' estimates on EPS.
IAMGOLD is expected to announce the first-quarter financial results estimated on 05/03/2016, and there is a 62.5% probability for the share price to go down following the next earnings report.
Looking further into earnings reaction history, the stock had moved down 15 times out of last 24 quarters.
The probability that the stock will go down after the next earnings announcement has been estimated as the number of cases that are favourable to the occurrence of the event divided by the number of possible cases: (15 times/24 quarters) x 100 = 62.5%.
On the basis of IAMGOLD's earnings history, there is a 62.5% chance that the next earnings announcement, which will likely be "bad news," will push down the share price, whether the impact of the "bad news" on the share price will or will not be statistically significant.
Disclosure: I/we have no positions in any stocks mentioned, and no plans to initiate any positions within the next 72 hours.
I wrote this article myself, and it expresses my own opinions. I am not receiving compensation for it (other than from Seeking Alpha). I have no business relationship with any company whose stock is mentioned in this article.