The strength of the Canadian banks is undeniable. During and after the global credit crisis, the Canadian banks became recognized as global leaders. The respect that Canadian banks receive from their global peers is supported by their consistently strong returns on equity at levels significantly exceeding their U.S. counterparts.
In the Canadian banking industry, five banks stand above the rest in terms of assets, deposits and capitalization. These five banks are referred to colloquially as the "Big Five." They could rightly be called "flagship" banks in the international banking community, standing as a model of banking stability and financial reliability, in spite of the financial crises that emerged within the banking sectors of other countries, most notably the U.S. banks.
All five are headquartered in Toronto and classified as Schedule 1 domestic banks operating in Canada under government charter. Cumulatively, the Big Five banks account for close to 90% of the banking industry in Canada.
"Big Five" Canadian Banks
| Name | Ticker | Mkt Cap | Assets | Deposits | FWD P/E | P/BV |
| --- | --- | --- | --- | --- | --- | --- |
| Royal Bank | RY | $110.1B | $655B | $400B | 10.6 | 1.73 |
| Toronto-Dominion | TD | $102.3B | $560B | $390B | 11.0 | 1.50 |
| Bank of Nova Scotia | BNS | $75.1B | $500B | $350B | 10.1 | 1.43 |
| Bank of Montreal | BMO | $50.1B | $390B | $235B | 10.6 | 1.31 |
| CIBC | CM | $37.9B | $336B | $223B | 10.0 | 1.81 |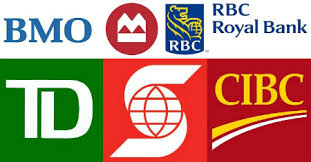 The "Big Five" has become an outdated moniker. The assets held by Canadian banks have ballooned in size over the last decade. Canada's massive banks have crossed the threshold into gargantuan territory. Toronto-Dominion Bank and Royal Bank of Canada became Canada's first trillion-dollar banks, measured by total assets, and Scotiabank is not far behind. Only four banks in the U.S., an economy 10 times the size of Canada, have crossed into trillion-dollar territory, reinforcing how massive these institutions are in relation to the overall Canadian economy.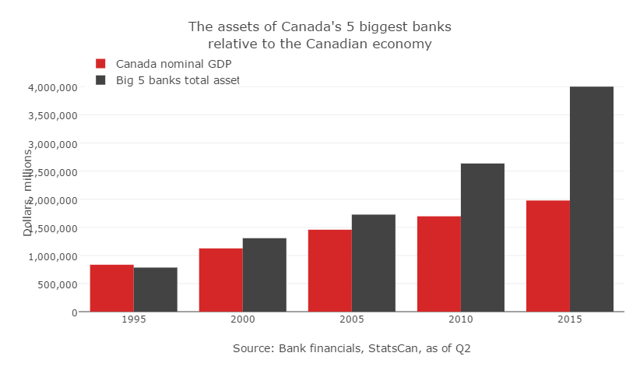 However, Canadian bank stocks, including the Big Five banks, have fallen out of favor in the past 12 months. During this period, the price of oil has tanked. The Canadian oil patch and broader Canadian economy are struggling, taking the "loonie" down with them. Canadian government finances and the country's exports are deteriorating. And Canadian households are carrying the largest debt-to-income load in the G7, with household debt at almost 170% of disposable income: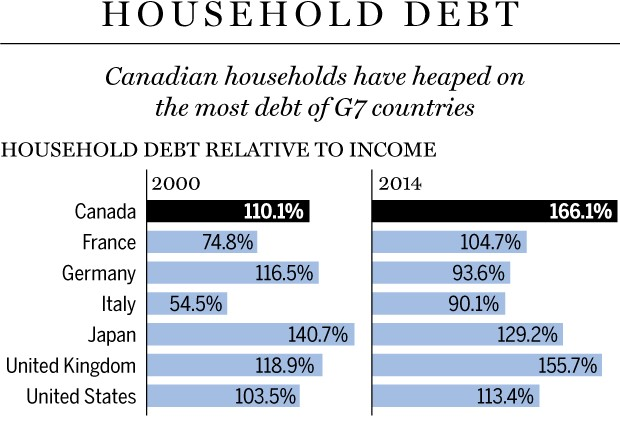 Source: Office of the Parliamentary Budget Office
Near-record low interest rates, in response to successive Bank of Canada cuts to its trendsetting lending rate, have contributed to the high levels of household debt. And low interest rates, in turn, are squeezing the banks' lending margins.
The housing market is nervous, as low interest rates have stoked house prices to record highs. Some analysts fear an "asset bubble." This in turn has triggered concerns that many Canadians are in over their heads with "cheap" mortgages and could face a financial crisis if the residential market were to experience a major correction in the event the economy slows further or, more seriously, heads back into recession.
It is a testament to the quality of Canada's Big Five banks that, despite these significant challenges, they continue to enjoy a high degree of success. But despite their long record of success, the Big Five banks are among the most heavily shorted names on the Toronto Stock Exchange (TSX) - four out of the Big Five are in the top 20. Toronto-Dominion Bank is at the top of the list as the most shorted stock on the TSX. The Bank of Nova Scotia is third on the list, Royal Bank of Canada is ninth, and the Bank of Montreal is 19th on the list. Strangely, given its higher exposure to the Canadian domestic economy, Canadian Imperial Bank of Commerce is the only Big Five bank not in the top 20.
The Big 5 Canadian banks are likewise heavily shorted on the New York Stock Exchange. In the case of the NYSE, I used a more meaningful measure than looking simply at the list of companies with the largest number of shares shorted. This list is dominated by companies with hundreds of millions of shares outstanding. For the Canadian banks, a better gauge for their NYSE listings is the "short interest ratio," also known as "days to cover," a sentiment indicator that divides the number of shares sold short by the average daily volume for the stock, thus yielding the number of trading days required to close out the short position.
By this measure, three of the Big Five Canadian banks make it into the top 50, and a fourth narrowly misses making the list. CIBC is second on the list, at 67 days to cover, Royal Bank is 20th, at 22 days to cover, and Bank of Montreal is 32nd, at 19 days to cover. Bank of Nova Scotia, the most international of all Canadian Banks, just misses the top 50 list, at 18 days to cover, while Toronto Dominion Bank, the Big Five bank with the greatest exposure to the U.S. consumer and economy, is well down the list, at 6 days to cover. There are almost 2,700 companies listed on the NYSE, and only 77 of them have the TSX as their primary index, so it is significant that four out of the Big Five Canadian banks are in the top 50-plus stocks on the NYSE with the highest short interest ratios.
Canadian Imperial Bank of Commerce
The Canadian Imperial Bank of Commerce, commonly known as CIBC, was formed through the merger of the Canadian Bank of Commerce and the Imperial Bank of Canada, which were established in Toronto in 1867 and 1875, respectively. CIBC serves more than 11 million clients, and has over 40,000 employees.
American investors' pessimism regarding CIBC reflects its greater exposure to the Canadian consumer and domestic economy. It is essentially a play on the Canadian domestic market, which represents two-thirds of its business, versus an average of 40% for its peers. For this reason as well, CIBC has tended to trade at lower multiples than its Big Five peers over time.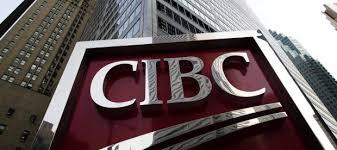 On February 25, CIBC announced strong first quarter 2016 results. Total revenue increased 3.7% to $3.59 billion, net income increased 7.6% to $1.03 billion, earnings per share increased 8.1% to $2.55, and book value per share increased 14.3% to $52.56.
At today's levels, CIBC's stock trades at 10.1x fiscal 2016's estimated EPS of $7.22 and 9.8x fiscal 2017's estimated EPS of $7.44. This is inexpensive compared with its five-year average P/E multiple of 11.2 and the industry average multiple of 12.8. With an estimated 4.7% long-term earnings growth rate, CIBC's stock could trade at a fair multiple of at least 12x, or upwards of $92.90 by the end of 2017, an upside of 27% from today's level.
Furthermore, CIBC is a dividend champion. It pays a quarterly dividend of $1.18 per share, or $4.72 annually, giving it a current yield of 4.9%. CIBC has raised its dividend for six consecutive quarters and annually for six consecutive years, including its first quarter of fiscal 2016. CIBC has a target dividend-payout ratio of 40% to 50%. Its consistent growth should allow its string of dividend hikes to continue in the future.
Toronto-Dominion Bank
Commonly known as TD, the Toronto-Dominion Bank was created in 1955 through the merger of the Bank of Toronto and the Dominion Bank, which were founded in 1855 and 1869, respectively.
It is puzzling that TD Bank is so heavily shorted on the TSX, as it is arguably the "safest" of the Big Five banks. TD has relatively little exposure to the energy sector and lower exposure to Canada's oil-producing regions. The bank is heavily concentrated in areas that benefit from low oil prices, such as Ontario and particularly the eastern United States, where it has made a big bet. It now has more bank branches on the U.S. East Coast than in all of Canada. Further, TD derives over 90% of its profit from retail banking, which is less volatile than Capital Markets. With a trailing P/E ratio of 13.6, TD is more expensive than its Big Five peers by this measure; however, its price-to-book (P/BV) ratio of 1.52 is in the middle of the pack.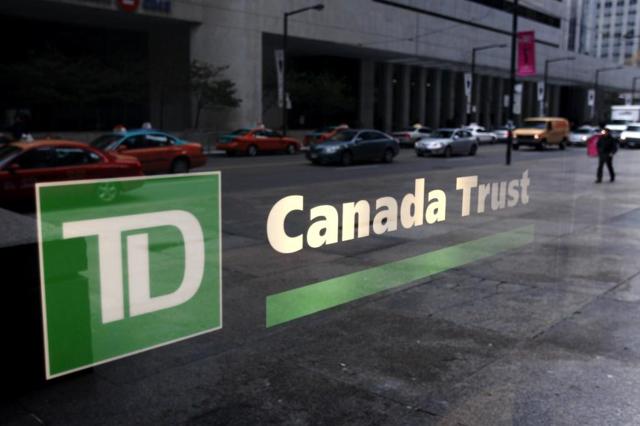 Source: Reuters
In February, TD Bank announced its first quarter 2016 results, delivering another solid quarter. TD's Canadian operations demonstrated strong resilience to low oil prices and solid expense control, in reporting year-over-year earnings growth of 4%. TD's Canadian operations held year-over-year expenses flat compared to fiscal 2015. And TD's impaired loans were only 0.28% of total gross loans, also consistent with fiscal 2015. TD Bank's Q1 results benefited from its large U.S. operations, which generate about one-third of the bank's earnings. These operations are benefiting from the relatively strong U.S. economy and U.S. dollar. And the U.S. Federal Reserve has begun to raise interest rates, which will help lift the bank's interest income.
If oil prices improve, TD Bank should be able to deliver higher than expected earnings growth, combined with valuation improvement in the form of multiple expansion, reflecting TD's more positive growth prospects compared to its Big Five peers, given its strong U.S. presence and disciplined approach to cost management.
Analysts are expecting TD to earn $4.75 per share in 2016, which means that its stock is currently trading at 11.1x 2016 earnings estimates, below TD's 10-year average of 11.6x. The same analysts are modeling TD to trade at 12.8x 2016 earnings, which is above its peer group because of TD's better growth outlook versus its peers. This would mean a share price of $47.00, or 8% higher than the current price. If oil prices were to improve further, TD's earnings could outstrip analysts' estimates, driving its share price higher still.
TD Bank's own medium-term annual earnings growth objective is 7% to 10%. However, CEO Bharat Masrani, not surprisingly, stated recently that it would be difficult for TD to achieve this objective in 2016. Analysts covering TD Bank appear to agree. They have muted earnings growth expectations of only 3% for 2016. It is worth noting that most analysts were pessimistic about TD's ability to hit its target range for 2015, but it did.
There are several assumptions baked into the dampened growth outlook for 2016. For one, in its oil-price stress tests to gauge the impact of oil prices on loan losses, TD assumed oil prices would average about $35 in 2016, then gradually recover to $50 over a four-year period. This outlook appears conservative. If oil prices rise above TD's stress-test level, this would reduce provisions for credit losses, resulting in higher than expected earnings.
Bank of Nova Scotia
Just below Toronto-Dominion Bank at third on the list of most heavily shorted TSX stocks is the Bank of Nova Scotia.
The bank was incorporated by the Legislative Assembly of Nova Scotia on March 30, 1832, in Halifax, Nova Scotia. Scotiabank, as it is commonly known today, is Canada's "most international bank." International banking accounted for 27% of the bank's annual earnings in fiscal 2015, compared with 50% from Canadian banking and 23% from its capital markets unit.
Scotiabank serves more than 23 million customers in over 55 countries around the world. In addition to North America, it has a meaningful presence in Latin America, the Caribbean, Central America, and parts of Asia. The population in all of its geographies outside North America is growing at a healthy rate and there remains a large "unbanked" population in each region, providing good opportunity for Scotiabank to grow. International opportunities come with a higher risk profile, including an increased exposure to oil and other commodities.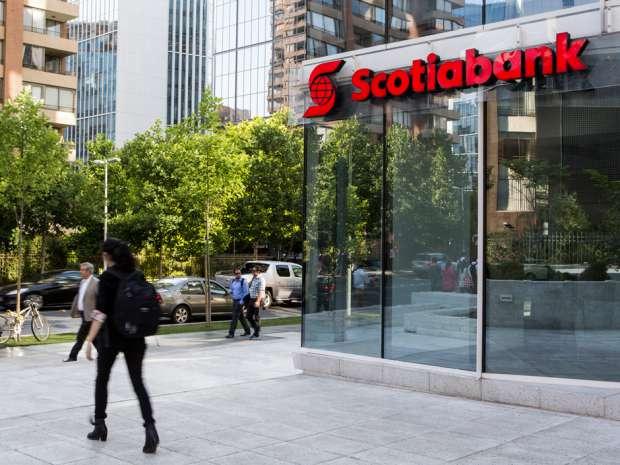 A Scotiabank branch in Chile. Chile is one of four Latin American countries the bank is targeting for future earnings growth. Source: Bloomberg
Scotiabank is focusing on four key Latin American countries with the best growth opportunities. They are Mexico, Chile, Columbia and Peru - the so-called "Pacific Alliance nations." It is targeting to increase earnings in these countries by as much as 11% within three to five years, by growing its customer base, embracing banking technologies and cutting costs. Over this time frame, its objective across the Pacific Alliance is to deliver a productivity ratio of less than 52%, positive operating leverage and a more compelling and "digitized" customer experience.
Scotiabank CEO Brian Porter has been positioning the bank to act on the anticipated bank consolidation in Mexico, its largest Latin American business, as well as acquisition opportunities in Peru, Colombia and Chile, and I expect to see at least one acquisition announcement across this region this calendar year.
The bank has made incremental acquisitions in the region in the past two years, including buying credit card and consumer loan businesses in Chile, and Citigroup's retail bank branches in Peru, Panama and Costa Rica.
Despite a recent rally, Bank of Nova Scotia trades at a forward P/E of just 10.3x, about in line with CIBC, but below its other Big Five peers, suggesting that any potential downside from its exposure to higher risk geographies in the current cycle is likely priced in.
Royal Bank of Canada
Founded in 1864 in Halifax, Nova Scotia, the Royal Bank of Canada is the largest bank in Canada by market capitalization and second largest by assets.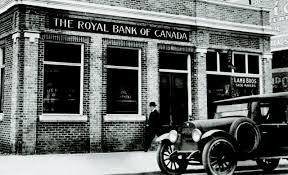 Source: Royal Bank of Canada website
Despite economic headwinds, the Royal Bank continues to deliver solid results. It became the first Canadian bank to achieve $10 billion in profits in 2015, an increase of 11%, or more than $1 billion over the prior fiscal year. In addition, it increased its dividend by 8%, delivered strong return on equity of 18.6% and strengthened its Common Equity Tier 1 capital ratio to 10.6%. Since 2005, RBC has increased its dividend by an annualized rate of 10%.
Royal Bank's CEO Dave McKay calls the U.S. its second home market. The bank recently completed an immediately accretive $5 billion acquisition of Los Angeles-based City National Bank, a private and commercial bank focused on high-net-worth clients. The acquisition is strategically important on a number of fronts. It expands RBC's presence, capabilities and brand awareness in the most important banking market in the world, as well as creating a powerful platform for long-term growth in the U.S., providing significant opportunities to build deeper client relationships, and strategically adding top talent to Royal Bank's depth chart.
Like its other Big Five banking peers, RBC has responded to the overhang created by the sluggish macroeconomic environment by lowering costs. It cut 900 jobs in Canada and the U.S. and is actively engaged in simplifying its operations, increasing efficiencies and stimulating growth of retail deposits. These new deposits are new opportunities to cross-sell into credit products.
The Royal Bank has a favorable risk profile anchored by its balanced revenue stream. It generates 52% of its income from its personal and commercial banking operations, 24% from its capital markets division, 11% from the wealth management group, 7% from its insurance segment, and 6% from its investor and treasury services business.
The emergence of mobile "banking" competitors poses a threat to traditional banks. Royal Bank is fighting back by investing in new technologies and partnering with so-called FinTech start-ups and some of the top players in digital commerce. For example, the bank recently signed agreements with Uber (UBER) Canada and Airbnb (AIRB) Canada and continues to roll out "mobile wallet" technologies for its customers.
Outlook
Every short seller eventually becomes a buyer. When sentiment shifts, there is upside for these stocks. We have already had a taste of this, thanks to a rebound in oil and other commodity prices, but I believe this is still growing legs.
By conventional valuation measures, the Big Five Canadian bank stocks are now more attractive than at any time since March 2009. They currently trade below historical valuation levels, with a median price-to-book value ratio of 1.6x compared to the 2.0x historical average over the last 10 years. On a forward price-to-earnings ratio basis, the Big Five are trading at 10.5x, compared to an average of 11.3x over the last 10 years.
The average dividend yield for the Big Five banks is currently 4.4%. This is also above the historical average, as well as historical levels relative to other Canadian sectors and Canadian Government bond yields, which suggests upside to current price levels.
While gross impaired loans in the first quarter of 2016 increased by 14% sequentially and by 16% versus Q1 2015, they still remain low relative to loan books, at just 0.69%, versus the long-term average since 2000 of 0.96%. And credit card loss rates increased very modestly in the first quarter, up only 1 basis point from the prior quarter. They are very distant from "stressed" levels.
The Canadian bank group provision for credit losses ratio of 37 basis points is low compared to the long-term average (since 1984) of 74 basis points. Oil prices have recently rallied from a low of $29 per barrel to $39.04 per barrel at the time of writing. A sustained higher oil price would reduce PCL ratios.
Canadian banks are trading below the line of a price-to-book value versus forecast return on equity, based on regression analysis, which implies higher multiples compared to current levels.
Long-time market strategist Scott Barlow, writing in The Globe and Mail on March 24th, performed an interesting study on the correlation between the P/BV ratio for the Canadian bank index, which is dominated by the Big Five banks, to predict forward 18-month returns for the sector. On the chart below, the lines depict the P/BV (inverted to better illustrate the trend) for the S&P/TSX bank index and the performance of the index in the 18 months following that point. The correlation between a lower P/BV and a higher return is intuitively clear - and clearly illustrated on this chart.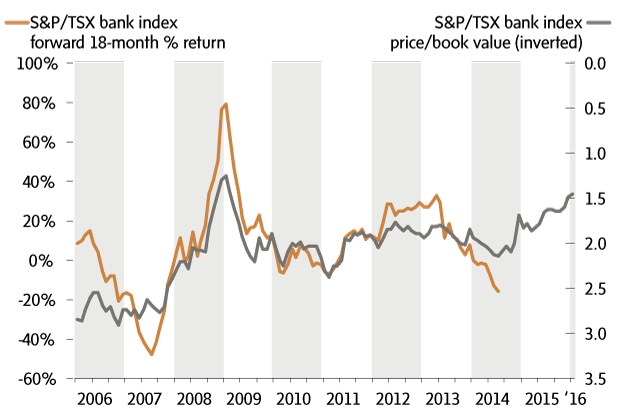 Source: The Globe and Mail, March 24, 2016
A Future Not Without Challenges
Earnings challenges remain. Higher oil prices help, but it's too early to change the cautious analyst-consensus view on EPS growth of 3% for the large Canadian banks in 2016, rebounding to 8% in 2017.
The Canadian credit environment could deteriorate from the double whammy of continued low oil prices and higher retail losses, with the weakening employment environment in Alberta and Canada more broadly.
Oil and gas impaired loans and loan losses increased in the banks' first quarter of 2016, totaling $1.1 billion, compared to $709 million the prior quarter. Higher loan losses in the coming quarters may keep valuation multiples below historical levels, barring a continued material recovery in the price of oil.
Canada's Big Five banks have weathered commodity crashes before. They continue to face change, including advancements in disruptive technology, new competitors and a corresponding evolution in client needs and expectations. In the same way technology upstarts ravaged industries as diverse as print media, movies, music, and even taxis, a bevy of FinTech companies are going after banking profits. The Canadian banks are keenly aware of what's at stake. Facing these challenges, they are investing heavily in technology to power their efficiency drives and protect their market share.
Conclusion
Is this a good time to buy "Big Five" Canadian bank stocks? Naturally, I can only really answer that question from my perspective. Your investment plan and portfolio is going to be different because every individual has unique circumstances and cash flow needs.
I have a long investment horizon. Like Mr. Buffett, my favorite holding period is "forever." I am a share owner, not a share renter. I don't have any 10-baggers in my portfolio. I don't need to hit home runs; singles, doubles and the odd triple will suffice. But I do need to avoid striking out - I need to avoid disasters. I define "disaster" (and "risk") in four words: "permanent loss of capital."
To sum up my investing methodology in four compound words, it is "Long-Term, Large-Cap, Value-Oriented, Dividend-Growth." For me, the "Big Five" Canadian banks are core holdings; I own four out of the five - RY, TD, BNS and BMO.
I have held them for so long that the dividend percentage yield on my cost basis is double digits. They have been huge winners for me, and at this time, I don't plan to ever sell them. I bought additional shares of RY on weakness last week.
From an aesthetic perspective, the graph below is not very pretty. I don't have the fancy tools to create graphs that other Seeking Alpha authors possess. But the percentage growth figures represented on the ordinate of the graph are a thing of beauty. Best-to-worst performance since January 1, 1991: BNS at over 2,000%, TD, RY, and BMO at 1,000+%, CM respectable: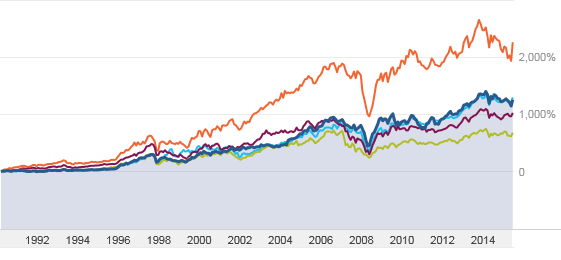 Disclosure: I am/we are long TD, RY, BMO, BNS.
I wrote this article myself, and it expresses my own opinions. I am not receiving compensation for it (other than from Seeking Alpha). I have no business relationship with any company whose stock is mentioned in this article.