After having discussed several smaller oil plays in the recent past, I wanted to see if the larger -- but uncovered -- oil and gas companies could also offer some long-term value. I decided to dig into Seven Generations Energy (OTC:SVRGF), which currently has a market capitalization of approximately $4B.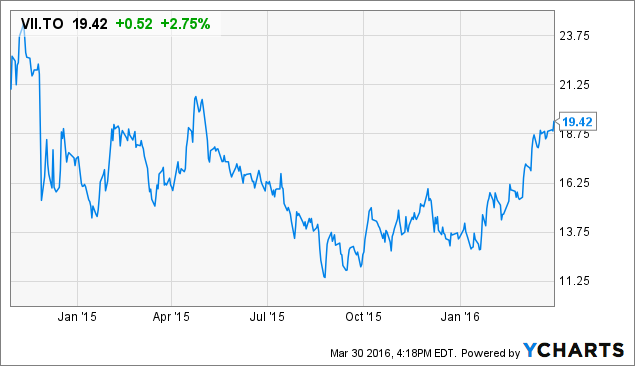 Despite its size, Seven Generations doesn't have a decent listing in the United States. So, for liquidity purposes, you might be better off investing through the facilities of the Toronto Stock Exchange, where the company is trading with VII as its ticker symbol (quite symbolic).
How Long Can Seven Generations Energy Continue to Overspend on Capex?
As noted above, Seven Generations is quite a big producer. While the total oil-equivalent production rate in FY 2014 was "just" 31,136 barrels per day, this almost doubled to 60,400 barrels per day in FY 2015. On top of that, Seven's most recent quarter was exceptionally strong with a 76% increase in the production rate vs. Q4 of FY 2014.

Source: Company Presentation
That's great, but it's difficult to really describe Seven Generations Energy. The company describes itself as a natural gas producer with a considerable production of liquids, and that's probably the best way to describe VII, as approximately 60% of its production rate consists of crude oil, condensate and natural gas liquids. The company's operating expenses are exceptionally low, and the total cost to operate the wells, the royalties and the transportation expenses are just US$6.75 per barrel of oil equivalent. The company received approximately $18/barrel (excluding the impact from the hedge book in the final quarter), so the margins are pretty decent.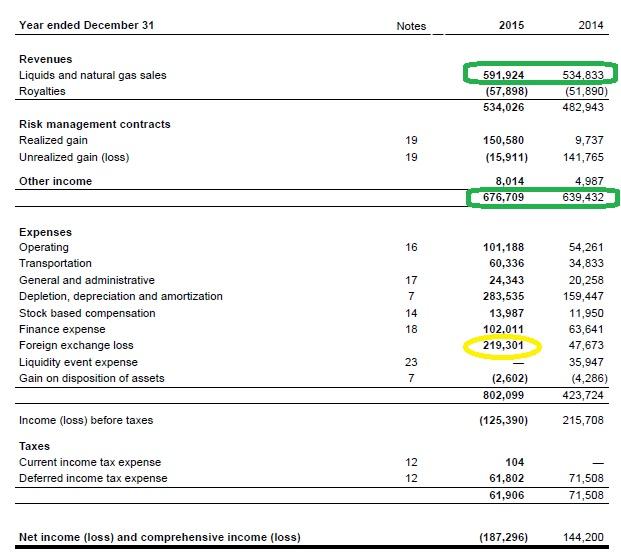 Source: Financial Statements
Thanks to the 94% increase in the total production rate, the lower oil and gas price wasn't crushing the company's top line as the company posted a revenue increase of approximately 11% before the impact of the hedge book. When including the profit from the "risk management contracts," the revenue increased to C$677M ($510M). Unfortunately, Seven Generations' interest expenses and foreign exchange loss have pushed the company into the red, and the net income of US$110M in FY 2014 was changed into a net loss of US$140M in FY 2015.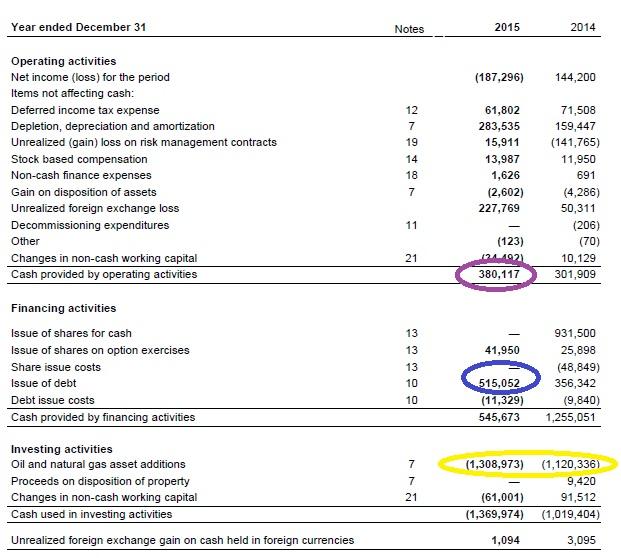 Source: Financial Statements
There's no need to panic just yet, as Seven Generations' operating cash flow also increased in excess of 25% to $285M. That's great and a very nice performance, but as the total capex was US$1B, Seven Generations had to rely on external financing to fund the high capital commitments.
The Recent Capital Raise Is a Good Move, and the Commissioning of the Processing Plant Is the Next Milestone
That's why Seven Generations issued $400M worth of debt. On top of that, the company just recently closed an additional US$225M capital raise by issuing new shares at approximately US$11/share.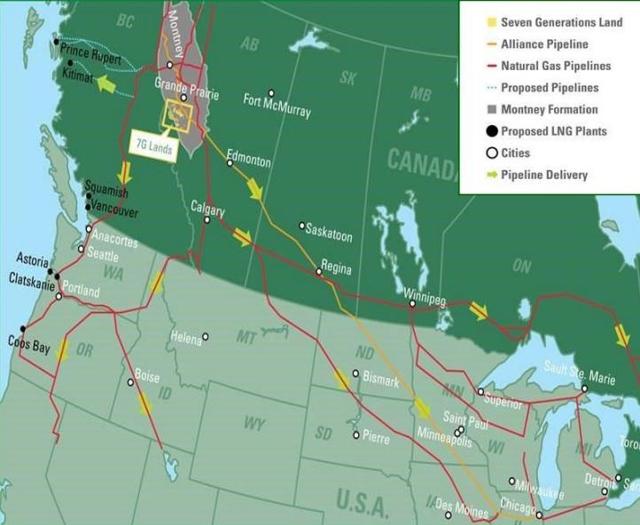 Source: Company Presentation
This tells you two things. First, Seven Generations doesn't want to add too much leverage to its balance sheet. Second -- and this might be even more important -- the debt and equity markets are still open for this large producer, especially as it has ambitious growth plans.
Indeed, after almost doubling the production rate in 2015, it will almost double it once again in FY 2016 as the new Cutbank plant is currently being commissioned. Once the start-up and ramp-up are completed, Seven Generations is expecting to produce an average of 110,000-120,000 boe/day -- which means the exit rate will be north of 120,000 barrels per day. This means that in less than three years time, Seven Generations' oil-equivalent production rate will have grown sixfold. This will also increase the operating cash flow (despite the low oil and gas price), but still won't be sufficient to cover this year's total capex plans of $675M.
That's not necessarily a horrible situation for Seven Generations Energy, as I was positively surprised by the company's reserve update in 2015. The total gross proved, developed and producing reserves more than doubled to 73.3 million barrels, while the total proved and probable reserves increased to a stunning 859M barrels. This resulted in a PV10 (the present value of the oil and gas production discounted by a discount rate of 10%) of US$5B. After deducting the net debt position of approximately $875M, the attributable PV10 to Seven Generations' shareholders is $4.125B. That's roughly in line with the current market capitalization of the company.
Investment Thesis
The thing is, with a relatively high decline rate (in excess of 40%, according to Northern Blizzard's company presentation), Seven Generations will never be a low-capex operation. So, a higher oil and gas price will most definitely be needed to support the company's activities in the future. The future capital expenditures very likely won't fall below the level that's expected in the current financial year, so it will be very interesting to see how gas prices will develop this year.
I currently have no position in Seven Generations Energy. As the company seems to be pretty fairly valued, I don't think I will initiate one anytime soon as I prefer low-capex oil and gas operations, as I'm still quite cautious.
Disclosure: I/we have no positions in any stocks mentioned, and no plans to initiate any positions within the next 72 hours.
I wrote this article myself, and it expresses my own opinions. I am not receiving compensation for it (other than from Seeking Alpha). I have no business relationship with any company whose stock is mentioned in this article.