Acquisitions continue like clockwork at IBM (NYSE:IBM). And the same apparently holds for layoffs. Germany's Berlin Morning Post reports (citing local trade union Verdi) IBM plans to cut nearly 1,000 German jobs by March 2017 - the company currently has 16,500 employees in Germany, down from 21,100 in 2009. The job cuts are said to hit various services units.
In addition, Facebook group Watching IBM reports 17% of Big Blue's U.S. tech sales force will be laid off to make room for new "Open Source positions," and that it has heard 185 layoffs were announced for Australia/New Zealand three weeks ago. The group has also reported 225, 160, and 900 workers will respectively be laid off in Sweden, Denmark, and Germany - the last part appears to back up the Berlin Morning Post's report. Last November, WirtschaftsWoche reported IBM is thinking of cutting up to 3K German jobs over the next two years.
Layoffs, of course, are nothing new for IBM. But the latest reports suggest the pace of job cuts could be picking up again after slowing down in 2015. Big Blue's headcount fell by only 0.5% last year to 377,757, after dropping 12% in 2014.

Source: IBM's 2015 annual report
IBM's two-part strategy
In a sense, the layoff reports and today's announcement regarding the acquisition of cloud software consulting/implementation service provider Bluewolf (reportedly for over $200 million) are linked, as each further one part of IBM's two-pronged strategy to offset secular declines for large portions of its on-premise enterprise hardware, software, and services ops. The first is to boost near-term EPS via job cuts, buybacks and (with the help of financial engineering) lower tax rates. The second is to make a series of acquisitions targeting high-growth tech segments (more often than not related to cloud services and/or analytics).
Regarding the second prong, it's worth noting Salesforce.com (NYSE:CRM), the cloud CRM software giant whose products account for a large portion of Bluewolf's consulting/implementation business, continues seeing rapid growth: Salesforce's FY17 (ends Jan.'17) consensus sales estimate of $8.12 billion implies 21.8% Y/Y growth and its FY18 estimate of $9.72 billion implies 19.7% growth. Billings are expected to be higher than sales.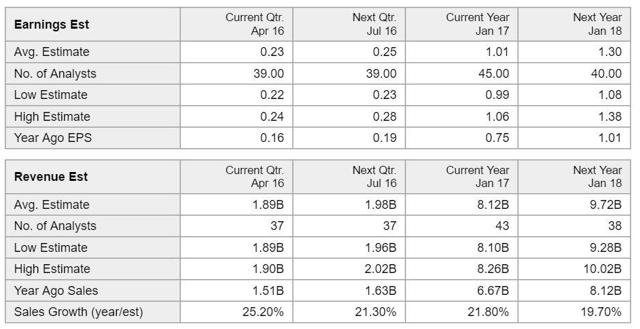 Salesforce consensus estimates. Source: Thomson Reuters (via Yahoo Finance).
Also of note: The Bluewolf acquisition follows a Sep. 2015 deal to buy Meteorix, a top provider of consulting/implementation services for cloud HR/financials software leader Workday's (NYSE:WDAY) products. Like Salesforce, Workday continues growing rapidly.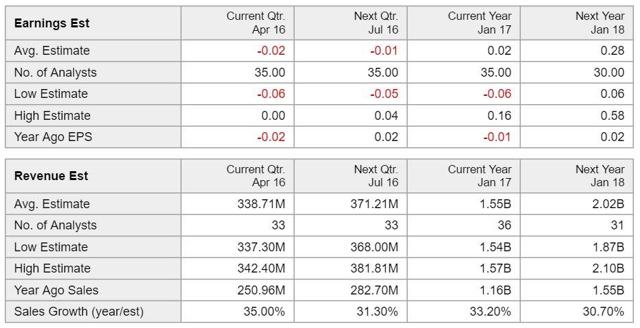 Workday consensus estimates. Source: Thomson Reuters (via Yahoo Finance).
And earlier in March, IBM announced the purchase of Optevia, a British cloud software systems integrator specializing in Microsoft Dynamics CRM implementations. Microsoft (NASDAQ:MSFT) announced in its calendar Q4 report licensed seats for Dynamics CRM Online (the cloud version of Dynamics) more than doubled Y/Y for the fifth straight quarter.
Other recent IBM acquisitions are also focused on high-growth markets: Resilient Systems targets cybersecurity, Truven Health Analytics healthcare data/analytics services, Ustream online video delivery and IRIS Analytics payment fraud analytics software.
But for now, IBM's two-pronged approach isn't doing enough to keep sales and EPS growth positive: Revenue fell 9% Y/Y in 2015 after adjusting for divestitures (it fell 1% if you also back out forex) and EPS from continuing ops dropped 10% to $14.92. More pain is expected in 2016, followed by some stabilization in 2017.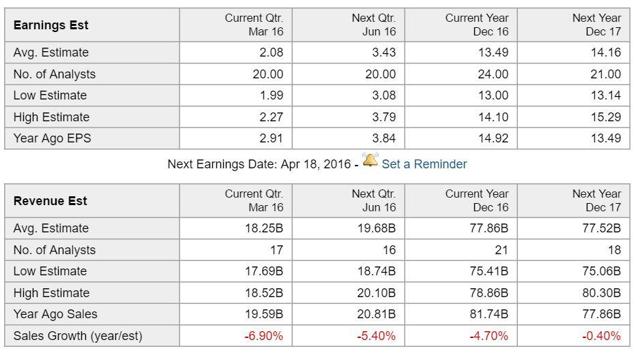 IBM consensus estimates. Source: Thomson Reuters (via Yahoo Finance).
Disclosure: I/we have no positions in any stocks mentioned, and no plans to initiate any positions within the next 72 hours.
I wrote this article myself, and it expresses my own opinions. I am not receiving compensation for it. I have no business relationship with any company whose stock is mentioned in this article.