Introduction
In October 2015, I wrote an article titled "If I Had to Build an Income Portfolio Today" which was published by Seeking Alpha, October 23, 2015. The article described the development of a portfolio for a relative that recently came in to a significant sum of money and wanted to conservatively invest to supplement their retirement income and help the grand kids with college costs. The series of articles through update four has very well received by Seeking Alpha readers generating over 70,000 page views in total.
As I mentioned in the initial article, after establishing the portfolio, there remained a significant cash account yet to be invested. I've decided to turn the portfolio development into a series of articles documenting not only the development of the portfolio and the rationale for the investments selected but also report on the capital appreciation and income produced by the portfolio. I plan to provide updates on the portfolio whenever there is a significant change in the portfolio holdings. This article is the fifth update in that series.
Portfolio Capital Appreciation and Income
The EXCEL table below shows the financial performance of the portfolio through Wednesday, March 30, 2016.

Source: Author
While the February market action provided opportunities to pick up additional shares at sale prices, the market in March provided an opportunity to take some of the profits off the table. While the DOW dropped nearly 5% from January 29 to February 11, most bank stocks and REITs dropped significantly more. Bank stocks were in the market's cross hairs due to the fear of lower earnings due to continued global economic softness and "lower for longer" interest rates including some central banks entering into negative rate territory. Healthcare equity REITs seemed to be getting hit from a number of market fears including the difficulties that HCP, Inc. (NYSE: HCP) largest tenant, HCR ManorCare, is having with the Department of Justice as well as general concerns over the potential overbuilding of senior housing properties. Since this portfolio is designed to be a long term income generating vehicle, I viewed the February selloff as an opportunity to pick up high yielding quality stocks on sale. The February additions to the portfolio are detailed here.
The Selling of "O"
The month of March gave us essentially the opposite of February in terms of opportunity to take some profits. Yes, I actually sold Realty Income (NYSE: O) from the portfolio. I sold Realty Income because it had appreciated in value to the extent that I believe it has become overpriced. With the valuation of Realty Income over 20 times Price/AFFO, I believe Realty Income is richly valued. I picked up shares of Realty Income last September at a price of $45.25 per share. I sold on a limit order at $62.50 per share today and, at that price, Realty Income was up a little over 38% from the initial investment and 11.6% above its consensus target price of $56 per share. At $62.50 per share, I believe Realty Income's valuation had become too rich and I also believe it likely that I'll have the opportunity to add Realty Income back into the portfolio at a lower valuation.
Realty Income is very highly regarded by the market and investors holding the stock. That said, I'm a firm believer in never letting your regard for a stock holding cloud your judgment about its valuation and whether you should hold or sell the investment.
Total Portfolio
In update 3 of this article, I explained the rationale for placing a large portion of the portfolio into bank savings accounts and certificates of deposits. There has been no change to that portion of the portfolio. With the March changes to the portfolio, the total annual income has decreased to $22,439 without the dividend contribution from Realty Income.

Source: Author
In addition to Realty Income and HCP discussed above, the portfolio consists of the following stocks and mutual funds: Enterprise Products Partners (NYSE: EPD), Welltower (NYSE: HCN), AT&T (NYSE: T), Ameren Corporation (NYSE: AEE), Cal-Main Foods (NASDAQ: CALM), Old Republic International Corporation (NYSE: ORI), American Electric Power (NYSE: AEP), and Verizon Communications (NYSE: VZ), Royal Bank of Canada (NYSE: RY), Toronto Dominion Bank (NYSE: TD), Stag Industrial (NYSE: STAG), Omega Healthcare Investors (NYSE: OHI), Starwood Property Trust (NYSE: STWD), Western Gas Partners (NYSE: WES), Ventas (NYSE: VTR), Lexington Realty Trust (NYSE: LXP) . The portfolio also includes the Vanguard Health Care Fund (NYSE: VGHCX), the Vanguard Dividend Growth Fund (NYSE: VDIGX, and Vanguard Mid-Cap Growth Fund (NYSE: VMGRX). A snapshot of the stock, MLP, and mutual fund portion of the portfolio as of market close on March 30, 2016 is provided below.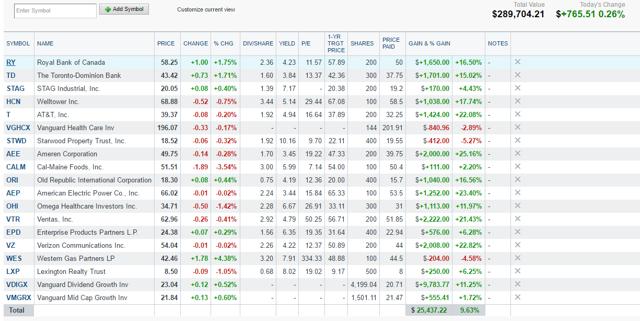 Source: Yahoo Finance
The portfolio performed well in March. So far, total realized gains are $9686 and unrealized gains are $25,437. That is on top of the $4101 in stock dividends collected and roughly $2100 from the bank CDs. The owner of the portfolio is very happy with its performance to date.
I still have original funds remaining to deploy and now also need a replacement for Realty Income. I have several stocks on my watch list that are potential replacements for Realty Income in this portfolio. I'm looking at Exxon Mobile (NYSE: XOM), Chevron (NYSE: CVX), Pfizer (NYSE: PFE), General Motors (NYSE: GM), and Ford (NYSE: F). Each of the stocks in this list has its pros and cons. It may still be early for the oil and gas stocks but they have a high return potential. Pfizer's future performance I think is tied directly to whether the Allergan (NYSE: AGN) buyout goes through. GM and Ford sales have been growing but their share prices are cyclical and pickup truck sales won't likely continue at the current level much longer.
I'd be interested in readers opinions on the short list of stocks above or other suggestions that would fit the portfolio needs; that is income oriented and on the conservative side.
Disclosure: I am/we are long AEE, AEP, AGN, CALM, EPD, F, GM, LXP, HCN, OHI, ORI, PFE, RY, STAG, STWD, T, TD, VGHCX, VMGRX, VTR, VZ, WES.
I wrote this article myself, and it expresses my own opinions. I am not receiving compensation for it (other than from Seeking Alpha). I have no business relationship with any company whose stock is mentioned in this article.