In my article in February, I enumerated how the re-organization and new products coming out of Sony (NYSE:SNE) pointed to tremendous growth prospects for the company in 2016 and 2017. This was reflected already in the strong Q3 2015 results Sony had published. The chart below of operating income shows how after a period of consolidation the company in Q3 2015 looked primed for take-off.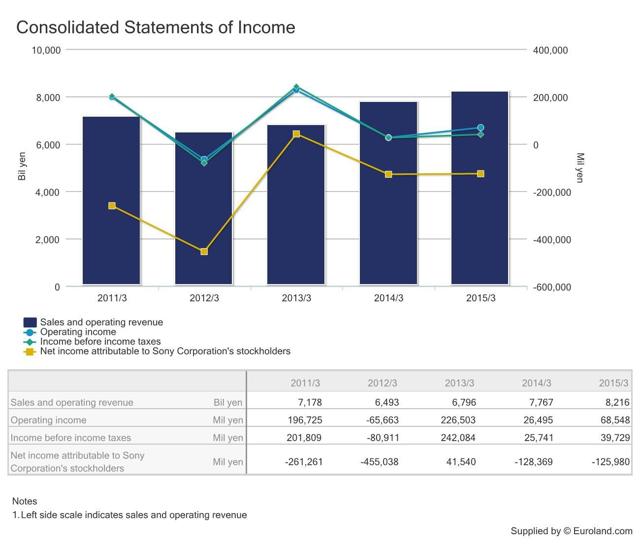 Since I wrote that article a lot has happened already in the world of Sony. March has been a very strong month in product announcements and in the share price as the chart for March below shows.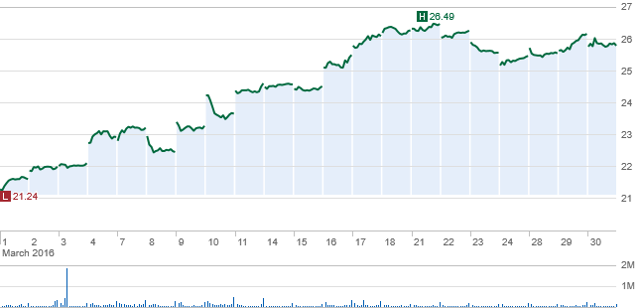 Now the company's Virtual Reality (VR) offering based on its omnipresent PS4 platform should give a further strong boost. Sony has 38 million owners of PS4 units on which to market its product. This compares to about 20 million owners of Xbox One from Microsoft (NASDAQ:MSFT). Recent reports, as yet unconfirmed, that Nintendo intends to halt production of its Wii U video game console hints at just how dominant PS4 has become. The Wii U has sold only about 12 million units since its launch in 2012. The optimism about Sony VR is predicated on a powerful early reaction for pre-sales for the VR offering in March.
One can see Sony now being back to the much sought after youth dynamic with its offering in PS4, PS Vue, Music and Movies.
Virtual Reality
For a while now VR has been predicted to be the next "big thing" in the IT and gaming world. 2016 will start to reveal whether this is true or not. Estimates of the size of the potential market vary hugely. Sony may be later to market than some of its rivals, but its PS4 base and competitive pricing are promising. In fact, coming late to market might be a good thing. Market research is indicating that prospective customers are uncertain about how much to spend on VR and most prospective buyers will not rush in. So Sony's less expensive product coming after launches by more expensive competitors could actually be an advantage.
Sony will have been more than delighted by the instant sell-out of pre-orders last week. This was for a US$499 bundle which included the headset, a camera, and two movie controllers. Amazon (NASDAQ:AMZN) and Wal-Mart (NYSE:WMT) both sold out their entitlements immediately, though it has not been revealed what quantities are involved. The standalone at US$399 was going on-line on 29th March and it was expected that this would also only last about 5 minutes before selling out. Unlike what often happens with console sales, these will not be a "loss leader" and Sony will make a profit on the hardware.
Not rushing to market might be a good idea, as by the time it is launched in October it is expected to have at least 50 VR-capable games to offer. In a recent report, Jefferies reckoned Sony was "best positioned" to seize the day based on both its technology and its price point. They also cited a survey by the Gamer Network which said PlayStation VR was the product most often mentioned among potential buyers. The product also looks "sexy."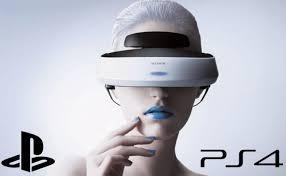 There have been unconfirmed reports that prior to the VR launch Sony is planning to launch a so-called "Playstation 4.5." This would probably incorporate an upgrade from 1080P to 4K for games. That would put the Sony product more in line with the PC-based games that will be available on the Oculus Rift from Facebook (NASDAQ:FB) and HTC Vive. These latter two will require a powerful computer with a high quality GPU. Apart from that set-up cost, the Oculus will retail at US$599 and the Vive at US$799. Oculus has announced it will have about 30 games available upon launch.
In another technological upgrade for PS4 owners, Sony is introducing a "Remote Play" feature which will allow owners to stream their games to an Apple Mac or a PC. This is currently in beta testing.
Recent new products that Sony is working on include a Bluetooth device which would be worn around the neck and a tiny earpiece that connects wirelessly to your phone. The company is also launching a 4K Ultra Short Throw Projector which throws a 147" image onto the wall. This fits in with the comments of Sony Mobile CEO Hiroki Totoki for "smart wear, smart products and smart devices." Wearable devices, augmented reality and gaming are all key target markets for the company. This also explains why Sony has been decisive in continuing with the company's always highly regarded but non-profit-making Xperia range of mobile phones.
The company has recently set up what it terms a "Business Incubation Group." This is intended to consolidate new concept design and technological products. Of course it is not certain that new innovative products form Sony will hit the sweet spot. It does however indicate that the company has got its creative mojo back. This follows on the announcement of the "Sony Interactive Entertainment" division starting in California as of 1st April.
Interestingly, in a recent interview, Sony Computer Entertainment CEO Andrew House stated that Sony intends to go beyond gaming and movies for VR. He saw tremendous opportunities in VR for live sports events and concerts. House also cited the fact that games developers find it easier to create titles for Sony's VR offering because of the console uniformity. Back in January, Sony CEO Kaz Hirai had stated that there were over 200 developers working on over 100 new titles for Sony VR.
PlayStation Vue
Seen as a potential "cable killer" this rolled out nationwide in the USA in March. There are over 50 channels available including Disney, which many have seen as key to Vue's success. Competitors include Sling TV from DISH (NASDAQ:DISH) and offerings from Comcast (NASDAQ:CMCSA) and AT&T (NYSE:T).
Vue's basic pricing of US$30 per month is seen as competitive given the range of offerings it is providing.
There is also a tremendous opportunity for Sony to leverage on the company's complementary strengths here. The company could well proceed to offer VR movies and films through this PS Vue division, and tie that up with its Movies Division.
Apart from the movies in 2016 that I discussed in my last article, the long-term schedule as below also looks more promising than recent years, though nothing is certain in the movie business.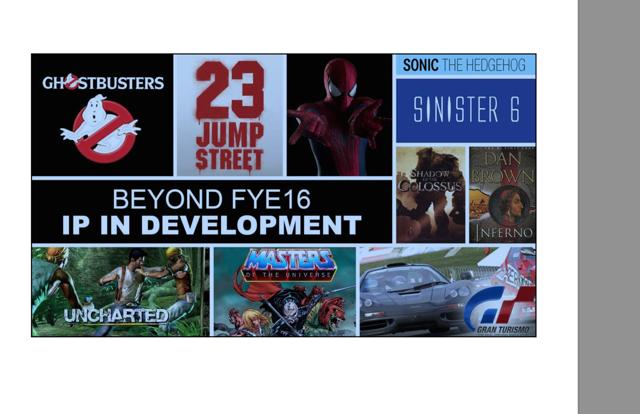 Music
As subscription services for music boom, in March Sony consolidated its position by buying out the 50% stake held in Sony/ATV Music Publishing by Michael Jackson's estate. This was said to be at a cost of US$750 million and gives Sony a catalogue of almost 4 million songs. Artists include Bob Dylan, the Beatles, Queen and the Rolling Stones. This strengthens Sony's position in competition with the likes of Apple (NASDAQ:AAPL), Spotify and YouTube.
The recent purchase of the balance it did not own in Orchard Media should lead to another driver for increased earnings from this division. Music is already the third highest operating income division for Sony behind Financial Services and PlayStation.
Conclusion
I have been recommending Sony for some time, and the share price chart below shows it has been a good investment for its backers during a period of market turbulence. Since the start of the year it has been an excellent investment.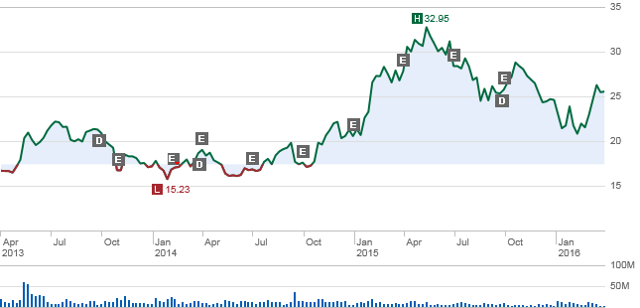 This share price appreciation has taken place while Sony has been re-organizing and prospects now look a lot better than they did a year ago. I think it is a better Buy now than ever. The dividend is not too enticing at a 0.32% yield, but the fact that the company has just re-instituted a dividend at all can be seen as a positive sign.
Macro economic factors outside the company's control seem the only likely negative. The company could be affected by currency fluctuations (though it is reasonably well internationalized in its manufacturing and its sales) and by consumer spending malaise around the world.
These are exciting days for Sony. Its traditional divisions have increased profitability in the past couple of years and non-profit-making activities have been axed. The Image Sensor Division, the Film Division (with a promising raft of movies for the year) and the Financial Services division can all be expected to produce strong revenues in 2016 and beyond.
The new developments based around its installed base of PS4 consoles give the company a real shot at re-claiming past glories. The complementary nature of these different activities appealing to the youth culture gives Sony an edge over its competitors.
Disclosure: I/we have no positions in any stocks mentioned, and no plans to initiate any positions within the next 72 hours.
I wrote this article myself, and it expresses my own opinions. I am not receiving compensation for it (other than from Seeking Alpha). I have no business relationship with any company whose stock is mentioned in this article.