Athletic apparel companies are quickly realizing the true value of the shoe market and the wide margins it offers. Consumers are exceptionally tolerant of high sneaker prices, especially in regards to basketball shoes. Basketball sneakers have become a status symbol in the athletic world and have catapulted off the success of individual players such as LeBron James and Michael Jordan. Nike (NYSE:NKE) recently released its earnings report amid mixed reviews. However, it seems evident that much of Nike's future growth will come from Asia. Sales in Japan jumped 60% in conjunction with a 23% increase in China from the previous quarter.
China is of particular interest to Nike for its multiple catalysts and massive market size. Fitness is quickly making its way into mainstream China as more citizens become middle class and focus on their health. China held the Summer Olympics in Beijing in 2008, and performed exceptionally well with a total of 100 Olympic medals. It is set to host the 2022 Olympics as well, further solidifying fitness as a pillar in Chinese daily life.
Andy Campion, CFO of Nike, had this to say about China during the most recent earnings call;
"I was just in China three weeks ago, and I can sum up my visit in one word, amazing. Our brand and business in China have never been stronger. And we continue to build momentum. That's not by accident. Our focus in China has been on fueling greater sport participation and love for sport, while also transforming the consumer experience along category lines both in store and online. We are now seeing increasingly deeper passion for sport in China and that is translating into strong demand for our products across multiple categories from NIKE basketball to Jordan, to Running, to Men's and Women's training."
Another catalyst has been the NBA itself. The NBA predicts that roughly 300 million people in China play basketball. Although the NBA is a sports organization, it is still a business. It has aggressively been seeking international growth, especially in Asia. The NBA has recently hosted two preseason games in China, and coordinated streaming options for all of its other games. With only 5 members on the court at a time, basketball is a sport where individual stars develop. These stars are highly marketable and have/can be used to promote the sport in China. Kobe Bryant is one of the most revered basketball athletes in China, and still attracts massive crowds whenever he visits. Bryant is sponsored by Nike, and adds tremendous brand value to its efforts in China. Now that Bryant is retiring, he could potentially spend time in China as an ambassador for the NBA and continue to add value to Nike's brand.
(Kobe Bryant in front of a Nike store in China)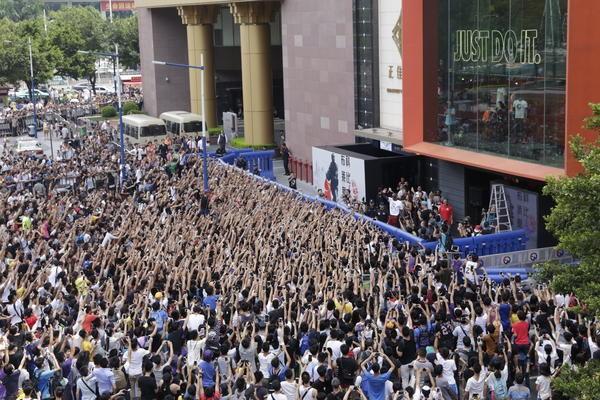 There are many external factors in China going right for Nike. China is rapidly growing its middle class and making fitness a key component of daily life. The growing middle class is important, for there appears to be a positive correlation between financial stability and fitness. Nike also has the NBA promoting basketball throughout China, which is essentially free advertising for Nike. As basketball's popularity in China grows, Nike will be able to sell more of its most profitable product; basketball sneakers. If Nike can take advantage of the potential catalysts that China offers, its sales growth will continue to advance at a rewarding pace for both the company and investors.
Disclosure: I am/we are long NKE.
I wrote this article myself, and it expresses my own opinions. I am not receiving compensation for it (other than from Seeking Alpha). I have no business relationship with any company whose stock is mentioned in this article.