This is Part 2 of a series on the medical robotics sector. In the prior article, Emerging Medical Robotic Market: Cautious Entry Advised, we discussed the recent history and industry outlook and how some large players have gained entry. In Part 2, we discuss some of the emerging players that are trying to launch new products and technologies.
There has been significant growth in the overall medical robotic space, with even more expected. Market research firm IndustryArc puts the global medical robotics market at $2.67 billion in 2014 and projects that it will grow at a 19% CAGR from 2015 to 2020. Transparency Market Research estimates that the market had already reached $5.48 billion in 2011 and will grow to $13.6 billion in 2018. The disparity between the estimates shows the difficulty of gauging the actual size of the market or even determining a standard definition of what technologies are included. Nevertheless, we believe the projections also underscore that the market is large and growing.
Surgical robots comprise the largest component of the medical robotics market, according to IndustryArc, specifically the use of robots to facilitate minimally invasive surgery. North America accounts for the largest share of the global medical robotics market. The use of robotics in the U.S., which can sometimes reduce the length of hospital stay, has increased from 25,000/year in 2005 to 450,000 in 2012, according to the FDA. The National Cancer Institute estimates that almost 80% of prostatectomies in 2014 were performed using robotic technology versus only about 1% in 2001.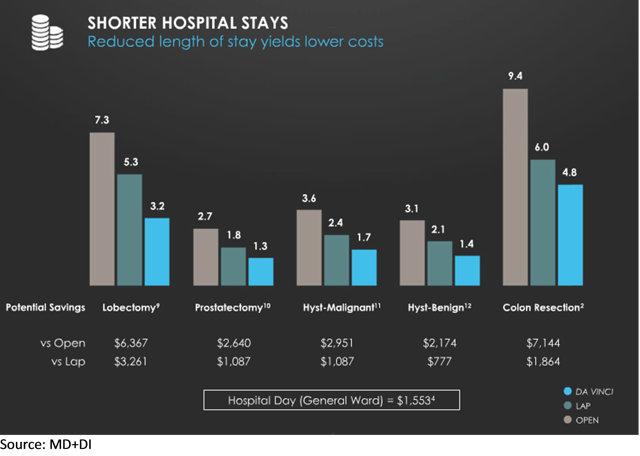 Established Player: Intuitive Surgical
Intuitive Surgical (NASDAQ:ISRG) is probably the grandfather of robotic surgery. Its da Vinci Robotic Surgical System is installed at major hospitals worldwide. The company has more than 1,700 U.S. and foreign patents and more than 1,500 patent applications pending. Intuitive, which now commands a market capitalization of over $22.7 billion, was essentially a start-up focused on introducing and driving adoption of its robotics technology when it began.
Intuitive had less than $1.5 million of cash on its balance sheet at the end of 1996 heading into the early introduction of the da Vinci. In its 2000 10K, Intuitive stated, "In March 1997, surgeons using an early prototype of our technology successfully performed Intuitive surgery on humans. Beginning in May 1998, surgeons using our technology successfully performed what we believe were the world's first computer-enhanced closed chest heart surgeries."
By comparison, the company reported total revenue of $2.4 billion in 2015, up 12% year-over-year and 15% on a constant currency basis. Commenting on results, Intuitive's CEO said the company's "focus in 2015 was to drive adoption of [its] platform in general surgery, expand [its] da Vinci Xi Surgical System product line, increase [its] organizational capability and performance in international markets and improve contribution margins for [its] newly launched products."
Newer Entrants
Other than Intuitive, Stryker (SYK), Accuray (NASDAQ:ARAY) and Smith & Nephew are also already established players making inroads into the robotics space. Smith & Nephew (NYSE:SNN) made a medical robotics acquisition in 2015. In addition, Mazor Robotics (NASDAQ:MZOR), TransEnterix (NYSEMKT:TRXC), Titan Medical (OTCQX:TITXF), Hansen Medical (NASDAQ:HNSN) and Stereotaxis (NASDAQ:STXS) are all looking to make inroads. As illustrated in the chart below, shares of Intuitive Surgical have outperformed all but those of start-up TransEnterix.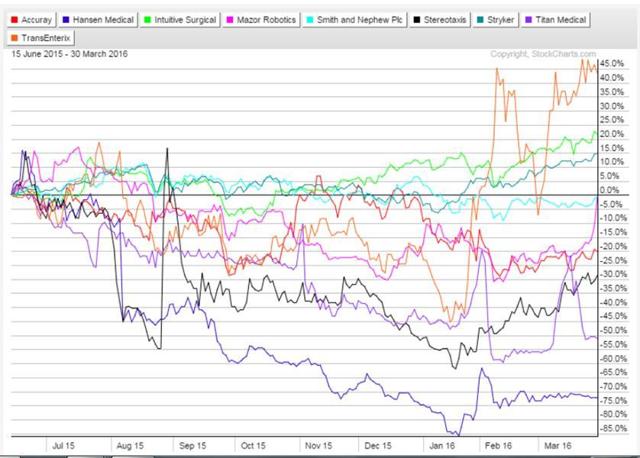 Stryker
Stryker is a well-established $10 billion revenue generator, with international operations. It describes itself as "one of the world's leading medical technology companies." In December 2013, Michigan-based Stryker acquired MAKO Surgical Corporation and its RIO (Robotic Arm Interactive Orthopedic) system.MAKO is "an emerging medical device company that markets [an] advanced robotic arm solution, joint specific applications for the knee and hip, and orthopedic implants for orthopedic procedures." MAKO promoted its system as a minimally invasive approach to knee and hip replacement surgery and indicated that it offered substantial advantages to patients and doctors.
Stryker paid $1.65 billion or $30 per share for MAKO. That represented a significant 86% premium to where MAKO shares were trading at the time the acquisition was announced. It also represented a sizable 16.1x multiple on MAKO's 2012 $102.7 million in total revenue.
Trade publications indicated that the Medical Device Excise Tax, implemented as part of the ACA, was one factor that spurred Stryker's MAKO acquisition, as it stimulated M&A activity by larger players seeking economies of scale and new revenue streams. The ACA also incentivized hospitals, physicians, and others within the healthcare system to focus on cost reductions. Robotic assisted surgery has generally led to shorter recovery times, as noted, and, in turn, shorter hospital stays, enabling hospitals to increase revenue per bed.
In announcing the acquisition, Stryker's CEO Kevin Lobo said, "MAKO has established a compelling technology platform in robotic assisted surgery, which we believe has considerable long-term potential in joint reconstruction. The acquisition of MAKO combined with Stryker's strong history in joint reconstruction ... will help further advance the growth of robotic assisted surgery."
Stryker implemented a multi-pronged strategy to drive adoption of the robotics system, including providing financing assistance for purchases of the $1+ million MAKO systems. On its own, MAKO was not sufficiently capitalized to provide such assistance, highlighting one of the constraints that a robotics start-up faces in trying to develop an emerging market.
Smith & Nephew
Smith & Nephew (NYSE:SNN) has a "history dating back over 150 years," according to the company. It operates in a multitude of medical technology areas and generated $4.6 billion in revenue in 2015. Smith & Nephew acquired privately-held Blue Belt Technologies in 2015 for $275 million or about 14.5x expected revenue. Blue Belt also operates in orthopedic robotics-assisted surgery. It has a surgical system, Navio®, that provides robotics-assistance in partial knee replacement surgery.
Smith & Nephew CEO Olivier Bohuon said, "Our experience working with Blue Belt Technologies and our customer insight has convinced us that robotics will become increasingly mainstream across orthopedic reconstruction in the foreseeable future."
Accuray
Headquartered in California, Accuray designs, develops, and sells radiosurgery and radiation therapy systems for the treatment of tumors in the body. It offers the CyberKnife System, which it describes as:
"fully robotic systems that deliver stereotactic radiosurgery, or SRS, and stereotactic body radiation therapy, or SBRT, and are used to treat multiple types of cancer and tumors throughout the body…. The CyberKnife Systems are the only robotic radiosurgery systems available today which deliver such high precision treatments for intra- and extra-cranial disease sites throughout the body, including prostate, lung, brain, spine, liver, pancreas and kidney."
Accuray also produces and sells the TomoTherapy System. The company markets its products in the U.S. and internationally and generated $379.8 million in revenue in FY 2015 (Accuray's fiscal year ends in June), up 2.8% from $369.4 million in FY 2014. For FY 2016, the consensus estimate is $408.4 million, which represents 7.5% year-over-year anticipated growth.
The company expects that "over the next three years, [it] will see the first true replacement cycle in [its] history," with an estimated third of its installed base systems entering their 10-year replacement cycle, primarily in the US and Western Europe. In conjunction with GE Capital, Accuray Europe recently announced a financing program to spur penetration.
Mazor Robotics
Founded in 2000 and headquartered in Israel, Mazor Robotics describes itself as "an Israeli company that is a leading innovator that has pioneered surgical guidance systems and complementary products in the spine surgical markets that we believe provide a safer surgical environment for patients, surgeons and operating room staff." The company's Renaissance surgical guidance system transforms spine surgery from freehand procedures to guided procedures. Mazor's ADSs trade on the NASDAQ under the symbol MZOR. The company recently reported a 54% year-over-year 4Q15 revenue increase to $8.8 million.
TransEnterix
Headquartered in North Carolina, TransEnterix focuses on the development and commercialization of its ALF-X System, a multi-port robotic surgery system that enables up to four arms to control robotic instruments and a camera, and its SurgiBot System, a single-incision, patient-side robotic-assisted surgery system. The ALF-X System is available in Europe. The company describes itself as "a medical device company that is pioneering the use of robotics to improve minimally invasive surgery."
In March 2016, the company noted that it would "continue building the infrastructure to support the commercialization of the ALF-X in multiple countries … and … on achieving FDA clearance for the SurgiBot by the end of March, 2016, and preparing for a U.S. commercial launch." However, TransEnterix recently announced that it now expects to receive a decision from the FDA on SurgiBot by mid-April.
Titan Medical
Headquartered in Toronto, Canada, Titan Medical is a development stage company that is developing its SPORT (Single Port Orifice Robotic Technology) Surgical System, comprised of a surgeon-controlled robotic platform with 3D vision and interactive instrument control for performing minimally invasive surgery. The company believes SPORT will enable surgeons to perform procedures within small to medium size surgical spaces for general abdominal, gynecologic, and urologic indications. At this point, the company is pre-revenue. Titan indicates that it is "developing next generation robotic surgical technologies." The company just raised C$15.1 million through a public offering.
Hansen Medical
Founded in 2002 and headquartered in California, Hansen Medical develops, manufactures, and sells medical robotics designed for the positioning, manipulation, and control of catheters. It sells its devices in the U.S. and internationally. The company's Magellan Robotic System controls the proprietary Magellan Robotic Catheter, a telescoping and robotically steerable catheter.
Earlier this year, the company announced that it would seek strategic alternatives, saying "We continue to see long-term opportunities for our robotic platform, especially in light of the positive responses from physicians and patients who are gaining experience with the Magellan System. Our board is focused on evaluating additional options that may enhance or accelerate the value that we believe is inherent in an approved technology-platform product, which has experienced growing utilization and an expanding breadth of clinical utility. Given our position as a leader in robotics technology, we believe now is the appropriate time to explore strategic alaternatives."
Subsequent to this announcement, the FDA approved Hansen's Magellan Robotic Catheter eKit and a few days later, the company announced its first clinical procedure with the Magellan in the US.
Stereotaxis
Founded in 1990 and headquartered in St. Louis, Missouri, Stereotaxi designs, manufactures, and markets robotic systems and instruments for the treatment of abnormal heart rhythms. Its products include the Niobe ES robotic system and Vdrive system. Stereotaxis has strategic alliances with Siemens and Philips Medical Systems. The company recently reported its first quarter of positive free cash flow - of $1.6 million - which management indicated helped drive a 71% reduction in 2015 annual cash burn, For FY 2015, Stereotaxis registered total revenue of $37.7 million, which represented an 8% year-over-year improvement.
Potential Returns Warrant Doing the Homework on Robotics Start-Ups
Intuitive shares appreciated significantly during the company's early development period. MAKO and Blue Belt were acquired at 16.1x and 14.5x respective multiples of revenue, with Blue Belt still largely in the development stage. These metrics point to substantial potential returns if a new robotics technology succeeds, in our view. Other than established players Intuitive, Stryker and Smith & Nephew, the companies discussed have not converted revenue into net profits yet and there is a wide range of multiples on a price/sales basis.

As is generally the case with emerging companies, many will not succeed. The risks, among others, include competitive, regulatory and market risk and that some of these companies are under-capitalized and may run out of funding to continue developing or marketing their technology. For example, TransEnterix has had potential FDA approval pushed back and Hansen has indicated that it would consider strategic alternatives.
Investors need to do their homework. Some early stage companies might never bring their technologies to commercial realization or might be overly optimistic about their prospects or the timing of hitting certain milestones. We believe, however, that it is worthwhile for investors to keep some of the emerging robotics companies on their radar screens.
Disclosure: I/we have no positions in any stocks mentioned, and no plans to initiate any positions within the next 72 hours.
I wrote this article myself, and it expresses my own opinions. I am not receiving compensation for it (other than from Seeking Alpha). I have no business relationship with any company whose stock is mentioned in this article.
Editor's Note: This article covers one or more stocks trading at less than $1 per share and/or with less than a $100 million market cap. Please be aware of the risks associated with these stocks.