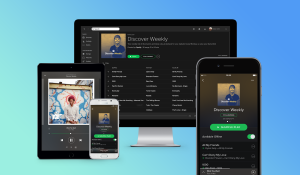 Source: Spotify
The Swedish music streaming service Spotify (Private:MUSIC) has been under a lot of pressure in the last couple of years amidst the intensifying competition in the music streaming market with Apple (NASDAQ:AAPL), Google's YouTube (NASDAQ:GOOG) (NASDAQ:GOOGL), Pandora (NYSE:P), SoundCloud, and Jay Z's Tidal trying to dominate the market. All companies offer similar high-level services with a basic free plan that includes advertisements and premium ad-free plans when there are fine differences in plan prices and offering details among the different players. For years, Spotify was the disruptive young player of the music industry that attracted many investors and allowed the company to raise increasing amounts of money in increasing valuations, as shown in the chart below.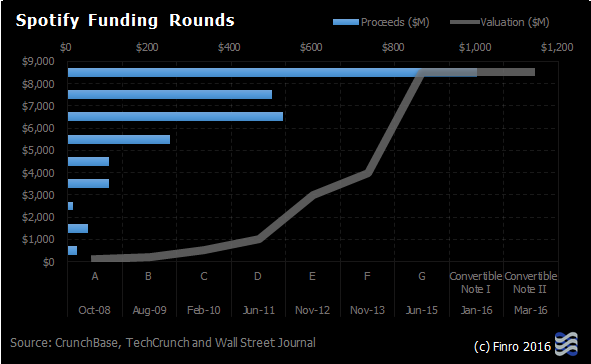 However, as the music streaming industry evolves and more players join the market, Spotify finds it harder to distinguish itself from the competition, and investors are getting more cautious. As shown in the chart below, Fidelity gained an impressive return of 73%, on paper, from late 2012 until the beginning of 2016, but as the market gets more crowded and with no solid exit strategy in place, these gains might be hard to materialize. Of course, Fidelity is just an example, and most of Spotify's investors might see their investment value erode and gains evaporate, as the company remains in its situation, unless they sell their stock at a discount in the secondary market or pressure the company to go public so they can sell their stock on the open market.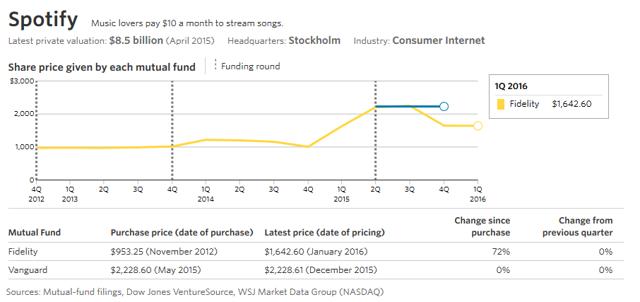 Many readers might say this is the case for many of the unicorns out there that raised funds under unrealistically high valuations and now struggle to justify them and create some exit strategy for early investors. That might be true in many other instances, but looking at Spotify, the company was a prominent IPO candidate almost each year in recent years but remained private for many reasons. As time goes by, Spotify's IPO window is slowly closing, and as the market becomes more crowded, the company is losing the momentum that might drop its valuation as a liquidation risk increases, and investors' concerns to "meet with their money at the end" rise.
This pressure to offer an exit opportunity to investors and the need for cash drove Spotify to issue a $1B convertible debt that offers unique terms to investors from TPG, Dragoneer and clients of Goldman Sacks:
An annual coupon of 5% that rises by 1 percentage point every six months until 10% or IPO. In the case of an IPO, the debt could be converted to equity at a 20% discount on IPO price. After a year, the discount starts to rise by 2.5 percentage points every six months. Permission to sell stock in the open market after 90 days and not wait for the entire 180 days of the lockup period.
This adjustable terms mechanism benefits investors and makes a Spotify IPO a shared interest of the company and convertible debt investors. In case the company goes public, investors in this note receive slightly improved terms compared to other early investors. However, in case the IPO delays, Spotify will have to pay more in coupon payments for the risk that investors carry.
Even though this new debt injects an enormous amount of money to the company, it adds additional pressure to go public on top of the pressure coming from early investors that look to cash in on their investments. In my opinion, this debt series signals that Spotify maxed out on its possibilities in the private market. An IPO at this point seems inevitable, and the convertible debt rising provides some stimulus for the company to IPO before the coupon payments and the IPO price discounts rise too much. With no other option but going public, Spotify might find itself proceeding with an IPO heading to fail. This is a red flag that should alarm most investors ahead of the Spotify IPO.
Disclosure: I am/we are long AAPL.
I wrote this article myself, and it expresses my own opinions. I am not receiving compensation for it (other than from Seeking Alpha). I have no business relationship with any company whose stock is mentioned in this article.
Additional disclosure: The information provided in this article is for informational purposes only and should not be regarded as investment advice or a recommendation regarding any particular security or course of action. This information is the writer's opinion about the companies mentioned in the article. Investors should conduct their due diligence and consult with a registered financial adviser before making any investment decision. Lior Ronen and Finro are not registered financial advisers and shall not have any liability for any damages of any kind whatsoever relating to this material. By accepting this material, you acknowledge, understand and accept the foregoing.