Health care REIT HCP (NYSE:HCP) has had no shortage of challenges over the past year. The company has grappled with the prospect of higher interest rates in the U.S., which will raise the cost of future borrowing, as well as the Department of Justice investigation into HCR ManorCare, HCP's biggest tenant. Last year, ManorCare was charged with submitting false Medicare claims for services that, according to the Department of Justice, should not have been reimbursed.
All of this has weighed on HCP's stock. As of this writing, shares are down 12% since the start of 2016, and 17% over the past year. Looking back even further, HCP shares are down 12% in the past five years, while the S&P 500 is up 55% in the same period. As a result, it's clear HCP has been a major underperformer.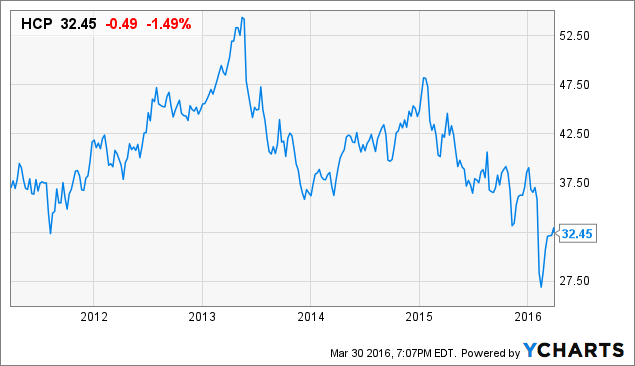 As an HCP shareholder, my investment has lost value as well. But while some might see HCP's performance as a major red flag and a reason to stay away from the stock, I don't mind the stagnating stock price. Income investors who understand the power of reinvesting dividends at high yields, for the purposes of future income generation, should actually be glad that the stock is down. Here's why.
What, Me Worry?
I hold my shares of HCP in a Roth IRA. The first benefit of this is that HCP's dividends are tax free. But more importantly, each time I receive a dividend payment, my cost basis goes down. This is a wonderful thing, because it allows an investor the benefit of downside protection. I bought HCP four separate times: at $36, $38, $37, and finally at $27. With the stock currently trading at $32, I've lost money on three of those purchases, which makes this look like a terrible investment on the surface.
And yet, my total position is down less than 1%, nearly even in fact. You might be asking yourself how that could even be possible, given the fact that three of the four positions are down 10% or more. Well, the answer is dividends. Since I've owned HCP, I've collected nine dividend payments. I've reinvested these dividends along the way, which means those dividends are now earning dividends of their own. The cumulative result of this is that my cost basis is down to exactly $32.51 per share, despite the fact that my first three purchases were well above that level.
It's also worth mentioning that when I bought, HCP's dividend yield was much lower than it is now. Due to its declining share price and continued dividend growth, HCP's dividend exceeds 7%, nearly a five-year high for the stock.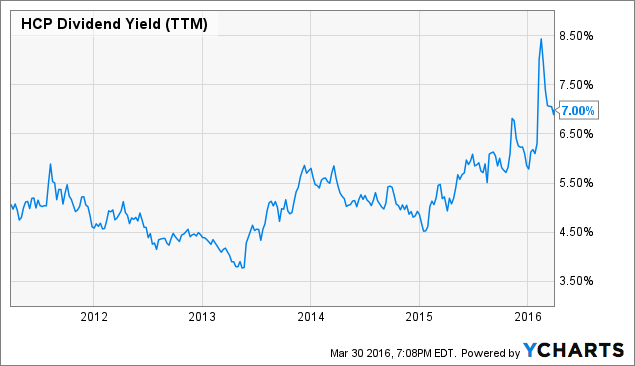 Fundamentally, HCP is still trying to turn itself around, and while that may take more time, I'm still content to hold the stock because I believe HCP is at the center of an industry that should see continued growth for many years. According to a 2015 Gallup study, Baby Boomers are the single largest generation in the U.S. Baby Boomers alone constitute about one-third of the U.S. adult population. There are millions of people entering retirement every year, and as the general population ages, it will result in much higher demand for health care.
I'm Not Selling HCP, As Long As The Dividend Remains Intact
HCP isn't a growth stock, and I'm not expecting to realize significant capital appreciation from this investment. But that's not why I bought it. I purchased HCP for its high dividend yield and steady dividend growth like clockwork each year. HCP is a Dividend Aristocrat, having raised its shareholder payout for the last 31 years in a row, including a nearly 2% increase in February. And it happens to be the only REIT on the list.
Assuming HCP sorts out its ManorCare issues, I see little reason why the company won't be able to continue raising its dividend for many years. And thanks to its 7% yield, investors don't need the company to increase its dividend at high rates to earn a significant yield on cost over time. In fact, if HCP simply manages 3% annual dividend growth from here, investors will rack up 10% total income growth by reinvesting dividends. That would result in an investor earning a yield on cost in excess of 11%, in just five years' time.
Of course, the critical piece of this analysis is that the company's dividend remains intact. But even in 2015, which amounted to a very difficult year for the company, HCP still generated adjusted funds from operation (or FFO) of $3.16 per share. That was up 4% from the previous year, and is more than enough to cover its $2.30 per share dividend.
The key takeaway of this exercise is to show that over the long term, reinvested dividends can right the wrong of bad timing. My first three purchases of HCP were premature, but what investors can glean from my experience is that those buying today are getting an even better income opportunity than I did.
Disclaimer: This article represents the opinion of the author, who is not a licensed financial advisor. This article is intended for informational and educational purposes only, and should not be construed as investment advice to any particular individual. Readers should perform their own due diligence before making any investment decisions.
Disclosure: I am/we are long HCP.
I wrote this article myself, and it expresses my own opinions. I am not receiving compensation for it (other than from Seeking Alpha). I have no business relationship with any company whose stock is mentioned in this article.