BlackBerry (BBRY) reports its fourth quarter Friday morning. This will be the first quarter with a full three months of sales of BlackBerry's new Android (NASDAQ:GOOG) (NASDAQ:GOOGL) phone. A key question for some investors is whether BlackBerry can make hardware a profitable segment or will the company exit hardware altogether. This quarter should give some insight into that question.
Google Play shows somewhere between 100,000 and 500,000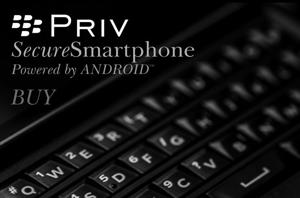 downloads of DTEK, an Android program for the BlackBerry Priv.
That datum doesn't give us a lot of insight, but it does suggest that total sales of the new BlackBerry Priv since its launch late last fall have been at least 100,000 units. I have seen quite a few Priv's around town in Collingwood, Ontario, where I ski, and word of mouth commentary is overwhelmingly positive. That makes me think sales might surprise to the upside a bit.
In total, I am guessing BlackBerry sold 750,000 devices in the quarter at an average price (brought up by the higher average selling price of the Priv) of about $325, bringing hardware sales to about $240 million.
Service access fees on older BlackBerry models are fading away and I am guessing they will come in at around $140 million. Software sales will benefit from the acquisition of Good Technology and I think a number of $135 million is in the ballpark of sensibility.
Research and development expenses of $100 million and selling, general and administrative expenses of $175 million put EBITDA for BlackBerry at $13.7 million - head above water but not by much.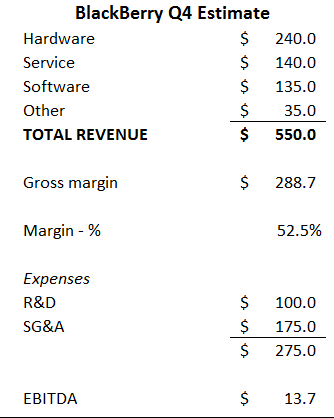 If I am anywhere close, the results are unlikely to move the stock barring a surprise in guidance.
I am optimistic that the BlackBerry brand has value and the move to Android OS devices can be profitable. I will be disappointed if CEO John Chen decides to dump the hardware division.
At this point, I am neutral on BBRY stock short term, but positive longer term as profits shift to software with the possibility of modest hardware growth on Android OS platform devices.
*Image Source: BlackBerry
Disclosure: I/we have no positions in any stocks mentioned, and no plans to initiate any positions within the next 72 hours.
I wrote this article myself, and it expresses my own opinions. I am not receiving compensation for it (other than from Seeking Alpha). I have no business relationship with any company whose stock is mentioned in this article.