Background on Company
Plantronics (NYSE:PLT) designs, manufactures and markets lightweight telecommunication headsets for enterprises and consumers. The enterprise division, which constitutes 70% of its revenue, produces headsets which you see in businesses environments including call centers and general offices. The consumer division produces Bluetooth headsets for mobile phones, often used when driving, as well as video game focused headsets. Plantronics also has a very small and negligible segment which produces devices for the hearing impaired which it sells under the brand "Clarity" (accounts for ~2.5% of company sales). Plantronics operates globally and derives ~60% of its sales from the U.S.
The Industry
Industry Overview:
The consumer-focused headset industry is both diverse and fragmented with many players in the space. Participants include a wide array of companies including privately-held, technology-focused specialty companies like Razer, publicly traded consumer only brands like Skullcandy (NASDAQ:SKUL), and large manufacturers and mobile players like Motorola. The enterprise industry is far more consolidated and concentrated than the consumer industry. ~75% of this market is controlled by two companies (Source: DB ER Report).
Future of Industry Segments:
Both sides of the industry have their own foreseeable future independent of the other. On the consumer side, Bluetooth wireless headsets are somewhat stagnating, and it is commonly believed that the sales and popularity of such will continue to decrease (at least in developed nations such as the U.S.) over the long term. The reason for this is that many people are opting to simply use the speaker function on their phones when driving, as well as many car manufacturers are building in wireless mobile communications as native features in their new vehicles. By no means is this shift expected to occur overnight or abruptly, but nonetheless, that is the overall outlook for the long term.
On the other hand, enterprise segment sales are steady and increasing, with the general outlook for the industry (although somewhat tied to overarching economic conditions) being a growth rate of 12% moving forward over the next ten years (Source: Frost & Sullivan). There is a new push and initiative in the enterprise telecommunication headset industry; the idea of unified communications, or "UC" for short.
Unified Communications:
UC is the integration of data, voice and video communication systems. What this means is one headset that can work across personal, work, video, and general phone applications in a wireless and smart manner. For the end user, this means that they don't have to remove their headset to switch devices or software. This adds convenience, efficiency, and cost savings. The sort of "smart" features which UC devices integrate include automatically muting at appropriate times, automatically answering calls if the headset is put on, and succinctly and properly switching between software when need be. These features are matters of convenience. UC also offers features which have regulatory and security impact including automatically locking employee computers at appropriate times. The shift to UC is unanimously regarded as the future of enterprise headsets.
The adoption of UC has been slower than anticipated. With projections and estimates of UC headset growth and adoption reaching 40% CAGRs back in 2013 (Source: DB Report), the adoption has certainly been more gradual than these originally anticipated rates. Currently, far less than 25% of the enterprise headset market has converted from non-UC to UC (Source: Frost & Sullivan). It is expected that UC headsets will grow at a ~20% CAGR over the next ten years (Source: Frost & Sullivan). The total enterprise headset market is currently estimated to be $1.3B in 2015, and is expected to grow an average of 12% a year out until 2021 (Source: GN Netcom Annual Report). The UC market, which is a sub-category within enterprise headsets, is expected to grow 19% during this same period (Source: GN Netcom Annual Report). The current user base of UC products is ~50M and is expected to be ~180M users by the end of 2021. In dollar figures, the UC market currently represents a ~$260M annual business and is expected to represent a $740M business by the end of 2021 (Source: GN Netcom Annual Report). The expected growth of the entire enterprise segment and the UC sub-segment are visually shown below: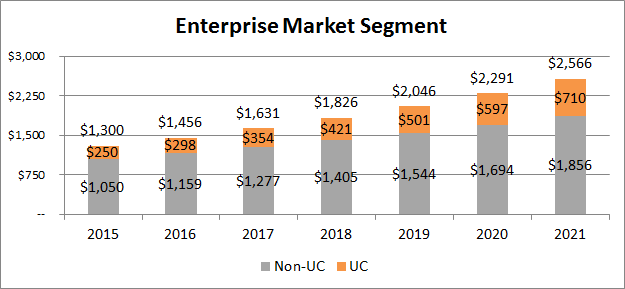 Source: GN Annual Report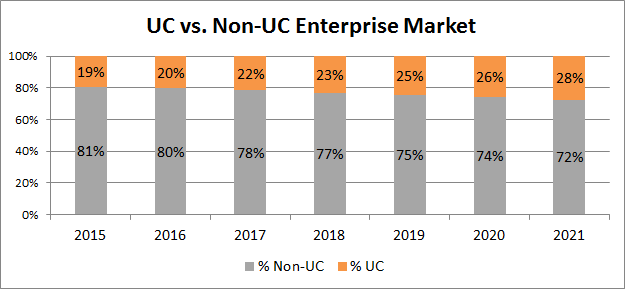 Source: GN Annual Report
Plantronics Place in the Industry
PLT Segment Overview:
In the enterprise headset market, PLT is the overwhelming leader owning 50% of the market (Source: DB ER Report). In the consumer headset market, PLT is one of many but still holds a significant portion of market share (~10%). These figures are visually illustrated below.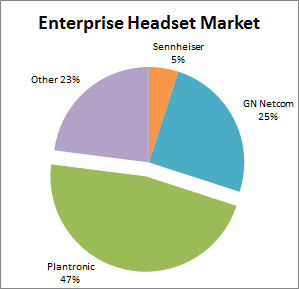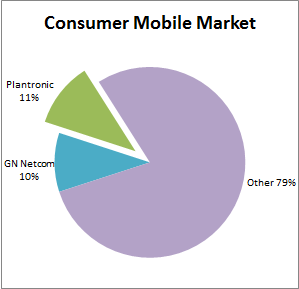 Source: DB ER Report
Plantronics has consistently grown gross enterprise revenue while recently suffering a relatively modest decline in consumer revenues (specifically consumer Bluetooth Mono Headsets - the effect of which has been partially offset by increased growth in its consumer-focused stereo based headsets). This is visually displayed in the graph below.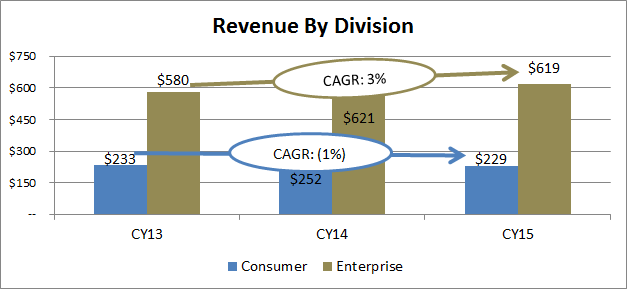 Source: SEC Filings
Enterprise Segment Detail:
Despite PLT growing top line enterprise revenue consistently YoY, the company has lost some of its enterprise market share over recent years. The below graphs illustrate this.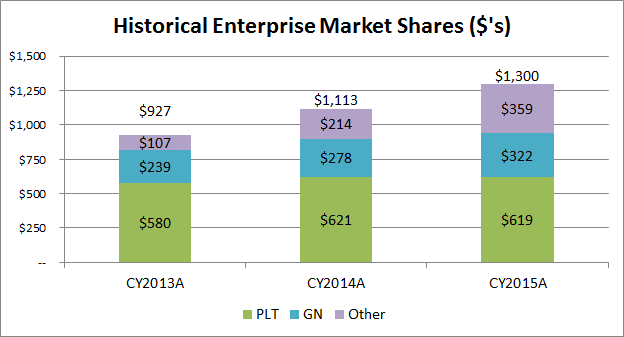 Source: DB ER Report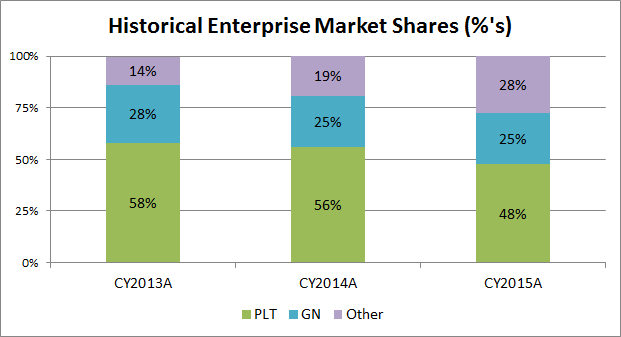 Source: DB ER Report
Unfortunately, PLT does not provide enough granularity in its financial reporting to allow one to fully dissect and discern the exact reason for this enterprise market share decline on a quantitative basis. However, given the qualitative comments which management has provided in both recent filings and recent earnings announcements, one can infer the reason for this is due to the strong dollar and international enterprise revenue decreases due to such. What would have been ideal is if management provided revenue figures broken out by consumer versus enterprise and by geography.
There are two important points to glean from all this. The first is that although PLT seems to have lost some of the overall enterprise segment market, it has not lost such to GN Netcom, which is shown by GN Netcom's market share staying constant while PLT's has declined. This is a positive as the threat of a pricing war which could result from the two battling out for market share could hurt both companies. However, this does not appear to be what is happening. This would further support the inference that it is the strength of the dollar that's really impacting PLT's enterprise market share.
The second important point is that although PLT's market share of the enterprise headset segment may have declined in recent years, its total gross enterprise revenue steadily increased over the same time period (specifically shown by the first of the two graphs above). Please note that the above graphs do not take into account currency adjustments required to adjust such to a constant currency basis. This was not factored in to keep the comparison apples-to-apples from the first graph to the second graph. That said, if one looks at PLT's historical enterprise gross revenue on a constant currency basis, the company did actually see an increase in enterprise gross revenues in CY2015 (of about 1.5%).
Margins:
Unfortunately PLT does not fully disclose the separate margins for its two divisions as it technically reports everything in only one operating segment. However, it does provide qualitative color as to the margins on its various products, and here is what it says:

Source: SEC Filings
Given the relative stability in PLT's overall gross margins throughout time, despite product mix shifts, I am comfortable concluding that although this hierarchy of margins exists, I do not believe the differences in margins to be enormously material. In addition, it is imperative to note that it is PLT's lowest margin product lines that have been declining in growth; consumer products.
Recent Company Activity Worth Noting
PLT announced a relatively minor restructuring initiative last quarter. The company is eliminating ~125 jobs from around the globe in order to improve profitability and margins. The restructuring is expected to cost PLT roughly $12.6M in pre-tax charges, primarily consisting of severance pay, which will be mostly incurred over this next upcoming quarter (Source: SEC Filings). PLT anticipates this restructuring to result in $15-16M in annual savings moving forward and is anticipated to be fully completed by the end of this upcoming quarter (Source: SEC Filings). I view this as a net positive for PLT as it seems very sensible from a financial standpoint and shows the company's management being proactive in making efforts to maintain its bottom line with the decrease in Bluetooth Mono consumer products which is being experienced.
Recently, during this past third fiscal quarter, GN Netcom filed a lawsuit against PLT for spoliation of evidence in regards to its ongoing 2012 suit against the company. The 2012 suit was essentially for monopolizing the U.S. enterprise headset market. That case is ongoing and due to its nature is very difficult to put a monetary penalty on (if any should be assigned at all). The more recent suit for the spoliation of evidence is more straightforward. The briefing for that said case has been completed and the date of motions for sanctions is currently being set. The management has provided us in their most recent earnings call transcript guidance in regards to what they expect the expense to be in regards to this case: $1-2M (Source: Earnings Transcript).
Financial Overview
Financially, Plantronics is the type of company which investors love to see; ample free cash flow, great margins, and the consistent and measurable returning of capital to investors. Plantronics has consistently grown top-line revenue at a CAGR of ~6.5% over the past three fiscal years. Plantronics consistently delivers ~50% gross margins, spending 10% (of revenue) on R&D, spending 25% (of revenue) on SG&A, all resulting in it delivering adjusted operating margins of ~20% and adjusted net income margins of ~15%. The company produces ~$100M annually in free cash flow and consistently returns 60% of that to shareholders in the forms of both dividends and share repurchases (about two-thirds of the 60% being in the form of share repurchases and the remainder through dividends).
Below is an illustration showing just how consistent the free cash flow level of PLT has been over the past years.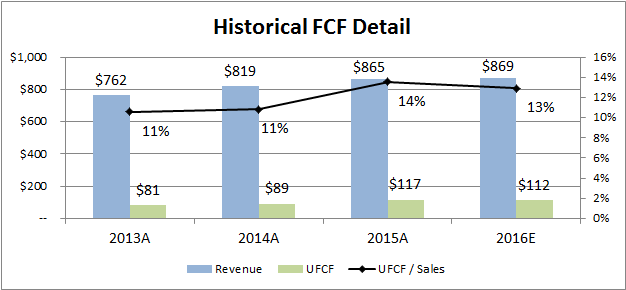 Source: SEC Filings
Unlevered free cash flow is calculated ex-Capex, D&A, SBC, and change in NWC. As typical in any FCF calculation, Capex was deducted due to its relation to the core operations of the business and its recurring nature.
Thesis
I am long Plantronics because
1.) Great company
Financially and operationally
2.) Valuation
Considerably undervalued (as detailed below)
3.) Upside potential
Through increased UC adoption
4.) Now is the perfect time to buy
Recent overreaction to confusing earnings guidance issued
Reason 1: PLT is a Great Company
Without backtracking here, I just want to reiterate that PLT is a solid company from both a financial and operational perspective. One point worth commenting on further here is the moat around the enterprise industry. There are two contributing factors to this moat. The first is the R&D expenses required to enter the industry. Although it is not rocket science, the technology behind headsets is actually a bit more complicated than one might initially believe. This is especially true in those headsets with additional smart features like noise cancellation and automatic computer locking. Not to mention, the R&D is relatively capital intensive as is demonstrated by Plantronics' consistent and considerable R&D spend overtime to maintain its leadership position in the industry. The second, and by far the most significant barrier to entry is the distribution network. These distribution networks are built over years and in the enterprise division span nearly every outlet you can imagine. To highlight just how large of a barrier to entry distribution is, and just how large of a moat the consolidated enterprise headset industry has, I would like to point back to the fact that in 2012, GN Netcom filed legal charges against Plantronics for essentially monopolizing the U.S. enterprise headset industry (Source: SEC Filings).
Reason 2: Valuation
Assumption Notes:
As the below assumptions will lay out in quantitative detail, this thesis is based around Plantronics' core business essentially stagnating, with top-line growth creeping along. This is an extremely conservative thesis and set of assumptions, which are there to display just how undervalued this company currently is. The assumptions here represent what many would call a "base case" or even a "bear case" by some generous sell-side investors. The assumptions certainly do not qualify as a bull or best case. It is important to note that Plantronics does not issue guidance past one quarter ahead, and due to such, the assumptions err even further towards the side of conservatism.
Operational Assumptions:
Top Line Growth: 1%
- 1% top line is to net out the expected potential decline of the consumer segment while taking into account overall expected enterprise segment growth
Consumer Division (~30% of revenue)
5% continual decline in consumer division revenue (which PLT has experienced YTD YoY)
Enterprise Division (~70% of revenue)
3.5% continual increase in enterprise revenue (which PLT has experienced YTD YoY)
Represents a significant discount to the expected growth rate of overarching enterprise headset market of 12% (Source: Sullivan & Frost)
Gross Margins (Adj.): Consistently held at 51%
- YTD company is experiencing 51% adj. gross margins
- Average adj. gross margins over past three years of 53%
- Much of the recent contraction can be attributed to currency impact
- Conservative given PLT's lowest margin products are the ones experiencing a decline in sales
SG&A and R&D
- Held consistent at 25% and 10% of revenue respectively
Average historical rates which management has continuously reassured will not be significantly changing
Capex
- Held constant at $32.5M (midpoint of management guidance
- Should in reality decrease to some extent in forward years due to relatively recent completion of Mexico manufacturing facility but held at this level for conservatism
Valuation Assumptions:
Perpetuity Growth = 1%
- Same logic as for 1% revenue growth outlined above applies here
Exit EV/EBITDA Multiple = 11x
- Represents a ~3x discount to GN Netcom
Due to uncertainty around long-term growth rates and continued exposure to potential currency headwinds
WACC = 8.2%
- Cost of Equity = 9.8%
Beta = 1.3
Market Risk = 8%
Risk Free = 2%
- Cost of Debt = 4.2% (current long term debt outstanding after tax)
Tax Rate = 23%
Current cost of debt O/S of 5.5%
Valuation Output:
Output from both the perpetuity growth and exit multiple DCFs can be seen below. A target price of $50 a share represents 35% upside from the current share price of ~$37 a share.


I choose to view and value Plantronics through the lens of perpetuity growth. I think that creates the most accurate picture of this company's true value given that it is such a FCF heavy and consistent company with large recurring revenues and an immense moat around the industry. In addition, I find it fairly difficult to gain confidence around a multiple based valuation approach for PLT given that there are really no direct comps that match PLT's company composition in terms of sales. There are larger more diversified companies that one could argue are fair comps to use. These include companies like GN Netcom. However, given GN derives such a significant portion of its sales off hearing aid (more hearing related healthcare devices), I find it would be more inappropriate than appropriate to put much weight on the comparison of the two. If one does choose to view PLT on a multiple basis, below is a breakdown of comps and how such should be viewed. The end conclusion which is readily taken from such is very much in line with the perpetuity growth based valuation.
Details on Comps and Multiples:
As mentioned, finding appropriate comparable companies for Plantronics is difficult. PLT derives the majority of its revenue from a market which is primarily controlled by it and one other company. And that one other company, GN Netcom, is involved with the production of many other hearing and audio-related products, only deriving ~25% of its revenue from the enterprise segment (compared to PLT that derives ~70% of its revenue from the enterprise segment). However, after much thought, a final comps list consisting of GN Netcom and Logitech (NASDAQ:LOGI) were chosen. Below are some very key and meaningful graphs showing the profitability landscape of these companies compared to each other, along with each company's associated multiples.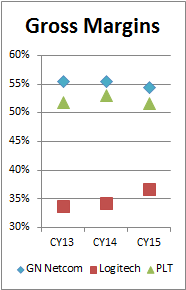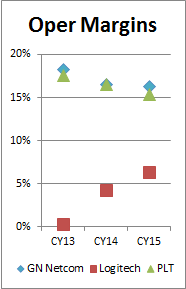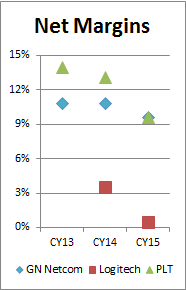 The above graphs clearly display that PLT has consistently operated with the highest (or nearly the highest) margins across the board over the past three years. However, beyond that immediate surface interpretation, there are a few more points worth noting. Firstly, Logitech is really not as great of a comp as GN Netcom. Secondly, the margin compressions which PLT has experienced were also largely and equally felt simultaneously by GN Netcom. This should be viewed as a large positive for the health of PLT, as it shows that the compressions in margins PLT has experienced are not company specific and are rather associated with the larger general industry. Note that in CY15, PLT did experience relatively significant net income margin compression while GN Netcom did not appear to have felt such. This is due to PLT incurring restructuring costs in relation to a recently announced restructuring initiative, facing increased foreign currency headwinds, and experiencing a decline in one of the company's primary consumer products (Bluetooth Mono - which had effects through fixed cost absorption). The last point which should be made here is consistency; PLT has experienced great consistency in margins over time.
Moving to multiples, below are graphs displaying the P/E and the EV/EBITDA multiples of PLT and its two comps on three bases: TTM, 1-year forward, and 2-year forward.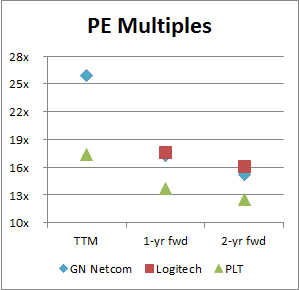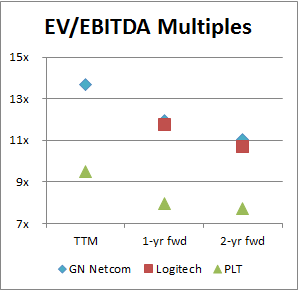 On a PE basis, PLT is trading at a discount on all time bases and on average is trading at a ~25% discounted PE multiple when compared to its two comps.
On an EV/EBITDA basis, PLT is trading at a discount on all time bases and on average is trading at a ~31% discounted EV/EBITDA multiple when compared to its two comps.
An important note to emphasize is that even if Logitech is removed from the analysis and PLT is directly compared to GN Netcom on a multiples basis, the results do not meaningfully change. As the graphs illustrate, this is due to Logitech and GN Netcom trading on very similar multiples.
Another important note is that this average discount which PLT is trading on in compared to peer multiples is very similar to the potential upside which my base case model here displays (~27% versus ~35% potential upside due to a simple value correction).
After further investigation, it becomes readily apparent that GN Netcom and PLT are in the process of moving towards multiple convergences when one compares the historical multiples of the two companies. This can be seen in the two graphs below.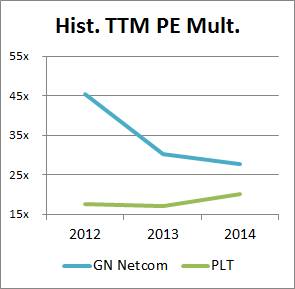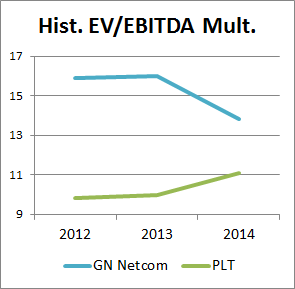 Source: Thomson Reuters
Assuming the multiples continue to move towards parity, this further supports the discounted 11x EV/EBITDA multiple used as an exit multiple in the valuation. This also further illustrates just how conservative the 11x multiple truly is.
In choosing these comps and multiples, it was important to look at the overarching expected growth rates of each company, as a disparity in such could be the cause, reason, and the justification for a matching disparity in multiples. As the below graph shows, this is not the case here. GN and PLT show similar expected growth profiles (with PLT actually edging out GN and Logitech lagging both of them).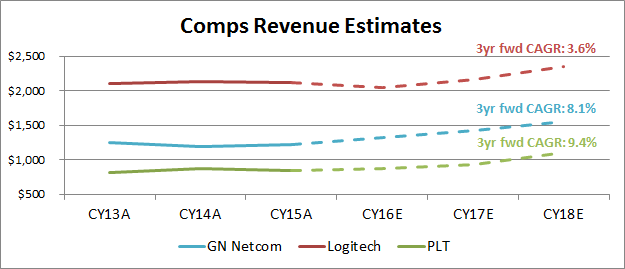 Source: Thomson Reuters
That said, due to the potential currency headwinds which PLT may continue to experience (especially incrementally in comparison to GN Netcom), I have chosen an exit multiple of 11x TTM EV/EBITDA for valuation purposes to err on the side of conservatism.
Reason 3: Upside Potential (UC Sales)
As mentioned, UC is still in relatively early stages of adoption. PLT has positioned itself in an optimal position for capitalizing on this next trend and generation of enterprise headsets as it continues to grow. Plantronics has consistently invested ~10% of its revenue (or ~$90M in the most recent year) in R&D, primarily focused on UC (Source: SEC Filings). The valuation above doesn't put emphasis on this growth for conservatism purposes. I feel more comfortable assuming that adoption creeps along and have the added potential upside not factored in. This is being viewed as a value investment more than a growth investment.
Reason 4: Now is Perfect Time to Buy
Overview of Q3 Earnings:
Plantronics recently issued very confusing, and on the surface level - very negative guidance for Q4. The market has overreacted to this news. Prior to the earnings announcement price drop, I would have said that Plantronics was a pretty attractive long-term buy. Given the recent price moves, I would say it is now an excellent buy.
Market's Reaction:
Plantronics' recent Q3 earnings announcement resulted in a ~27% drop in its share price (which since the announcement on February 1st has recouped about 10%). Plantronics missed revenue slightly ($225M vs. $230M estimates) and beat earnings ($0.83 versus $0.76) (Source: Q3 Earnings Press Release). The real reason for the drop in share price was not so much the slight miss on revenue, but more so the weak guidance provided for Q4. It is important to note that Plantronics' management team does not provide guidance past one quarter out. Before going into the fourth quarter guidance which management provided, let's quickly take a look at what actually happened during this past third quarter.
Details on 3Q Results:
During the fiscal third quarter of this year, constant currency basis revenues were up on a YoY basis 1%. Enterprise revenues, on a constant currency basis, were up ~1%. Consumer revenue was a bit more complicated, with it being down just (0.5%), but seeing a relatively large shift in product makeup within this category (Source: Earnings Announcement). Bluetooth Mono headsets saw a significant $8M decline (Source: Earnings Call Transcript). This $8M decline is equivalent to a ~10% decline in consumer revenue. What made up for this decline in Mono Bluetooth is stereo and gaming products, also within the consumer segment. It is important to note that although not mentioned in the earnings announcement, but rather only in the transcript, Bluetooth Mono headsets now represent less than 50% of PLT's consumer segment revenue stream. This is great for investors, as it provides color to the potential future downside which can be expected from continued declining sales from Bluetooth Mono products. Across the board, currency impact as well as restructuring costs remained relatively large and disadvantageous.
4Q Guidance:
Management's guidance included both GAAP and non-GAAP figures for revenue, operating income, and net income. Revenue is going to be flat on a GAAP basis and there is no need to discuss net income, as everything which is about to be discussed in regards to operating income flows down to net income as well.
The short of it, and why people overreacted, is that the non-GAAP figures which management reported adjusted some non-recurring costs, but not all. This painted a picture of a more grim outlook than the true situation.
Below is a graph showing the YoY 4Q changes in non-GAAP operating income, as management is implying given their 4Q16 guidance. As one can see, it is quite alarming. It is even more alarming on a GAAP basis, which shows a ~44% QoQ decline in GAAP operating income.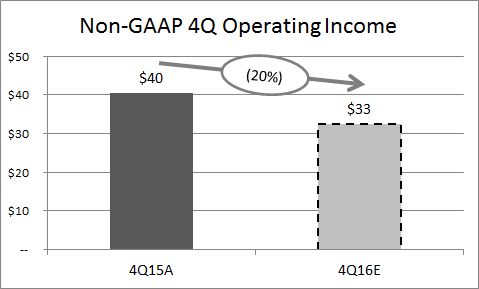 Source: Earnings Announcement
However, after further investigation, the results should really look like this: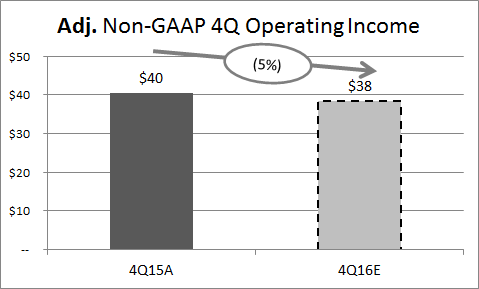 Source: Earnings Announcement
The two primary costs which the company did not factor into its adjusted non-GAAP figures in order to accurately allow investors to properly compare QoQ results are 1) increase in litigation expense 2) anticipated currency headwinds. A bridge showing these adjustments and how the second and more accurate picture was derived from management's raw guidance is shown in the graph below.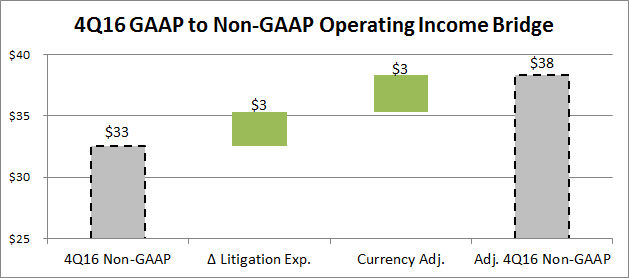 Source: SEC Filings
During the fourth quarter of last year, PLT realized a net gain of ~0.85M in litigation. This upcoming quarter it is expecting a net expense of ~$2M due to litigation. This is not adjusted out in its non-GAAP figures which it has provided. PLT has been on the receiving end of increased negative effects due to currency exchanges and the strong dollar, as many US manufacturers have been. To illustrate a more accurate picture, the currency adjustment which I made uses the same currency adjustment seen in the very prior quarter, which I believe is the proper way to view this.
Is the Q4 guidance positive? Absolutely not. Margins are getting compressed. That said, is the picture as grim as the guidance initially paints? Definitely not. Does the guidance warrant the share price drop which the company experienced? Absolutely not. Again, the guidance is undeniably negative, but not negative enough to warrant what we have seen in share price movement. Plantronics is currently restructuring, and shifting efforts and focus from declining volume products to higher demand (and higher margin) products. During a restructuring based period such as this, mixed earnings results (and potential overreaction to earnings results) can be expected; which is exactly what we are seeing. This has created an opportune time to come in and buy this great company at a discount.
Conclusion
Plantronics is a sound company despite its recent drop in share price. I recommend going long PLT with the expectation of seeing ~35% upside in the share price over the next year to two years. The company is at an inflection point, currently seeing a visible plateau in one of its primary consumer products and is simultaneously undergoing a restructuring plan. Plantronics has a solid management team with a long history at the company. The company has consistently generated ample free cash flow and has done a phenomenal job returning such to investors. Plantronics is poised for growth. However, this growth is largely tied to the adoption of Unified Communications, which is occurring far slower than originally anticipated. Due to such, I do not feel comfortable making significant growth assumptions in regards to UC adoption, and therefore have approached this from a value investor standpoint. Even still, as a strict value investment, Plantronics represents a classically over-beaten down stock, which is due for a serious correction. Going long will put you in a position to capitalize on this and invest in a sound company.
Disclosure: I am/we are long PLT.
I wrote this article myself, and it expresses my own opinions. I am not receiving compensation for it (other than from Seeking Alpha). I have no business relationship with any company whose stock is mentioned in this article.