Dunkin' Brands Group (NASDAQ:DNKN) operates in the QSR segment of the restaurant industry. The company franchises restaurants under Dunkin' Donuts and Baskin-Robbins brands. With an asset-light business model, DNKN functions through four segments: Dunkin' Donuts U.S., Dunkin' Donuts International, Baskin-Robbins International and Baskin-Robbins U.S.
In 2015, although DNKN achieved 10% and 11% growth in adjusted operating income and adjusted EPS, respectively, it wasn't the best year for the company primarily because of the lackluster Dunkin' Donuts U.S. comp sales performance. DNKN's Dunkin' Donuts segments generate about 80% of the company's total revenues, of which about 96% are in the U.S segment. Hence the company's ability to grow comp store sales and profitability in Dunkin' Donuts U.S determines its success in the long-term more than anything else. In Q4 2015, comp sales of Dunkin' Donuts U.S. fell by 0.8% and this disappointed many analysts who were expecting this segment to report stronger comp sales. Historically Dunkin' Donuts U.S has performed well, achieving comp sales growth in 45 consecutive quarters - so was 2015 just a blip?
One can't be too certain but a reasonable case can be made to support the claim that the poor comp performance of 2015 isn't here to stay. DNKN sacrificed comps to enable the entry of Dunkin' K-Cups into the grocery channel which isn't a disastrous move because it will allow the company to sell more cups of coffee to its consumers and promote its brand. Plus, if we exclude the impact of weather on comps, the results would have been better. But these kinds of allowances cannot be made because in the real world things are always unpredictable and complex.
Nevertheless, in 2016 DNKN is targeting Dunkin' Donuts U.S. comp store sales growth between 0% and 2% by aggressively pursuing coffee innovation and making use of digital technology. The company is also planning to make better pricing decisions. These measures will probably lead to improvements but at this point I am finding it hard to be too excited about DNKN's prospects. In the lines that follow I'll explain why.
DNKN's dividend
DNKN's quarterly dividend per share has increased consistently and this is one of the reasons why many find DNKN an attractive investment proposition. With the increase in quarterly cash dividend to $0.30 per share in the first quarter of 2016, DNKN offers a dividend yield of 2.3%. However, I do not believe that there is much room for more dividend growth. As the chart below shows, DNKN's payout ratio has crept up to an unacceptable level. It currently stands at ~95%, which is clearly unsustainable because the company is reinvesting too little into the business.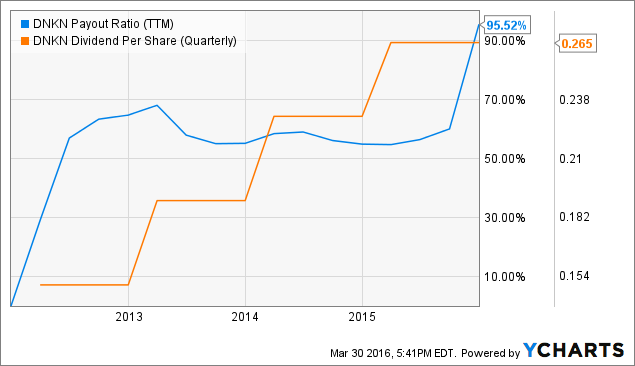 As far as the sustainability of the dividend is concerned, although DNKN generates a reasonably high level of FCF each year, the company's FCF does not dwarf its dividend obligations by a large margin. FCF coverage presently stands at practically 80%. This isn't a good sign because DNKN has significant debt service obligations and in future less FCF might be devoted to dividends. I discuss this further in the next section.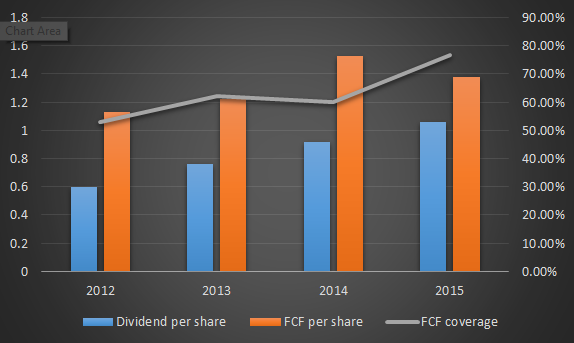 (Source: Morningstar)
An inspection of DNKN's profitability
DNKN's return on equity increased from ~45.5% in 2014 to ~143% in 2015. This might lead you to believe that the company's profitability has improved but that isn't the case as the simple DuPont analysis below reveals.
For 2015
| | | | |
| --- | --- | --- | --- |
| Net Profit margin = 12.98% | Asset turnover = 0.25 | Equity Multiplier = 43.49 | ROE = 12.98*0.25*43.5 = ~143% |
For 2014:
| | | | |
| --- | --- | --- | --- |
| Net Profit margin = 23.55% | Asset turnover = 0.23 | Equity Multiplier = 8.19 | ROE = 23.55*0.23*8.2 = ~45.5% |
As you can see, the massive increase in DNKN's ROE wasn't the result of an increase in net margin but rather the ominous growth in the equity multiplier. In fact, DNKN's net margin reduced by nearly half but DNKN managed to more than make up for it by increasing leverage by no less than 5 times. Asset turnover increased only marginally so this isn't a very favorable combination.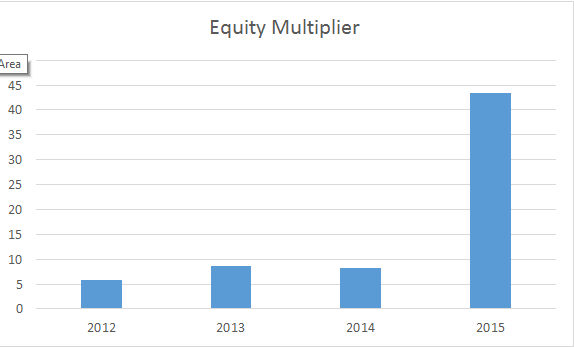 (Source: Morningstar)
A closer look at DNKN's net margin further sheds light on what's going on. The decline in net margin was not due to falling operating income margin, which isn't a bad sign by any means. The operating income margin improved slightly from 2014 to 2015 indicating that DNKN does not have any serious retail problems but this improvement was offset by the increase in tax and interest burden. Here is the decomposition of DNKN's net margin for 2014 and 2015:
For 2014:
| | | | |
| --- | --- | --- | --- |
| Operating income margin = 48.9% | Tax burden = 0.6875 | Interest burden = 0.7 | Net margin = 12.98*0.25*43.5 = ~23% |
For 2015:
| | | | |
| --- | --- | --- | --- |
| Operating income margin = 49.3% | Tax burden = 0.5198 | Interest burden = 0.505 | Net margin = 49.3*0.5198*0.505 = ~13% |
With net debt standing at 5.2X adjusted EBITDA, DNKN is highly levered. Its direct competitors namely Yum! Brands (NYSE:YUM) and Starbucks (NASDAQ:SBUX) operate with much lower financial leverage.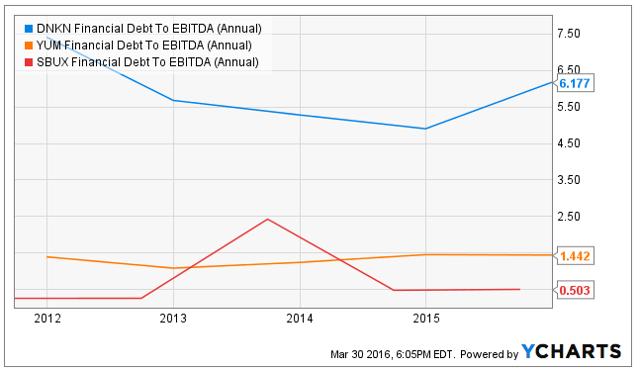 Final verdict
DNKN's stock is sporting a P/E multiple of 43.2x versus the restaurant industry average multiple of 28.7x. Even if one employs other valuation metrics like the P/S or EV/EBITDA, shares look expensive. Unfortunately DNKN's growth story doesn't look that compelling and I believe that the premium valuation isn't justified. DNKN's sketchy balance sheet and its heavy reliance on external borrowing further casts doubt on the company's ability to achieve sustainable growth in future. Thus I am staying away from DNKN for now.
Disclosure: I/we have no positions in any stocks mentioned, but may initiate a short position in DNKN over the next 72 hours.
I wrote this article myself, and it expresses my own opinions. I am not receiving compensation for it (other than from Seeking Alpha). I have no business relationship with any company whose stock is mentioned in this article.