Michael Cintolo, Chief Analyst, Cabot Growth Investor
Steel stocks are highly cyclical and are practically the definition of a "down the food chain" sector-if a big industry or two slows down, demand for steel can fall dramatically, slashing prices, utilization and profits. That's basically what's happened during the past few years, as a flood of imports and slowing demand from energy firms (for tubing and related products) has made a mess of the group; from July 2014 through January of this year, the sector plunged 70%!
Like many beaten-down groups, steel stocks are now on the comeback trail-steel prices are rebounding as imports decline (thanks to the imposition of huge tariffs on cold-rolled steel from many countries, including China), and a couple of key customer end markets appear likely to drive demand. Moreover, the sector itself is back above its 200-day line, unlike most of its commodity-related peers.
Now, just because the future looks a bit brighter doesn't mean we're rushing to buy steel stocks, but it has prompted us to dig into the group, and one stock caught our eye. Steel Dynamics (NASDAQ:STLD) is by far the most efficient steel producer in the sector; it gets about 80% of revenues from steel production and fabrication, with the rest from metals recycling. More than 80% of its costs are variable and it focuses on so-called value-added sheet steel (specially engineered and higher priced), which helps it stay in the black no matter the environment.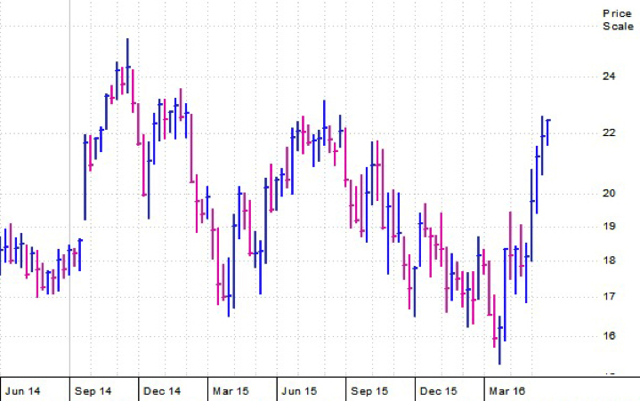 Copyright WONDA.
The company made 73 cents per share last year, and even cranked out a profit in 2009 when the sector's sky was falling. During the past five years (hardly a boom time for the industry), Steel Dynamics produced about $2.1 billion of free cash flow (more than $8.50 per share cumulatively, including north of $3.50 last year alone), which it's used to pay down debt and fund a solid dividend (annual yield of 2.5%).
More important at this point are Steel Dyanmics' prospects for growth, and there are many-the tariff (which is already boosting prices), its recent acquisition of a Columbus, Ohio mill, and its focus on customers that are in a solid growth mode, specifically automotive and construction, which make up nearly half of all shipments. Analysts see earnings rising 80% this year and another 30% in 2017, though, admittedly, those outlooks can change in a hurry.
The stock itself corrected "only" 40% from July 2014 through this January (versus 70% for the group), and it's now rallied strongly to within about 10% of multi-year highs. It's not revolutionary, of course, but if steel stocks really have bottomed out, STLD could do very well. It's on our watch list.
Disclosure: I/we have no positions in any stocks mentioned, and no plans to initiate any positions within the next 72 hours.
I wrote this article myself, and it expresses my own opinions. I am not receiving compensation for it. I have no business relationship with any company whose stock is mentioned in this article.