In this report, we highlight stocks that demonstrate solid growth prospects at a reasonable price (GARP) and provide an update of last month's report. For older reports, you can visit this link.
Our criteria for the selecting stocks in these model portfolio strategies, which heavily weight proxies for cash flow growth and ROIC, include the following:
Relative Value
Operating Momentum
Consensus Estimate Revision Momentum
Fundamental Quality
The highest ranked stocks are selected for our long-model portfolios and the lowest ranked stocks are selected for our short model portfolios. These criteria are explained in more detail in our September 2015 report. Intraday price target alerts and returns are posted on our Seeking Alpha blog.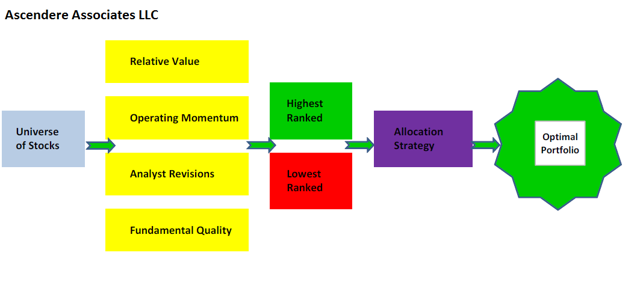 As of the March 31, 2016 close, 6 stocks have left the long-only model, 8 have been added, and 15 were assumed to have been rebalanced. A preliminary rebalancing model was posted on our Seeking Alpha blog prior to the market close on March 31.
23 Long Stock Ideas for April 2016
New Long Ideas
O'Reilly Automotive Inc. (NASDAQ:ORLY)
Sprouts Farmers Market, Inc. (NASDAQ:SFM)
Ultrapar Participações S.A. (NYSE:UGP)
Molina Healthcare, Inc. (NYSE:MOH)
Hawaiian Holdings Inc. (NASDAQ:HA)
Leidos Holdings, Inc. (NYSE:LDOS)
DST Systems Inc. (NYSE:DST)
National Grid plc (NYSE:NGG)
Rebalanced Long Ideas
American Eagle Outfitters, Inc. (NYSE:AEO)
Skechers U.S.A., Inc. (NYSE:SKX)
PrivateBancorp, Inc. (NASDAQ:PVTB)
Signature Bank (NASDAQ:SBNY)
First Citizens Bancshares Inc. (NASDAQ:FCNCA)
United Therapeutics Corporation (NASDAQ:UTHR)
VCA Inc. (NASDAQ:WOOF)
Amgen Inc. (NASDAQ:AMGN)
Deluxe Corp. (NYSE:DLX)
Canadian Pacific Railway Limited (NYSE:CP)
Manhattan Associates, Inc. (NASDAQ:MANH)
Linear Technology Corporation (NASDAQ:LLTC)
NetEase, Inc. (NASDAQ:NTES)
Cisco Systems, Inc. (NASDAQ:CSCO)
NVIDIA Corporation (NASDAQ:NVDA)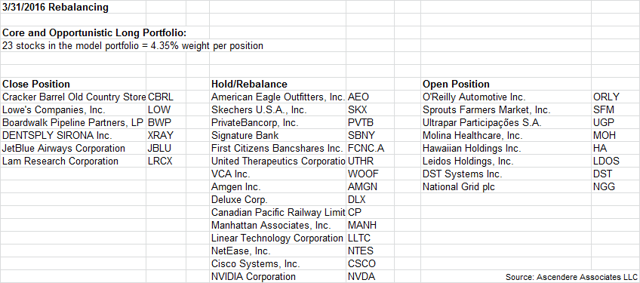 Our favorite new long idea is Ultrapar Participações S.A.
We would like to explore the Brazilian-based American Depositary Receipt UGP in more detail. As noted in the simple models below, which were constructed in part using XBRL Analyst, ROIC for this company is likely to steadily improve over the next few quarters. A more detailed model not provided here indicates this improvement in ROIC will likely continue to be driven largely in part from better working capital management. This implies that management is firmly in control of its business.

28 Short Sale Stock Ideas for April 2016
Our list of short ideas are composed of low-quality stocks. When the market anticipates an improving economy from low price levels, low-quality stocks will at times out-perform high-quality stocks as the expected improvements in fundamentals are discounted from a relatively more depressed price level.
The majority of these companies will likely show a recovery in ROIC over the next year. As a result, many of these stocks will likely only work well as short sale ideas in the short-term during periods of heightened market uncertainty or volatility.
As we have noted previously, March 2016 was the perfect time to take long positions in low-quality stocks.
New Short Sale Ideas
Qunar Cayman Islands Limited (NASDAQ:QUNR)
EnLink Midstream Partners, LP (NYSE:ENLK)
Marathon Oil Corporation (NYSE:MRO)
RSP Permian, Inc. (NYSE:RSPP)
MPLX LP (NYSE:MPLX)
Parsley Energy, Inc. (NYSE:PE)
Kennedy-Wilson Holdings, Inc. (NYSE:KW)
Middleby Corp. (NASDAQ:MIDD)
Zebra Technologies Corporation (NASDAQ:ZBRA)
Rebalanced Short Sale Ideas
Tesla Motors, Inc. (NASDAQ:TSLA)
TripAdvisor Inc. (NASDAQ:TRIP)
Concho Resources, Inc. (NYSE:CXO)
Apache Corp. (NYSE:APA)
National Oilwell Varco, Inc. (NYSE:NOV)
Devon Energy Corporation (NYSE:DVN)
Royal Dutch Shell plc (NYSE:RDS.B)
Noble Energy, Inc. (NYSE:NBL)
Hess Corporation (NYSE:HES)
Legg Mason Inc. (NYSE:LM)
Sensata Technologies Holding NV (NYSE:ST)
Qorvo, Inc. (NASDAQ:QRVO)
NCR Corporation (NYSE:NCR)
LinkedIn Corporation (NYSE:LNKD)
Autodesk, Inc. (NASDAQ:ADSK)
Yahoo! Inc. (NASDAQ:YHOO)
Tableau Software, Inc. (NYSE:DATA)
Albemarle Corporation (NYSE:ALB)
Methanex Corporation (NASDAQ:MEOH)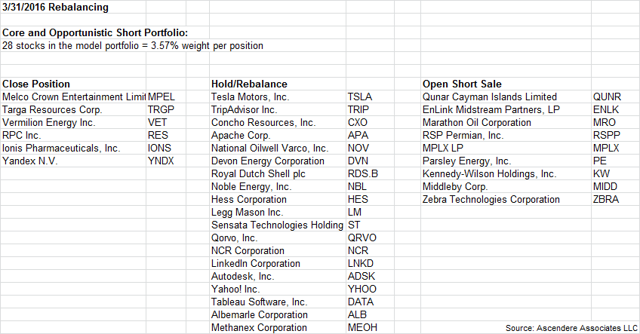 Our favorite new short idea is EnLink Midstream Partners, LP
EnLink Midstream Partners, LP reported a poor December quarter. Consensus estimates imply that a recovery to positive ROIC within a year is unlikely. Short sellers will likely get burned if oil prices keep rising. But if oil prices decline or even just flatten this short idea may work out well. This deserves further study.


March 2016 Model Portfolio Report Commentary
(The Core model and Opportunistic model hold the same stocks and use the same stock-specific price targets, with the Opportunistic model portfolio occasionally moving to a 100% cash position during periods of extreme volatility or when short-term portfolio return targets are reached.)
By the close of the third trading day of the month it was clear that a rally in low-quality stocks had high momentum and had a high chance of continue for several weeks. We noted as much in our March 6 note and a follow-up on March 16. The drastic outperformance of low-quality stocks, which our theoretical portfolio models assume short sale positions in, had a negative impact on our long/short theoretical strategies.
Both the theoretical Core Long Model and Opportunistic Long Model increased +6.31% in March, slightly lower than the +6.45% return in the S&P 500.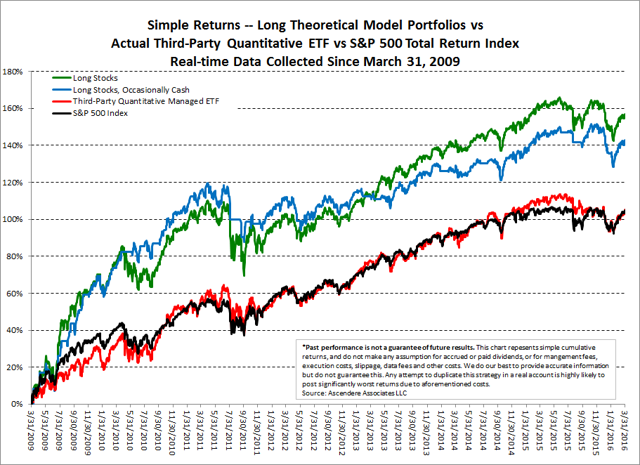 With low-quality stocks in the model moving up +11.66% for the month, the theoretical Core Short Model posted a loss of -11.66%. The chart below shows the drastic outperformance of low-quality stocks used in our short model portfolio.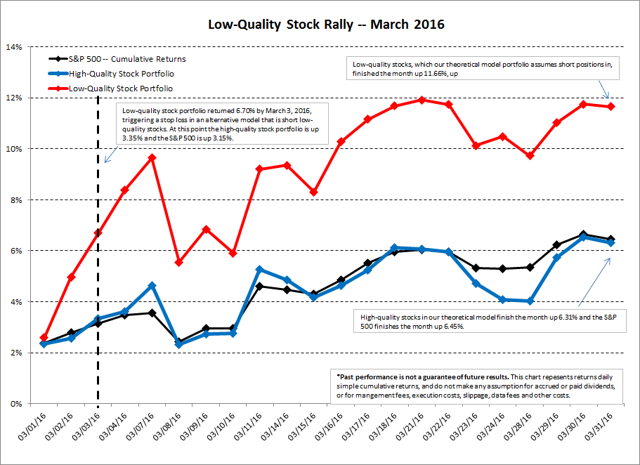 While initially holding the same short sale positions as the Core Short Model, the theoretical Opportunistic Short Model posted only a loss of -6.70% by assuming a 100% cash position just prior to the close on March 3.
The theoretical Core Long/Short Model declined by -5.35%, negatively impacted by the +11.66% surge in low-quality stocks that the model shorted. This more than offset the +6.31% return of long positions in high-quality stocks.(+6.31% -11.66% = -5.35%).
The theoretical Opportunistic Long/Short Model declined by -0.39%, after it locked in a short sale loss of -6.70% at the close of March 3 (+6.31% - 6.70% = -0.39%).
Below is a chart of the returns for the theoretical long/short strategies for March 2016, and another chart showing theoretical returns of the Opportunistic Long/Short Model since inception.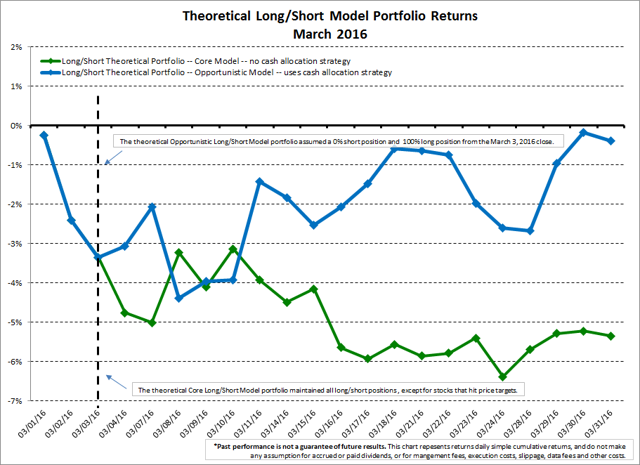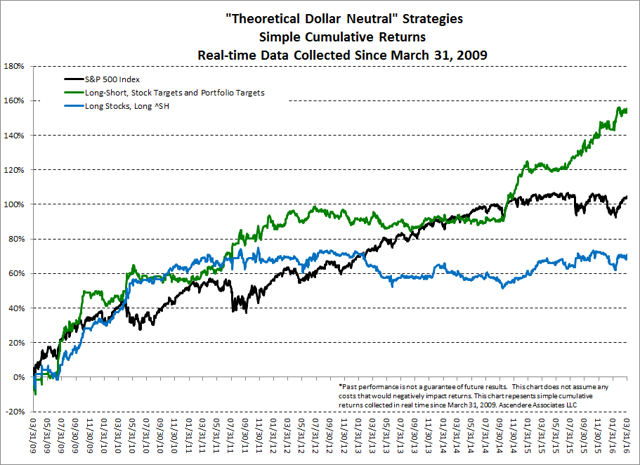 The best model portfolio stocks in March 2016
The best performing stock in the long model was Boardwalk Pipeline Partners, LP (NYSE:BWP) up +18.68% and the worst performing stock was United Therapeutics Group down -8.62%.
In the short model, the best performing stock was LinkedIn Corporation for an assumed +2.42% short sale gain, and the worst was Apache Corp. which assumed a loss of -33.28% one day after hitting a stop loss target on March 4.
Last month our favorite long idea was Lowe's Companies, Inc. (NYSE:LOW), which finished the month up +12.17%. Our favorite short idea for March was Autodesk, Inc. , which was up +12.70% for a theoretical short sale loss of -12.70%.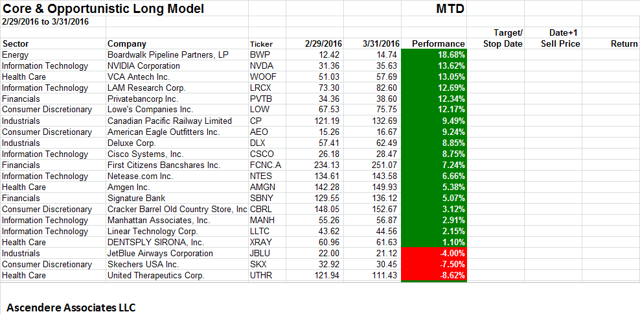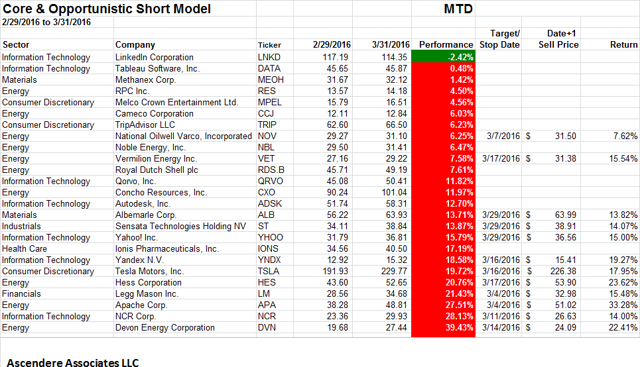 Long running advice regarding the use of our model portfolio report
Wayne Gretzky said it best - "skate to where the puck is going to be, not where it has been." Quantitative screens like the one in this report show where a stock has been and assume the trajectory is fixed. Of course, this is not always the case. The best investors will use this model portfolio as guidance, and not the end all. With a little effort, we hope that active fundamental portfolio managers will do even better.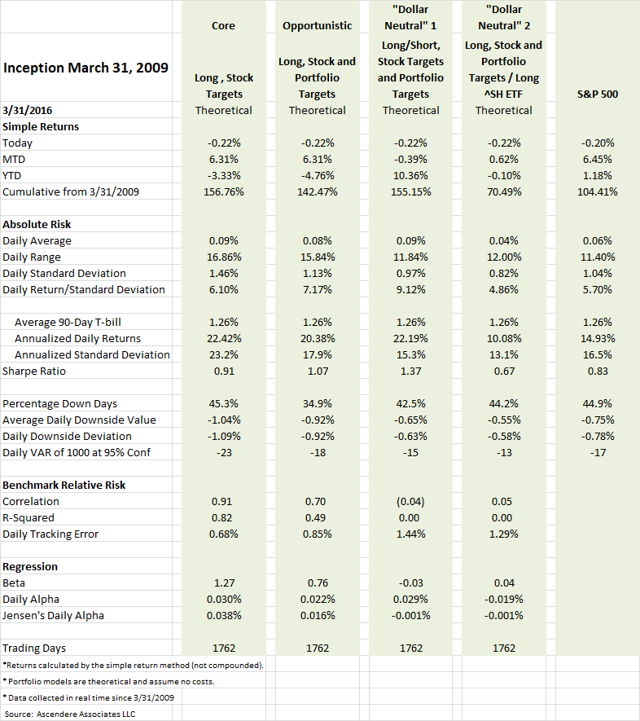 Supporting Documents
Disclosure: I/we have no positions in any stocks mentioned, but may initiate a long position in ANY OF THE STOCKS MENTIONED OR A SHORT POSITION IN ANY OF THE STOCKS MENTIONED over the next 72 hours.
I wrote this article myself, and it expresses my own opinions. I am not receiving compensation for it (other than from Seeking Alpha). I have no business relationship with any company whose stock is mentioned in this article.
Additional disclosure: here are limitations inherent in our theoretical model results, particularly with the fact that such results do not represent actual trading and they may not reflect the impact material economic and market factors might have had on our decision making if we were actually managing client money. I receive compensation from FinDynamics if you make a purchase of XBRL Analyst using the link provided in this report. We do our best to provide accurate information but we do not guarantee the accuracy of information in this report.