About a year ago, Laboratory Corporation of America Holdings (NYSE:LH) closed on the largest merger in the company's history. Predictably, Mr. Market focused on the earnings with all those merger-related charges and the dilution, then forgot to look forward to the earnings without those charges a year later. But that means that this year the company will have some easy comparisons, and the investor could take advantage of those comparisons to earn an above-average return in a stock that normally does not have a lot of risk.
One of the wiser courses taken was to allow the new unit, Covance, to remain an independent subsidiary of the company. The company has stated that there are some synergies to be obtained from the merger, but by and large, management has allowed the subsidiary to operate as it had before the merger. This way of doing mergers has been perfected by Warren Buffett, and it greatly increases the long-term success of such a large merger. Normally, the larger the acquisition, the less chance there is for the long-term success. However, this is a roll-up company in its industry with many small acquisitions to its credit, so management had a lot of practice as to what would make this acquisition successful. So far, it looks like all that practice has paid off, and the company has resumed its constant purchase of small companies (by acquiring Pathology, Inc., for example) again this year.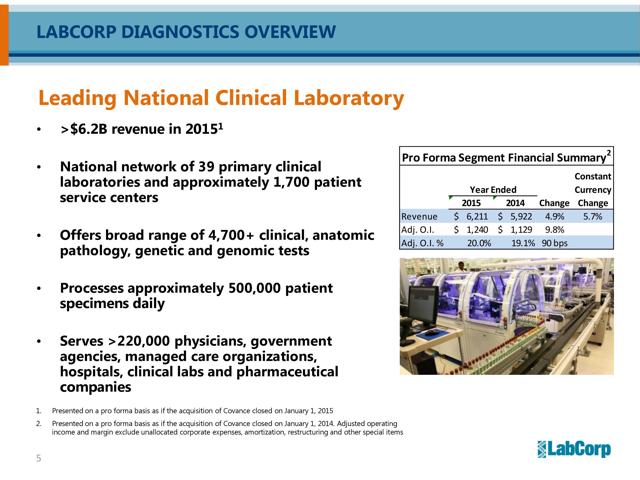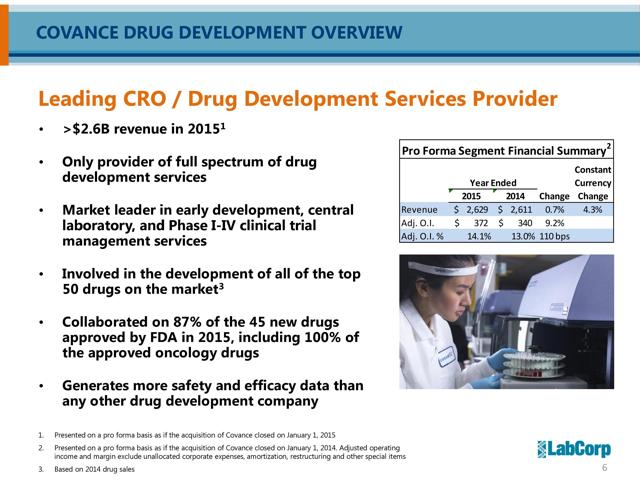 Source: Raymond James Institutional Investors Conference, LabCorp Presentation, March 9, 2016
The company has provided a long string of steady earnings from the LabCorp Diagnostics division for years. While the company was hurt in the economic downturn about a decade ago, as patients put off any testing that was not absolutely needed, now as the economy improves, that testing cycle is improving with the economy. So this company should see growth not only from the small acquisitions, but also from the increased need for its services as the economy continues to recover.
The new division, Covance, focuses much more on research and development. This division should be much more recession resistant than the other, somewhat recession-resistant division. And the new division is flashier, which may earn the company a higher price-earnings ratio in the future. Plus, both divisions generate a fair amount of cash that can be used for more acquisitions and growth. Cash flow from operations in the fourth quarter was approximately $385 million. That was more than 50% higher than the $214 million reported the year before. Cash flow in the fourth quarter had considerable help from the other current assets in increasing the cash flow. However, the annual cash flow reported for fiscal-year 2015 was $982 million, which was an increase from the $739 million reported the year before.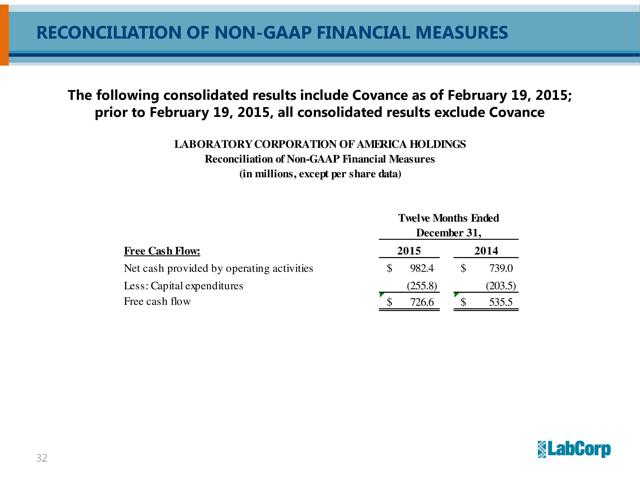 Source: Raymond James Institutional Investors Conference, LabCorp Presentation, March 9, 2016
The company has provided guidance, suggesting that it build on that cash flow shown above in the coming year. Management had a goal of synergies between the two divisions and some cost cutting (rationalization) that would increase cash flow. So what is starting off as a benefit from the current ratio accounts will apparently become a permanent increase that the company intends to increase more (hopefully at least 10% more although management appears to have a much higher goal).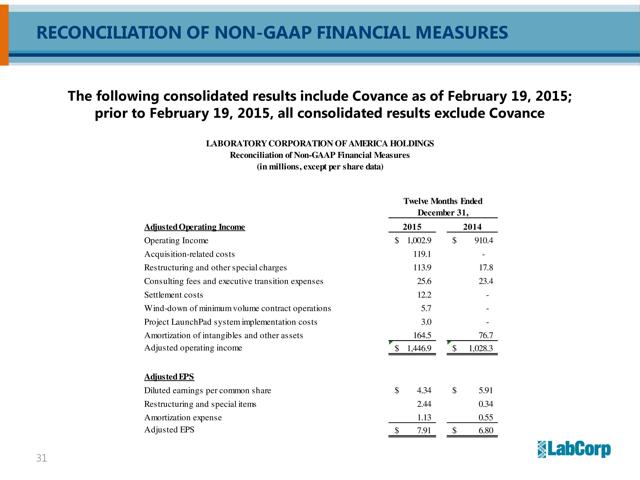 Source: Raymond James Institutional Investors Conference, LabCorp Presentation, March 9, 2016
The company has provided a reconciliation of the two years. Interestingly, the adjusted earnings per share increased nicely even with the additional shares outstanding. The stock price has held up rather well considering the negative comparisons reported after the merger. However, many of those charges were one-time. Plus, sales and cash flow have continued to increase, which bodes well for future profit increases. Cash flow is projected to rise about 20 percent or so this year (see chart below) and that usually is a precursor to more rapid earnings growth (than in the past). While there are still more merger-related charges appearing in the latest quarter, the amount of those charges has been greatly reduced. The upcoming March and June comparisons will have a lot of recorded expenses in the previous year (from the above chart) that won't have a comparable charge (especially in magnitude) this year. The company will likely show earnings growth in excess of 20 percent for the next few quarters (when taking into account the merger charges). Even the adjusted earnings per share are expected to overcome the stock dilution from the merger and show an earnings increase of about 10% per share. That is one heck of a performance.
The average analyst forecast is for earnings of $8.71 for the year, which is a roughly 10% growth from the earnings reported last year before all the special charges and includes the effects of the new common shares outstanding from the merger. But clearly the market is taking a "show me" attitude towards this company. The price-earnings ratio using the $7.91 figure and the closing price on Thursday, March 31, 2016, of $117.13 is not quite 15 times earnings. This is extremely cheap for a stock of this quality and earnings predictability (and its long growth record). Normally healthcare stocks trade for much more. An increase in the price-earnings ratio to a more normal 24 times earnings (and using the guidance forecast of $8.71) results in a stock price of $209 per share, which would be a nice gain from the current price. Plus, the effect of new common shares outstanding will fade quickly in the quarterly comparisons. In the past, the company has purchased shares of stock and shows treasury stock on its balance sheet. Expect those purchases to resume at more historical levels as cash flow climbs to a more comfortable level.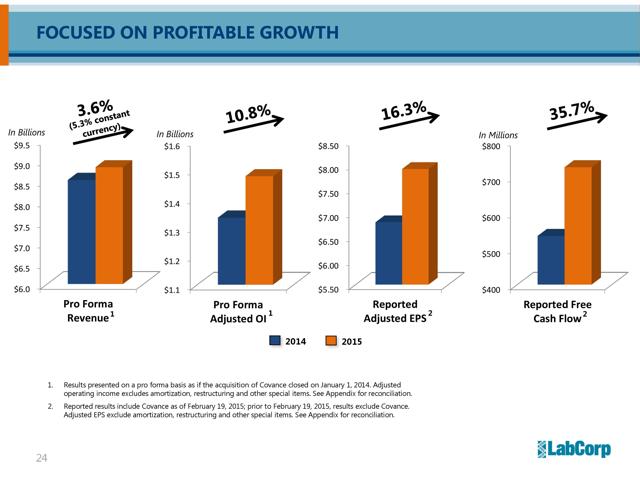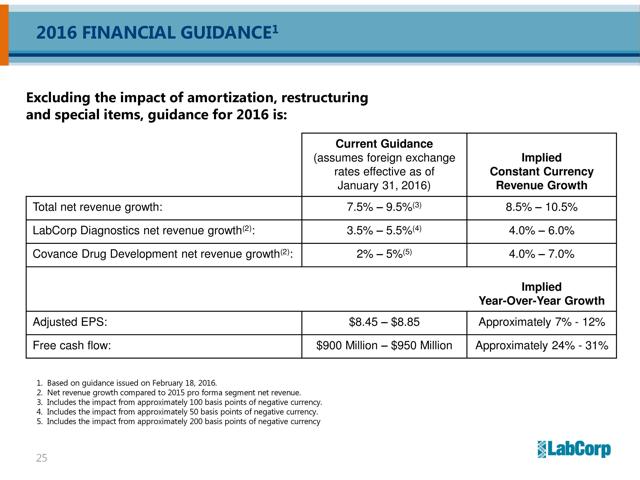 Source: Raymond James Institutional Investors Conference, LabCorp Presentation, March 9, 2016
The company has provided a reconciliation of where it has been to where it is going. Large acquisitions normally take a while to digest. In this case, the company has only had one year, so really any growth is impressive. With LH taking on some additional leverage that its fairly predictable cash flow can handle, and it is also a beneficiary of an improving economy, this company could have some years of above-average growth (when compared to the past) as it reaps the benefits of the acquisition. Mr. Market will probably start by being happy that the earnings became simpler, easier to understand, and more visible. Any other benefits down the road will be icing on the cake. At a minimum, this company should grow earnings 10% a year for the foreseeable future. But the increasing cash flow indicates that a faster earnings growth pace could well be at hand soon.
The company does have more than $5 billion in long-term debt. But the long-term debt to predicted cash flow (about $1.1 billion from operations) ratio of less than 5:1 is workable because of the predictability of the cash flow and the fast pace of increase. Indeed the company already made one acquisition this year, paid down some debt, and at some point will probably resume purchasing common stock. Credit agencies have rated the company well enough that its debt carries a fairly low interest rate (click on 2015 10-K). The interest rates vary between 2% and 4% (clearly not a speculative interest rate). The company does have more than $400 million of debt due this year, but its cash flow should handle that, plus it has more than $200 million remaining on the bank credit line if it needs cash. Some of the debt is convertible, so possibly this year when that debt comes due, it may be converted (or the company may offer that debt an incentive to convert). The company has another $500 million in notes due next year, and $400 million due in 2017, all of this it can pay from its increasing cash flow, or it can refinance. In any event, the company can handle its debt obligations.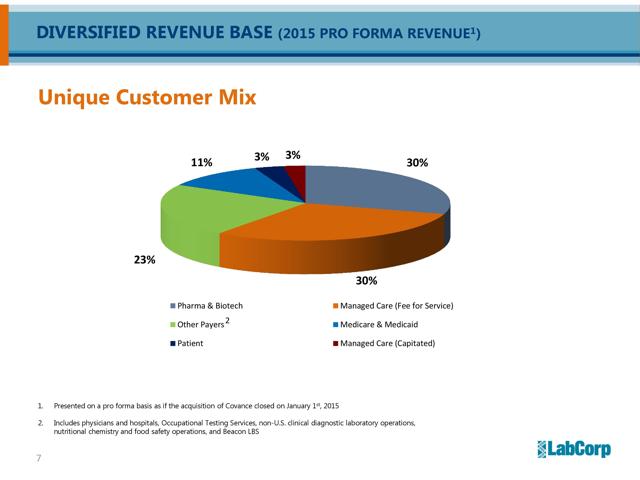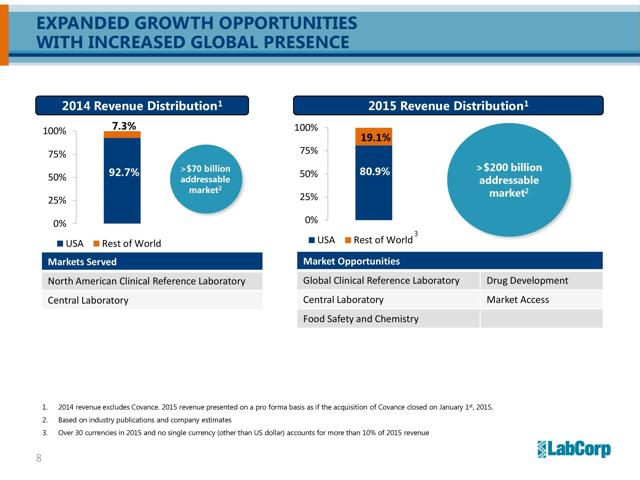 Source: Raymond James Institutional Investors Conference, LabCorp Presentation, March 9, 2016
The company has provided a succinct view of its growth opportunities. As one of the largest players in the market, the company clearly has a lot more growth ahead of it as well as market penetration opportunities. Management aims to provide shareholders with superior profitability and customers with comprehensive services. This should be a winning combination. Management has a very long history of profitable growth through acquisitions, and appears to be making the latest acquisition a success. Over the next few months, Mr. Market will take notice and should reward shareholders accordingly.
Disclaimer: I am not a registered investment advisor and this article reflects my own opinions. I do not and will not advise anyone to invest or not invest in this stock. You have to do your own due diligence and your own homework, by reading the company's filings and press releases, as well as any other relevant information to make up your own mind at your own risk. Your investments must match your own risk profile as well as your desire to take on risk and the patience to see out situations such as this.
Disclosure: I/we have no positions in any stocks mentioned, and no plans to initiate any positions within the next 72 hours.
I wrote this article myself, and it expresses my own opinions. I am not receiving compensation for it (other than from Seeking Alpha). I have no business relationship with any company whose stock is mentioned in this article.