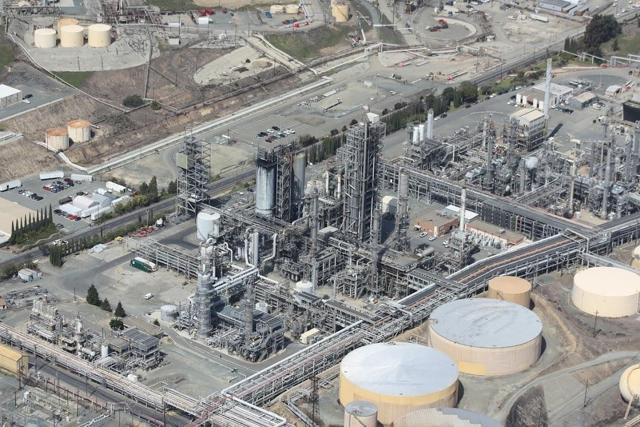 source: Stock Photo
There continues to be a lot of conjecture concerning the direction the price of oil will go and for how long, with most of the optimists not including the existing fundamentals in their outlook, even as global and U.S. inventory levels continue to rise.
What is proffered as a reason for the price of oil climbing is the idea supply and demand will rebalance in the latter half of 2016, even though global demand continues to fall and supply exceeds the current pace of consumption.
The next couple of quarters will give a much clearer view of the actual conditions of the sector, with earnings reports from major shale producers giving a more accurate picture of how much oil they're bringing to market.
Less important is the proposed production freeze from some OPEC and non-OPEC producers, which has helped provide temporary support to the price of oil, even though when analyzing the effort, it in reality isn't a production freeze at all, but more of a media event being used to push oil up in the short term.
Earnings reports
Since the price of oil did jump in the first quarter, it's important to see how that had an impact on U.S. shale producers in regard to drilled but uncompleted wells. Those are wells that are capped but can quickly become operational. There are between 4,000 and 5,000 of them in the U.S. at this time.
I see this as the first stage of really getting a handle on how the price of oil will perform for the rest of 2016 and the first half of 2017. The most important data will come from the earnings reports from the second quarter, which will presumably be the first full quarter of a slightly stronger oil price.
If that's how it plays out, we'll be able to get more visibility with the DUC wells and how much additional supply they represent. Under recent conditions the clarity has been low.
Of particular importance will be the guidance given concerning how many wells are going to be brought into production over the next year. EOG Resources (NYSE:EOG) has said it has plans to bring 270 wells into production in 2016. It probably is the strongest of the shale producers, with the ability to generate about 30 percent with oil at $40 per barrel.
Another factor here is how much oil production will be closed up in the U.S. and how DUC well supply will offset that. Those are the metrics to watch over the next several months. What will frustrate that is if the price of oil falls and levels off, which could cause companies to reduce the number of DUC wells being brought into production. If that happens, the market will have to wait until it climbs once again to see how all of this will all play out.
Proposed production freeze
I've talked a number of times about the proposed production freeze, and as time goes on it is clear it really won't be a freeze because it comes with numerous caveats; among them being Iran and Libya not participating in the process. That could trigger others to abandon the initiative.
Also important is the U.S. won't partake in any freeze, so the obvious question is why it's even being considered at all.
The answer is the market hasn't caught up with the fact this is a disruption and not a supply cycle which is driving the price of oil down. What that means is past remedies to undesirable prices are perceived as having the same potential impact, when the reality is that former oil market no longer exists, now that shale production is soaring.
Even if all the competitors were to agree to a freeze, it wouldn't change the oversupply challenge facing the market, as the agreement is to freeze production at January 2016 levels, which was at record highs for some countries. That means oversupply would continue until market forces meet a production freeze, and since Iran in particular will continue to increase supply, the freeze really isn't a freeze. It will only put those agreeing to a freeze at a disadvantage, with those continuing to produce at the levels best representing their interests, will be able to gain market share.
There is also the past to consider, when countries made production cut agreements that were ignored by a number of producers, including Russia.
Yet we still continue to have this presented as an important step to put a ceiling on supply, with some analysts even asserting the fantasy that it will probably lead to production cuts going forward. That will never happen, and I'm on the record as saying it over and over again.
As mentioned above, there won't be a real production freeze even if an agreement is reached between a shrinking number of potential participants. Iran will continue to increase production, and Libya, once it stabilizes and is able to protect its fields, will boost supply to the market as well. Libya is producing about 400,000 barrels per day, about a quarter of what it was before the civil war.
Demand outlook weak
One other key factor going forward is how accurate projections are for the global growth of oil demand. As with everything else surrounding oil, there are a plethora of opinions, with little in the way of data I would trust to take action on.
Investors can count on one thing: the prior estimates for global oil demand over the next year are far less than believed. When combined with the non-freeze agreement and ongoing growth in supply outpacing demand, I don't see why hedge funds in particular continue to plow capital into bets on the rise of the price of oil.
In the fourth quarter the oil growth demand dropped from over 2 percent to 1.2 percent. Some are asserting this is re-accelerating in the first quarter, but that is only an assumption and not a proven fact.
About all we know for sure is February did better than January. So what? It will take several months to see whether that's a sustainable trend or the result of people being out and about more - especially in the U.S., where there has been some drawdown of gasoline inventory.
This is another reason April is so important. It'll reveal whether or not March demand was up from February's, along with the other factors mentioned earlier in the article.
There's one vital thing to consider when contemplating demand. It's not whether demand for oil is going to increase, it's whether or not it's going to increase at a faster pace than supply. This is why when examining the data, be sure to not focus solely on demand; it can distort the overall picture if it isn't measured against supply. That seems simple, but a lot of times when reading about oil demand, supply is ignored in the narrative.
Inventory levels and why they contradict production shrinkage in U.S.
All this talk about the idea of the pace of demand for oil increasing doesn't match up with the fact U.S. and global inventory levels continue to climb. Either demand is gaining on supply or it isn't. Inventory levels don't lie.
Most oil bulls at this time believe declining oil production in the U.S., combined with growing global demand, will drive up the price of oil to $50 by the latter part of 2016. The problem with that thesis is while production in the U.S., at least for now, does fall, inventory levels continue to rise in the U.S. and globally. It's not hard to figure out supply continues to outpace demand, which can only mean imports are not only offsetting the production decline in the U.S., but surpassing it.
One positive piece of data for bulls is gasoline inventory is being drawn down, which means the worst-case price scenario isn't likely to unfold. That could quickly change, but for now it shouldn't plummet to the $20 per barrel level a gasoline glut would produce.
With some of the African suppliers, along with Saudi Arabia, starting to ramp up competition in the U.S., it does require some serious reflection on what makes investors think they're all going to stop competing for market share by implementing a production freeze?
Conclusion
There is a lot more reason to believe the price of oil will remain under pressure for a prolonged period of time, than there is to believe there is now support for oil prices.
April should give us the first glimpse into the response of the stronger U.S. shale producers to the current market conditions, and how many DUC wells they are willing to bring into production. This is important because it'll be the first time since shale became a global player under low-price conditions, that this strategy will be employed.
We really have no idea the amount of supply coming to market from shale producers and how much it'll offset other production cuts from higher-cost competitors in the U.S. Some of that should be revealed in the next earnings reports. The caveat is it'll only represent a portion of the quarter since the oil price was lower in the first part of the reporting period.
More important to me will be the second quarter earnings reports. If the price of oil is able to stick around the $40 per barrel mark throughout the quarter, it will provide the first look at how the stronger shale companies plan on attacking their competitors. If not, any assertion the price of oil will soar won't be backed up by the data.
As the oil market sits now, everything points to the price of oil remaining under pressure. The rest is conjecture and wishful thinking based upon assumptions, rather than real trends that can be verified.
Disclosure: I/we have no positions in any stocks mentioned, and no plans to initiate any positions within the next 72 hours.
I wrote this article myself, and it expresses my own opinions. I am not receiving compensation for it (other than from Seeking Alpha). I have no business relationship with any company whose stock is mentioned in this article.