Lipocine - LPCN
Founded in 1997, Lipocine (NASDAQ:LPCN) is a 20-employee micro-cap generic development-stage pharmaceutical company based in Salt Lake City, Utah. The name of the company is a reference to its drug delivery technology. Lipids are used in the company's Lip'ral proprietary drug delivery technology, which helps water insoluble drugs be absorbed which otherwise wouldn't otherwise be bioavailable in pill form. The company was going to raise another round of venture capital when it decided to go public instead. One could make the parallel than an investment in Lipocine today is similar to a later stage venture capital investment in a life science company without revenues.
The Problem
Lipocine is a company focused on developing novel drug delivery systems. According to Lipocine CEO Matesh Patel the company is focused on delivering steroids and hormones; as they are "notoriously" water insoluble. Testosterone is a hormone produced by the testes in men and ovaries (in smaller quantities) in women. It's an essential hormone to sexual health, bone strength, puberty and development.
Testosterone deficiency is called hypogonadism, and doctors can prescribe testosterone replacement therapy as a treatment. Measuring testosterone levels in men is difficult, as they naturally fluctuate (normal range of 300 to 1140ng/dL) so it's difficult to know if the levels are genuinely low or just on a temporary downswing. Therefore abnormally low blood test levels must be also corroborated with patient symptoms to confirm the diagnosis.
Depending upon who you ask, either testosterone is under-prescribed or overprescribed. Treatment of low testosterone is a polarizing, controversial topic. Research that has been published from time to time that argues that there are adverse effects associated with testosterone replacement therapy. A TV advertising boom has resulted in a ten-fold boom over the last decade in the number of prescriptions for testosterone. On January 31, 2014, the FDA reported it was investigating death, heart attack and stroke in FDA approved testosterone products. It's clear that the FDA is taking a more cautious approach to therapeutics in this space.
Nonetheless, according to Lipocine's 10-K one study found that 39% of men over age 45 suffer from hypogonadism. Yet 4% were receiving treatment for it. A European study found 1 in 5 men over the age of 50 deficient in testosterone. The male testosterone market is worth >2Bn according to Global Industry Analyst Inc. It's a market which could grow significantly with an aging population and greater ease of treatment. Testosterone has been available since the 1950s but weren't heavily prescribed until gel formulations were developed and marketed. A pill could result in a similar sales boom. There are ~½ million testosterone prescriptions dispensed per month.
If a person needs to supplement testosterone they may either take an injection, patch, gel or buccal tablet (a dissolving gum patch). Patches can fall off and risk testosterone transference to others. Gels have the same problems and are messy. Injections may be painful, and carry unique risks (pulmonary-oil microembolism POME and anaphylaxis). There is currently no oral testosterone pill that's approved by the FDA.
The Science - Lipocine's Solution
Lipocine's solution to these problems is its lead asset: LPCN 1021. A twice daily pill consisting of a proprietary drug delivery solution of lipids combined with an ester of testosterone which bypasses the liver; in short a gel capsule that delivers testosterone into a person's body. The testosterone is then absorbed into the lymphatic system surrounding the intestines, which then gets into the bloodstream bypassing the liver.
LPCN 1021 Development History
| | | |
| --- | --- | --- |
| Date | | Milestone |
| February 2006 | | First proof of concept study performed |
| May 2009 | | Licensed to Solvay |
| September 2009 | | Project transferred to Abbott via Solvay |
| April 2010 | | Milestone payment received |
| May 2011 | | Milestone payment received |
| October 2011 | | Abbott announced spin-off of AbbVie |
| March 2012 | | Lipocine re-acquires LPCN 1021 |
| November 2012 | | Lipocine completes meeting with FDA to define requirements for an NDA filing |
| February 2014 | | First subject enrolled in pivotal Phase 3 clinical study |
(source: Lipocine's 10-K)
Does It Work and Is It Safe?
Some forms of testosterone, specifically methyl-testosterone have been known to cause hepatic toxicity when taken orally. Lipocine's formulation of testosterone undecanoate in LPCN 1021 by contrast is believed to be liver safe. There are already testosterone undecanoate containing injectable formulations FDA approved sold under the Aveed and Nebido brand names. I believe having prior undecanoate drugs on the market approves increases the likelihood of approval.
Lead Asset - LPCN 1021 Clinical Trial Data
Primary Efficacy Endpoints
Primary efficacy endpoint target was met. No hepatic, cardiac or other serious events were reported among trial participants.
Note titration is required during the trial in terms of dosing in order to achieve the normal range of blood levels: Three doses were given, 150mg, 225mg and 300mg in the clinical trial. The majority (52%) of subjects were on a final dose of 225mg at the end of the trial.
Secondary Efficacy Endpoints
Recall that the normal range of testosterone levels in men is: 300 to 1140ng/dL. 82.8% of LPCN 1021 clinical trial participants achieved this normal range. That didn't quite meet the ≥ 85 % FDA threshold. Also not meeting the FDA threshold of 0% are the 2.0% of participants who had Cmax >2500 ng/dL in the trial.
Summary
Aveed, our comparison drug was rejected 3 times due to side effects by the FDA despite meeting all the efficacy endpoints before it was finally approved in 2014. LPCN 1021 clinical trials didn't meet all the secondary FDA endpoint/thresholds. But even if they do, as was the case with Aveed it is no guarantee for first time approval.
It's really difficult to predict whether or not the FDA will approve; they could take issue with certain endpoints not being met. Or the design of the clinical trial and resulting data. Nonetheless, the advantages of a testosterone pill could sway them positively. Or it could even sway them negatively if they perceive the more convenient dosing option to increase the likelihood of drug abuse.
Multiple Targets
What I really like about Lipocine's technology is their Lip'ral technology and lessons learned in drug delivery can be applied to a litany of other drugs. Today this means multiple development targets for water insoluble hormones and potentially steroids in the future. Lipocine is working on a next generation once daily testosterone pill which is a novel ester: LPCN 1111. Additionally, they're working on LPCN 1107, an oral progesterone tablet for the prevention of pre-term birth. LPCN 1107 has been granted orphan drug status by the FDA.
I believe this to be an attractive pipeline and the drug delivery technology of unique efficacy which makes Lipocine an attractive acquisition target for larger pharmaceutical companies. The company adopted a poison pill recently. Typically as a shareholder, I'm against anti-takeover measures, but in the case of Lipocine I believe it's actually advantageous to shareholders. It will keep from short term focused shareholders from thwarting full long term shareholder value realization in the case of a hostile acquirer.
Manufacturing Agreement
On March 3, 2016 Lipocine entered into an agreement with M.W. Encap Ltd. to provide commercial quantities of LPCN 1021. I believe this to be a positive but the stock did not react much either way at the time to the news.
Institutional and Insider Ownership
Lipocine is a popular stock with hedge funds. The CEO Dr. Patel and co-founder Dr. Higuchi also retain significant ownership. Insider buying has occurred over the past year by both CEO Dr. Mahesh and Dr. Higuchi. These are all positives, and are in rather rare combination.
Dilution and Cash Burn
| | | | |
| --- | --- | --- | --- |
| Year Ended | Dec 31, 2015 | Dec 31, 2014 | Dec 31, 2013 |
| Sale Purchase of Stock | 32,716 | (255) | 48,476 |
Lipocine received 81M from new shares issued in 2013 and 2015 combined. The company lost 20.3M in 2014 and 18.2M in 2015 from operations. The company made a $2.3 million payment to the FDA for its LPCN 1021 NDA filing in 2015.
"As of December 31, 2015, Lipocine had cash, cash equivalents and marketable investment securities of $44.8 million, compared with cash and cash equivalents of $27.7 million as of December 31, 2014." Source LPCN 8-K.
The company has approximately 2 years to go before running out of cash at current burn rates.
Litigation
Lipocine has been issued 7 patents, has 24 patents pending, 14 foreign patents issued and 6 foreign patents pending and 2 PCT patent applications related to LPCN 1021. Lipocine is being sued by Clarus Therapeutics which is a private company that is also developing an oral testosterone pill. Clarus was unable to gain approval for its own testosterone pill. Lipocine has been sued for intellectual property infringements over its lead product LPCN 1021.
Clarus is seeking an injunction barring Lipocine from marketing LPCN 1021. Given the time litigation takes and the recent filing of the suit, I doubt this will affect launch of LPCN 1021. It's important to note, however, that this overhanging litigation might be depressing the price of Lipocine. The stock has been somewhat flat since the lawsuit was filed. It could take several years to resolve and in the interim shareholders should probably focus on more short term pressing events such as the FDA approval. I reached out to Lipocine regarding their opinion of the lawsuit and did not hear back.
Will It Be Approved? - June 28, 2016
That's the big date for Lipocine shareholders. Be aware, the FDA could also make a statement earlier but we will know by that date. It's not a simple binary whether the drug is approved or rejected by the FDA. It's under what conditions the drug is approved or rejected. If approved will LPCN 1021 be required to have sales damaging black box warnings like Aveed or not? If rejected, will it be rejected for an easier to cure deficiency, or something that will halt development?
"Looking forward, we expect 2016 to be a transformational period for Lipocine, with the LPCN 1021 PDUFA date in June and continued development of LPCN 1107 and LPCN 1111." said CEO Dr. Mahesh Patel.
If approved it will be the first oral testosterone drug on the market. Lipocine would be well positioned to dominate the billion dollar testosterone market with a product of significant differentiation. The last major piece of the puzzle left would be for Lipocine to ink a licensing deal with a large pharmaceutical company to distribute the drug.
Approval Price Estimates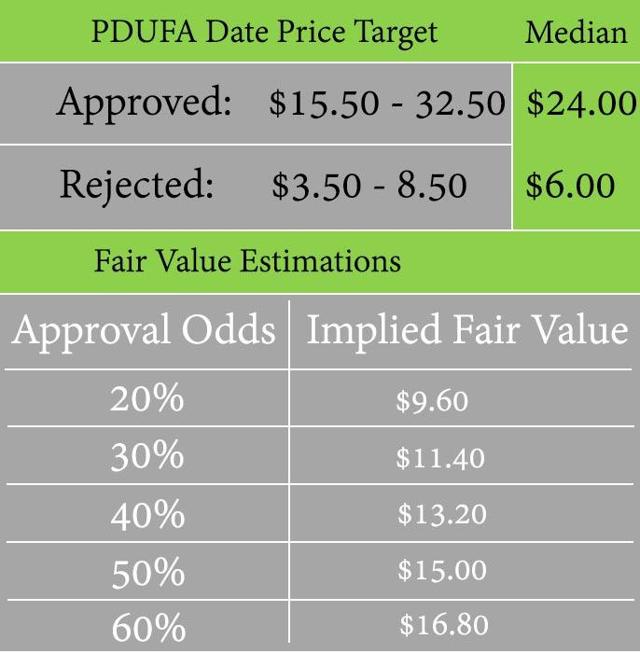 Above are my rough fair value estimations for Lipocine. If my price targets are correct, it would follow that the market is pricing in a sub 25% chance of June approval for LPCN 1024.
Summary
Biotech has been a very unfriendly field for investment lately. Lipocine is not without its risks, but it's a true scientific innovator with a high quality leader. It's definitely one for investors and traders to watch.
While presumed to be accurate, the content of this article encompasses broad topics and may contain inaccuracies. It contains statements of opinion and should not be taken for a solicitation to buy or sell any security.
Disclosure: I/we have no positions in any stocks mentioned, and no plans to initiate any positions within the next 72 hours.
I wrote this article myself, and it expresses my own opinions. I am not receiving compensation for it (other than from Seeking Alpha). I have no business relationship with any company whose stock is mentioned in this article.