Fear has struck the Australian banking sector as the commodity rout bites deeper and the outlook for China grows ever more uncertain. This fear was stoked by Australia's third largest bank, the Australia and New Zealand Banking Group (OTCPK:ANZBY) announcing that its bad debt provisions would rise by AU$100 million or more because of its exposure to the resources sector. There are also concerns that the sharp collapse in commodity prices on which Australia's economy is so dependent will be sufficient to trigger a housing market implosion.
These have seen Australia's second largest bank Westpac (NYSE:WBK) plunge by 22% over the last year as fearful investors seek to limit their exposure to an ever deepening slump in commodities. There are signs however that the sell-off has been overdone with Westpac irrationally valued by the market and now offers investors' potential upside of 30%.
Understanding the structure of the Australian banking industry
Australia's major banks pulled through the global financial crisis in relatively good shape primarily because of tighter regulation and a more conservative approach to credit risk and risk management in general than their U.S. or European counterparts. It is this that will aid them in surviving the commodity rout which is having a sharp impact on the outlook for the Australian economy. The fortunes of Australia's banks are directly tied to the performance of Australia's economy because they typically have very few overseas operations.
Nearly each of the major banks have made costly and failed forays into international markets. National Australia Bank (OTCPK:NABZY) attempted to enter the U.S. and U.K. markets and was burnt both times while ANZ's much hyped Asian growth strategy is shaping up to be an expensive failure.
Fortunately, Westpac has chosen to focus on the domestic market where it has considerable expertise and built a reputation as a conservatively managed institution.
Another important aspect of Australia's banking sector is that it essentially operates as an oligopoly with the top four banks between them controlling around 90% of the financial services market. All four banks operate significant wealth management businesses, and this in recent years, because of compulsory superannuation legislation, has become a cash cow for the banks.
These market characteristics not only protect the banks from competition, but also allow them to an extent to be price makers rather than price takers, helping to protect earnings growth.
Westpac's business
What makes Westpac a different proposition to the major U.S. banks such as Citigroup (NYSE:C), Bank of America (NYSE:BAC) and JPMorgan (NYSE:JPM) is that its core focus is on commercial banking and consumer lending rather than investment banking and capital markets. Its core growth engine is its retail and commercial banking operations, which have experienced strong earnings growth over the last two years across its three main operational divisions, as the graph highlights.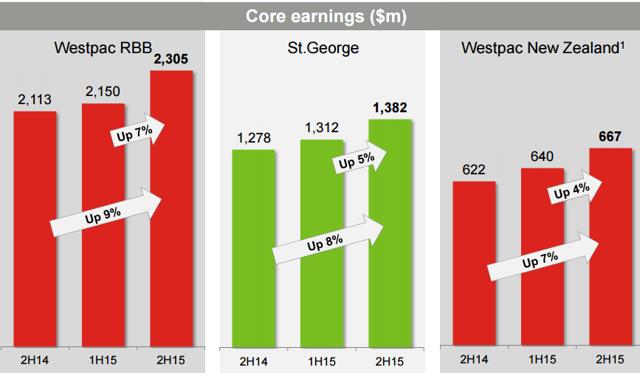 Source: Company filings
As a result of this strong growth across retail and business banking, Westpac reported solid results for the full-year 2015, with key operational measures remaining at credible levels despite the sustained weakness in commodities and declining economic growth in Australia.
Asset quality remains high
The primary driver of the sell-off of Australian bank stocks has been growing concern over asset quality with the commodities rout continuing to have a negative effect on the Australian economy.
For 2015, gross impaired loans are a mere 0.3% of total gross loans, and this is a 10bps decline compared to 2014.
Meanwhile, stressed exposures as a portion of total committed exposures or TCEs were down by 25bps to 0.99% for the same period. More importantly, this has been trending downwards quite strongly since 2010 at the height of the fallout from the global financial crisis as the chart highlights.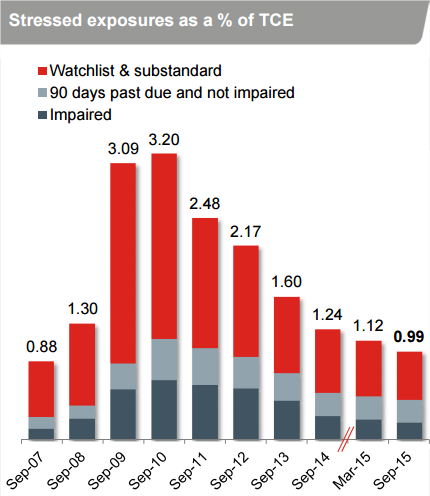 Source: Company filings
The majority of these stressed exposures are in the consumer lending, property and business service, retail trade and agriculture loan portfolios.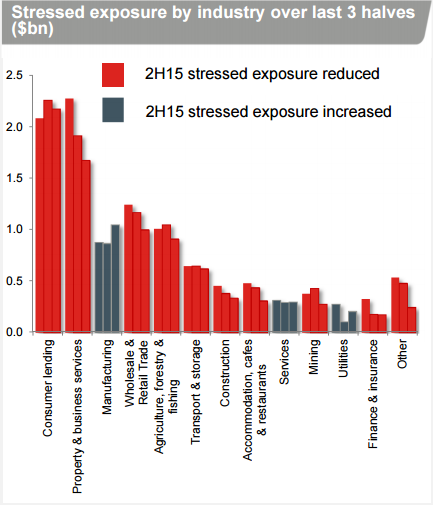 Source: Company filings
There has been an uptick in stressed exposures in the manufacturing, services and utilities segments of Westpac's loan portfolio.
However, surprisingly, mining makes up a very small segment of Westpac's stressed exposures. The bank has however flagged that it will need to increase provisions for impaired loans because of the impact of the commodities rout on the Australian economy. For the full-year 2015, impairment charges rose by 16% compared to 2014 to be AU$753 million.
However, it's the Australian banks' exposure to commodities, particularly mining and mining services companies, that continues to drive growing concerns over the soundness of their balance sheets.
Exposure to commodities
Westpac has the second lowest exposure among Australia's major banks with only AU$10.8 billion or 1.7% of the value of its total loan book exposed to commodities. This far lower than ANZ's exposure of greater than 2.2% and the Commonwealth Bank of Australia's (OTCPK:CBAUF) (OTCPK:CMWAY) 2%.
Of this exposure, only AU$500 million is stressed, which equates to less than 0.1% of the value of its total loans under management. As can be seen, the overall direct exposure is minimal, and any further issues within the sector will have minimal impact on credit quality or its balance sheet.
The biggest risks that Westpac is facing at this time is the outlook for the Australian economy, which is coming under increasing pressure from lower commodity prices and a slowing China, along with fears of a looming housing crash.
Australian economy remains strong
There is a distinct linkage between the Australian economy and China's. This is because Australia's economy is heavily dependent upon the extraction and exportation of commodities, especially iron ore, coal, base metals and crude, with China being its key export partner, followed by Japan and South Korea.
The sharp decline in China's economic growth, which saw its GDP expand by 6.9% in 2015, its slowest rate of growth in over two decades, has had a marked impact on commodity prices and those economies that are dependent upon them. Mining, oil and other activities associated with the extraction of commodities is responsible for generating just over half of Australia's GDP growth.
However, the impact of the commodities crunch and China's economic slowdown has not been as severe as initially predicted. For 2015 Australia's GDP grew by 2.5%, helped by further government spending and robust household consumption during the fourth quarter helped to push GDP growth higher.
There is also growing activity in Australia's burgeoning services sector while the weaker Australian dollar has increased the attractiveness of its exports.
Even Goldman Sachs which has one of the most bearish outlooks for the Australian economy expects GDP to grow by 2% in 2016 as the difficult transition over economic growth from mining to the services sector takes place. It also predicts that for 2017 and 2018 the economy will recover and GDP will grow by around 3%.
For the first two months of 2016, the unemployment rate has remained unchanged at 5.8%, and this represents a fall of 0.5% compared to February 2015.
These factors indicate that the economy is growing far more strongly than initially expected. Then, it should be considered that for February 2016, both the manufacturing and services PMIs were in positive territory at 53.5 and 51.8, respectively, indicating that activity in the manufacturing and services sectors is expanding.

Source: Australian Industry Group
This increased activity will help to smooth the transition from mining to non-mining sector growth, supporting 2016 GDP growth of between 2% and 2.3%.
The weaker Australian dollar is also aiding economic growth, making Australian exports far more attractive over the last year. This has helped to boost tourism and caused the net export of services to grow sharply in recent months. Clearly, while it is acknowledged that there will be pockets of stress in the Australian economy, there certainly won't be a general economic collapse.
In fact, the economy will continue to grow quite strongly with the majority of economists estimating GDP growth of 2.2% in 2016 and a modest recovery through 2017 and 2018.
As a result, system-wide credit growth will remain at close to current levels, which will see Westpac's net interest earnings continue to grow. It also means that there won't be any major stressors on households that could precipitate a housing collapse with the Australian housing market appearing overheated and heading into bubble territory.
Overheated Australian housing market
The greatest concern is that a massive housing bubble now exists in Australia and the impact of the commodities rout will be sufficient to cause it to burst creating a U.S. style housing collapse. If this were to occur, the contagion within the banking system would be tremendous and a bank such as Westpac that is focused on the domestic economy and residential mortgage lending would be hit particularly hard.
Nonetheless, U.S. analysts and hedge funds have been claiming since 2002 that a housing crash in Australia is imminent that would see prices fall by up to 50%, yet it hasn't occurred. Even the global financial crisis failed to trigger a housing collapse or have any significant impact on Australia's top four banks.
Australia has the ninth highest house price-to-income ratio in the world and comes in ahead of Canada, which many economists, analysts and investors fear is caught in a massive real estate bubble that is also on the cusp of bursting.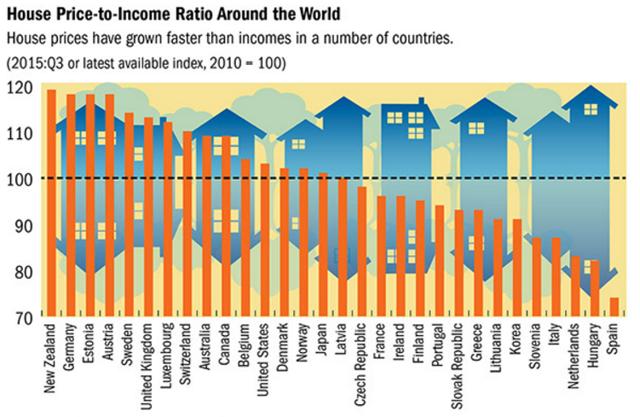 Source: OECD
This essentially means that housing prices in Australia have grown far faster than incomes with it now taking almost a six-year median income to buy a typical house.
Another key measure of whether a property market is overvalued is the house price-to-rent ratio and here Australia rates as 11th globally.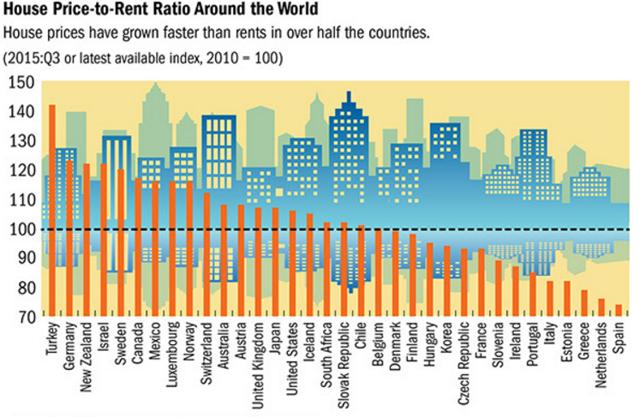 Source: OECD
This lags behind countries such as Canada, Germany, Norway and Switzerland, but indicates that affordability is becoming an issue.
However, when looking at just how these two ratios have evolved over time, a different picture emerges.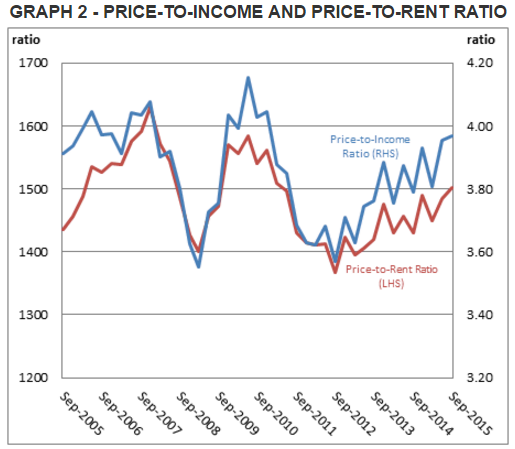 Source: Australian Bureau of Statistics
Both the house price-to-income ratio and house price-to-rent ratio have fallen from their 10-year highs hit in 2010 and 2007 respectively. They are also trending downwards because of actions taken by the Australian government to curb housing prices and unsustainable credit growth. As a result, the house price-to-income ratio is now at where it was in 2005 while the house price-to-rent ratio is at its lowest point since 2011.
Overall, it is apparent that outside of specific hot markets, there is no broad-based housing bubble in Australia.
Rising household debt
Another favorite indicator of market pundits predicting a U.S.-style implosion is that Australian household debt is spiraling out of control. At 175%, it is among the highest in the world even exceeding Canada, which has drawn considerable criticism over its ratio of 169%.
Nonetheless, like Canada, Australian households have grown increasing wealthy over recent years, and this helps to offset the risk of any economic shock impacting households and causing them to be unable to meet their debts.
The majority of that debt is tied up in mortgages because of high housing prices, but interestingly the majority of those mortgages have LVRs of less than 80% or are insured, further reducing the risks this poses.
There are also considerable differences between the U.S. housing market prior to its collapse in 2007 and Australia's housing market. Key among them is the lack of sub-prime mortgages in proportion to total mortgages. Prior to the U.S. housing collapse, over a quarter of all mortgages issued were subprime whereas in Australia, in part thanks to a crackdown by banking regulators, there is substantially lower number of subprime mortgages. They are estimated to make up around 5% of all mortgages outstanding, well below that required to precipitate a crisis.
It should also be considered that an essential trigger of a housing crash is that supply would have to exceed demand and that is not occurring in the major markets. In fact, housing demand far outstrips supply in Sydney and Melbourne with insufficient inventories to meet demand that is growing far faster than supply.
Nonetheless, what is undeniable is that Australia's housing market is slowing with the most overheated markets Sydney and Melbourne coming off the boil. This trend will continue throughout 2016 and will have an impact in the ability of the banks including Westpac to continue growing their loan portfolio and net interest income, which is its key source of earnings growth.
Proactively reducing credit risk
Westpac in recent years has tightened its lending standards to reduce the risks associated with a housing crash and slowing economic growth in Australia. This now sees the bank's housing loan portfolio having an average loan-to-valuation ratio, or LVR, of 71% and a dynamic LVR of less than 80%.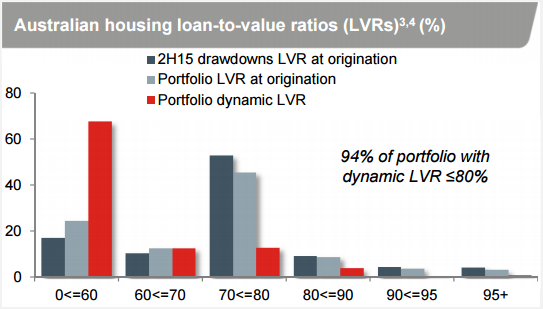 Source: Company filings
Meanwhile, 19.4% of all mortgages are insured. These measures substantially reduce the risks associated with a housing meltdown and/or economic decline if they were to occur. Overall, these factors combined with Westpac's low level of impaired loans and solid levels of capital along with its high liquidity help to protect its balance sheet.
Remains well capitalized with high liquidity
Westpac's high level of liquidity and capital also make it resilient to any slowdown in the housing market and helps to protect its balance sheet in the event a housing crash. With a common equity tier one capital ratio of 9.5%, which is well above the regulatory minimum, Westpac remains well capitalized.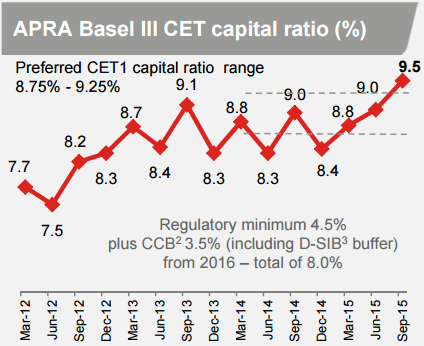 Source: Company filings
It also has a loan-to-deposit ratio of 131%, which is a sharp improvement over the last time I wrote on Westpac in 2013 describing it as a solid short candidate. This comes from the hard work the bank has put into building its deposits in order to use these to fund its lending activities.
The improvement that can be seen from the chart below in the amount of deposits being used to fund its operations is of particular importance: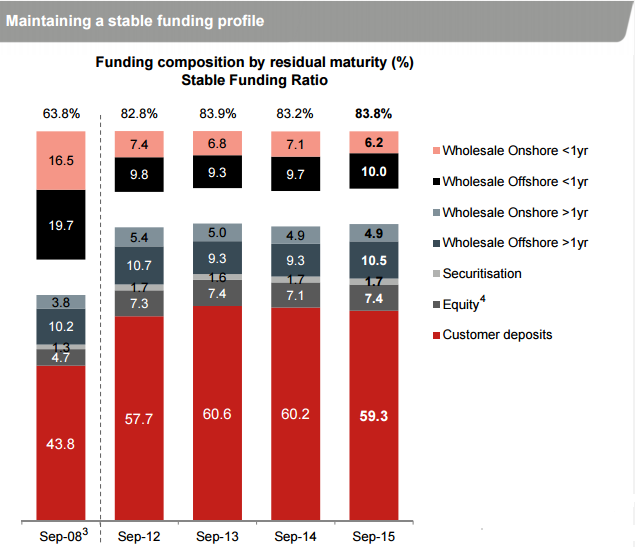 Source: Company filings
This gives it a far more stable and cost effective funding profile by reducing its reliance upon wholesale and other forms of external funding.
External funding is typically more expensive than internally sourced funding and applies greater pressure to margins. It is also more risky because during times of economic stress, its cost can rise sharply or the sources funding can even disappear if the stress is severe enough. During the global financial crisis, this occurred and left many banks that were overly reliant upon wholesale funding for their lending operations flat-footed, with some dangerously exposed to the prospect of insolvency.
I would, however, like to see Westpac reduce its loan-to-deposit ratio further, but given the limited size of the customer and deposit base in Australia, this is difficult to achieve.
Margins are growing
Despite the low interest rate environment in Australia at this time with the headline rate set by the Reserve Bank of Australia being at 2%, Westpac has impressively been able to grow its net interest margin, or NIM.
By the end of the second half 2015, its NIM had grown by 6 bps to 2.11%, and this can be attributed to a solid fall in its funding costs.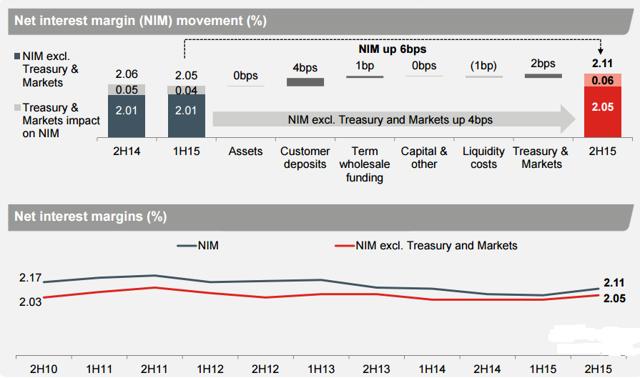 Source: Company filings
I expect this trend to continue throughout 2016 and beyond with the bank focused on reducing impaired assets, driving down funding costs and re-pricing higher-risk loans as they rollover.
This combined with Westpac's exceptional efficiency ratio will help to boost its bottom line. For 2015, Westpac reported an efficiency ratio of 42%, which despite being 90bps higher than 2014, remains the lowest among Australia's big four banks.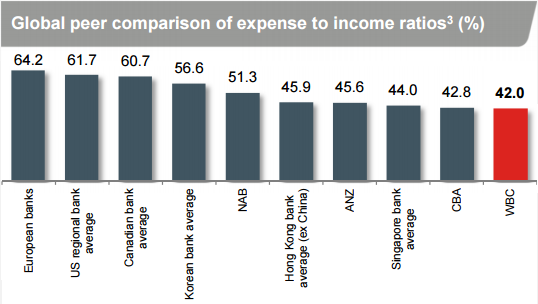 Source: Company filings
This efficiency rate is also far lower than those being reported by the U.S. and European banks and underscores one of the reasons for investing in Australian banks and Westpac in particular.
Wells Fargo (NYSE:WFC) which is my preferred pick among U.S. banks and the closest operational equivalent to Westpac has a far worse efficiency ratio of 57.4%, indicating that WBK is using its resources far more efficiently to generate income.
Westpac's ability to maintain a low efficiency ratio and continue to boost its NIM allows the bank to generate a solid return on equity, or ROE.
For 2015, it reported an ROE of 15.8%, which is a decline of 60bps compared to 2014. It is also lower than it has been over the last decade with the exception of 2009 at the height of the global financial crisis.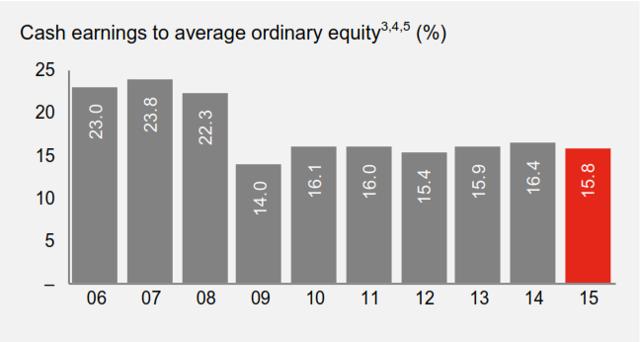 Source: Company filings
The decline in ROE can be attributed to the sharp collapse in commodity prices because of China's slowing economy, which has caused the Australian economy to come off the boil. This ROE is superior to the major U.S. banks with the closest operational equivalent to Westpac, Wells Fargo only generating an ROE of 12% in 2015.
With markedly softer commodity prices now looking like the new normal along with a weaker housing market, I expect Westpac's ROE to remain at around 14% to 16% for the foreseeable future.
Finding Westpac's fair value
Despite the headwinds being experienced by Australia's economy, Westpac will continue posting solid returns on equity or ROEs over coming years because of its solid long-term growth prospects.
The Australian economy has continued to perform well and demonstrated its resilience to sharply weaker commodity prices. These factors in conjunction with the bank's focus on controlling costs and impressive efficiency ratio. Its approach to controlling costs, boosting its efficiency ratio and relying upon internal funding for its lending activities means it is capable of generating solid margins.
I have valued Westpac using a retained earnings valuation model with the following assumptions:
Westpac's ROE has been discounted over the valuation period in order to reflect the impact of the headwinds the bank is facing. These included its exposure to commodities, Australia's slowing housing market and weaker economic growth.
An ROE in perpetuity of 12% has been used to calculate the terminal value of retained earnings. This takes into account both the bank's growth prospects as well as any future economic headwinds it may experience.
A conservative rate of economic growth has been used. This is represented by an assumed long-term GDP growth rate of 2.2% for Australia's economy and takes into account the near-term impact of the weaker commodity prices.
I have accounted for the bank's dividend payout ratio using a combination of its stated dividend policy and its average payout ratio in recent years.
I have applied a cost of equity of 7.7%, which was calculated using the capital asset pricing model (CAPM). The calculations and assumptions for the CAPM model are set out below: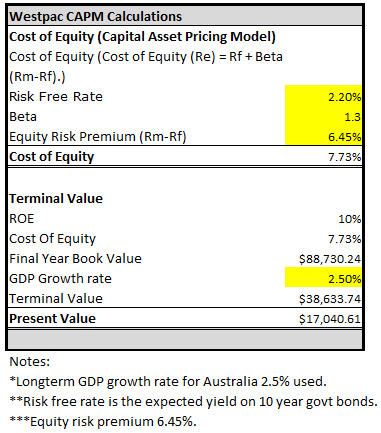 From this data and assumptions, an indicative fair value from Westpac's retained earnings of $31.03 per share has been calculated as the table shows.

This represents upside of 33%, illustrating that the market has overreacted to the bad news regarding Australia's economy and the collapse in commodities as well as the impact it will have on the bank.
There is also a considerable margin of safety because of the conservative methodology used as well as the impact of rising impaired loans and an economic slowdown in Australia being incorporated into the valuation. This makes it a credible 12 to 18 month target with the bank set to benefit from the long-awaited rally in crude, which is expected to occur in late 2016 early 2017.
Investors should also be aware that Westpac's share price is also heavily influenced by the value of the Australian dollar, and this sensitivity is set out in the chart below: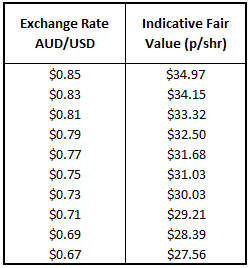 Impressive dividend yield
Then, there is Westpac's regular dividend that is yielding an impressive 6%. The dividend remains sustainable with an average payout ratio of 73%, and the bank has hiked its dividend for the last six years since the global financial crisis.

Source: Company filings
For foreign investors, there is no withholding tax payable on dividend payments because Westpac pays its dividend out of taxed corporate profits. It should be remembered however that the dividend does change for U.S. investors because of fluctuation in the value of the Australian dollar against the greenback.
Bottom line
Despite concerns over the impact of the sustained weakness in commodities on the Australian economy and a looming housing crash, Westpac remains an appealing long-term investment that is currently undervalued. It possesses a solid balance sheet and is proactively working towards de-risking its lending portfolio while having the lowest direct exposure of any major Australian bank to the beleaguered commodities sector.
In fact, I don't anticipate that the slowing economy and housing market will have a material impact on the bank's ROE with it taking measures to reduce costs, increase efficiencies and boost margins.
The fear-based dip in Westpac's share price offers a compelling entry point for long-term investors with 33% upside on offer. Then, there is that impressive 6% dividend yield that will continue to reward investors as they wait for the bank's share price to appreciate.
Supporting Documents
Disclosure: I am/we are long WBK, ANZBY, NABZY, CBAUF.
I wrote this article myself, and it expresses my own opinions. I am not receiving compensation for it (other than from Seeking Alpha). I have no business relationship with any company whose stock is mentioned in this article.
Additional disclosure: Please note my exposure to the four Australian banks is through the ASX listed stock with WBK trading under the ticker code WBC, ANZBY is ANZ, NABZY is NAB and CBAUF is CBA.
Editor's Note: This article discusses one or more securities that do not trade on a major U.S. exchange. Please be aware of the risks associated with these stocks.