The S&P 500 had a very solid March and completed a huge turnaround from early losses to begin 2016. The biotech sector largely did not participate in the rally as it was largely flat going into the last trading day of the month and the quarter. However, the sector advanced over two percent on Thursday to end the first quarter on a high note. For beleaguered biotech investors, let's hope this bodes well for a much better performance from the sector going into the second quarter.
This area of the market is in its deepest and longest bear market since the financial crisis. The sector is 35% to 40% below its peak levels in July, but almost 10% above the lows it reached in early February. Hopefully, the new quarter brings a better outlook and sentiment becomes more positive. An increase in M&A activity and the opening of the IPO window would be two signs that investors have gotten more in a "risk on" mode.

It has been a roller-coaster week for Medivation (NASDAQ:MDVN). The shares fell more than 10% early in the week as the company's drug Xtandi came under Bernie Sanders' scrutiny. The senator and presidential candidate sent a letter to the head of the National Institutes of Health to do something about the drug's $129,000 annual cost, which is much higher in the U.S. than in other countries. Xtandi does nearly $2 billion in annual sales, over half of that in the United States.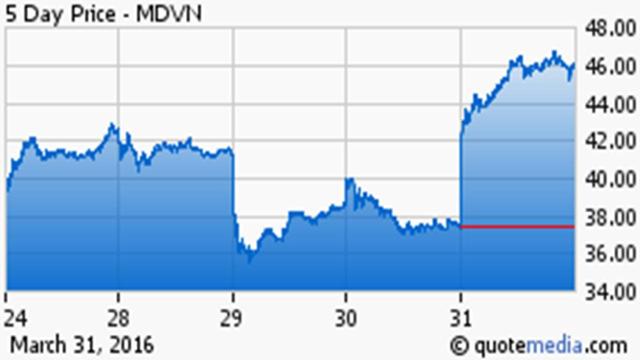 However, the stock soared on Thursday on a host of positive comments including from Credit Suisse who opined the stock might be worth $75 a share in a buyout. The company has become a battleground stock. Over the past week, Barclays and Credit Suisse have reiterated Buy ratings. During the same time frame, Goldman Sachs, Leerink Swann, and Canaccord Genuity have reiterated or initiated Hold ratings. Not a stock I hold currently, but one that looks to continue to have big moves ahead of it given the divergence of opinion on its shares.
Dynavax Technologies (NASDAQ:DVAX) announced that its Biologics License Application ('BLA') for its hepatitis B vaccine HEPLISAV-B has been accepted by the FDA. Given trial results in an over 8,000 subject Phase III trial, I expect the FDA to approve this vaccine by the end of summer and initial sales could then commence before year-end.
I expect HEPLISAV-B to garner market share in an over $700 million market due to its superior protection qualities and the fact it can be effectively delivered in two doses instead of three as the current standard of care. This is a nice win for Dynavax who also has a promising asthma drug it is co-developing with AstraZeneca (NYSE:AZN) and an early stage oncology product "SD-101" that has drawn some praise from analysts for its potential.
The saga around Valeant Pharmaceuticals (NYSE:VRX) continues and could very well remain an overhang on the entire pharma and biotech sectors. The company has reportedly asked lenders more time to officially file its annual report. The company still expects to file on or before April 29, the last possible day it could file to avoid a credit default, but is now asking for an extension until May 31. The company will need approval of 50% of its creditor base for this extension.
In our last update, we covered the news that Valeant's just deposed CEO has been asked to testify before a congressional committee late in April. It appears headwinds related to the soap opera the company has become, will continue for a while longer.

OPKO Health (NYSEMKT:OPK) has been in the news this week. The shares fell nearly 10% early in the week when the company announced it had received a Complete Response Letter ('CRL') from the FDA regarding its New Drug Application ('NDA') seeking approval of RAYALDEE (calcifediol) for the treatment of secondary hyperparathyroidism in patients with stage 3 or 4 chronic kidney disease and vitamin D insufficiency.
This event could be overcomable and has done nothing to lessen the positive view analysts seem to have on the stock. Ladenburg came out Wednesday with a reiteration of its Buy rating and $20 price target on Opko. Its analysts noted the decline was an "attractive opportunity to accumulate shares. Small analyst firm Barrington reiterated its Buy rating and $16 price target on Thursday. I own a small stake in Opko. I think the company will be able to get the RAYALDEE launch back on track as problems cited were for a third party manufacturer. In addition, noted billionaire and biotech investor Phillip Frost has a significant stake in Opko and frequently makes insider buys.
ACADIA Pharmaceuticals (NASDAQ:ACAD) after having no analyst activity for a month has picked up a rash of comments in the last week. This week Ad Comm recommended its drug Nuplazid for approval in a 12-2 vote. Over the last week Needham, Piper Jaffray, H.C. Wainwright, J.P. Morgan, JMP Securities, Leerink Swann and Merrill Lynch have reiterated Buy ratings on the stock. Price targets offered range from $40 to $50 for the shares that trade right around $28 currently.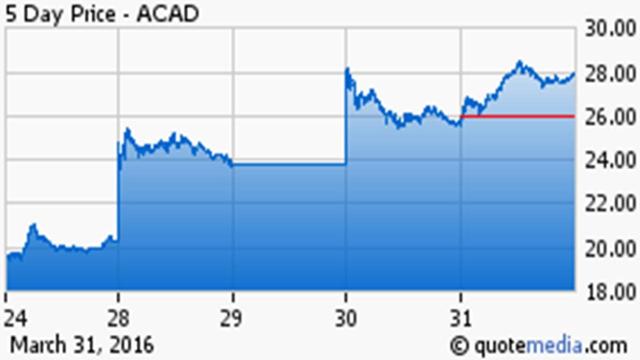 While the drug still needs to be approved by the FDA, which will act on or before May 1st, the general consensus is that the agency will approve the compound and Nuplazid has the potential to be a blockbuster given it will be the only approved drug for the psychosis associated with Parkinson's disease. The stock has risen 40% over the past week, but obviously, analysts believe the shares have more upside if/when Nuplazid receives final approval.
Note: New analyst ratings are a great place to start due diligence, but nothing substitutes for deeper individual research in this very volatile sector of the market. Many of the small cap names highlighted in the "Analyst Insight" will eventually appear in the "Spotlight" section, where we do deeper dives on this type of promising but speculative small cap concern.

Today, in our spotlight feature, we look at a small biotech that has been in the news lately due to some positive trials results in the hepatitis C arena. The name of the company is Regulus Therapeutics (NASDAQ:RGLS). Regulus is a small biotech concern with a market capitalization of approximately $350 million and is based in San Diego. The company was formed in 2007 by Alnylam Pharmaceuticals (NASDAQ:ALNY) and what is now Ionis Pharmaceuticals (NASDAQ:IONS).
The company is focusing on microRNA technology. MicroRNAs are members of a large class of non-coding RNAs of approximately 22 nucleotides in length that regulate most genes in the genome. The stock currently trades at just under $7.00. Its 52-week high is north of $20.00 and the stock bottomed recently in the huge bear market that has swept over the biotech sector at just above $5.00 a share.
In mid-February, the company released positive interim results from a Phase 2 clinical trial assessing its lead compound RG-101, in combination with other antivirals, in patients with chronic hepatitis C virus (HCV) infection. The primary endpoint analysis for all 79 subjects should be available late in second quarter.
The company plans to start an open-label phase II study in the immediate future, which will combine a single injection of RG-101 before up to 12 weeks of treatment with GlaxoSmithKline's (NYSE:GSK) investigational non-nucleoside NS5B polymerase inhibitor. Interim results should be available at the end of 2016.
In addition to RG-101, Regulus is developing RG-012, an anti-miR targeting microRNA-21 for the treatment of Alport syndrome, a life-threatening kidney disease driven by genetic mutations with no approved therapy. The company posted a $10 million milestone payment from AstraZeneca for the initiation of the Phase 1 study of RG-125/NASH in the just completed quarter as well.
Not A Gilead Killer:
Regulus is not going to be a so-called Gilead "killer" and that biotech juggernaut will continue to dominate the hepatitis C space for the foreseeable future. First, much more robust trials lay ahead that Regulus has to navigate through in order to eventually garner FDA approval. Commercialized sales are years away at best. BMO Capital Markets put out recent comments that it sees total RG-101 sales of $568 million by 2020.
This is a pretty concise estimate given we do not even know if the rest of Phase II trials will be successful let alone Phase III. However, ~$600 million in an over $20 billion market four years out is not something Gilead Sciences (NASDAQ:GILD) shareholders should fret about.
Analyst Commentary:
Analyst comments on the stock since trial results were announced has been exceedingly positive. Cowen, Wedbush, FBR Capital and Needham have all reiterated Buy ratings since trial results were announced. The price targets proffered range from $25.00 to $48.00 a share, all massively above the current stock price of approximately $7.00 a share. All analyst ratings should be taken with a grain of salt.
Needham noted on February 23rd after quarterly results were posted and in reiterating its Buy rating and $25.00 a share price target:
"RGLS reported 4Q'15 financial results last night and provided a corporate update. As a reminder, RGLS announced last week positive interim results from a Phase 2 trial of RG-101 in HCV. There is a possibility that the drug may have at least a modest role in the treatment of HCV. We await additional data for insight into durability of effect and additional trials are needed to better assess efficacy against more challenging infections. Phase 2 development of RG-012 in Alport Syndrome is expected to begin by mid-2016. A meeting is scheduled with FDA in March 2016 to discuss trial design and development strategy. Reiterate BUY."
Outlook:
I have taken a very small stake in Regulus and if sentiment was not so dismal on the biotech sector, especially on developmental concerns, it might be slightly larger. The company does have research collaboration deals with some heavy hitters in the industry like Sanofi (NYSE:SNY) and AstraZeneca. Given the interest in HCV, Regulus could make a logical buyout target given its focus area and recent progress with RG-101 and other "shots on goal"
The company also ended 2015 with $115 million in cash on the books. This is probably not enough to get all the way to full commercialization but enough to continue to progress through scheduled trials. I have this rated as a Speculative Buy at the current time.

Thank You & Happy Hunting
Bret Jensen
Founder, Biotech Forum
Disclosure: I am/we are long ACAD, DVAX, GILD, OPK,RGLS.
I wrote this article myself, and it expresses my own opinions. I am not receiving compensation for it (other than from Seeking Alpha). I have no business relationship with any company whose stock is mentioned in this article.
Editor's Note: This article covers one or more stocks trading at less than $1 per share and/or with less than a $100 million market cap. Please be aware of the risks associated with these stocks.