All dollar figures in this article are in Canadian dollars unless otherwise noted.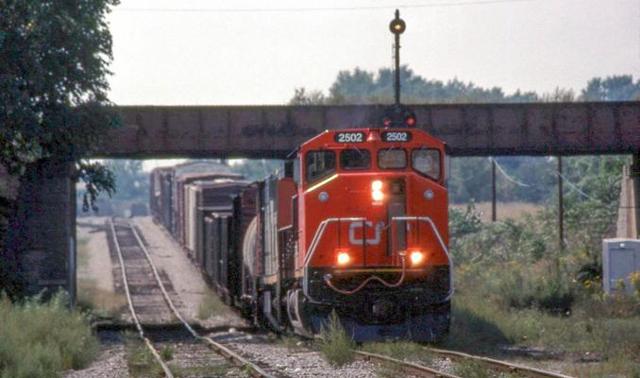 Source: flickr - David Wilson
2016 marks the 21st year of Canadian National Railway Company (NYSE:CNI) since IPO. Canadian National Railway is engaged in the rail and related transportation business and is a backbone of the economy that uniquely connects the Atlantic, the Pacific and the Gulf of Mexico.
CN has a network of 20,000 route miles of track spanning Canada and mid-America. Each year, the leading railroad company handles more than C$250 billion worth of goods, serving exporters, importers, retailers, farmers, and manufacturers.
CN's freight revenues are well-diversified across seven commodity groups of which none contributed more than 23% of total revenue last year. Geographically, "18% of revenues relate to U.S. domestic traffic, 33% transborder traffic, 18% Canadian domestic traffic and 31% overseas traffic." - CN 2015 Annual Report - Financial Section (pdf) - p9
In 2015 Canadian National Railway faced the challenges of "decreased shipments of energy-related commodities including crude oil, frac sand and drilling pipe, lower volumes of semi-finished steel products and short-haul iron ore, reduced shipments of coal due to weaker North American and global demand, as well as lower U.S. grain exports via the Gulf of Mexico." - CN 2015 Annual Report - Financial Section - p15
Due to the challenges and perceived slower growth, essentially the shares have gone nowhere (See Figure 1) in a little over a year. Canadian investors who bought on the Toronto Stock Exchange would have seen only a rise of 2.2% since 2015 while American investors who bought on the NYSE would have seen a decline of 6.5% due to the stronger U.S. dollar against the Canadian dollar over that period.
However, I believe Canadian National Railway traded in a sideways range instead of falling because it is strong fundamentally.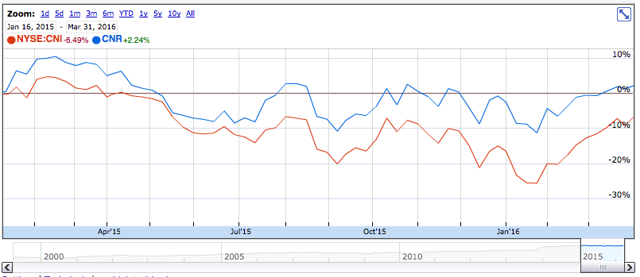 Figure 1 - Source: Google Finance as of March 31, 2016 market close
Freight revenues
CN's 2015 rail freight revenues was $11,905 million, 4% higher than in 2014.
Source data: CN 2015 Annual Report - Financial Section - p17
Compared to 2014, Coal freight revenues fell 17% and Metals & Minerals freight revenues fell 3%. However, coal only contributed 6.5% of revenues in 2014. So, its revenue decline wasn't devastating to the company.
On the other hand, CN experienced revenue growth from the remaining commodity groups. Particularly, Automotive and Forest Products generated strong revenue growth of 16% and 13%, respectively. Their combined revenue growth of $349 million more than offset the combined $175 million revenue decline from Coal and Metals & Minerals.
Valuation
Based on CN's 10-year normal P/E of 16.4, the railroad leader is about 10% overvalued at a P/E of 18 at about $81 per share.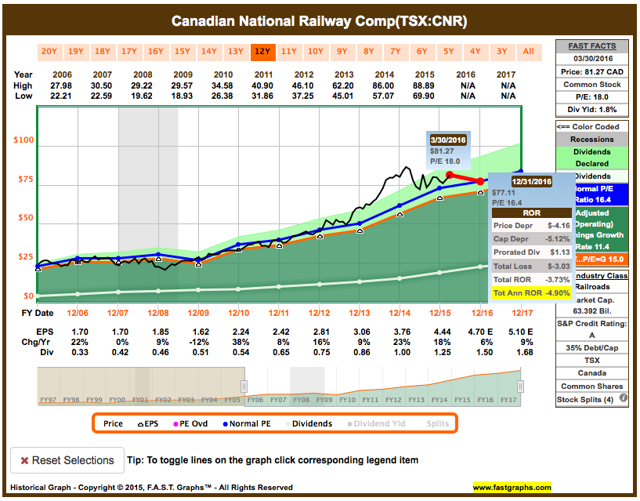 On a price-to-cash-flow basis, Canadian National Railway is also fully-valued.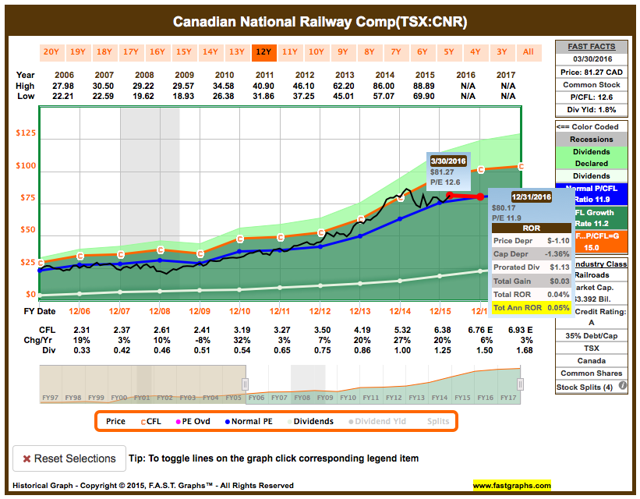 It's not easy to place a fair value estimate on CN because it experiences a wide range of growth rates between years, as you'll notice from the sample period in the 2 FAST graphs above that shows the growth rates of CN's earnings per share [EPS] and cash flow per share [CFLPS].
However, investors should keep in mind that over the long term, CN's EPS tend to rise even though there are occasional bumps along the way. The CFLPS graph is similar.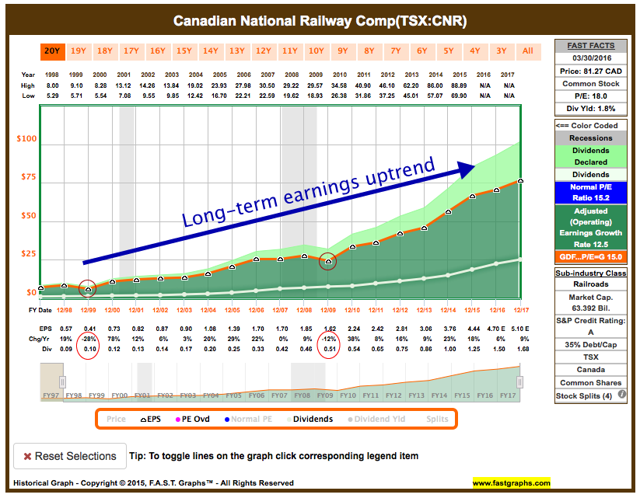 From consensus analyst forecasts, CN's expected to grow its earnings by 6-9% in the near term, which is lower than the average EPS growth rate of 14.7% it experienced in the last 5 years. However, CN is still trading at a pricey multiple of 18 and a forward P/E of 17.3.
So, what's a fair multiple to pay for CN?
In the past decade, in periods when CN experienced slower growth, it has traded between a P/E of 13.8 and 15.3. Based on its forecasted 2016 EPS, that'd imply a price range of $64.90 to $71.90 per share. Because of the slow growth that CN is expected to experience, I believe that's a fair price range for the company. That price range translates to about US$45.40 to US$50.30 on the NYSE.
Slower growth is not necessarily bad
In 2015, CN adapted quickly to the challenging environment by managing costs, which should improve its operational efficiency for now and the future. CN also ended up delivering adjusted EPS growth of 18% last year. CN's net income was $3,538 million, 11.7% higher than 2014. And its operating income was $5,266 million, 14% higher than 2014.
Revenues increased 4% to $12,611 million. U.S. dollar-denominated revenues, freight rate increases, and solid overseas intermodal among other factors, contributed to revenue growth.
CN's operating ratio was 58.2% in 2015, improving 3.7 points from 2014. Since the operating ratio is the operating expenses as a percentage of revenue, the lower the operating ratio, the more efficient its operations are.
At the same time CN improved operating metrics, the leading railroad also improved safety, which remains an ongoing effort. CN also placed more effort in connecting with supply chain partners, customers, and communities, which strengthens relationships.
For example, CN strengthened its connections with ports and Intermodal terminal operators by signing supply chain agreements with the Port of Mobile, Alabama State Port Authority, and APM Terminals, as well as with the Port of New Orleans. These collaboration commitments are expected to drive container traffic through the Ports and across CN's network, further reinforcing CN as a key player on the U.S. Gulf Coast... CN's From the Ground Up program supports the greening of municipal properties in communities along our rail lines. With over 1.2 million trees and shrubs planted in Canada and the U.S., CN is the leading private non-forestry company tree planter in Canada." - Message from CN CEO, Claude Mongeau, 2015 Annual Report
Dividends and buybacks
CN has increased its dividend for 20 years in a row. In the past 5 years, it averaged annual dividend growth of 18.3%. In 2015, CN paid quarterly dividends of $0.3125 per share, equating an annual payout of $1.25 per share and totaling $996 million, 21.8% higher than in 2014.
CN's 2015 dividend payout was 25% higher than in 2014 due to a growing dividend and reducing common shares from share buybacks. This year CN increased its quarterly dividend by 20% to $0.3750 per share. Using the new dividend and 2015's EPS, CN's payout ratio would be 33.8%.
If the 2016 EPS estimate of CAD$4.70, its payout ratio would be 32%. With CN's objective of gradually increasing its payout ratio toward 35%, there's room for its dividend to grow.
Under CN's normal course issuer bid, the company may buy back up to 33 million common shares between October 30, 2015 and October 29, 2016. So, shareholders can sit back and let their stakes grow.
Conclusion
Canadian National Railway Company is a good long-term, core holding because of its strong earnings growth and dividend growth record. From 2000 to 2015, CN's EPS grew by 12.8% on average, and its dividend per share increased by 16.9% on average. More recently, from 2007 to 2015, CN's EPS grew by 12.8% on average, and it hiked its dividend per share by 14.6% on average. CN's earlier dividend growth was higher due to having more room to expand its payout ratio.
CN should continue its growth trajectory by transporting a diversified and balanced portfolio of seven commodity groups and having diversified revenues based on geography. On top of that, CN is financially strong with an S&P credit rating of A and a debt-to-cap ratio of 42.5%.
Unfortunately, the shares are fully valued to being slightly overvalued today. With anticipated slower growth, it would be safer to buy it at a margin of safety at $64.90 to $71.90 per share on the TSX or US$45.40 to US$50.30 on the NYSE. The US price range will fluctuate more due to foreign exchange fluctuations.
Share in the comments below!
Which other railroad are you considering for your portfolio? Comment below and I might just write about it.
As much as I like to research and write, time is limited. So, I'm glad that this article on Canadian National Railway fills the need of some of my readers as well as my premium service subscribers who get priority attention. Feel free to try the service for free for 2 weeks.
If you like what you've just read, you can also follow me for free! Simply click on the "Follow" link at the top of the page to receive an email notification when I publish a new article.
Disclaimer: This article consists of my opinions and are for general information and educational purposes only. Please do your own research and due diligence and consult a financial advisor and or tax professional if necessary before making any investment decisions.
Disclosure: I am/we are long CNI.
I wrote this article myself, and it expresses my own opinions. I am not receiving compensation for it (other than from Seeking Alpha). I have no business relationship with any company whose stock is mentioned in this article.
Additional disclosure: I'm long TSX:CNR.