REITs Soar Like An Eagle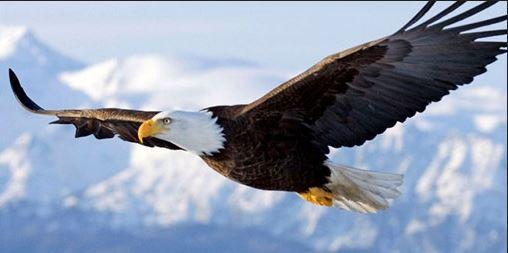 The Yellen speech at the Economic Club of New York was disseminated on Tuesday afternoon, and the immediate reaction of market participants was to take prices higher, with both the 10-year treasury and stock prices making dramatic reversals from early morning trade.
Having been down 100 points earlier on Tuesday, March 29, by the 4 P.M. close, the Dow had swung in a 200-point arc, 97 points to the upside.
The S&P 500 had been down 9 points in the early going, and by the close had swung decidedly positive, 27 points from the day's bottom.
Future Rate Increases: Waving A Yellow Flag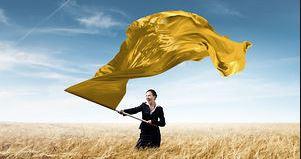 Ms. Yellen sounded cautious about moving toward the next increase for the Fed funds rate. For the bulls, this is the bottom line. She seemed to acknowledge that economic conditions are somewhat weaker than she thought just a few months ago and also cited global economic worries as headwinds. Dr. Yellen went on to indicate that the Fed can only add modest additional monetary stimulus at this point.
Recent Tells Of The Economy
We try to read the tea leaves at the bottom of our cup to discern the macroeconomic trends and how they might affect our investments or drive new strategies.
With the recent speeches of several Fed bank presidents, many analysts were predicting another rate increase very soon. Each of these Fed presidents seemed to be preparing the markets for the next move higher in rates.
Well, most knew it was coming, the next rise in the Fed funds rate that is. The only question seemed to be when. Well, now we have our answer; not now, and maybe not for some time yet.
Recent job reports had been coming in with strong numbers on the order of 240,000 jobs created a month. This had the effect of painting a picture of continuing health in the employment area, with the unemployment rate coming in at 5.0%. And the retailing sector added 57,000 jobs, giving an indication of possibly good retail sales ahead.
The consumer sentiment report came out Tuesday morning, indicating a reading of 96, the highest it's been in some months. So good news on the rate front added to the positive showing on the jobs front, and a stabilizing, slowly growing economy was now perceived as good news for the economy and the markets.
Ms. Yellen has expressed concern over the slowing global economy. That and the fall-off of corporate profits the domestic economy has been enduring of late have led her to her current cautious stance. This, in turn, has been read as a positive for the economy, the markets, and the rate-sensitive sectors of the market, in particular.
The market has concluded that this Goldilocks mixture of increased jobs, slowing global economy, decreasing profits, grindingly slow expansion, lower oil prices and lower for longer interest rates is just what the doctor ordered.
Most economists, and this writer, believed that the first rate hike would be very small, no more than ¼%. This was in fact the case. And most agree that any further raises in this rate will be slow, small, and few and far between. Today, Dr. Yellen confirmed this for us.
This Fed is not interested in repeating the mistakes made in the Great Depression, when rates were raised too soon and too fast, snipping off and killing what was then a budding rebound, cutting it off by the legs. This caused the economy and stock market to plunge to the depths, taking many more years to finally recover with the help of spending to get the country war ready, for WWII.
How Wild Did It Get?
The shift in sentiment Tuesday created a strong build to some of the most interest-sensitive areas of the stock market. Utilities like Con Edison (NYSE:ED) were rising 1.44%, as was Duke Energy (NYSE:DUK), joining the party with a rise of 1.21%.
REITs Continue Finding Price Support
As would be expected, the REITs benefited to the greatest degree. Perceived as the most interest-sensitive sector, shorts found there was nowhere to hide as many in this asset class took off. Most saw rises of 3% to 4% in their stock prices. With this dramatic rise in price, consequent dividend yields were cratering, and all the bargains from the recent stock market correction were beginning to drying up.
Here is a table to compare some of the major REITs that we hold in the FTG Portfolio and the RODAT subscriber portfolio. You can observe and compare the change in their stock prices from February 10, 2016, recognized by most as the bottom of the most recent correction, till now and the change in their yields.
REIT Price And Yield History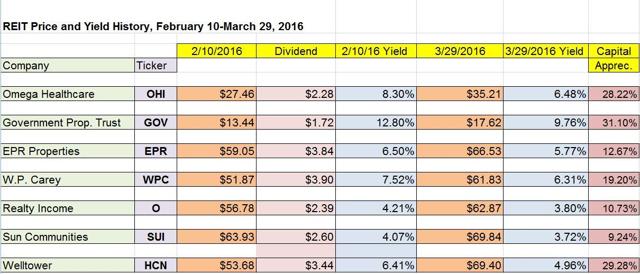 As the prices of many of the REITs found solid support Tuesday and rose by anywhere from 1% to 4%, the capital appreciation from the correction bottom till now was magnified and became apparent. Sun Communities (NYSE:SUI) came in with the smallest gain of 9.24%, still quite good for only seven weeks' time. The highest capital appreciation went to buyers of OHI, HCN and GOV, paying off with gains of 28%, 29% and 31%, respectively.
Opportunity Found In The Turmoil
If you'll shift your focus for a moment to the column indicating before (2/10/16) yield and after (3/29/16) yield, you'll quickly notice that since many of these REITs have been bought back and their prices have risen considerably as a result of the buying panic associated with the shifting, lower for longer yield picture, the lower yields are not as attractive and generous as they once were, just seven short weeks ago.
Compare the yield offered at the correction bottom to today's yield and you'll understand the opportunity that existed on 2/10/16. All current yields are significantly less today, and some are actually offering 2% to 3% less yield.
Just for some perspective, had an investor bought some of these names just seven weeks ago, as we did for our various portfolios that I manage, the difference on a $100,000 investment, in terms of annual income, would look like this:
$100,000 X 3% = $3000
From the dividend growth investor's viewpoint, it was time to go shopping again as I offered in this article. We were being handed some fine opportunities to either initiate positions in high-quality equities we'd salivated to own at lower prices, or we could add to positions we already had, thereby lowering our price point by averaging down.
Dividend Histories Have Been Good
Most of these REITs have shown resilience in all economic cycles and been able to grow earnings, cash flow, and funds from operations (FFO). Most of them continued paying their dividends in the depths of the great recession, and some of them even raised them.
If we are of the opinion that strong jobs growth is a good indicator of an economy that is strengthening and also growing and expanding, then there is a good case to be made for a concomitant strengthening in the economic prospects of these REITs.
Some of these companies rent stores to some of the largest commercial tenants in the nation, those that you see every day at your local shopping mall.
Some of them rent to healthcare facilities, nursing homes, hospitals, private doctor's practices, etc. If the economy is getting healthier, those who need their services have more funds available to visit for their healthcare needs.
One of the REITs, Government Properties Income Trust, rents office space and buildings to federal, state and municipal governments. If the economy is getting stronger and hire more workers, these tenants will continue to need their space and have need for more space going forward.
GEO Corp. (NYSE:GEO) builds, develops and rents prison space and rehabilitation and training facilities to governmental agencies both here and abroad. As much as the presidential candidates would like to put private prison companies out of business, it's just not going to happen.
These facilities run that much more efficiently than government-run institutions, saving tax payers money. To say, as some of them do, that private companies should not profit from prisoners' misery is disingenuous. They provide a needed service and do a good job of it for their tenants as well as their shareholders.
With their heavy concentration in REITs and utilities, both the FTG Portfolio and the subscriber RODAT Portfolio responded very favorably to Tuesday's interest rate news. Overall, the FTG rose 1.49% and the RODAT subscriber portfolio rose 1.51%, far outperforming the Dow's .56% rise.
Active portfolio management in these types of selling and buying panics is what is responsible for the solid growth put up this year by both portfolios in capital growth as well as in income.
Growing income is our primary aim. If it is your aim as well, you might want to read this recent piece, "Grab Price Volatility By The Throat And Fear Dissipates". In it, I describe the many benefits of learning to focus on the accumulation and growth of dividends instead of paying attention to stock prices. You can also view a Dividend Growth and Income Spreadsheet I use to maintain that laser focus on dividends and make available to interested readers.
What's 2.5% Between Friends?
A commenter on a recent article, Retirement FrontLine: No Social Security COLA, No Interest, Now No File And Suspend, said, "The FTG Portfolio looked good on November 5, not so much on November 6". This statement revealed that he was concerned and focused on the total capital value of this portfolio and the one-day deterioration of capital.
If I was focused on total return in this manner as this person was, I might be concerned also by a paper loss of 2.5%. But here's the thing; first of all, I'm a long-term investor. I'm not selling any of these positions now, so a paper loss is just a paper loss, not a realized loss. I am never fazed by how the market may decide to price my stocks, from one day to the next. I am interested in how they perform over very long periods of time, like in the neighborhood of the next 30 to 40 years.
Secondly, since my primary focus as a dividend growth investor is on the growth of the income in this portfolio, why would I be concerned about one day's performance in capital value?
The Fill-The-Gap Portfolio At A Glance
I began writing a series of articles on December 24, 2014, to demonstrate a real live construction and management of a portfolio dedicated to growing income to close a yawning gap that so many millions of seniors and near retirees face today.
The beginning article was entitled, "This Is Not Your Father's Retirement Plan". This project began with $411,600 in capital that was deployed in such a way that each of the portfolio constituents yielded approximately equal amounts of yearly income.
The FTG Portfolio Constituents
Constructed beginning on 12/24/14, this portfolio now consists of 18 companies, including AT&T, Inc.,(NYSE:T) Altria Group, Inc., (NYSE:MO), Consolidated Edison, Inc., Verizon Communications, Inc. (NYSE:VZ), CenturyLink, Inc. (NYSE:CTL), Main Street Capital Corporation (NYSE:MAIN), Ares Capital Corporation (NASDAQ:ARCC), Reynolds American, Inc. (NYSE:RAI), Vector Group Ltd. (NYSE:VGR), EPR Properties (NYSE:EPR), Realty Income Corporation (NYSE:O), Sun Communities, Inc., Omega Healthcare Investors, StoneMor Partners LP (NYSE:STON), W. P. Carey, Inc. (NYSE:WPC), Government Properties Income Trust, The GEO Group and The RMR Group (NASDAQ:RMR).
The recent purchase of STON and the dividend increases we received the month of February have together grown the FTG portfolio income to a new record $26,466.78, giving us a current overall portfolio dividend yield of 5.49%. This is the dividend yield that a new buyer at today's prices would achieve.
Since we bought all of these equities at cheaper prices since inception of the portfolio, the yield on cost that we have achieved is 6.43%. In other words, based on the prices WE paid, we are receiving a dividend yield return of 6.43%.
When stocks fall to better-timed entry points, we buy shares in order to grow portfolio income. In order to gain some of those better-timed entry prices that enable me to receive higher yield and income I've built some other digital utility tools, the Real Time Portfolio Tracker and the Watch List Real Time Tracker that work in real time to identify them.
We began with $411,600 on December 24, 2014, added a $6,500 IRA contribution in 2015 and another $6,500 contribution in 2016, totaling $424,600 in invested capital.
The FTG Portfolio has grown to another record high of $ 493,927.53 for capital appreciation of $69,328, or 16.33%. This compares very favorably to the Dow Jones Industrial Average which is down 2.2% and the S&P 500 Index which is down 1.29% in that same period, from 12/24/14 to date. The FTG Portfolio is running an outperformance rate of 17.62% to the broad market.
FTG Close, 3/29/16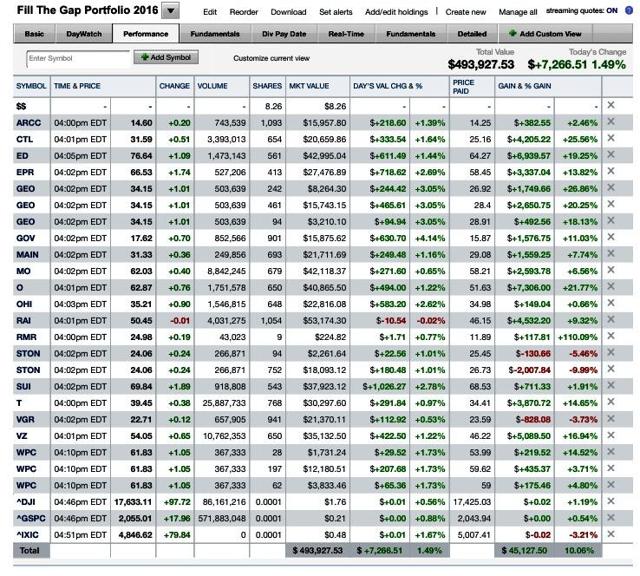 Retirement: One Dividend At A Time, Subscriber Portfolio Recap
We are ahead $30,636, or 11.13% year to date, while the Dow is up 1.19% and the S&P 500 is up .54% in that same time period, January 1 through March 29, 2016. This confers outperformance year to date of exactly 11.67%. From inception of this subscriber portfolio on November 1, 2015, our Real Time Portfolio Tracker for the subscriber portfolio tells us that annual income has now grown to $18,942.
From the inception of this portfolio on November 1, 2015, we have achieved capital appreciation of 13.74%, or $36,963. The current portfolio yield, if mirrored by a new investor at today's prices, comes to 6.19%. Since we've bought all of these equities at lower prices, our yield on cost for the subscriber portfolio is 7.04%. This means, for those subscribers who are our charter members and chose to mirror their investments after this portfolio, the yield they are receiving on their investments to date is over 7% now.
Author's note: Please consider following me in real time. This will enable you to receive an email the moment any of my articles are published on Seeking Alpha. Just click the down-arrow next to the "Follow" link above this article title, and check the boxes for "Follow this author" and "Real-time alerts on this author."
To learn more about my premium subscription service, please click this link:
Retirement: One Dividend At A Time
Disclaimer: This article is intended to provide information to interested parties. As I have no knowledge of individual investor circumstances, goals, and/or portfolio concentration or diversification, readers are expected to complete their own due diligence before purchasing any stocks mentioned or recommended.
Disclosure: I am/we are long ARCC, CTL, DUK, ED, EPR, GEO, GOV, MAIN, MO, O, OHI, RAI, RMR, STON, SUI, T, VGR, VZ, WPC.
I wrote this article myself, and it expresses my own opinions. I am not receiving compensation for it (other than from Seeking Alpha). I have no business relationship with any company whose stock is mentioned in this article.