All images from Tesla webcast, via author.
In this recent article I outlined the expectations Tesla (NASDAQ:TSLA) needed to match or beat for the model III Reveal. Tesla seems to have matched or exceeded all of them.
Tesla has confirmed the model 3 will start at $35,000 before incentives. This is vital, as the X was revealed eventually for much more than expected.
So what does it look like?
I will save the textual description and give you this: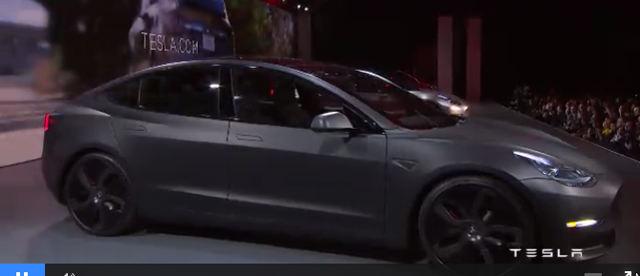 A smaller Model S
The Model 3 is exactly what it was set up to be: a smaller Model S.
They kept the doors simple; the handles were taken from the X.
They kept the passenger area roomy by giving the car a smaller frunk.
Autopilot hardware equipped standard
This is a big one for people I think, because nobody really plans to buy a Tesla without the autopilot safety capabilities. Autopilot is one of their differentiating factors they hope to maintain as the electric vehicle competition heats up.
I mentioned in my previous article that if they did this, it could really knock the socks off the competition like the bolt or volt (NYSE:GM). I believe this will really help to sway people towards Tesla
Superchargers standard
Tesla has also managed to work the supercharger network into the $35,000.
Other Notes
It may just be my imagination from the size of the new cabin, but the size of the touch screen looks even larger than the current model S. Also, the center console looked more sophisticated than the show room model S I mentioned in my recent article here.
Edit: Since the initial posting of this article, comments have led me to sources that indicate the screen is 15". The screen looks larger because it is horizontal.
Additionally, the panoramic glass in the rear will be standard.
Conclusion
Overall, I feel Tesla really hit the ball out of the park. They did not make anything ugly, in my, or gauging the crowds reaction, the general Tesla fan bases reaction.
It looks sporty, but not as much as the S. I do not feel it will cannibalize sales.
Tesla had a great day of media coverage, with more sure to come.
Now is probably not a good time to be short the stock. Tesla was up over $3 in after-hours trading Thursday, and opened Friday with a huge $12 (5%) jump. Friday will be a powerful day for the stock. After this climb, I expect Tesla will easily break $250 in the next month and continue to trend higher.
Disclosure: I am/we are long TSLA.
I wrote this article myself, and it expresses my own opinions. I am not receiving compensation for it (other than from Seeking Alpha). I have no business relationship with any company whose stock is mentioned in this article.
Additional disclosure: The author is not responsible for any investment decisions made as a result of information contained in this article. As an investor, you should do your own due diligence including consulting a professional analyst or broker before making any decision.