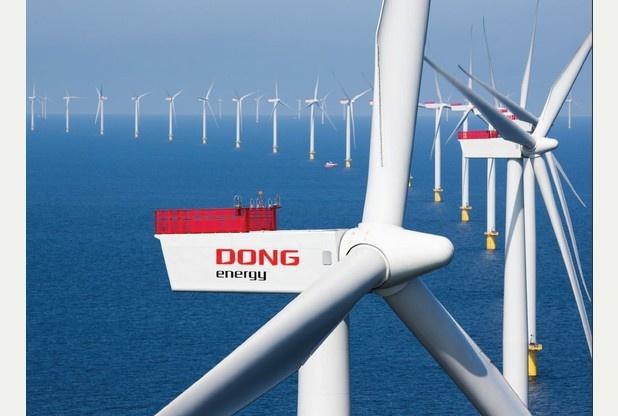 I've written several recent stories about opportunities to invest in wind power. Unlike the bloodbath that is solar investment, the opportunities to invest in wind power generation are looking very interesting.
Vestas Wind Systems (OTCPK:VWDRY) had a really good year, with the highest ever profit, and an order intake of 9GW of projects spread over 34 countries from five continents (including 3.1GW from the US). The company has a presence in 75 countries, with installed base of 74GW and 57GW of service contracts.
The order backlog is Euro 16.8 billion. Return on invested capital is a very happy 117% for 2015. The share price has almost quadrupled since 2013. Dividend has almost doubled from Euro 0.52 in 2014 to Euro 0.91 in 2015. Successful projects in Finland and Poland were highlighted by CEO Anders Runevad, who is unconcerned about a potential Gamesa (OTCPK:GCTAF)-Siemens (OTCPK:SIEGY) merger, even though such a merger would mean that the combined company would have a 15% market share and would overtake Vestas Wind Systems to become the convincing market leader (outside of China which is a world unto itself). A combined Gamesa-Siemens company would have work to do to become as profitable as Vestas, and there are some complexities to the deal.
Recently listed Avangrid (NYSE:AGR) has improved its share price (now $40.11) up from $36.12 on listing in December 2015.
First Trust ISE Global Wind Energy ETF (NYSEARCA:FAN) has bounced around over the past year (high/low $12.35/$9.89) and is trading at $11.68, which in comparison with solar PV and fossil fuels stocks is a good outcome.
A hint as to why wind companies are doing well is shown in a recent article that indicates the floodgates are opening for wind and solar investment. As an example, there are many companies that have sat on the sidelines, now getting into the business of investing in their own power supplies through wind and solar.
Up until now, there have been a small group of innovating companies, with Google (NASDAQ:GOOG) (NASDAQ:GOOGL) in the lead with 729MW of new wind power announced in 2015!
With a total of 3.44GW of renewable energy committed by companies in 2015, 2.29 GW of this commitment came from companies that have not previously invested in renewable energy. Companies with substantial investment in renewable energy now include Google, Facebook (NASDAQ:FB), Microsoft (NASDAQ:MSFT), Apple (NASDAQ:AAPL), Ikea, Mars, Wal-Mart (NYSE:WMT), Switch, Bloomberg, salesforce (NYSE:CRM), Philips, Corning (NYSE:GLW), GM (NYSE:GM), Amazon (NASDAQ:AMZN), Procter & Gamble (NYSE:PG), Equinix (NASDAQ:EQIX), Hewlett Packard (NYSE:HPE), Starwood (NYSE:HOT), Dow Chemical (NYSE:DOW), Kaiser Permanente, 3M (NYSE:MMM), Lockheed Martin (NYSE:LMT), and Steelcase (NYSE:SCS).
The 2015 corporate purchases almost trebled the investment in 2014, which in turn was double the 2013 figure, and in 2012, there was essentially no investment. It isn't hard to see where this is going, and wind makes up a big slice of the investment.
Global onshore wind had a bumper year in 2015, and China has now become not only solar PV, but also onshore wind, leader with five Chinese companies all making product for China in the top 10 companies. Goldwind (OTC:XJNGF) with 7.8GW took first place from Vestas (7.3GW).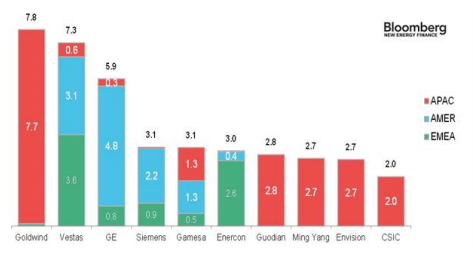 GE (NYSE:GE) at number three is growing its presence rapidly as has been summarized recently by LD Investments. Given the above positive environment for the wind industry, it is interesting to look at some recent corporate activity in the sector. Here I document a few examples to give a sense of the space.
GE
From an investor perspective, GE is too big and diversified for a targeted investment in wind, but focusing in on what the company is doing in the wind sector gives a sense of how it views this emerging area.
Clearly, this is becoming important to GE. The acquisition of Alstom's power and grid business was GE's biggest industrial deal, and it was done with a view to growing out its positioning as a Digital Industrial Company. GE views this as applying big data analytics to reduce downtime and improve performance of turbines, power plants, wind farms and the grid.
This provides a clear message about power generation becoming smarter and more information based. This is crucial to growing out the wind industry as an intermittent power source needs to be managed. A very powerful feature of wind power is that, while it is intermittent, the power generation is predictable when combined with weather forecasting, so that grid providers can schedule how their power delivery mix is composed. New generation turbines are starting to have short-term power storage built into them, so there is cleverness being driven through the entire power generation and delivery business. This requires a different mindset to a former view of base load power that just kept on going and was hard to balance out... think street lights being used to suck up power at night-time!
GE has major programs involving onshore wind production which are complemented by Alstom's Haliade 6MW turbines, five of which will be used to develop America's first offshore wind farm, the 30MW Block Island Wind Farm, off Rhode Island this year.
Senvion SA
Senvion [GR:SEN] is a German designer and manufacturer of both onshore and offshore wind turbines at plants in Germany and Portugal. It provides customers with project-specific solutions anywhere in the world. It will transport and install its turbines as well as offering service and maintenance after installation. The company operates throughout Europe as well as in the US, China, Australia and Canada. With headquarters in Hamburg, the company has 3,900 employees, so it is no small player.
Owned by private equity groups, Centerbridge Partners and Arpwood Capital, Senvion was acquired in 2015 from the Indian group Suzlon Energy Limited [NSE:SUZLON]. The transaction has the smell of tidying up debt and resetting the company for the major expansion happening in the wind industry. Last week, Senvion's IPO on the Frankfurt exchange the IPO was finalised with the private equity groups selling ~30% of their shares in an oversubscribed float. The listed entity has a market capitalisation of Euro~1 billion ($US1.14 billion). How this stock performs as a listed company will give an idea about how wind is performing. So far the stock is trading close to its listing price, which indicates that it was priced appropriately.
Senvion is an example of the wind industry learning about the disaster of debt and getting the business in good shape to deliver on major projects.
DONG Energy
DONG Energy is a very different story, but an interesting one which is all about planning for the future. This involves exit from a fossil fuel past (and present) to reposition it as a renewable energy company that is strongly focused on offshore wind.
After some roadblocks, it appears that DONG Energy is now tightening the hatches for market listing before Q1 2017 on the NASDAQ OMX in Copenhagen. The Danish government plans to reduce its stake in DONG Energy after the float, but still retain majority shareholding at 50.1%. Being Denmark's largest company, with 6,700 employees and $10.6 billion 2015 revenue, makes this no usual IPO.
DONG Energy has installed 17 offshore wind farms with 3.0GW capacity of which they own 1.7GW. Five offshore wind farms are under construction in Germany and the UK, with total capacity of 3.3GW. Today, 55% Of DONG Energy's heat and power generation comes from renewable sources.
Reflecting its past as a fossil fuel company, currently DONG also has 13 oil and gas fields with total production of 40.9 million boe in 2015.
The company has not only narrowed its focus towards offshore wind (exiting its onshore wind projects), but also now it has addressed its substantial oil and gas assets. Whereas Vestas is the leading European company involved in onshore wind (but second the China internationally), Dong Energy is the leader of offshore wind developments globally. It is 59% owned by the Danish Government, but an 18% stake owned by Goldman Sachs (NYSE:GS) provides some sizzle for the company and, down the track, interest for US investors.
JPMorgan (NYSE:JPM), Morgan Stanley and Nordea (OTCPK:NRBAY) are joint global coordinators and Citigroup (NYSE:C), Danske Bank (OTCPK:DNSKY) and UBS (NYSE:UBS) have been selected as joint bookrunners.
Here I summarise recent news from DONG Energy concerning its preparations for the IPO. DONG is a strong supporter of the Paris Climate agreement and this reinforces its strategic choice several years ago to transform from being one of the most coal-intensive utilities in Europe to lead the transition to renewable energy. It plans to achieve Euro100/MWh for offshore wind by 2020 and to achieve cost parity with fossil fuels within a decade (assuming a modest price on carbon). DONG also plans to convert a small number of fossil fuel power stations to sustainable biomass.
With major oil and gas assets, in January of this year DONG came up with a plan how to manage these assets in the light of its future focus on offshore wind. The plan is to use the oil and gas assets as a cash generator to help finance DONG's renewable energy investments. By 2020, the company expects offshore wind and bioenergy to account for 80% of its investments and development of green energy distribution and customer solutions.
DONG Energy delivered a record operating profit, up 13% in 2015. Net profit was another story with a $2.4 billion write-down due to impairment losses in its oil and gas business.
US Offshore Aspirations
Offshore wind is the fastest-growing renewable energy source in Europe, growing at 29% annually between 2010 and 2015 and growth of ~20% is expected through 2020. The European wind investment climate is clearly beneficial to DONG, but as the world's largest offshore wind developer, it is also looking beyond Europe.
GE has stolen the march on DONG as it will complete the Block Island Offshore Wind Farm this year, the first US offshore wind farm. However, this will change quite dramatically soon. DONG recently acquired two US offshore developmental zones off the coast of New Jersey and Massachusetts, both with 1GW development potential. The New Jersey site is similar to the company's North-Western European offshore projects. DONG is not content to rest on its laurels as it is exploring further US offshore wind sites.
Interestingly Dong has told the US government that it needs to install 500MW offshore wind annually for 15 years for the technology to make economic sense. In other words, the company says there is a need for ambition, but it obviously believes that this is going to happen. And it is pretty clear that GE and other wind developers are not going to allow DONG to get all of the business.
However, the company has been in the offshore game for a long time (25 years). It has built close to one third of the world's offshore wind turbines.
Conclusion
My impression is that investment in wind energy projects has been a sleeper for small investors until recently, although some have enjoyed good times through investment in Vestas. Here I've sought to give a sense of what is happening in the industry. It goes well beyond just building some wind turbines, so there is work for investors to do to get a sense as to which companies are going to prosper. Clearly, the big guys will do well, but looking at who supplies them might be interesting.
A key feature of investment in wind is that it is coming out of the shadows due to new focus on renewable energy investment. There is going to be a lot of new power built from the switch of investment from fossil fuels to renewables. So the flipside for investors is to have a close look at their fossil fuel investments to see whether they still make sense.
There is a lot of change out there.
Disclosure: I/we have no positions in any stocks mentioned, and no plans to initiate any positions within the next 72 hours.
I wrote this article myself, and it expresses my own opinions. I am not receiving compensation for it (other than from Seeking Alpha). I have no business relationship with any company whose stock is mentioned in this article.
Editor's Note: This article discusses one or more securities that do not trade on a major U.S. exchange. Please be aware of the risks associated with these stocks.