Fitbit (NYSE:FIT) is getting a bid again.
Having collapsed from the $50 level last summer to as low as $12 in February, the stock is back on a roll and priced near $15.
The company is next due to report earnings in early May with a small loss expected by analysts. (The company is predicting a profit.)
The last earnings report, which covered the Christmas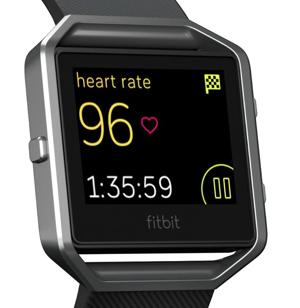 selling season, saw revenues of $711 million, just short of the $745 million from all of 2014, and earnings of $64 million compared with net income of almost $132 million a year earlier.
The big improvement in the line during 2015 was the Charge HR, a watch that also measured heart rate as well as the typical sleep patterns and steps found on earlier devices. (Full disclosure. I own one.) The big pop on the stock this week was on word that it shipped over one million Fitbit Blaze units, a $200 watch with a face as large as the Apple Watch with a heart monitor, apps and the ability to take additional bands.
The success of the new Watch has lifted the stock but is unlikely to launch the company to its previous heights, given the growth of Apple (NASDAQ:AAPL) Watch, and the assumption that the larger company will be able to take out Fitbit. It's probably time to consider a sale of the company.
The logical buyer would be Under Armour (NYSE:UA).
Under Armour has been described as a technology company that sells apparel, and it has already bought three technology companies - MapMyFitness, MyFitnessPal and EndoMondo - whose apps would be a perfect fit with the Blaze. I use MapMyFitness while on my bicycle, in preference to the bicycle computers I used to use, and a wrist interface would be a dramatic improvement.
Fitbit would be affordable for Under Armour, which now has a market cap of nearly $19 billion, against about $3 billion for Fitbit, and the acquisition would probably be accretive, given Fitbit's lower Price/Earnings multiple (29 against Under Armour's 81). Fitbit would aid Under Armour in its continuing competition against the much larger Nike (NYSE:NKE). Acquiring Fitbit would give Under Armour a presence in the Bay Area - its headquarters is in Baltimore. And the currency of Under Armour stock would probably be welcomed by current Fitbit shareholders, who have seen substantial losses until recently.
Nike, with its $105 billion market cap, could also be a bidder. The company currently sells its own sportwatch, which is built around GPS technology from Garmin and TomTom. In the hands of Nike, Fitbit would probably become less proprietary, more of a pure technology supplier, as the company has been making agreements with a variety of sport watch companies, including Samsung (OTC:SSNLF).
Whether or not Fitbit is in play, a disappointing quarterly report or simply a press release from Apple could tank the shares at any moment. It is going to be put into play and the main question is who might bid.
*Image Source: Fitbit
Disclosure: I am/we are long AAPL.
I wrote this article myself, and it expresses my own opinions. I am not receiving compensation for it (other than from Seeking Alpha). I have no business relationship with any company whose stock is mentioned in this article.
Editor's Note: This article discusses one or more securities that do not trade on a major U.S. exchange. Please be aware of the risks associated with these stocks.