Q1 2016 BDC Stock Price Performance
So far this year, there has been a wide range of price performance among business development companies ("BDCs").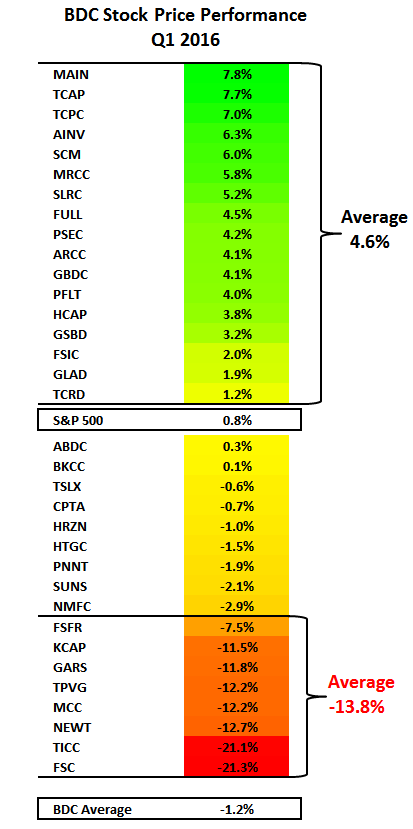 It is important to point out that this does not take into account dividends paid which was covered in "BDC Total Returns For Q1 2016" that also discusses why Main Street Capital (NYSE:MAIN), Triangle Capital (NYSE:TCAP), TCP Capital (NASDAQ:TCPC), Apollo Investment (NASDAQ:AINV), Stellus Capital Investment (NYSE:SCM), Ares Capital (NASDAQ:ARCC), Golub Capital BDC (NASDAQ:GBDC), PennantPark Floating Rate Capital (NASDAQ:PFLT), Goldman Sachs BDC (NYSE:GSBD), FS Investment Corp (NYSE:FSIC) and Gladstone Capital (NASDAQ:GLAD) continue to outperform the other BDCs. Most of these companies have management teams that are more likely to "do the right thing".
However, there are also a handful of underperforming BDCs that I consider "higher quality" but are going through various idiosyncratic events.
Many of the worst performing BDCs this year have poor management that resulted in declining portfolio credit quality. This would include Fifth Street Finance (FSC), Fifth Street Senior Floating Rate (FSFR), TICC Capital (TICC), Medley Capital (NYSE:MCC) and KCAP Financial (NASDAQ:KCAP). Newtek Business Services (NASDAQ:NEWT) and TriplePoint Venture Growth (NYSE:TPVG) are likely underperforming due to dividend coverage concerns. TPVG and Hercules Technology Growth Capital (NASDAQ:HTGC) are both in the processing of ramping the portfolio to cover dividends but are continually plagued by successful portfolio companies that repay early. This is a sign of a quality origination team and should be seen as a positive. Also discussed in the article linked above is New Mountain Finance (NYSE:NMFC) and two portfolio companies with oil related issues during the most recent quarter.
Which BDCs will outperform?
I believe that one of the primary differences between companies that outperform (pricing and operating results) is the quality of management that is in direct control of managing the capital structure and dividend policy as well as adjusting the expense structure including management fees. This has a direct impact on upcoming capital preservation and changes to dividends. BDCs can be opaque and the typical measures for finding an investment that will outperform are different but mostly related to management. This is because there is a conflict of interest between externally managed BDCs and shareholders which is likely why MAIN and TCAP top the list as they are internally managed. However, so is KCAP. Most of the higher quality BDCs have updated fee agreements that drive alignment with shareholders. This should be a serious consideration when investing in the sector, especially given later stage credit cycle concerns that could drive upcoming capital losses. BDCs such Prospect Capital (NASDAQ:PSEC) do not offer protection to shareholders if the portfolio credit quality declines and management could still earn healthy income incentive fees while net asset value ("NAV") per share declines. We saw and are seeing this with FSC and MCC. MCC has since revised its fee agreement to take into account capital losses but only after taking large hits to NAV. I am currently in the process of assessing each BDC (including new ones) and ranking them by the quality of management. If you are interested in my opinion on which BDCs are likely to do the right thing and deliver higher value as well as real-time announcements of when I make purchases (and free monthly newsletter), please visit "BDC Buzz.com". For a list of all my articles including interest rate discussion, BDC rankings (risk, return, pricing, dividend potential), target pricing charts and valuations, individual dividend coverage potential, my historical purchases and current positions, and suggested BDC portfolios, please see my "BDC Research Page".
What can we expect for the BDC sector for the rest of 2016?
Continued and increased bifurcation driving a wide range of performances
Potential (or continued) portfolio credit deterioration for poorly managed companies
Market overreaction to general market changes including interest rates and credit cycle concerns
Lower competition from banks due to regulations
Investors realizing that passive income from investments will be more difficult than historically
Personal note: I have updated my positions to reflect changes in my holdings, but please keep in mind that some of the positions are VERY small and mostly for research purposes.
Disclosure: I am/we are long ABDC, AINV, ARCC, BKCC, FDUS, FSC, FSFR, FSIC, GAIN, GARS, GBDC, GLAD, GSBD, HTGC, MAIN, MCC, MRCC, NMFC, PFLT, PNNT, PSEC, SCM, TCAP, TCPC, TICC, TPVG, TSLX.
I wrote this article myself, and it expresses my own opinions. I am not receiving compensation for it (other than from Seeking Alpha). I have no business relationship with any company whose stock is mentioned in this article.