Valeant (NYSE:VRX) stands in crisis. Outside circumstances and internal mistakes created that crisis. Valeant can no longer be what it once was, and one event will soon determine what it will become. To make an informed decision, investors need to know what led Valeant here, what choices Valeant has left, and what Valeant needs to move forward.
How Valeant Got Here
Drug firms have become worldwide concerns, they are quickly combining with one another, and most governments in their sales territories are fighting to reduce drug costs. Governments fight costs both as customers and as regulators. Drug firms also fight, to improve margins and returns. They fight by raising prices, cutting development costs, cutting distribution costs, and finding loopholes in the tax code and in insurance plans.
As usual, it took time for governments and commentators to learn the latest market tactics, but when they learned, they raised an alarm. Aggressive drug price increases and complex tax strategies spurred hearings in Congress and investigations by the administration.
Valeant was already one of the hardest players in the game when the US Senate Finance Committee held hearings on tax inversions in July 2014. At that time Valeant was battling to acquire Allergan, a struggle it lost, spectacularly, but not before it inspired hundreds of headlines.
Valeant's constant acquisitions, cost cutting, price increases, and voracious borrowing excited fear and contempt. What Valeant was doing looked novel and upsetting in the drug industry, but the firm was simply mapping a tested strategy from other sectors onto pharmaceuticals.
Business models are just methods for taking on certain risks and avoiding others. Valeant's goal was to eliminate unsystematic technological risk: it costs a lot of money to invent something new (especially when it's just one product) even if it actually works. There is more certainty in buying portfolios of proven assets, and spreading risk over many products.
This strategy succeeded in recent years for real estate trusts, energy partnerships, and transport fleets. Let a developer see if a new mall draws, let a driller see if a new well is a dry hole or a gusher, let a carmaker see if a new model is a bestseller, and let a biotech see if a new drug works, and works safely.
The way to make a stable business yield high returns is to use leverage - and the debt capital markets were wide open for REITs, MLPs, ABS managers, and Valeant for the better part of a decade. But leverage exposes firms to systematic risk: the strategy decays if the capital markets tighten or if the law of large numbers slows the rate of growth. Both dangers came into play one after another for Valeant, when the Allergan bid failed and the high yield markets closed.
Valeant's business model is now broken.
If that alone were the sum of Valeant's troubles it would have been bad enough: but Valeant brought more trouble on itself by bending the rules, and also by drawing public attention to its bending of the rules.
Valeant was accused of self-dealing by executives, of cookie-jar merger accounting, and of misstating revenues in its distribution channels. These problems were unearthed by diligent (although sometimes overwrought) short sellers and brought to the government's attention by aggrieved Allergan stakeholders.
The allegations of self-dealing were based mostly on two observations: Valeant executives pledged shares, undermining the purpose of their compensation package, and former CEO Michael Pearson was "accidentally" awarded extra shares which he then returned - at basis price rather than market.
Short sellers raised accounting questions when royalties from Valeant's acquisition of Medicis were described as nonrecurring charges, and they raised more questions over the low implied multiples of the sale of facial injectable assets to Galderma SA.
Valeant was even likened to Enron by one commentator because it used a certain specialty pharmacy as a distribution channel. There were three problems with this: the pharmacy was arguably not a true third party, the use of the pharmacy legally allowed Valeant to keep its drug prices out of IMS figures, and it was alleged that the pharmacy altered doctors' prescribing instructions. As a result Express Scripts and CVS kicked the pharmacy out of their networks.
Valeant's old business model is broken and will never be the same, and Valeant's management - perhaps through inattention, perhaps through ill intent - compounded the problem with its practices. Even worse, Valeant management responded slowly and the tone of its response was arrogant.
The New Valeant
The good news is that Valeant settled its civil lawsuit with the specialty pharmacy, it is shedding disgraced executives, and it has signed a new 20-year distribution deal with Walgreens. But Valeant is still dealing with two immediate problems - as well as two other problems that will persist.
Because of the questions over its accounting, governance, and business practices Valeant is under SEC investigation. It's impossible to tell how long the investigation will last. The investigation not only creates worry over legal liability, it also delays Valeant from filing its financials with the SEC. At the outside, if Valeant does not file its 10-K by May 14th or get waivers, it will default on its debt.
Valeant's management and board haven't covered themselves in glory: CEO Michael Pearson released an inaccurate preliminary fourth quarter earnings release that had to be withdrawn. He will now step down, even as he and the board accuse former CFO Howard Schiller and a company controller of reporting flawed numbers - a claim Mr. Schiller denies. The controversies may continue, because Pershing Square CEO William Ackman is joining Valeant's board, and his history with Valeant has been polarizing.
Besides the SEC investigation and the filing delay, there are two other - interrelated - long-term problems. Valeant can't buy growth anymore, because you need money to buy things. Valeant's stock fell 90% and it's now six times levered, so it can't afford to raise more equity or more debt to buy assets. And, even if it did, the market multiple of any targets would be too low to outstrip its high cost of capital.
So Valeant can't grow the way it's used to growing, yet it has a balance sheet that it was supposed to have grown into. Valeant's very unexciting new business model is to manage a portfolio of diminishing assets for cash so it can improve its balance sheet.
Risk and Reward
Putting aside emotional rhetoric, investors need to look coldly at Valeant, evaluate the risks, and assess the possible rewards.
The key risk right now, as Valeant stands on the brink of a covenant default, is whether the firm will go bankrupt. Bankruptcy is a complicated transaction, but it is still a transaction. Companies decide whether the benefits of filing outweigh its drawbacks, just as creditors do the same math when deciding to force a firm into bankruptcy.
The filing delay caused by the breakdown in accounting controls could provide creditors with a pretext for forcing a filing. Valeant is negotiating with creditors right now for a covenant waiver. As a practical matter, a company will always file voluntarily, so that it can control the process. If a firm anticipates that its creditors have the desire and may soon have the ability to put it into an involuntary bankruptcy, it will typically save them the trouble, and deny them the advantage, by filing first.
Because Valeant, and not its creditors, are participating in the SEC investigation, Valeant will be the first to know whether it can or cannot meet a filing deadline and can act accordingly.
That's the game theory, but as a practical matter, investors have to ask who would benefit from a filing. Valeant apparently has enough cash on its balance sheet to manage its business, and it has enough cash flow to service its debt. Unless a new and catastrophic event happens - like an SEC enforcement designed to put Valeant out of business - neither Valeant nor its creditors stand to gain from bankruptcy.
If investors adopt the conclusion bankruptcy won't be necessary, then the events to look for are the upcoming maturities (or more likely refinancings) of Valeant's bank lines, and the resolution of the SEC investigation.
If Valeant gets past those events, that success would give reasons for its unsecured bonds to tighten from as wide as +1200 over treasuries to +550 - +750 over treasuries like the notes of the comparable firms Horizon Pharma, Mallinckrodt PLC, and Endo Pharma.
If Valeant can't get a covenant waiver and is forced to file, then those bonds - which are already pricing in a high likelihood of default under the standard model - will be priced on recovery. Valeant's existing $10B of equity implies that the bonds would be fully covered, and the valuations of its levered pharmaceutical competitors support that view.
Valeant owns real products and has real customers: there is a path for it to become a boringly solvent and stable company.
Credit Waterfall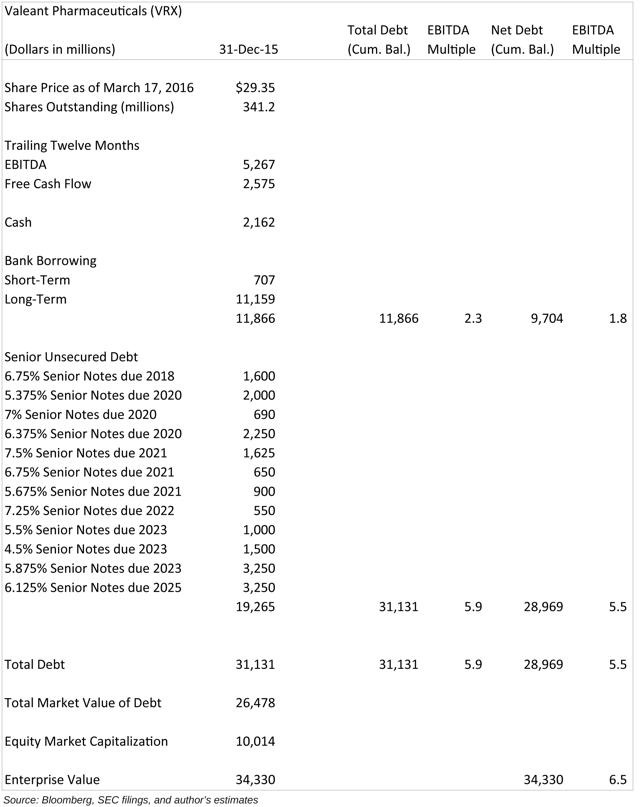 Financial Summary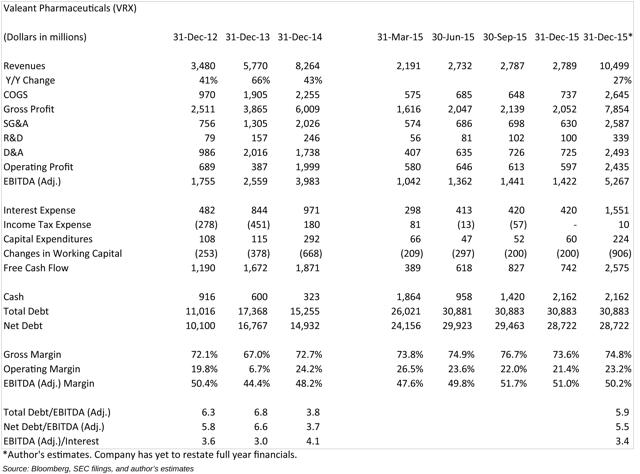 Disclosure: I/we have no positions in any stocks mentioned, and no plans to initiate any positions within the next 72 hours.
I wrote this article myself, and it expresses my own opinions. I am not receiving compensation for it. I have no business relationship with any company whose stock is mentioned in this article.