Did you know nearly half of all of the items you order from Amazon (NASDAQ:AMZN) don't come from Amazon itself? That's right. Over 47% of units that are shipped are actually sold by a third-party seller on Amazon. This amounted to more than 1 billion units. Even better, these units are actually more profitable for Amazon than when it ships its own inventoried units. No other company comes even close to matching the depth, selection, price and number of sellers than Amazon. Let's take a deep look at this side of the business:
Third-Party Sellers
There are roughly 2 million sellers on Amazon, many of which are small mom and pop businesses that are running out of their garage/home. There are, however, a number of significant enterprises building their business on Amazon. There are sellers that do hundreds of millions of dollars in sales on the Amazon platform and are growing quite rapidly. And there are lots of them.
It is astonishing how much revenue growth these sellers have experienced. Revenue and order growth are growing double digits year after year and this is a very profitable business from Amazon as compared to even their own operation.
Amazon FBA
I have noticed most third-party sellers are now using Amazon's FBA (Fulfillment by Amazon) service that has driven sales growth. This includes all of the largest sellers that are in the article above. In fact, most of them are literally 100% FBA. FBA allows sellers three advantages:
1) Makes their products eligible for Prime and Super Saver Shipping
2) Utilize Amazon's world class fulfillment and customer service experience
3) Allows for sellers to capture a higher percentage of sales when competing against non-FBA sellers
The FBA program is extremely unique compared to any other marketplace. There is no other marketplace (eBay (NASDAQ:EBAY), Wal-Mart (NYSE:WMT), Best Buy (NYSE:BBY), etc.) where the marketplace fulfills items on behalf of the seller. That is why these marketplaces are not growing nearly as rapidly - only experienced sellers with fulfillment capabilities can operate.
According to Amazon, using FBA allows a seller to basically worry only about supplying product into Amazon centers and cost control. They do not spend time on customer service, returns, shipping, etc. This is great for the seller because they can offer more competitive prices because they are utilizing the low costs of Amazon's fulfillment network.
You can see from the below chart what FBA has done for the business (FBA launched in early 2007).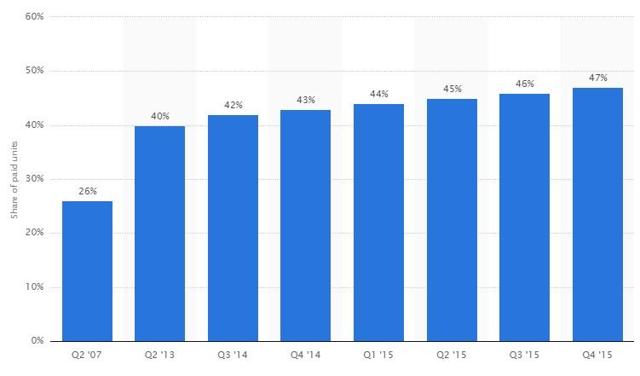 Source - Amazon SEC Filings
How does Amazon benefit from Third-Party Sellers?
Amazon realizes huge benefits as their third-party marketplace grows. Some of these include:
1) Selection - Third-party merchants provide an incredible amount of selection and increase customer choice.
2) Competitive pricing - Prices come down to very attractive levels to most consumers due to intense competition.
3) Inventory ownership - Amazon does not own or take risk of the inventory that is being sold on Amazon.
4) Supply chain and logistic cost reductions - Third-party sellers increase the volume of packages being shipped and received thereby achieving greater economies of scale.
5) Amazon builds a huge moat around their retail business which is extremely profitable.
The below chart by RW Baird demonstrates how powerful third-party sellers are in some categories. 80-90% of the product selection is actually coming from third-party sellers: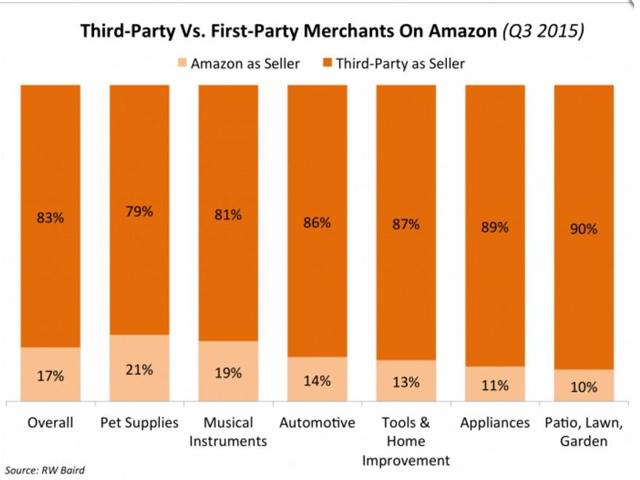 There are tens of thousands of new sellers every year and prices continued to get driven down by intense competition. This can be seen because prices are competitive down to the penny. The seller that has a lower price by even one cent wins the "Buy Box" and gets all of the sales. You can imagine what that does to the price. So while competition is incredibly intense for sellers, it creates a wonderful situation for the consumer who benefits from a wide selection at a competitive price. This obviously helps Amazon even more.
This moat is ignored frequently as most of the discussion around Amazon lies on how much they are investing in new warehouses, new phone development costs, etc. However, Amazon is quietly but surely strengthening this moat by opening up marketplaces around the world. There are now third-party marketplaces in the US, Canada, Europe, Japan, India and China.
Third-Party Sales are Extremely Profitable
For most items, Amazon actually makes more profit from selling a third-party item then from selling their own in-stock item (even for the same item). Let's take a look at all of the profits that Amazon collects from a third-party sale:
1) Amazon charges anywhere between 14%-40% to third-party sellers for most categories outside of electronics.
2) Amazon charges fulfillment fees for those items fulfilled through them (FBA). Sellers are charged a per order, per item, and a weight based fee. This covers much of the fulfillment cost of an order.
3) Amazon charges sellers to utilize the real estate of Amazon fulfillment centers. Essentially, Amazon has become a huge warehouse REIT that is massively profitable. They are charging anywhere between $.48 - .64 per cubic foot per month. Amazon is typically locating their warehouses in rural areas where land is extremely cheap. Charging this kind of "rent" brings in incredible profits.
4) Amazon makes a profit from all of the shipments that come into their fulfillment centers as most sellers are utilizing Amazon's rates to ship their products.
5) Amazon potentially "double charges" for shipping if a customer ends up placing an order with a shipping charge. (Amazon charges the seller a fee to fulfill, and the customer also pays for shipping even though one package is sent)
With third-party sales growing at over 50% yoy during the Christmas quarter, there is a lot to look forward to.
Conclusion
I can certainly see the perspective of many investors that focus on how many billions of dollars Amazon is investing into new areas and how the company is not profitable. Throughout its history, critics have said it won't be able to compete with Google (NASDAQ:GOOG) (NASDAQ:GOOGL) in product search, Apple (NASDAQ:AAPL) in electronics, or Wal-Mart (NYSE:WMT) in retail. But as time has passed, they have proven to be quite strong in all of them.
If Amazon continues to focus on developing moats in the industries it is focusing on, then we should see outsized profits in the future. It took years and hundreds of millions of dollars in losses to develop a marketplace that now brings in roughly $30 billion in revenue (half of $60 billion in merchandise revenue). Cloud brought in almost $8 billion last year and analysts estimate that it could be a $20 billion business in the future.
Investors need to pay attention to those efforts that Amazon is continuing to invest in (Cloud, Media, Prime, Retail) in order to develop a moat. They are very successful and long-term oriented, so one may want to avoid investing in other companies in these segments.
Equally important, one may want to consider investments in the segments where Amazon has shut down or given up on (mobile phones, luxury clothing, travel, payments, daily deals).
Source: Amazon SEC Filings and Full Year 2015 Conference Call.
Disclosure: I am/we are long AMZN. I wrote this article myself, and it expresses my own opinions. I am not receiving compensation for it (other than from Seeking Alpha). I have no business relationship with any company whose stock is mentioned in this article.