For the past two years, Ashford Hospitality Trust's (NYSE:AHT) common share value has steadily declined from a high of $11.32 to its current price of $6.38. This fall is primarily a result of the board's decision to spin off Ashford Prime in 2013, followed by the spin off its asset management division the following year. They are currently traded as Ashford Hospitality Prime (AHP) and Ashford, Inc. (NYSEMKT:AINC).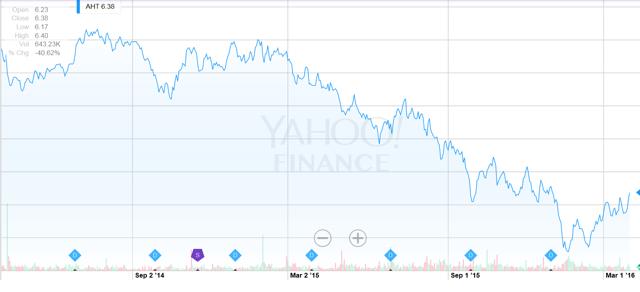 To compound AHT's difficulties are battles with activist investors such as Sessa Capital and Rambleside Holdings who accused AHT of facing a "crippling identity crisis," causing share price to languish along with intrinsic company value.
Ashford Hospitality Trust, Inc. is a publicly owned real estate investment trust. The firm engages in investment and management of properties in the hospitality industry. It invests in the real estate markets of the United States. The firm primarily invests in hotels with a focus on the ownership of upper-upscale and upscale full-service and select service hotels in primary, secondary and resort markets. It also invests in mid-scale and luxury hotels. The firm invests across all segments and at all levels of the capital structure, including direct hotel investments, first mortgages, mezzanine loans, construction loans, and sale-leaseback transactions. It primarily concentrates among Marriott, Hilton, Hyatt, and Starwood brands. Ashford Hospitality Trust, Inc. was founded in 1968 and is based in Dallas, Texas.
However, on a brighter note, especially for preferred equity investors, now is a wonderful time to pick up one or more of their preferred series of equities: A, D, or E. However, except for their call dates and initial coupon yield all are pari passu:
Pari-passu is a Latin phrase meaning "equal footing" that describes situations where two or more assets, securities, creditors or obligations are equally managed without any display of preference. An example of pari-passu occurs during bankruptcy proceedings when a verdict is reached, all creditors can be regarded equally, and will be repaid at the same time and at the same fractional amount as all other creditors. Treating all parties the same means they are pari-passu.
Let's compare the three:
AHT-A pays 2.1375/per share/year, callable since 2009
AHT-D pays 2.1125/per share/year, callable since 2012
AHT-E pays 2.25/per share/year, callable 4/6/16
On any given day depending upon the price of each, one series is better priced according to yield % ROI, Return on Investment, which should be figured with the dollar upside of the investment should the shares be called at $25.00.
Digging into the numbers: As I write, A is $24.05, B is $23.60, and E is priced at $23.90 -- an absolute no brainer as the best buy of the day. At these prices, the effective yield of each is:
A 2.1375/24.05 = 8.89%
D 2.1125/23.60 = 8.95%
E 2.25/23.90 = 9.41% The Best
The .30 upside if D were called along with E is negligible, and in no way makes it a better yield to maturity buy at these prices. Furthermore, if you were holding As, it would be a wise move to sell them, if you could, and pick up the Es instead. You'd be gaining a better yield and putting cash in your pocket at the same time. I did this when the E Series was first offered -- sold off all my As and replaced them with the Es, which I still hold today, and intend to hold until they are called. Had I been smarter and a better trader, I could have sold my E position when they were over $26.00, but, by nature, I'm a holder, loving my dividends a bit too much, and missed a golden opportunity for a big capital gain profit.
Bottom line: Ashford's turmoil; ongoing share price drop, which recently as jogged back upward; and its squabbles with activist investors have created opportunity for preferred long-term investors to earn healthy yields with relatively low risk investments.
Disclosure: I am/we are long AHT-D, AHT-E.
I wrote this article myself, and it expresses my own opinions. I am not receiving compensation for it (other than from Seeking Alpha). I have no business relationship with any company whose stock is mentioned in this article.
Editor's Note: This article covers one or more stocks trading at less than $1 per share and/or with less than a $100 million market cap. Please be aware of the risks associated with these stocks.