Almost two weeks ago, I wrote an article which included a graph where I compared the regional Empire State Index and the ISM Manufacturing Index. Empire State hinted a much higher ISM print and commodity prices supported that view.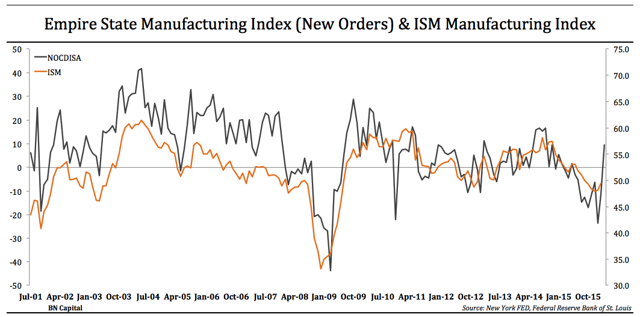 Today however, we saw a much stronger ISM. The ISM print came in at 51.8 which is 1.1 point above estimates.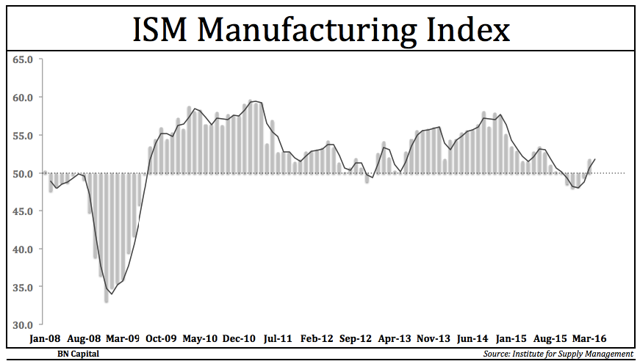 Growth slowing is having a break with twelve out of eighteen industries in growth territory. Only five industries are contracting.
The list below shows the biggest winners and losers.
Growing
Printing & Related Support Activities
Furniture & Related Products
Nonmetallic Mineral Products
Miscellaneous Manufacturing
Machinery
Plastic & Rubber Products
Food, Beverage & Tobacco Products
Fabricated Metal Products
Chemical Products
Paper Products
Primary Metals
Computer & Electronic Products
Contracting
Apparel, Leather & Allied Products
Textile Mills
Electrical Equipment, Appliances & Components
Transportation Equipment
Petroleum & Coal Products
I was really surprised by the new orders number. Prices also soared back above the 50 level. Mainly, because of the commodity rally which started in February. Employment decreased a bit which was confirmed in today's nonfarm payroll print. Manufacturing lost 29 thousand jobs according to the Bureau of Labor Statistics.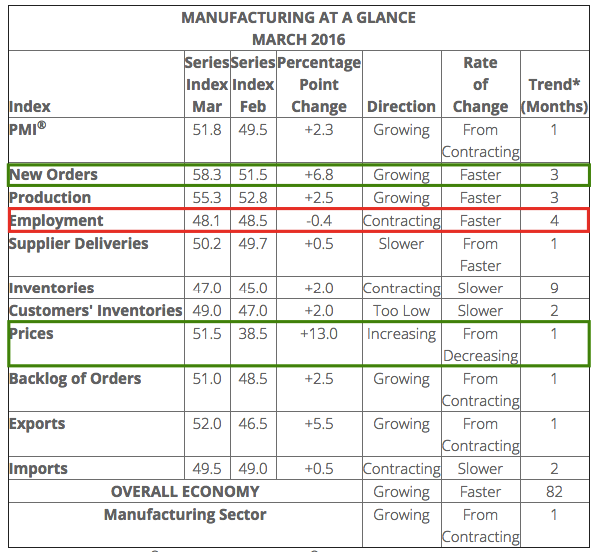 Source: Institute for Supply Management
After the strong print we will see a further strengthening of the USD and lower commodities which could put some pressure on stocks. In fact, that is how we got into contracting territory a few months ago. Rate hike expectations pushed commodities lower and killed a lot of junk bonds. However, it's not all oil as seen below. The Apparel industry is in pain. It is almost consistently the biggest lower in the ISM report.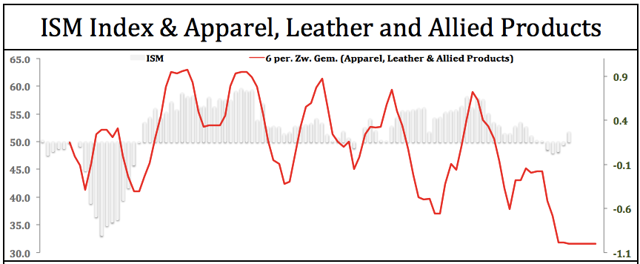 Source: BN Capital
During the next two weeks I will use this data to research interesting trades that will be profitable and market neutral.
Disclosure: I/we have no positions in any stocks mentioned, and no plans to initiate any positions within the next 72 hours.
I wrote this article myself, and it expresses my own opinions. I am not receiving compensation for it (other than from Seeking Alpha). I have no business relationship with any company whose stock is mentioned in this article.