"Development is of primary importance to China and is the key to solving every problem we face." "Pursuing development is like sailing against the current: you either forge ahead or you drift downstream." - Chinese Premier Li Keqiang - 2016

"To buy when others are despondently selling and to sell when others are avidly buying requires the greatest fortitude and pays the greatest ultimate rewards." - Sir John Templeton - 1958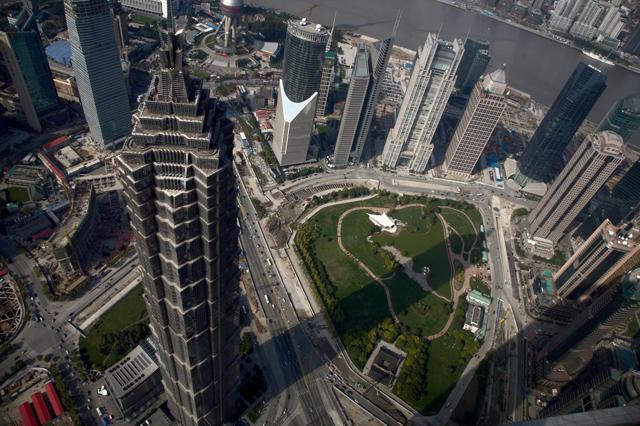 Introduction
Ever since Jim Chanos articulated his case short case against Chinese stocks in 2010, it has been commonplace knowledge that investors in Chinese equities are playing a losing hand. Chanos has developed a legendary following after becoming famous for foreseeing the Enron collapse and building perhaps the most impressive short-selling track record in the industry. The last five years have certainly seen Chanos's thesis play out, as Chinese stocks, commodity stocks, and anything remotely tied to global economic growth have underperformed. The resulting disparity in performance between U.S. stocks and Chinese stocks, especially Chinese mainland shares listed in Hong Kong, has created a glaring valuation gap. Building on this narrative, monetary and economic indicators in China have started to accelerate, creating a potential, durable long opportunity in Chinese stocks and their related growth plays.
Thesis
U.S. stocks are expensive while Chinese stocks are cheap, creating a relative valuation opportunity for contrarian investors.
U.S. Stocks Are Expensive
On a periodic basis, I have put together a chart that shows earnings estimates for the S&P 500, and these estimates have declined over time for both 2016 and 2015, as illustrated below: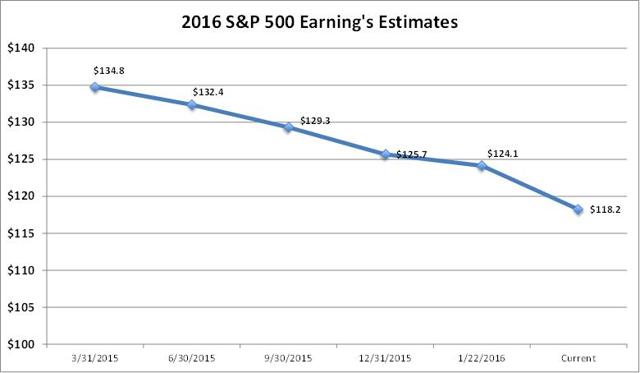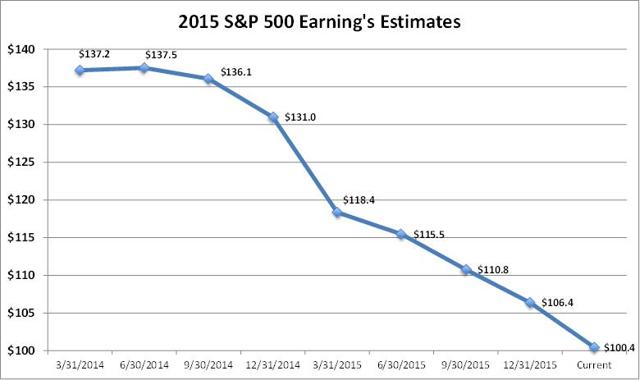 The price-to-earnings (P/E) ratio of the S&P 500 Index on the as-reported earnings from the Standard & Poor's website, which have significantly diverged from the operating earnings, is a surprising 22.7, as shown in the chart below: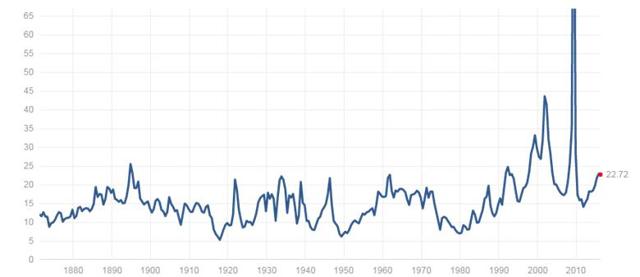 The cyclically-adjusted Schiller P/E ratio is even higher, coming in at 25.9, suggesting a more systematic overvaluation in U.S. equities.
Chinese Stocks Are Cheap
While the S&P 500 Index has had a banner of five years, Chinese stocks, as measured by the Hang Sang China Enterprise Index, have struggled.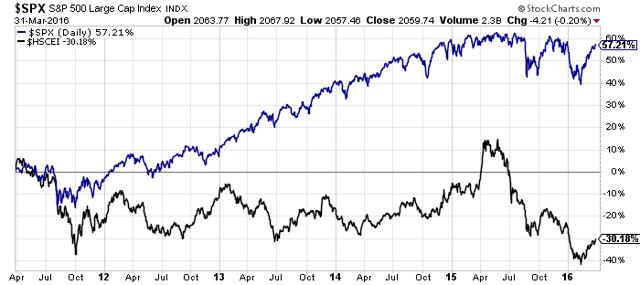 The contrast between the P/E ratios of the S&P 500 Index and the Hang Sang Index Enterprise Index is striking.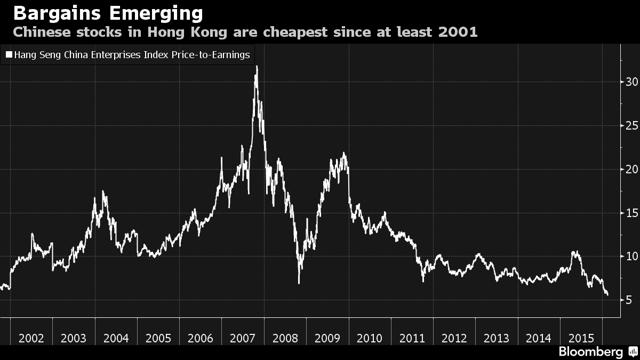 In February 2016, the P/E ratio of Hang Sang Enterprise Index was calculated at a stunning 5.6. Remember, above, the P/E ratio of the S&P 500 today is 22.7.
Green Shoots In Chinese Economic Data
Both of China's PMI metrics exceeded expectations last night, proving the forecast of one of my favorite Seeking Alpha authors, Robert P. Balan, who published this chart in his February 25, 2016, SA article accurate.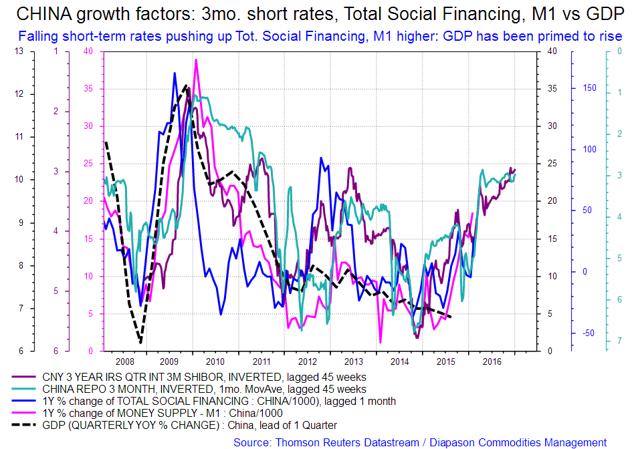 The recent rise in commodities prices, best exemplified by the doubling in price of iron ore, which is universally agreed to be oversupplied, shows the impact that even a small increase in China's growth has on the global economic environment. The rise in iron ore and other commodity prices has provided the fuel for a bottom in major miners BHP Billiton (NYSE:BHP), Rio Tinto (NYSE:RIO) and Vale (NYSE:VALE).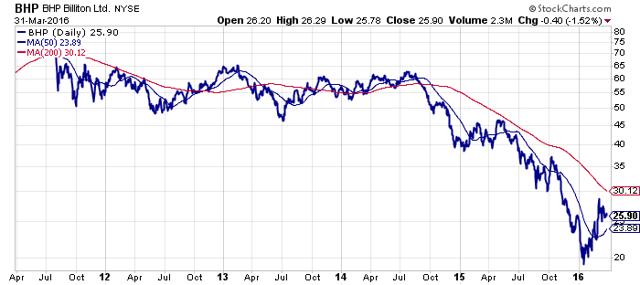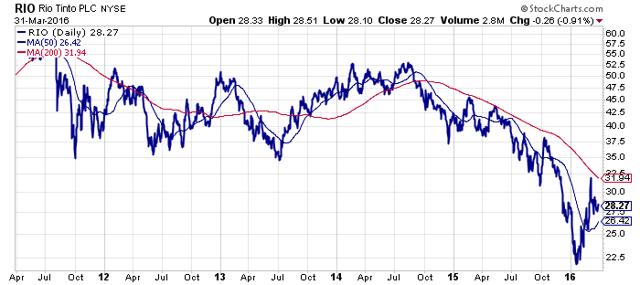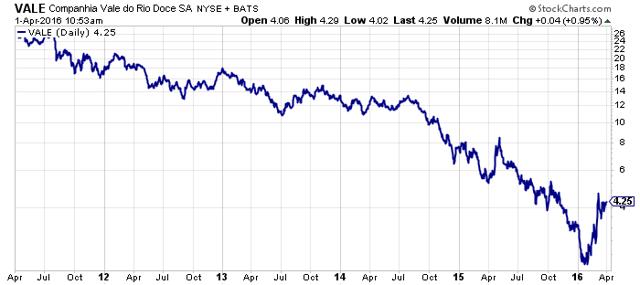 Chinese Stocks Offer Opportunity
After underperforming the S&P 500 Index, as measured by the SPDR S&P 500 Index ETF (NYSEARCA:SPY), by 95% over the past five years, emerging markets, as measured by the iShares MSCI Emerging Markets ETF (NYSEARCA:EEM), have outperformed in 2016.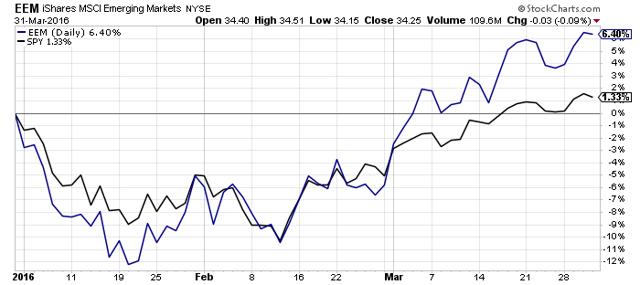 Chinese stocks have continued to trail their emerging market peers and their developed market counterparts. The iShares China Large-Cap ETF (NYSEARCA:FXI), which measures the performance of a basket of Chinese H Shares, still trails the SPY on a year-to-date basis.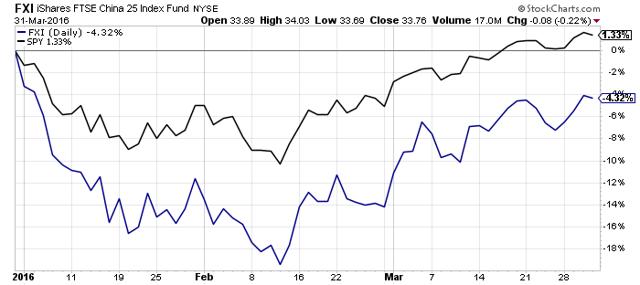 However, the move off the lows for FXI in 2016 has been impressive, as shown in the following chart: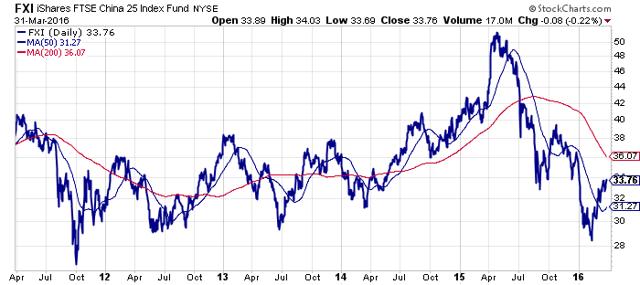 Notably, over the last five years, investors in the FXI who bought and held would be negative to the tune of a 15% loss. While the H-share market has persistently trailed the Chinese A-share market since late 2014, the gap has started to close.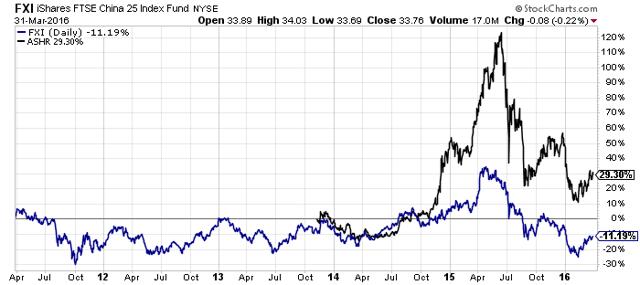 The gap between H-shares and A-shares has closed by 8% in 2016, but there is still a considerable divergence that remains. Thus, investors today, considering making a purchase in China, would remain better served by buying shares in FXI versus the Deutsche X-trackers Harvest CSI 300 China A-Shares ETF (NYSEARCA:ASHR).
As a value-oriented investor, I remain drawn to the iShares China Large-Cap ETF, and to a lesser extent, the iShares MSCI Hong Kong ETF (NYSEARCA:EWH), which is closer to exceeding its 200-day moving average, signifying a trend change, mirroring the stronger advance in the EEM to this point.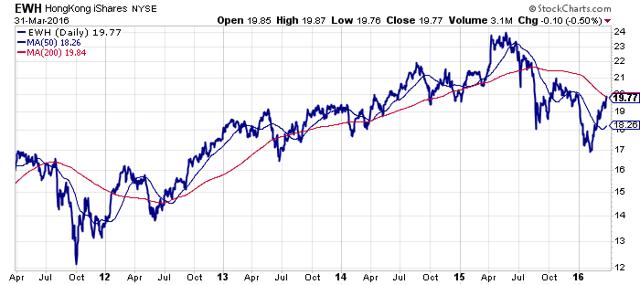 For growth-oriented investors who are more interested in the burgeoning Chinese service and technology sectors, the Guggenheim China Small Cap ETF (NYSEARCA:HAO) and the Guggenheim China Technology ETF (NYSEARCA:CQQQ) may offer opportunity.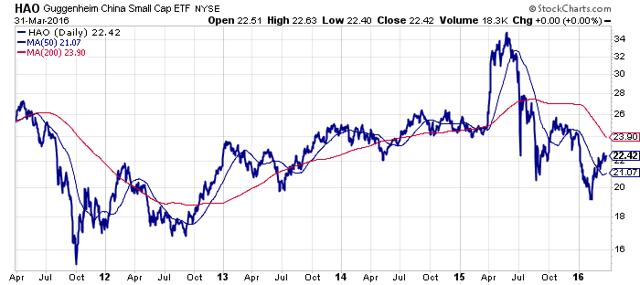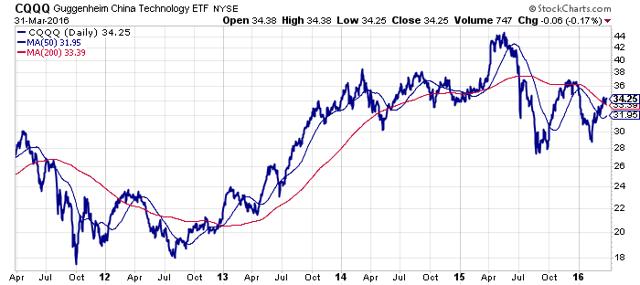 Jordi Visser, head of investments at Weiss Multi-Strategy Advisers, predicts that China's Shenzhen Composite, which is similar to the NASDAQ Stock Exchange in the U.S., will be the top-performing global index over the course of the next three to five years.
China-Related Stocks Set To Outperform
While U.S. equities are generally expensive, commodity stocks domiciled in North America, which have had a high correlation to Chinese stocks over the last decade, offer opportunity. Freeport-McMoRan (NYSE:FCX), Teck Resources (NYSE:TCK) and U.S. Steel (NYSE:X) have all bounced back sharply in 2016, yet may have more room to run, as their shares remain depressed over the trailing five years.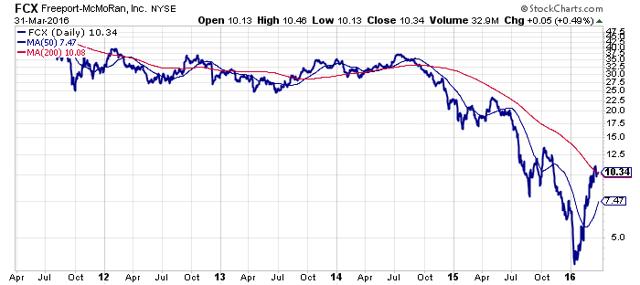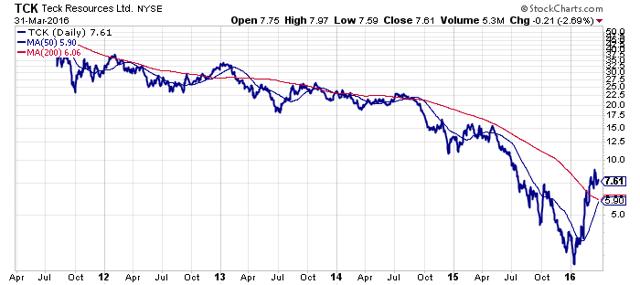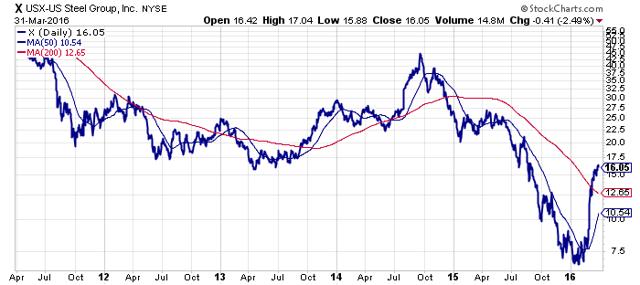 Copper, metallurgical coal and rolled steel prices could be at the start of at least a cyclical upturn, as even a small uptick in Chinese growth drives significant volumes, as the Chinese economy builds off a larger base year after year.
Conclusion - Prepare For The Unexpected
After a decade of rapid growth from 2000 to 2010, there is little doubt that China's growth trajectory has downshifted over the last five years. Slowing Chinese growth has impacted the world, as companies ranging from Apple (NASDAQ:AAPL) to General Electric (NYSE:GE) to Honeywell (NYSE:HON) to International Business Machines (NYSE:IBM) to Michael Kors (NYSE:KORS) to Nike (NYSE:NKE) to Tesla (NASDAQ:TSLA) to Whirlpool (NYSE:WHR) have looked to China for future revenue and profit growth. It is probably not a coincidence that a slowing China and rising deflationary fears have gone hand in hand as the following Dow Jones data shows.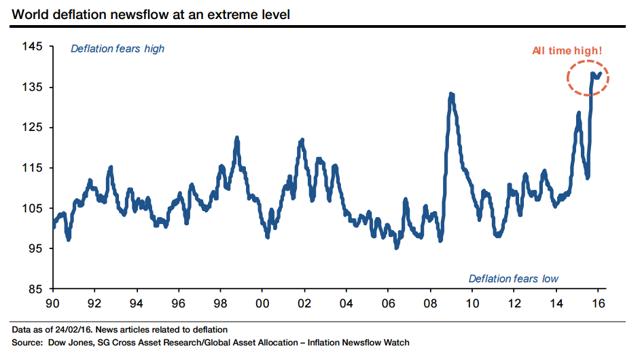 As deflationary fears reached record highs and global sovereign bond yields reached record lows, China has started to revive. This fact has been hidden by the fear of most investors. Somewhat surprisingly, against the dismal deflationary backdrop, stocks highly correlated to Chinese growth, including commodity stocks and emerging market equities, have sprung to life.
Additionally, secondary Chinese plays, like Wynn Resorts (NASDAQ:WYNN), which has seen its revenues and profits increasingly tied to Macau, have confirmed an embryonic recovery with their share price performance in 2016.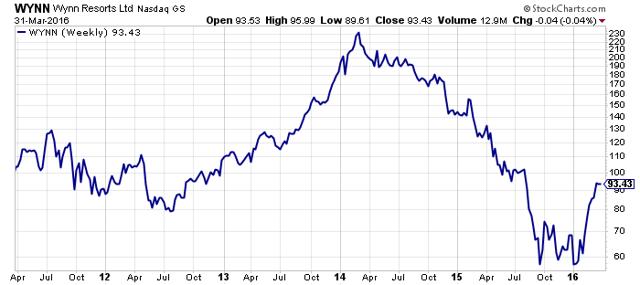 While there is still a long way to go to verify a Chinese turnaround, as evidenced by the five-year performance charts I have used throughout this article, U.S. stocks remain expensive by nearly all relevant metrics, and Chinese stocks and related equities remain cheap by the same valuation measures. Thus, investors, including famous ones who believe in China's recovery like Mark Mobius and Stanley Druckenmiller, should continue to monitor the emerging signs of a shift in global growth expectations. Be prepared to be surprised.
Disclosure: I am/we are long FCX, FXI, IBM, RIO, TCK, X, WYNN, AND SHORT SPY.
I wrote this article myself, and it expresses my own opinions. I am not receiving compensation for it (other than from Seeking Alpha). I have no business relationship with any company whose stock is mentioned in this article.
Additional disclosure: Every investor's situation is different. Positions can change at any time without warning. Please do your own due diligence and consult with your financial advisor, if you have one, before making any investment decisions. The author is not acting in an investment adviser capacity. The author's opinions expressed herein address only select aspects of potential investment in securities of the companies mentioned and cannot be a substitute for comprehensive investment analysis. The author recommends that potential and existing investors conduct thorough investment research of their own, including detailed review of the companies' SEC filings. Any opinions or estimates constitute the author's best judgment as of the date of publication, and are subject to change without notice.