Since the drought of 2012, farmers have watched corn prices slowly drift from over $8/bushel to a close yesterday of $3.52. Figures from the USDA in yesterday's crop report painted an even more bearish picture for corn prices through 2016-2017. Total acreage expected to be planted came in at 93.6 million acres, far above the highest analyst estimate of 91 million acres. Furthermore, not only are farmers predicted to plant 5.6 million MORE acres of corn this year than last, but a majority of these additional acres will be coming online in the heart of the corn belt, where yields are at there highest.
The USDA also updated their ending stocks predictions for 2016. Due to poor export sales and additional stocks from the 2015 crop, ending corn stocks in the U.S. were revised upwards from 1.8 billion to over 2 billion bushels! Keep in mind that just 4 years ago ending corn stocks were well under a billion bushels as you can see below.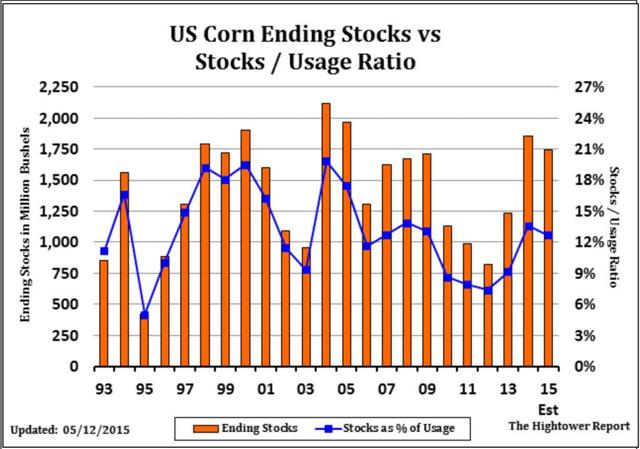 What this creates is a scenario in 2016 where ending corn stocks could reach 2.7-3 billion bushels if average yields are achieved and acreage planted remains at 93.6 million acres!
In addition to burdensome supplies of corn in the U.S., corn production and yields are on the rise throughout the world. Look at total corn stocks worldwide below:
As you can see we are approaching levels not seen in 30 years. Furthermore yield gains are still occurring in many developing countries.

Particularly large yield increases are being seen in South America, where the potential for two crops a year exist. In conclusion, corn prices have nowhere to go but down over the course of the next year. With increased acreage dedicated to corn in the U.S., along with burdensome supplies and ever growing yields across the globe, king corn is living up to its name as the worlds number one crop produced! Avoid corn as an investment or trade in 2016!
Disclosure: I/we have no positions in any stocks mentioned, and no plans to initiate any positions within the next 72 hours.
I wrote this article myself, and it expresses my own opinions. I am not receiving compensation for it (other than from Seeking Alpha). I have no business relationship with any company whose stock is mentioned in this article.