No matter which way you cut it, Apple (NASDAQ:AAPL) is grossly mispriced. Even if we assume the worst and revenues stagnate or even slightly decline, AAPL is still a phenomenal investment because it is so pessimistically priced by Mr. Market right now. If you are not already overweight Apple, I suggest you do so whenever you can. Let's start with the image below for some context.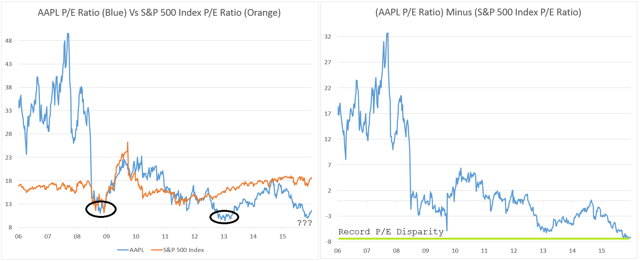 Source: Bloomberg
On the left, we have Apple's P/E ratio (blue line) compared to the S&P 500 Index (NYSEARCA:SPY) (orange line) over the past 10 years. We can see Apple has had this P/E twice before and both times proved to be the bottom in the stock.
On the right, we have the difference in P/E between Apple and the S&P 500. Again, we see the P/E disparity here is making 10-year lows. In other words, Apple has not been so pessimistically priced relative to the market in the past 10 years.
For a market leader with as strong a brand as Apple, this differential is simply unwarranted. We know that twice in the past 10 years this disparity has proven to normalize, once in late 2009-2010 and once in 2013-2014. Right now this disparity is 38%. That is a lot of potential outperformance. Then there is the free cash flow yield comparison.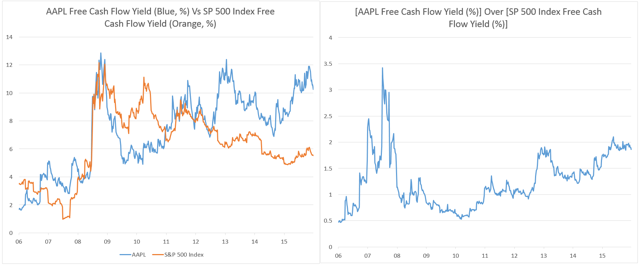 Source: Bloomberg
Once again, we see that the free cash flow yield of AAPL at the moment completely outstrips the S&P 500. If we look at the chart on the right, we notice that Apple has double the free cash flow yield of the S&P 500. The 2x level has not been seen since the GFC, a time where the market was obviously in a lot more disarray than it is today. Once again, this sort of valuation is simply unwarranted no matter how bearish you are on Apple's outlook. Let's perform a quick health check on Apple to see how margins have been.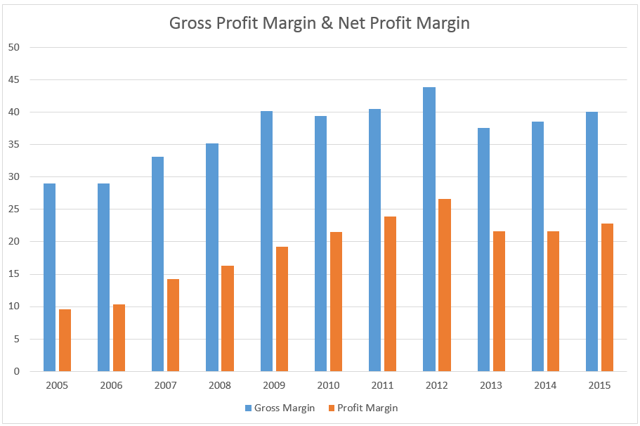 Source: Bloomberg
Do these margins look unhealthy to you? They look perfectly fine to me. Consistently high gross profit margins are considered the hallmark of a durable competitive advantage. Although this is historical data, I still see absolutely no indication here that Apple's position as a market leader is under threat. How about the balance sheet?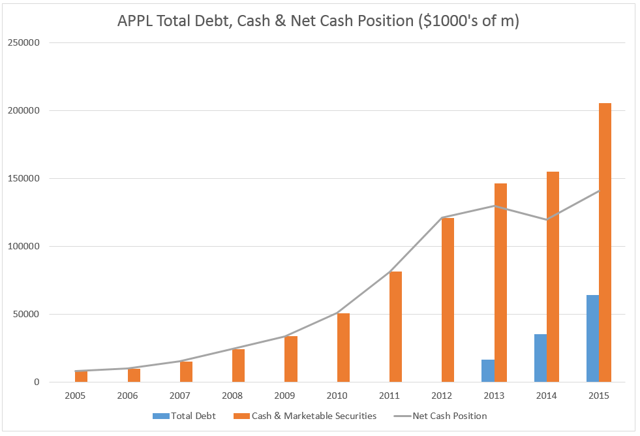 Source: Bloomberg
It is well known that Apple has a monstrously strong balance sheet, so this again is not an issue. Apple's strong cash position allows it to pursue countless growth opportunities that can be exploited by leveraging their strong brand and customer loyalty. You can also see that Apple's net cash position has continued to improve despite their recent appetite for debt. This is in stark contrast to many S&P 500 companies that have stressed balance sheets because they have been financing buybacks with debt.
To conclude, it is a rare opportunity to be able to buy a Goliath like Apple at such a pessimistic relative valuation. Dare I say it is difficult to find similar opportunities even in the mid-cap end of town. Mr. Market must believe Apple has absolutely no idea what they are doing. If you disagree with this view as strongly as I do, I encourage you to consider an overweight position in Apple. The cheap relative valuation insulates holders from any negative developments that may occur (if they even occur at all). As history has already proven twice before, I expect the current 38% P/E discount relative to the S&P 500 to close within the next 12 to 24 months.
Disclosure: I am/we are long AAPL.
I wrote this article myself, and it expresses my own opinions. I am not receiving compensation for it (other than from Seeking Alpha). I have no business relationship with any company whose stock is mentioned in this article.