The recovery in the share price of Wendy's (NASDAQ:WEN) has been a great investment to be a part of. But after going beyond our price target we have jumped ship now in search of other undervalued stocks in the quick service restaurant industry. We feel the share price has now reached a point where it could be deemed overvalued and fear there could be declines coming.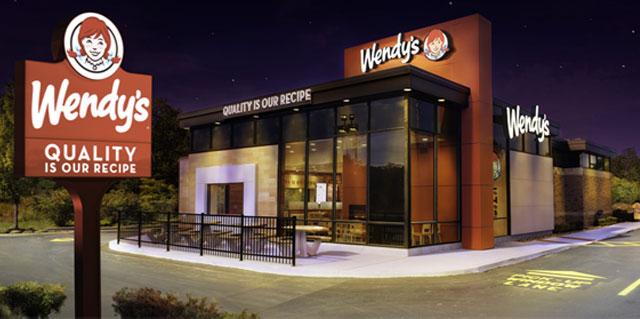 With the likes of McDonald's (NYSE:MCD), Chipotle (NYSE:CMG), and Yum Brands (NYSE:YUM) all vying for the same customers, the quick service restaurant is as fiercely competitive as they come. Right now, we do feel McDonald's could be winning the battle. Although, the war is by no means over, Wendy's share price has reached a level now which leaves it liable to declines.
We spoke about Wendy's just over six weeks ago at a point when the shares were just too low to ignore. The share price had dropped significantly following a downgrade from JPMorgan (NYSE:JPM), and we felt the sell-off was overdone to a large degree. It turns out we fortunately correct in our assumptions and the share price has rallied by almost 16% in that time. At that point the share price was $9.18 and our target price was $10.14. Currently the shares are closing in on $11.00, well ahead of what we deem to be fair value.
We do still think Wendy's is a great company with good growth prospects in the next few years. Management is aiming for restaurant margins of 20% in 2020 and a further 1,000 restaurants added to its network by then. Currently the company has 6,479 restaurants in operation worldwide, so this is a significant amount of growth we are looking at here in the region of 16%.
We are also excited to see the success of the remodeled, or reimaged as the company prefers to call it, stores. On its earnings call it had this to say about the process:
"The company and its franchisees reimaged 450 total system restaurants and built 70 new restaurants in 2015, which has resulted in the reimaging of approximately 22 percent of the Wendy' restaurants as of the end of 2015. The Wendy's system remains on schedule to reimage at least 60 percent of its North America restaurants by the end of 2020."
While many may dismiss this as just a makeover of sorts, it is far more than this. Wendy's has been spending a lot of time and money on its reimaging, and for good reason. The idea behind remodels, and part of the reason McDonald's is also embarking on similar initiatives, is that people who dine in spend more money. Drive-throughs and takeaway orders are great, but it is those that stay and eat in the restaurants that spend the most. But consumers don't want to sit inside and eat in an uninviting environment. They want somewhere pleasant to sit and enjoy their food. By reimaging stores, more bums will be on seats and more dollars will be spent. This is incredibly important in this fiercely competitive environment, in our opinion.
We do feel as the reimaging gathers pace it will create a boost to the top line, especially if fuel costs stay low and disposable income rises. It has been reported numerous times how a good portion of money saved at the gas pump is being spent on food. In fact, 18% of these savings are thought to have been spent in quick service restaurants.
But we do doubt the boost to the top line will be enough to warrant the shares trading at a forward price to earnings ratio of 30. Especially when McDonald's and Yum Brands both trade at just over 23 times forward earnings as you can see on the chart below.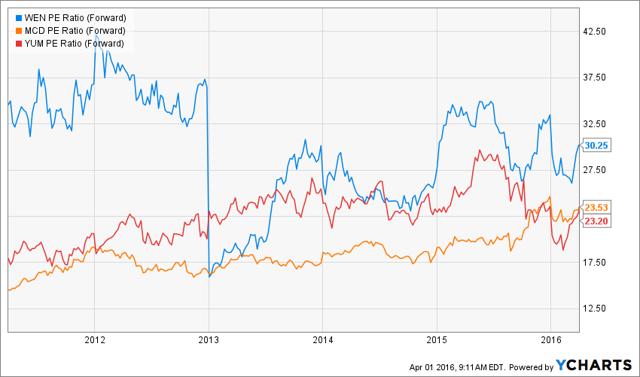 We forecast earnings per share for fiscal year 2016 to come in at 39 cents per share. This was ahead of management's guidance of adjusted earnings per share of 35 to 37 cents. For fiscal 2017 we believe the company will have grown its earnings per share to 44 cents.
At 44 cents for FY 2017 this gives us a one-year target price of $10.34 based on a forward price to earnings ratio 23.5, in line with its peers. So at present we feel the shares are overvalued. We are not calling this a short opportunity, but more of a preservation of wealth opportunity for current shareholders.
In around five weeks' time the company will report its first quarter results. To justify the current share price, we believe the market will need to see earnings per share coming at 8 cents on revenue of $360 million. This is ahead of the 6 cents per share analyst consensus. Failure to deliver this could see the shares drop down to around $10.00. At which point we would be very interested to look at reinvesting in the company. Until then, we believe McDonald's is priced fairly and could represent a better investment in the quick service restaurant industry today.
Disclosure: I/we have no positions in any stocks mentioned, but may initiate a long position in MCD over the next 72 hours.
I wrote this article myself, and it expresses my own opinions. I am not receiving compensation for it (other than from Seeking Alpha). I have no business relationship with any company whose stock is mentioned in this article.