In mid-March, Saudi Aramco's U.S. joint venture with Shell, Motiva, announced a Letter of Intent to split the assets between them. At that time, one source was quoted as saying, "They want to acquire refineries. They want to get into chemicals. They want to expand and Shell doesn't." That seemed to conflict with a report in January that Deputy Crown Prince Mohammed bin Salman announced a proposal to sell "an appropriate percentage" of shares of Saudi Aramco or a bundle of "downstream" units.
Today, Bloomberg reported on an extensive interview it conducted with the Deputy Crown Prince, second-in-line to the throne. Prince Mohammed has titles that put him in control of the army, the oil industry and most other areas of the economy, including its Public Investment Fund (PIF).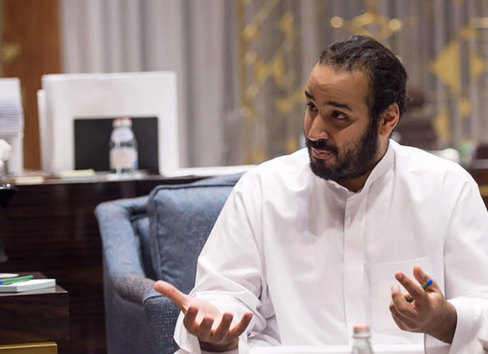 Mohammed Bin Salman, Saudi Arabia's Deputy Crown Prince, interviewed in Riyadh, Saudi Arabia, on Wednesday, March 30, 2016.
Source: Saudi Arabia's Royal Court
The interview provided insight as to how Saudi Arabia may deal with an era of relatively low prices, as well as the transition away from an economy based on oil-revenues in a world that will eventually move away from hydrocarbons.
The prince said Saudi will sell shares in Aramco's parent company and use the proceeds to create the world's largest sovereign wealth fund worth $2 trillion or more. The goal is to diversify KSA's income sources away from oil. The move may not only recognize the eventual end of the age of hydrocarbons, it may also be an acknowledgment that its oil income may remain relatively low over the coming decades.
The initial public offering could happen as soon as next year. "IPOing Aramco and transferring its shares to PIF will technically make investments the source of Saudi government revenue, not oil," the prince said.
"What is left now is to diversify investments. So within 20 years, we will be an economy or state that doesn't depend mainly on oil."
PIF ultimately plans to increase the proportion of foreign investments to 50 percent of the fund by 2020 from 5 percent now, said Yasir Alrumayyan, secretary-general of the fund's board.
The relative urgency to diversify away from oil seems to expose the Kingdom's doubts about the ability of oil revenues to meet its budgets over the next 20 years. The OPEC Outlook published in December depicted how oil prices would be rising to $80 by 2020 and how the demand for OPEC oil would be rising until 2040. I wrote that the Outlook provided proof of OPEC's confusion.
Saudi Arabia appears to be pivoting in its strategy to gain market share due to a change in its outlook. The diversification by the PIF is a sound solution to OPEC Secretary-General Abdalla Salem El-Badri's quandary expressed in February, ""Shale oil in the United States, I don't know how we are going to live together." Shale drillers can boost output in response to price increases much faster than anything OPEC has ever seen, he said.
Freeze?
While the interview did shed more light on Saudi Arabia's outlook and investment strategy, it did raise doubts about its short-term oil price strategy. After more than a year of taking a hard line that the Saudis would compete for market share at whatever price the market set, they seemed to relent in mid-February when the "freeze" was proposed. This change of tone helped prices rebound by about 50 percent.
In this interview, the prince said KSA will only freeze output if Iran and other major producers do so. There had been a growing sense that Iran would be given a "pass" because its exports had been limited by the sanctions, which were just released in January.
Is this yet another change in strategy? If Saudi Arabia plans to aggressively sell oil assets to diversify, why would it not want higher oil prices to maximize the price of Aramco shares?
One logical answer is to pursue the "rope-a-dope" strategy I had presented. The first step is to weaken shale oil producers or chemical companies further, then to acquire them. Once Saudi Aramco owns them, it cuts back production to let world oil prices rise for its IPO.
Conclusions
From a distance, it appears that the collapse in oil prices had led the Saudis to re-think its market share strategy. Today's market dynamics are much different from the 1980s and 90s when it worked the first time around.
It seems to have come to the conclusion that it must stop the hemorrhaging and so it reversed its price-minimizing rhetoric. But is the prince's interview yet another pivot? Possibly, if they have decided to take a page out of John D. Rockefeller's playbook to bankrupt competitors before acquiring them.
Disclosure: I/we have no positions in any stocks mentioned, and no plans to initiate any positions within the next 72 hours.
I wrote this article myself, and it expresses my own opinions. I am not receiving compensation for it (other than from Seeking Alpha). I have no business relationship with any company whose stock is mentioned in this article.