The Indian government recently delivered its budget for FY17, which prioritized fiscal prudence over profligacy. There was no compromise with the budget deficit, which is projected to be 3.5% at the end of FY17, down from 3.9% at the end of FY16. More importantly, the government retained its commitment to bring the deficit down to 3% in the next two years. Markets and rating agencies were justifiably pleased. It has been a month since the budget, and India's benchmark Nifty stock index is up 8%.
Yet, India's efforts towards fiscal consolidation are not new. It started in the last two years of the Manmohan Singh administration, which cut budgeted (plan) expenditure to create fiscal space and keep India's credit rating anchored. Whenever actual revenues fell below their budgeted estimates, the government resorted to cutting actual expenditure to keep the budget deficit in check. The present administration in its two years in office has continued with that policy, as can be seen in the chart below: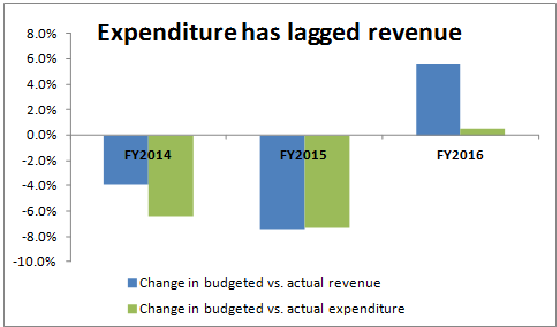 Source: India budget documents
How credible are the government's revenue estimates?
The government's two main sources of money are revenue receipts (taxes + interest + dividends) and disinvestment proceeds. Revenue receipts, which are linked to the economy's performance, have grown by a healthy 9.5% y/y in FY16. In FY17, it is expected to grow by 14%, based on the government's estimate of 11% y/y nominal GDP growth. It raises two very pertinent questions:
How realistic are the government's nominal GDP estimates in the backdrop of significant challenges? India's banking system is reeling with non-performing assets and shortage of capital; and the rural segment is going through a slowdown due to poor monsoons.
How credible are the government's new GDP numbers anyway? India's new GDP series has perplexed many analysts due to the inconsistency between reported GDP and readings of other economic indicators. In fact, the RBI governor Rajan has gone on record in the recent past, saying he is yet to get a complete grip on the new GDP series.
Assuming you trust India's new GDP series fully, if actual GDP falls short of the government's estimates, hitting revenue realization, we can expect a cut in spending in keeping with the recent trend. This in turn will reduce economic activity in the current environment of tepid private sector spending and credit growth.
We are probably seeing signs of that happening, going by the inflation number. Consumer price inflation in February came in at 5.2%, reaching its lowest level since October and below consensus of 5.6%. This shortfall will need to be made up for by real GDP growth if the revenue projections in the budget are to come true. This puts the onus squarely on monetary policy.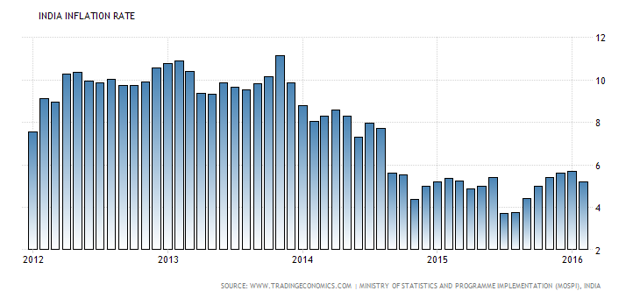 Disinvestment is unlikely to act as a stabilizer
Divestment of stake in government-owned companies is the other main source of money for the government. Yet, as can be seen in the chart below, proceeds from disinvestments have almost always been woefully short of expectations. At the start of last year, i.e. FY16, proceeds from disinvestment were estimated at INR695 billion, which was revised down to INR300 billion in December 2015 and further down to INR253 billion in February 2016. In contrast, actual proceeds came in at INR195 billion. Although the government blamed it on the weakness in equity markets, the chart above tells us it is in keeping with the multi-year trend of setting overambitious targets and then not being able to deliver. There is no reason to believe this year is going to be any different. So, expect deficit management to come under pressure later this year.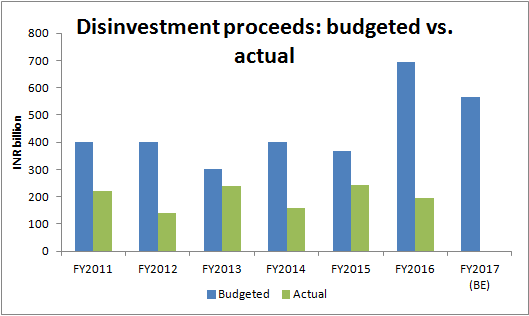 Source: India budget documents
Looking at the picture of revenue and disinvestments, it is more likely than not that proceeds from these two sources will be less than estimated. Which leaves the Indian government with two choices: let the deficit widen or cut spending. I am in the camp, which believes the government will do the latter. Therefore, GDP growth will be compromised to some extent, unless private sector spending picks up appreciably, which again is unlikely in India's current economic environment.
All of this should tell you the importance of monetary policy going forward. It is now more likely than ever that Governor Raghuram Rajan will cut policy rate in the April 5 meeting. I expect this to be the first of a series of cuts.
So, what does the future hold for USDINR?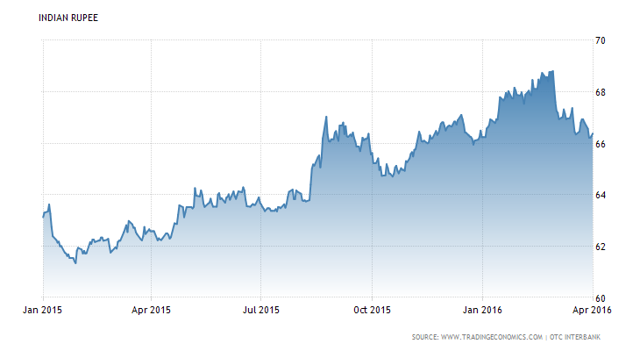 A scenario of softer GDP growth and looser monetary policy is ideal for shorting the INR against the USD. Particularly, if you consider the Fed is turning more hawkish and expect more rate hikes in 2016.
Disclosure: I/we have no positions in any stocks mentioned, and no plans to initiate any positions within the next 72 hours.
I wrote this article myself, and it expresses my own opinions. I am not receiving compensation for it (other than from Seeking Alpha). I have no business relationship with any company whose stock is mentioned in this article.