Q1 2016 just ended. What a roller coaster the market has been so far this year. This month I set a new monthly dividend payout record. I knew March would be a great month but not this great. This month my dividend income totaled $784.66.
I collected dividends from 24 companies. That's 24 mini paychecks that I'm collecting money from on either a monthly or quarterly basis without doing any work. Passive income is the best income.
March was a really strong month for U.S. markets. My portfolio value has increased substantially over the past few months. Today, my portfolio market value is sitting at $233,849. This is a fantastic climb considering I started with nothing in 2014.
March Dividend Payout
My March dividend payout was as follows: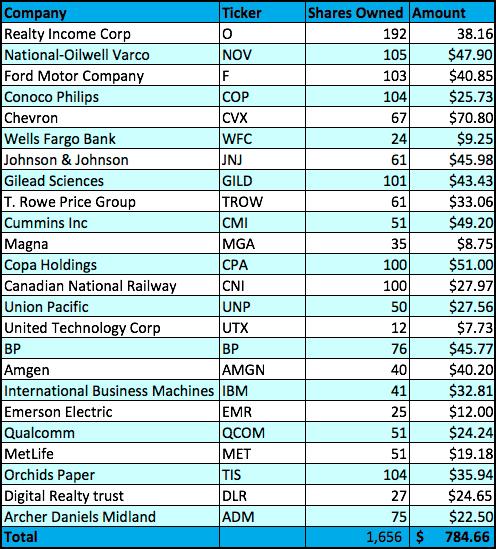 Dividend Payout - Year-Over-Year
The chart below tracks my monthly dividend payout on a year over year basis. 2014 numbers are in blue. 2015 numbers are in red. 2016 numbers are orange. YoY charts help me to see where I'm headed, and they give me sense of pride that I am one step closer to my goal.
My dividend payout in March went from $54.09 in 2014, to 135.57 in 2015, to $784.66 in 2016.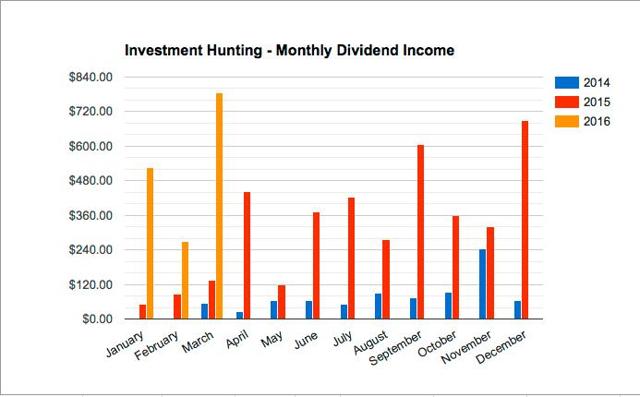 Since 2014 when I became serious about dividends, I've made $6,289 in dividends. So far this year I've earned $1,582. This averages out to $527 a month in dividends that gets reinvested into my retirement accounts. The growth of my dividends has been fantastic. The chart below shows that in 3 months this year, I've already passed my 2014 annual dividend income mark. I've also almost reached 50% of my 2015 dividend payout. I will pass 50% next month.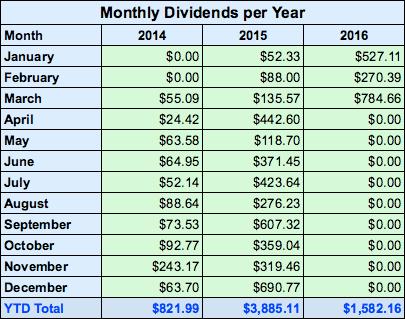 Full Disclosure: Long O, NOV, F, COP, CVX, WFC, JNJ, GILD, TROW, CMI, MGA, CPA, CNI, UNP, UTX, AMGN, IBM, EMR, QCOM, MET, TIS, DLR, ADM. I sold out my BP position earlier in the month. Learn more about my BP sell.
What was your March Dividend Payout? Did you break a monthly record? Do you DRIP your dividends or do you save them and make new stock buys?