"The financial markets generally are unpredictable. So that one has to have different scenarios." - George Soros
The stock market as measured by the S&P has basically been flat since the last quarter of 2014. Those who fall in the bullish camp and looking for the resumption of the uptrend that started in 2009 have been disappointed. Those who fall in the bearish camp constantly looking for the end of the bull market have been equally frustrated. Their calls for much lower equity prices haven't materialized.
James Paulson of Wells Capital Management assembled statistics and recently shared his perspective on these types of market periods.
Examples highlighted in the exhibit include the late 1940s, between mid-1951 to mid-1953, 1956 to 1957, 1959 to 1960, the last half of the 1960s, most of both of the 1970s' recoveries, and finally 1987 to 1990. He also notes that these scenarios have also occurred as investors initially adjust to the Federal Reserve starting to tighten monetary policy. For example, this happened between mid-1983 to mid-1985 and again between 1993 and 1994.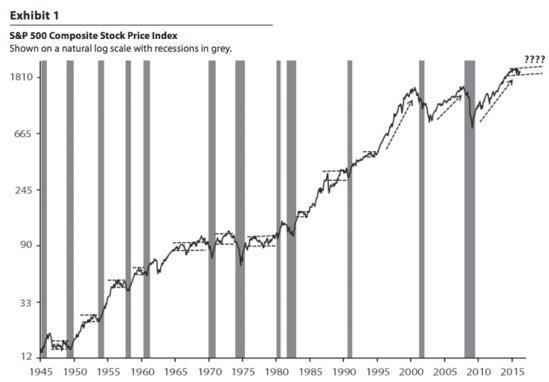 Chart courtesy of Wells Capital Management.
These types of markets don't happen all that often, which is part of the reason so many investors are so frustrated right now. A flattish market is out of the ordinary. Investors don't like to see things that are out of their comfort zone.
A market that goes nowhere basically leaves few very happy. I have made reference that these types of flat lined markets can lead to a myriad of investor mistakes. At the end of a time period like we have just witnessed many find that while "the market" has been flat, their returns are subpar.
That is primarily due to the urges to do "something", as the "headlines" weave their web on an investor's psyche. Sometimes "forcing" your agenda can do more harm than good. For sure making premature drastic changes to your strategy can be even worse. That error can cause a compounding effect, as you try to correct one premature move after another.
There is probably no better example of how an investor can get whipsawed into making more mistakes than what we have just witnessed in the first quarter of 2016.
While the market has gone sideways over a long time period, it has not been "flat" during interim periods of that flat line. As hard as it was to believe that the S&P 500 was down more than 10% on the year on February 11th, it was even more unfathomable that by the end of Q1 the S&P 500 would have erased all of those losses and be up on the year on March 31st.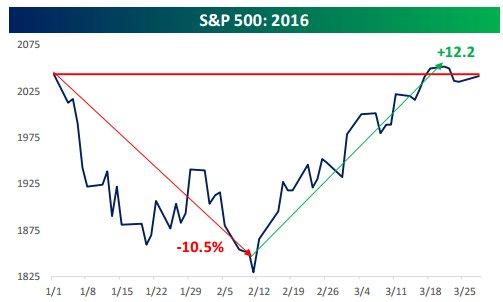 Chart courtesy of Bespoke Investment Group
Bespoke sheds some light with a historical presentation as to what develops after large 1st quarter swings in the S&P. As shown in the table below, the S&P 500 has seen some big gains following similar first quarters of the year. On average, the index has seen a gain of 28.3% (median: +32.0%) for the remainder of the year with positive returns 75% of the time.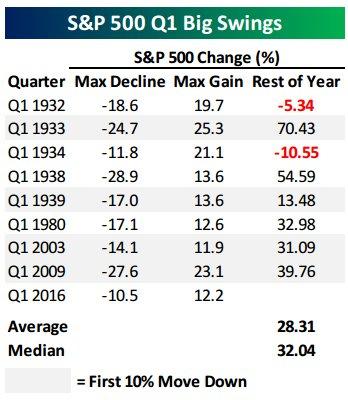 Source: Bespoke
The old disclaimer of "past performance is not a guarantee for future success" certainly applies here. Granted, 2016 has already been a year that has been full of market surprises, but it is hard to imagine anything even close to a repeat of the performance we have seen following prior big Q1 rebounds for the S&P 500. That being said, it does provide some encouragement that the rebound since the February lows could at least serve as a solid foundation for a respectable performance for the remainder of the year.
I refer to my comment last week, to help keep investors grounded.
"The stock market doesn't have to surge to new all time highs for an investor to prosper."
In my humble opinion the S&P has arrived at the crossroads that I first envisioned back in August 2015. It was then that the long term trendline that I have used to define this secular bull market was first violated, as the S&P dropped around 10%.
Since then we have seen the S&P regain that trendline In December 2015, only to fall back below it once again as we turned the page and stumbled into 2016. The collapse of WTI, and the strong USD were the two catalyst that brought the market down.
A reversal of those two issues have now brought the equity market once again back above this important trendline. More on this development in the "technical" section of this update.
Economy
The Atlanta Fed's GDPNow model forecast for real GDP growth (seasonally adjusted annual rate) in the first quarter of 2016 is 1.4 percent on March 24, down from 1.9 percent on March 16.
The Dallas Fed survey came in stronger than expected (-13.6 vs -25.8). Please review the "comment" section of the report to get the details of the report, which is broken down by manufacturing sector.
Chicago PMI goes positive for March. Chief Economist of "MNI Indicators", Philip Uglow:
"The most significant result from the March survey is the pick up in the Employment component which has remained weak for much of the past year. Looking through some of the recent volatility, the data are consistent with steady, not spectacular, economic growth in the US."
ISM Manufacturing for March surprised most analysts. U.S. factory activity expanded in March for the first time since last summer. This may be a sign the nation's economy is slowly shaking off the effects of a strong dollar and depressed oil prices. The industry's Institute for Supply Management said Friday its gauge of manufacturing activity rose to 51.8 in March from 49.5 in February. A reading above 50 indicates that sector activity, reflecting factors such as orders, production and hiring is increasing.
Economists surveyed by the Wall Street Journal expected the index to hit 50.5 in March.
February Pending Home Sales come in up 3.5% MoM vs. expectations of +1.2%.
Case Shiller home price indices report was released this past week.
"Before seasonal adjustment, the National Index, the 10 City Composite, and the 20-City Composite all remained unchanged in January. After seasonal adjustment, all three composites reported strong advances. Eleven of 20 cities reported increases in January before seasonal adjustment; after seasonal adjustment, all 20 cities increased for the month."

"The low inventory of homes for sale, currently about a five month supply, means that would be sellers seeking to trade up are having a hard time finding a new, larger home."
These two issues are the cause for the uneven home sales reports that we have seen lately.
Separately, the Mortgage Bankers Association said that "Mortgage applications decreased 1.0 percent from one week earlier."
The latest PCE report came in above expectations. The Index is at its highest level since February 2013. Advisor Perspectives provides their usual in depth report on this, and other topics involving economic data.
Some investors were concerned last month when the Consumer Confidence report for the month of February showed a steep drop with the headline index dropping below its average since 2000 and to the lowest level since last July. Well, it turns out that consumers weren't that pessimistic after all. In the recent report on Consumer Confidence for the month of March, the headline reading came in at a level of 96.2 versus expectations for a reading of 94.0. In addition to that, last month's report was revised up to 94 from an originally reported level of 92.
It has been reported that the U.S. oil industry has lost 70% of all of the job gains that were achieved during the shale boom. Given the jobs reports that we have seen in the past year or so, it is quite evident that all of those job losses have been absorbed. The cries that the energy sector would spread like a contagion to the rest of the economy have now been shown to be quite wrong, bordering on absurd. I stated all along that this was fear mongering at its best and it was totally overblown.
It was that type of commentary that caused many to run and hide from the stock market. "Zerohedge" is the primary culprit for producing inaccurate information when it comes to anything "jobs". Following their lead is tantamount to committing financial suicide.
Global Economy
The German Council of Economic Experts released their ECONOMIC OUTLOOK FOR 2016 AND 2017 and slightly lowered their forecast for 2016 due to somewhat weaker external demand. The press release noted:
"The Council now expects German gross domestic product (GDP) to grow 1.5 %, 0.1 percentage points less than forecasted in the Annual Economic Report 2015/16. For 2017, the Council expects GDP growth to pick up slightly to reach 1.6%."

"Germany's economic expansion continues. Refugee migration remains a major challenge for economic policy. The outlook for the world economy is subject to a number of risks. These include the potential for a more pronounced economic slowdown in China and other emerging markets, turmoil on global financial markets, increased geopolitical conflict, and the resurgence of the euro crisis. Another risk is the outcome of the United Kingdom referendum on EU membership."
The ECB released an Economic Bulletin, Economic and monetary developments, which sounded cautious. I noted some highlights below.
"Developments in both advanced economies and EMEs at the end of 2015 turned out to be weaker than expected. The recovery is expected to be more gradual than anticipated, confirming that growth momentum remains fragile."

"Global activity indicators confirm that world growth moderated at the turn of the year. The global composite output PMI (excluding the euro area) fell rather sharply in February to levels just above the expansionary threshold. The decline was broad based across advanced economies and EMEs."

"It was not only driven by continued subdued developments in global manufacturing but also by a significant fall in services activity. This could indicate that the ongoing weakness in global manufacturing may be spilling over into the services sector, which until now has been more resilient. At the same time, the OECD's composite leading indicators point to signs that economic growth is slowing in the OECD area as a whole."
China's official PMI for Manufacturing is back in expansion territory. Highlights from the report:
"The official manufacturing PMI came in at 50.2 in March, versus economist's expectations of 49.4. It was 49 in February. Any reading above 50 signals expansion, something Chinese manufacturers surveyed have not reported for eight months."

"For services, the PMI was 53.8, compared to 52.7 in February. The services sector traditionally does a little better.
The Asian Development Bank lowered its growth forecast for Asia in its Asian Development Outlook (ADO) 2016, noting:
"Developing Asia is projected to grow at 5.7% in both 2016 and 2017, down slightly from 5.9% in 2015, due chiefly to considerable global headwinds and moderating growth in the People's Republic of China."

"Risks are tilted to the downside as tightening US monetary policy may heighten financial volatility, further moderation in the People's Republic of China could spill over into its neighbors, and producer price deflation may undermine growth in some economies."
The Fed
Janet Yellen delivered a speech last week, and in my view, told the same story that she has been telling since she has been the Fed chair. The trajectory of interest rates is data dependent and the pace will be one that is gradual. Excerpts from her speech:
"In my remarks today, I will explain why the Committee anticipates that only gradual increases in the federal funds rate are likely to be warranted in coming years. Given the risks to the outlook, I consider it appropriate for the Committee to proceed cautiously in adjusting policy."

"The pace of rate increases is now expected to be somewhat slower. For example, the median of FOMC participant's projections for the federal funds rate is now only 0.9 percent for the end of 2016 and 1.9 percent for the end of 2017, both 1/2 percentage point below the December medians."
The resulting market action indicated just how many were obsessing and following all of the "Fed Speak" that has dominated the headlines.
Instead of micromanaging every data point and then extrapolating that to the "Fed will raise", the "Fed won't raise" rhetoric, it just might be better to listen, and look at all of the data points with an open mind as an investment strategy is assembled..
I'm sure the "It's all about the Fed" crowd will be out, both in frustration and disbelief over her remarks. I said it back in 2012 and repeat it again today. Perhaps anyone subscribing to that view needs to look in the mirror rather than blame the Fed for that misguided market strategy.
Earnings
Every year it seems like earnings seasons get closer to each other, since it feels to me as if we just ended the reporting season for 4Q15! Yet here we go again with next week commencing the 1Q16 guesstimates versus the actual earnings.
Once again, consensus earnings estimates for the S&P 500 companies are nothing to get excited about.
Meanwhile, like myself, Well Fargo's John Manley expects corporate profits to reignite in the second half of 2016. In this week's Barron's, he goes on to say:
"The jobs market is improving and most Americans will find more money in their wallets at the end of the month, thanks to significantly lower gasoline costs. Once U.S. consumers get their blood up, they are pretty hard to stop."

"There's a low hurdle rate with earnings comparisons against 2015 set to be relatively easy."
Corporate earnings may be the next catalyst that determines the direction of the market's next move.
Sentiment
Individual investors just can't seem to get comfortable with the rally off the February lows. After rising as high as 37.36% (still extremely low by historical standards), bullish sentiment has now declined in two of the last three weeks. In this week's survey from AAII, bullish sentiment dropped from 33.8% down to 27.2%. That now makes it 22 straight weeks of sub 40% readings.
Bottom line, not many are buying into this rally. IF this uptrend continues, the desire to "chase" may then take over. It is always better to have one chasing after the stocks you own, than being the one doing the "chasing". The latter group is usually the one left holding the bag.
Crude Oil and the USD
Shipping rates are rising and the WTI futures curve is flattening, making it unprofitable to store oil off shore. This could be a signal that the market is beginning to tentatively balance.
Bloomberg sheds some light on the current 'storage situation.
Bespoke Investment Group lays out the recent correlation between Crude Oil and the S&P. Below is a chart showing the rolling 50 trading day correlation between the daily percentage change of oil and the S&P 500 over the last ten years. This allows you to see how closely the two have traded with each other over time.
Over the last 6-12 months or so, it has certainly seemed like whichever direction oil was trading that day, the S&P 500 was heading the same way. But in actuality, the correlation between the two has just recently hit a multi-year peak, rising up to 0.6 (1.0 is perfect correlation) as of last week.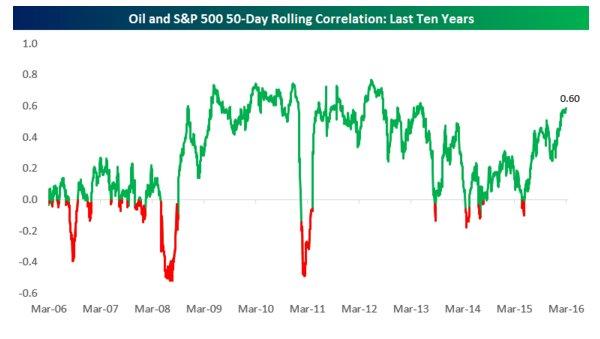 Source: Bespoke
As you can see in the chart, over the last 50 trading days, the two have traded more closely with each other than at any point since early 2013. But 0.6 is not by any means the highest correlation the two have seen over the last ten years. From 2009 to 2012, correlation levels got above 0.7 multiple times.
There may also be a subtle change developing, as I have seen more positive days for equities as WTI has been flat or in decline. Last Friday was a perfect example of that. I wonder if the message is finally sinking in that unless we see a catastrophic drop to $20 per barrel, the dire predictions of energy dragging the U.S economy into recession are abating.
Many thought it was impossible and would never happen, but the USD has reversed trend and has now suffered its worst quarter in 5 years.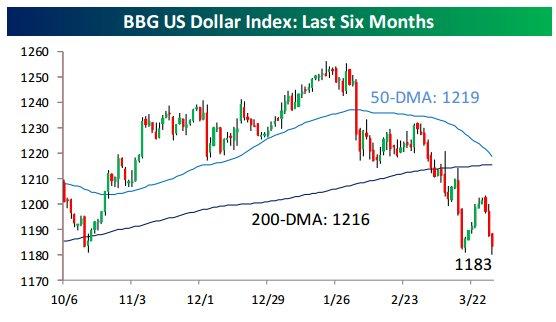 Source: Bespoke
Relative to its highs earlier this year, the Dollar Index is down nearly 6%, and for the year it has declined 4%. In just the last two weeks, the index made a new 52-week low, and was down on a y/y basis this March for the first time since the Summer of 2014.
All of this is a positive for the "U.S. multinationals" and a data point that the skeptics have missed entirely. For the last couple of years, this group has been facing enormous headwinds to their international sales and profits from the strong dollar. With the dollar now at the same level it was at a year ago, those headwinds should ease or even begin to shift if the dollar weakens further.
The Technical Picture
This rally has been accompanied by strong breadth readings in the S&P. The data shows that 93% of stocks that make up the S&P 500 were above their respective 50 day moving averages.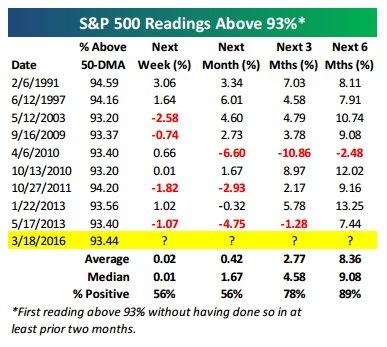 Source: Bespoke
The table above highlights the dates when the percentage of stocks in the S&P 500 moved above the 93% mark without having done so in at least the prior two months. As shown, the market does tend to trade sideways over the next week, but returns are good over the next month, and they're very good over the next three and six months. None of the occurrences since 1990 came during a period when the market was about to enter bear territory.
It was because of the strong breadth and other indicators that I track which prompted me to declare in early March, that the equity rally that we have seen since February 11th, had a different "feel" to it.
The thing I have noted both anecdotally and in my daily data analysis is that the stock market here in the U.S. has performed exceptionally well throughout the trading day during the rally we have seen since the market made its 2016 low on February 11th.
What has been different is that if the market has opened the trading day lower on some sort of negative news event, it has been able to bounce back and close higher on the day. Also, if it has opened on a positive note, there has been an absence of profit taking during the trading day. It seems that nothing has been able to hold this market down during the rally since 2/11.
Since the February 11th low, I've seen steady buying throughout the trading day into the close. This is not the "norm".
As a result of this rally, the S&P has now retaken the 20 month moving average (2033). The break of that trendline has had me troubled since last August. It was then that I spoke of that technical indicator used successfully to make the necessary changes to my portfolio in both the 2001 and the 2008 bear markets.
The "monthly" chart below now shows an upward sloping trendline coincident with a bull market. The Relative Strength and other internal indicators that I track also shows a reversal coincident with this move and is now pointing higher.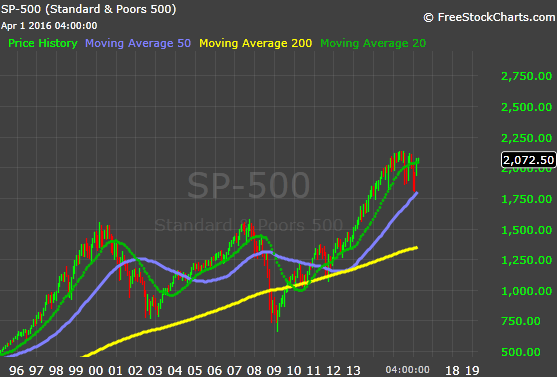 Having patience and looking at all of the data and variables that go into preparing and maintaining a strategy with an "open mind" has kept investors who stayed the course in the pilot's seat. Many are now in the same position they were in back in August 2015 by avoiding all of the premature moves that have cost many investors dearly since August 2015.
This recent activity is not a signal to "go all in" but it is a signal that needs to be monitored. The story the bears have been weaving may be slowly falling apart. One brick at a time.
The "daily" chart of the S&P shows just how far this rally has come. Some 260 S&P points ago when the consensus was lower lows were ahead and it was time to abandon ship.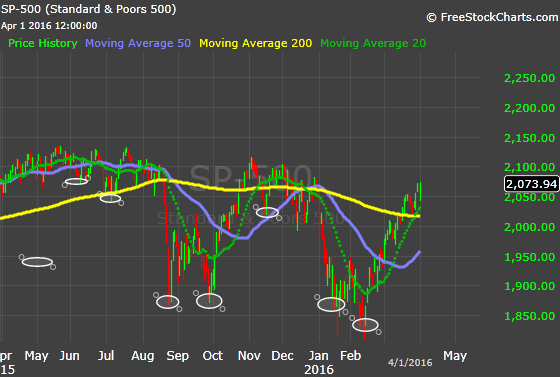 On a short term basis, the next hurdle will be a close above the December 29th high of 2081. First line of support goes back to S&P 2033, the site of the 20 month MA, then 2016 the site of the 200 day MA.
Individual Stocks
Plenty of speculation lately that auto sales have peaked. Ford (NYSE:F) claims its cost reductions and strong balance sheet make it viable at auto sales over 6 million per year lower than current levels
I have continued to recommend taking a look at the financials. This recent SA article provides information on three large U.S. banks.
If one has a mindset to get involved in the "small caps", here are a few candidates presented by one of the best here on SA, Chuck Carnevale.
The prevailing theory is that whatever consumers are saving with low gasoline prices, they have plowed back into rising healthcare costs. A rather sad story considering what "Obamacare" was supposed to do for consumers.
As an investor, it is always a good idea to take those lemons and make lemonade. The entire healthcare sector continues to grow and in my view investors should have an "overweight" position in an area that is growing earnings both on the top and bottom line.
I highlighted a recent purchase of mine in this sector, American Surgical (NASDAQ:AMSG), in last week's update. Another name to consider, Mednax (NYSE:MD), was brought to my attention by an author here on SA, Alexander Poulos. Investors in need of exposure to this area of the market should take a look at what this company has to offer.
Summary and Conclusion
Investors are now staring at the crossroads that could push the S&P ahead to challenge the old highs, or fall back into the trading range that we have been in. Depending on an individual's situation, it "may" be time to make some portfolio adjustments.
Here is one principle that investors should keep in mind at all times. When it feels like the market should do something and then it proceeds to not do what we thought it was going to do, the action is telling us something very important.
Above all else, it's possibly telling us that we're not as smart as we think we are since it is much more likely that our analysis is wrong than the market is wrong. But when the price diverges from our expectations, it is at the very least a sign that we need to reassess our outlook and factor in what is obviously underlying strength or weakness.
I point that out now because as I have reported for the last month the consensus from the skeptics was that this market uptrend is just a bear market rally that is about to fail. This rally has now moved beyond the initial predictions that the 1950-2000 range would mark the end of the move off of the lows.
It could be time for some to reassess that commentary, along with the "raise cash", "go to bonds", and "sell" advice which was stated repeatedly at the "LOWS".
My thoughts since last August have been different, as stated here every week. Unless your situation warrants drastic action, "'Stay the course".
This comment from last week added to that stance:
"Stock market breadth rarely gets stronger than this latest rally. That may suggest this isn't a bear market rally and it may continue."
Ok, that's great, but it's history. Now that we have seen a 260 point S&P increase off of the lows, how does one proceed from here?
I, for one, won't be making any major changes at these levels, while we can see a pullback here. The market has rocketed higher, while the VIX is at fresh lows and in the past this combination has led to market weakness in the short run. Therefore, IF and WHEN it develops, I wouldn't read too much into it. Rather than jump to conclusions of another failed high, it will be time to watch the "internals" for clues as to what could lie ahead in terms of corrective activity.
My reasoning for standing "pat" goes back to my view that I don't envision an aggressive Fed. While I believe GDP will pick up going forward, it is unlikely to track back to its historical average of 3.25%.
Indeed, largely due to demographics, as well as some sketchy policy decisions, our economy appears to have downshifted to more of a 2.25% to 2.75% growth curve. An investor can't change that, whining or complaining about this fact is counterproductive. Instead, I will now look for individual opportunities in a market that now may have seen the lows on the economic data front.
The retiring "baby boomers" clearly have a negative impact on the working population, but so does the reduction in female labor force participation. Many will argue this is not good for the equity markets. I, however, am not one of them.
I have professed about what our economy has been demonstrating for a while. Because the recession was so severe, and the recovery so muted, it elongates the mid-cycle expansion, which just might be the sweet spot for stocks. Oversimplified; No boom, No Bust.
Best of Luck to All!