China's manufacturing and non-manufacturing PMI data for January and February 2016 indicated freefall in economic activity and global financial markets were under stress at the beginning of the year.
However, PMI data for March 2016 serves as a breather for policymakers and investors globally. While several concerns sustain for China's economy (swelling debt and potential banking sector crisis), the latest PMI data indicates some resilience.
The first chart shows China's manufacturing sector PMI and it indicates expansion in March 2016 after seven consecutive months of manufacturing sector contraction.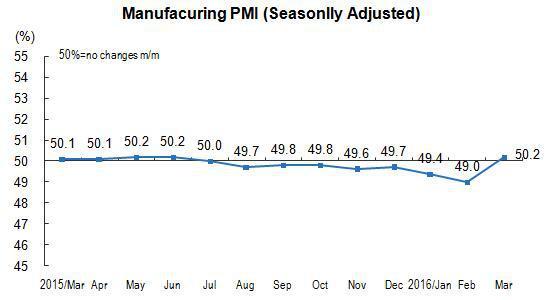 Among sub-indices, the production index and new orders index witnessed month-on-month growth of 2.1% and 2.8% points. I must add here that it is too early to conclude anything from this data other than near-term respite. With global economic weakness, I don't expect sustained expansion in manufacturing PMI (at least in the next few months).
The second chart shows China's non-manufacturing sector PMI and it has expanded to 53.8 from 52.7 in February 2016.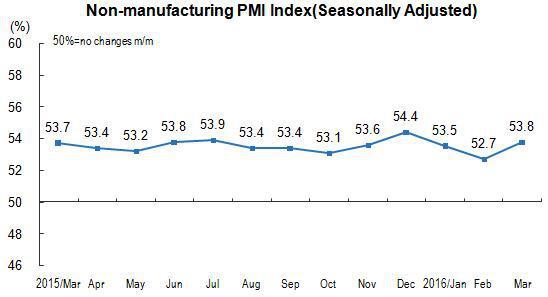 In my view, this is more critical than the manufacturing PMI. In the coming quarters, I expect the manufacturing PMI to remain around 50.0 levels. However, any growth in China in 2016 and potentially in 2017 will be driven by the services sector.
In conclusion, I believe that PMI data is likely to remain volatile in 2016 with a downward bias. It remains to be seen if expansionary monetary policies continue to boost near-term economic growth for China. From an investment perspective, the Chinese index can see the recent rally sustain and considering exposure to China index focused ETFs might be a good near-term trading idea.