By Contributing Analyst Maxwell Parker
Company Overview:
Grupo Aeroportuario del Centro Norte S.A.B. de C.V. (NASDAQ:OMAB), better known as OMA, operates, maintains, and develops airports in Mexico. Primarily operating in the central and northern regions of Mexico, OMA operates 13 airports. The company offers a multitude of aeronautical and non-aeronautical services to its customers, designed to diversify its revenue streams. The company is based in Apodaca, Mexico.
Economic Development:
Development of Mexico may be slow and choppy, but as a neighbor of the United States it is likely to continue to progress over time. With economic development comes an evolution and expansion of transportation systems of a country. Mexico is currently home to 1,714 airports to support its population of 122 million. In comparison, the United States has roughly 13,513 airports and a population of 319 million. This translates into Mexico having one airport for every 71,178 people while the United States has one for every 23,606 people. Mexico currently has a decent number of operating airports, but there is certainly room for the development of more in the future. OMA currently only operates 13 airports in Mexico, but as the opportunity for expansion presents itself, OMA will be in position to capitalize.
Plenty of Cash on Hand:
As of December 31, 2014, OMA has over 2.67 billion MXN in cash on hand, with an additional 530 million MXN in other current assets. Current liabilities total 882 million MXN, which is down nearly 30% from the previous year. This brings OMA's current ratio to 3.62, giving the company plenty of breathing room to pay down its debt while simultaneously pursuing aggressive expansion efforts. In comparison, Grupo Aeroportuario del Pacifico S.A.B. de C.V. (NYSE:PAC), a close competitor of OMA, has a current ratio of 0.72. In a country with a high degree of uncertainty, the default risk is too high for our liking, making OMA that much more attractive. OMA's strategy of keeping substantial cash on hand gives us confidence that leadership has a healthy risk appetite and is prepared for a multitude of possible scenarios.
Passenger Traffic Growth:
As demonstrated by the figure below, passenger traffic has been on an upward trend since 2009. 2014 and 2015 were record years for OMA in terms of passenger traffic. We feel that OMA will continue to surpass these numbers as Mexico continues to develop and domestic flights become the preferred method of travel. This upward trend has continued into 2016, with January-February 2016 traffic up 9.9% over January-February traffic in 2015. OMA's revenues are strongly correlated with passenger and cargo traffic volumes, increasing the importance of a continued commitment to serving as many passengers as possible. Continued growth in passenger traffic will substantially increase revenue for OMA, giving investors more return for their money.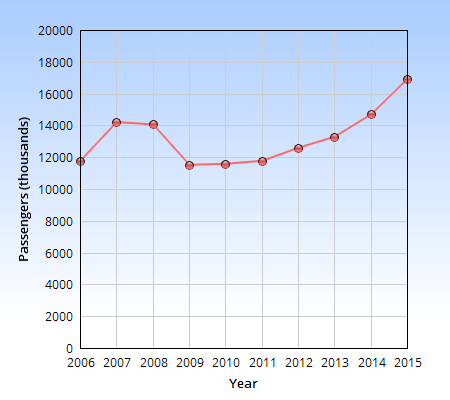 (Source: Made at chartgo.com)
International Growth:
International travel has seen a solid recovery over the past few years. It is fast approaching the record numbers that the company posted prior to 2007. We feel that this trend is likely to continue due in part to a couple of factors. First, the Mexican peso (MXN) has been getting creamed by the dollar over the last three years. It is creating affordable opportunities for foreigners to travel to all regions of Mexico. While the USD/MXN is declining from its February record-high of 19.4459, it will likely remain much stronger than the peso for the foreseeable future. On the contrary, if the MXN does continue to grow stronger, it may well signal strength in the Mexican economy. As OMA's revenues are closely tied to the economic state of Mexico, revenues may get a boost from domestic travelers if this scenario were to occur. OMA essentially has a structural hedge against currency valuation due to its ability to generate revenue domestically as well as internationally.
Second, as oil prices have fallen, Mexico has been forced to lean on different sectors to give a boost to its economy. Travel and tourism are at the forefront to drive growth, and give Mexico an incentive to aggressively pursue foreign travelers. In fact, in 2015, travel and tourism accounted for nearly 7% of Mexico's total GDP. The World Travel and Tourism Council (WTTC) predicts that this same figure will rise to 7.5% by year 2025. As these numbers grow, OMA will likely grow as well.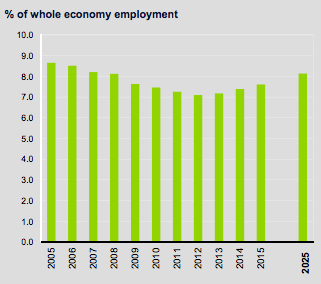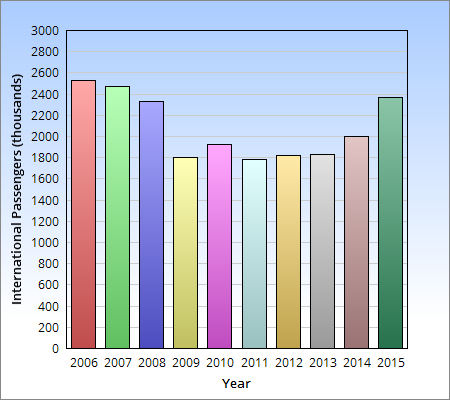 (Source: Made at chartgo.com)(Source: World Travel & Tourism Council)
Risk:
Over 50% of passengers travel through Mexico City International Airport, making this venue the focal point of the company's business. When this much of your business is dependent upon one venue, there is certainly a level of inherent risk involved. Considering Mexico City is one of the largest cities in the world, it is understandable why this is the case. The expectation is that passenger traffic will continue to thrive at this venue; however, investors should note that Mexico can be unpredictable and act accordingly.
Political instability has been one of Mexico's biggest criticisms. Investors should be aware of the rapidly changing political landscape in Mexico, and how it may affect OMA's business. We feel that OMA is better positioned than its peers to manage this risk and continue to thrive. Airlines have recently been resilient when faced with terrorist attacks as well. As demonstrated after the Paris and Brussels attacks, we have actually seen a rise in share prices of airlines post-crises. This gives us additional confidence that in the event of future acts of terror, we aren't likely to see a sharp decline due to a sense of panic.
Disclosure: I/we have no positions in any stocks mentioned, but may initiate a long position in OMAB over the next 72 hours. I wrote this article myself, and it expresses my own opinions. I am not receiving compensation for it (other than from Seeking Alpha). I have no business relationship with any company whose stock is mentioned in this article.