The movement to raise the minimum wage continues to gain steam.
California's plan to raise its minimum wage, in stages, to $15 by 2022 passed the legislature on Thursday, spurred by the threat of labor-backed ballot measures that polls showed were likely to be approved by voters in November.
Governor Jerry Brown reversed his prior opposition after the bill was amended to allow the governor to delay the wage increases in times of economic hardship, something the planned ballot measures wouldn't have done.
Currently, California has a minimum wage of $10, compared with the federal level of $7.25, which is topped by more than half of the states. Six of its cities, including Los Angeles and San Francisco, already have ordinances that will raise their minimum wage to $15 in stages.
New York Governor Andrew Cuomo supports a similar plan for his state. New Jersey could be next, with a ballot measure to get around the opposition of Governor Chris Christie.
It's easy to envision an America in which states run by Democrats have significantly higher minimum wages than states run by Republicans. It's already moving in that direction, as this chart shows: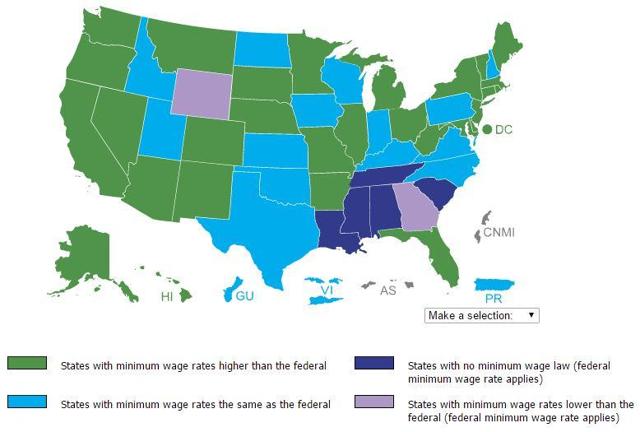 Source: Department of Labor. Click here for interactive chart.
Which states will fare better? Will employers flee high-wage states or will higher incomes stimulate the economy? Economists have been arguing about this for decades. Maybe we'll finally get a conclusive answer.
One company in the crosshairs is Wal-Mart Stores (NYSE:WMT), the nation's largest private employer by a ratio of five to one. It raised its minimum wage in two stages to $10, which will bring average hourly compensation to $13.38 in 2016. The company estimated the initiative would lower operating profits by $1.2 million and cause an overall earnings drop of between 6 and 12 percent.
Wal-Mart recently closed stores in two cities that raised their minimum wage - Oakland and Los Angeles' Chinatown.
A rise from $13.38 to $15 doesn't seem like much, but that's misleading. Employers have to provide incentives for workers to take on higher-skilled jobs or become first-line supervisors. If the ratio of minimum to average holds steady, a $15 minimum wage would mean an average rate close to $20.
But will it matter? Stores can't move. If all retailers have to pay the same minimum wage, won't consumers just pay a little more for products everywhere? Not exactly.
Target (NYSE:TGT) has a $9 minimum, so it will be hit at least as much as Wal-Mart. But Costco (NASDAQ:COST) already pays a $13-$13.50 minimum, so it will be much less affected.
But the bigger threat is from e-commerce, as employers seek to keep labor costs as low as possible.
Will Amazon (NASDAQ:AMZN) be affected by the minimum wage increases? Sure. It currently pays warehouse workers an average of a bit more than $12 an hour.
However, Amazon doesn't employ an army of retail workers. It ships directly from fulfillment centers. The $15 minimum changes the economics, so more orders for Californians may be shipped from nearby states, especially if diesel prices remain low. The same is true for New York.
Tellingly, the states that have the most Amazon fulfillment centers are Pennsylvania and Kentucky - neither of which has a minimum wage above the federal level.
Wal-Mart can use more out-of-state distribution centers too - but that's a lesser expense than wages at stores. All in all, the political development weakens big-box retailers and raises the cost advantage of Amazon.
Disclosure: I/we have no positions in any stocks mentioned, and no plans to initiate any positions within the next 72 hours.
I wrote this article myself, and it expresses my own opinions. I am not receiving compensation for it (other than from Seeking Alpha). I have no business relationship with any company whose stock is mentioned in this article.