The story
It is hard to find a company that is executing better than Under Armour (NYSE:UA) right now. Kevin Plank and his wonderful management team just reported its 23rd consecutive quarter of at least 20% revenue growth. Q4 revenue grew 31% and operating income increased 21% year over year. UA has achieved compounded annual growth of 23.2% in sales and 18.9% in operating income growth for the past 10 years. That is unprecedented and unparalleled consistency. How have they achieved this growth while competing against one of the greatest companies of all time, Nike (NYSE:NKE)? UA has been able to create a sustainable competitive advantage through product differentiation and brand awareness.
Peter Lynch, one of the greatest asset managers of all time, has been generous enough to share his investment strategy with those of us who have read his most famous book, "One up on Wall Street." The central premise of the book is how to find the next "tenbagger", or a stock with the potential to increase by 1000%. Lynch explains that a few tenbaggers can make a career, and he found more than a few during his days at Fidelity. Oftentimes, Lynch found some of his most successful investment ideas while shopping at the mall or getting his tires changed. His message is that if you open your eyes and actively look for investment ideas, you can spot trends and act on them before the most intelligent Wall Street asset managers. Although UA's success has been well known on Wall Street for quite some time, I have noticed a developing trend that could be quite lucrative for long term shareholders.
I am 24 years old, and I have some friends who are loyal to Nike and refuse to try any other products to satisfy their athletic footwear and apparel needs. This is quite ignorant in my opinion, and it shows you the emotional appeal that the Nike brand still has among us that have watched Michael Jordan, Tiger Woods, Lebron James, and Kobe Bryant all support Nike throughout their phenomenal careers. But guess what, all those careers are in their final innings (Lebron still has a few good years left in my opinion) and a new brand of athletes are rising up to replace them. I would argue that the two most popular athletes in the world are currently Steph Curry and Cam Newton, especially among the younger generations. Jordan Speith is by far the most followed golfer and is stepping up to fill the shoes that Tiger left. However, instead of sporting Nike hats, headbands, and shoes, all of these athletes are decked out in UA gear. Younger kids, who idealize these exciting athletes, are walking past the Nike apparel and shoes and buying UA. I have seen it with my own eyes. For every 1 kid wearing Nike, I have noticed 3 wearing UA. As long as UA can retain these athletes and continue to sponsor more popular athletes and teams, their brand awareness will remain strong.
Overall, UA's brand awareness is growing around the world because they do a phenomenal job marketing their products. The goal of sponsorships and marketing campaigns is to entice consumers to try their products. The great companies are able to retain consumers by developing superior products and creating an ecosystem that increases the probability of repeat purchases. UA has been able to differentiate their products from competitors by offering unique designs with superior comfort and durability. I will use another excerpt from my personal life as an example. I have always bought Nike tennis shoes growing up because they looked and felt the best. However, I decided to buy an UA pair a couple of months ago mainly because I was impressed by the company's performance and execution. I found a flashy blue pair that I thought complimented my style and I tried them on. I can honestly say they are the most comfortable shoes I have ever worn. I literally felt like I was walking on a cloud. I feel like I can run faster and jump higher with them on. I was naturally satisfied with the product, so I decided to give UA the benefit of the doubt when shopping for athletic apparel. Since my first experience with an UA product, I have purchased an assortment of golf shirts, windbreakers, and workout attire. I am thoroughly satisfied with the performance of each item I have purchased. UA has been able to innovate and create unique technology such as, COLDGEAR, HEATGEAR, and ALLSEASONGEAR, which allows their products to perform remarkably in all weather conditions. UA has been able to differentiate their products from competitors by offering unique designs and integrating superior technology into their products.
Brand awareness and differentiation are the sources of UA's current competitive advantage. However, UA is taking steps to augment their competitive moat by attempting to create an ecosystem with their "Connected Fitness" initiatives. In the conference call CEO Kevin Plank says, "connected fitness will help develop an ecosystem of products with actual insight that makes you feel better." Products in development include UA record, a mobile app platform, UA Health Box, the world's first complete connected fitness system, bluetooth enabled wireless headphones, and a smart shoe. Furthermore, UA has developed a partnership with IBM with the hopes of utilizing artificial intelligence. Watson, IBM's cognitive system, will provide personalized thoughts in real-time to the user based on info gathered in UA record. UA recognizes that millennials care about their health, value instant access to data, and want useful feedback on how to improve their fitness habits. These products may not generate a material amount of revenue for UA, but they will make it more convenient for consumers to continue purchasing UA apparel.
Valuation and fnancial position
UA's valuation is uncomfortably high no matter how you look at it. UA sports an astronomical trailing PE of 81 and a forward PE based on 2016 earnings of 64. This lofty valuation is currently higher than the industry and historical average for UA. The average PE for the apparel clothing industry is 27.3. UA has traded at an average trailing PE of 65 over the past 5 years. However, UA was trading at a PE of 113 last fall when the stock was at all-time highs. As mentioned earlier, UA has been able to maintain consistent, high growth for the past 10 years and is projected to grow EPS by 24% annually for the next 5 years. Using these earnings projections and the forward PE, the PEG comes out to be 2.6. According to Peter Lynch, who basically invented this metric, a company should never be trading at a multiple that is more than twice its growth rate. Analysts tend to extrapolate the historical performance of companies into the future. This can be dangerous especially if the company is experiencing a transitory boom or is cyclical in nature. Clearly, the current market price is assuming that UA will be able to maintain its current growth rate for the next decade and beyond. Although growth will have to slow down at some point, UA's past performance proves that it is a secular growth story rather than a cyclical one.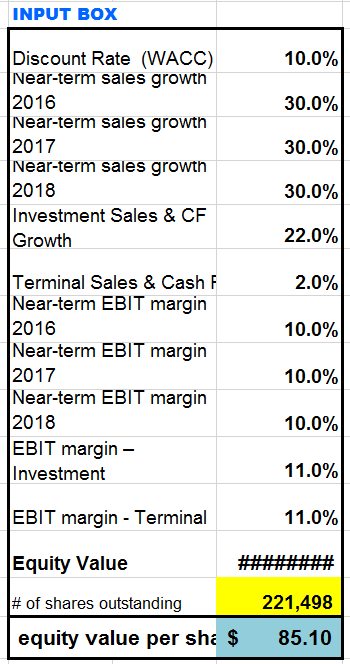 I ran a reverse DCF just to get a sense of what exactly the current market price is implying in terms of sales growth, margins, and ultimately cash flow generation. I manipulated the inputs in my DCF model so that the final equity value per share was equal to the current market price. A share price of $85 implies sales growth of 30% annually for the next 3 years, 22% for the next 7 years, and 2% terminally. This is roughly in line with UA's 10 year compounded annual growth rate of 23.2%. I also set operating margins to 10% for the next 3 years and 11% terminally. UA has averaged an 11.2% operating margin over the last 10 years. I use a 10% discount rate in all my DCF models because this is my required return. The reverse DCF is telling me that current market price assumes UA will be able to replicate its past performance for at least the next decade. This will be difficult without a strong balance sheet.
UA may need to pursue strategic acquisitions to maintain sales and earnings growth. This is hard to do without a strong financial position. UA has a solid cash position with over $129 million sitting on the balance sheet and a relatively low long term debt to total assets ratio of 13%. UA's low debt levels allow it to easily cover interest payments. 2015 interest expense was only 5% of operating income. A quick analysis of the balance sheet indicates that UA could easily utilize idle cash and add debt to the balance sheet to pursue growth opportunities, an acquisition, or return capital to shareholders via dividends and buybacks.
Technical analysis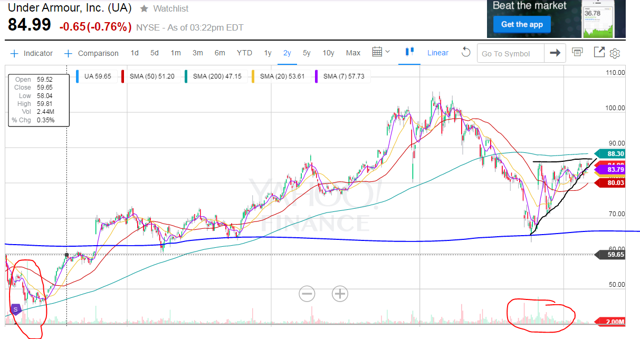 UA has fallen about 20% from its all-time high achieved last fall. It is currently trading under its 200 day moving average (NYSE:MA) and above its 50 day MA. The stock fell as low as $63.23 earlier this year during the market correction. As you can see by the blue line the stock was able to bounce off long term support, which is a bullish sign. UA is also forming a classic bullish wedge pattern (black lines) making higher lows and encountering resistance around $85. I think UA could return to its all-time highs if it can break through the $85 level. Usually volume significantly increases before a reversal in trend. As you can see from the red circle on the right, volume spiked earlier this year when UA traded down to its long term support line. This time two years ago, UA actually experienced a similar correction declining 27% from $62 to $45 before recovering and making all-time highs. If you look at the red circle on the left, you can see a significant increase in volume which signaled that the correction was coming to an end. I believe that we will not see UA in the 60s again and the overall technical set up looks favorable.
Conclusion
UA is clearly a phenomenal company with a sustainable competitive advantage and clear growth strategy that is performing well despite the unfavorable macroeconomic backdrop. Although worldwide GDP growth is stagnant, I believe UA will continue to benefit from a relatively strong US consumer and lower energy prices. Their competitive advantage will only get stronger as they build their ecosystem and continue to offer high quality products. UA's high valuation does not make the company un-investable in my opinion. However, management has a very small margin of error and must continue to manage expectations and execute the growth strategy. I believe the stock can keep powering higher as long as quarterly earnings expectations are exceeded. Growth will slow down multiples will compress overtime, but I believe we are a long way from that scenario. A bearish argument based on high valuation has kept investors from experiencing phenomenal gains for the past five years. The technical setup looks very good and I think we are very close to a breakout above 85. I recommend buying right here and have no problem averaging down overtime if the stock moves lower.
Supporting Documents
Disclosure: I am/we are long UA.
I wrote this article myself, and it expresses my own opinions. I am not receiving compensation for it (other than from Seeking Alpha). I have no business relationship with any company whose stock is mentioned in this article.