Atwood Oceanics (NYSE: ATW) is probably one of the most interesting offshore drilling stocks available. Back in December 2015 and January 2016 the company's shares were under immense pressure as the market realized that most of the company's contracts end in 2016 and many of them may not be renewed. However, the shares were able to rise from $5 to $10 in the beginning of March as the flow of speculative money lifted various oil-related stocks.
The recent contract action showed that the industry is in a very bad shape. One can argue that Petrobras (NYSE: PBR) is an isolated case, but I think that the malaise may spread around the whole offshore drilling industry. Nevertheless, Atwood Oceanics shares did not fall to pre-squeeze levels of late February like, for example, Transocean shares did. Is this a sign of the inner strength or a short opportunity?
Credit facility
The company has recently announced that it was able to amend covenants of the credit facility. While you can check all the changes to the credit facility in the company's 8-K filing, I'll focus on most important developments.
In my view, the most important thing to mention is the possibility of a $400 million second lien notes issue.

There is no doubt that current creditors don't want another first-lien creditor in the line. It will be very interesting to see whether there will be significant interest to provide $400 million as a second-lien creditor. To me, this idea looks almost suicidal. In case things go really wrong, second lien creditors will be lucky to get pennies on the dollar.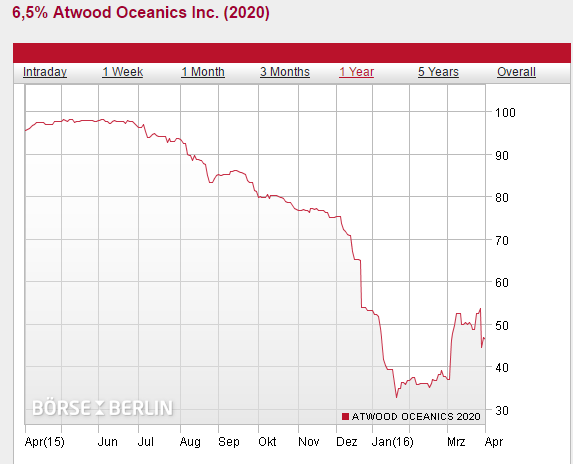 Source: Borse Berlin
The price of the above-mentioned $400 million could be sky-high judging by the current valuation of Atwood's 6.5% senior notes due 2020. In my view, the company will use the credit facility first before trying to raise money via bond market.
Total commitments under the credit facility were reduced to $1.395 billion through May 2018. This means that the company can currently borrow $435 million. I expect that Atwood Oceanics will borrow this money at the end of this year or the beginning of 2017. The company's cash balance, which was $116 million at the end of 2015, is insufficient to provide any cushion during this market downturn. In addition, a new liquidity covenant of $150 million was imposed by the lenders.
All in all, new amendments are positive for Atwood Oceanics as the company retained access to additional liquidity. The mention of second lien notes is of particular interest and I will watch closely how the situation develops on this front.
Backlog cliff
First quarter is already behind us, and there are no improvements in the oil market while the offshore drilling market seems to get worse. The recent news that Saudi Arabia will freeze its output only if Iran does the same put recent oil price recovery under big question. In my view, such actions may have big implications for the oil price, which could fall closer to lows seen earlier this year. In this environment, it will be very hard for Atwood Oceanics to renew existing contracts.
Currently, only two rigs have contract coverage beyond 2016. If Atwood Oceanics cannot find jobs for other rigs by the end of 2017, the company is dead. This is a simplistic and probably excessively pessimistic scenario, but I think it should be mentioned.
A more optimistic scenario implies that Atwood Oceanics will be able to employ its drillships, Atwood Condor and Atwood Osprey, for a day rate of $250,000 while its semi-subs stay idle. The reality could be different, with semi-subs employed and drillships staying without work, but the scenario is useful to evaluate Atwood's survival chances.
For the argument's sake, I'll employ two out of three Atwood's jackups at a day rate of $80,000. In this scenario, the company will likely get through 2017 but may be forced to tap the credit facility (depending on capital expenditure requirements). I highly doubt that Atwood will be able to take delivery of Atwood Admiral in 2017. In my view, the delivery of the rig will be postponed further into the future together with the delivery of Atwood Archer, which will create a wall of repayments in 2019 - 2020.
In my view, only full employment of all (or at least most) rigs (except newbuilds) by 2018 at current market rates gives Atwood solid chances for survival.
Bottom line
Atwood's best chance is to employ all rigs at current depressed market rates and then try to refinance the debt load. If legally possible, the credit facility money might be used to tender 2020 notes.
I believe it's too early to give a final judgment on Atwood's ability to survive the current market downturn. However, I see little reason why Atwood Oceanics shares were outperforming its offshore drilling peers in March. The company's problems are very significant, and I expect that Atwood Oceanics shares will catch up with peers on the downside, especially if oil continues to fall on the failure of production freeze negotiations.
Disclosure: I/we have no positions in any stocks mentioned, but may initiate a short position in ATW over the next 72 hours.
I wrote this article myself, and it expresses my own opinions. I am not receiving compensation for it (other than from Seeking Alpha). I have no business relationship with any company whose stock is mentioned in this article.