My son is a gamer. He is not just into computer games. He loves those complicated board games that take 5-12 hours to play. As an elementary student we would take him to a community chess club, but by middle school my husband would take him for a monthly game day from noon to midnight. At university he started the campus' first board game club. His linen closet has no linens, just games. I really do not get it. It seems like far too much effort for recreation.
Recently, I have come to realize that I may not actually be all that different from my boys. Finances, including taxes and investments, is really just a very complicated game of strategy. Instead of a booklet tucked in box between the board and pieces, the rules fill libraries. The game is really not how much money you earn or have, it is how you play the hand you have been dealt. I guess I actually like strategy games after all - just not for recreational purposes.
This year there have been some changes to Canadian taxes and our economy that I am seeing repeatedly play out in a dark way at my job as a tax preparer. The Child Amount was done away with and replaced with an increase to monthly benefits, so families with children have been receiving that benefit already. This has changed their tax refund equation and some people are surprised at the decrease in their usual expected refund. Another hit to the refund here in oil country is people coming in with Employment Benefits slips (unemployment). The repayment rate combined with the paltry withholding can create a huge tax bill on its own. I have seen as little as 2% withheld, but it is most often around 10%, which is still problematic when the lowest tax bracket is 25%. Finally, people who have lost their jobs are often asked to remove their retirement funds (RSP or pension) from the company plan. With a job loss and a family to provide for, these funds are often pulled out for expenses instead of transferred into a personal plan, creating another tax hit. Ouch. A triple threat.
These people simply did not understand the financial and tax game enough to know what was coming. Some have gotten used to that nice big spring payout and have even pre-spent their expected refund; mentally, if not literally. Many have had years of multi-thousand dollar refunds only to be slapped this year with a multi-thousand dollar tax bill they will be digging themselves out of for years. I do not think many really even understand that the 12% interest CRA will be charging them is highway robbery in this low-interest-rate environment. Some will simply not bother to pay hoping that next year's refund will even things out.
The tears at my desk have brought to my attention how much taxation is just a strategy game. If you understand the rules ahead of time, you can plan to minimize your tax paid as well as your refund. I say to minimize the refund because the government does not pay interest on the tax money it keeps until doling it back out as a refund. It is, therefore, a poor allocation of capital to lend your money to the government free of charge. As a result of my tax education, I am aware of the tax ramifications of every move I make all year, which allows me to squirrel away receipts and plan my strategies to minimize total tax paid.
Investments are also a strategy game, but unlike taxes, there is not just one rule book or even one set of rules. The approaches to investing can vary quite remarkably and still be equally effective at reaching the investor's goals. The goals of each individual investor also vary markedly. One person's goal may be security, another's wealth beyond measure, another's to be able to supplement their social benefits, and yet another's to leave a gift to their heirs. Some people have a combination of goals.
My goals are pretty uncomplicated and have evolved over the five years I have been a self-directed investor. At first I only wanted to increase the portfolio value. After all, what can you really do with a four-figure portfolio? After a few years I realized what I really wanted was to replace our expenses with dividend income, or at least make a good attempt at it. Now, I am looking to increase the income stream to be able to have a larger comfort margin if retirement has to happen soon, and/or have the ability to be generous if retirement can wait a while longer.
This quarter, I am excited to report that I have been making steps towards my goals, especially in the dividend income department. When I review the portfolio I look at its component parts separately to see what has been doing well, what has been holding it back, and why. I look at the five areas of principal, contributions, dividend income, option income and finally the capital gain (growth). Looking just at total return does not really tell me if I am making progress on the end goals, but it is a common measuring stick so I usually include it.
The principal is the value of the portfolio at the end of the previous period. You might be rolling your eyes that I even mention the principal but it makes me so grateful. That number astounds and inspires me, especially since it was not that long ago it was terribly small. As as been demonstrated by my clients, the ability to leave those funds where they are is also not something to take lightly. Life happens to all of us. The principal needs a moment to be celebrated.
The contributions this quarter also astound me. Contributions have been, by far, the most significant portion of the growth of the portfolio since inception and this quarter is no exception. The basic contributions to the portfolio were more than budgeted for this quarter, partly because they were less than planned last quarter as job loss looked very likely. More than 70% of the company my husband works for has been laid off and he is the last one left in his department of six. It could easily have been us, and still may be.
There was also the annual transfer from the company "professionally managed" company matching plan. We make the transfer because I have beat the best return since inception of this account in just the poorest year of any of the last four years of my portfolio. So far, the funds have been better in my hands.
A large tax refund was also added to the portfolio as. I know, I just told you it was foolish to lend the money to the government, but we did. Some of the refund was just because we did not implement our strategy to perfection, and the rest of it was the decision to substantially contribute in the last week to the retirement account.
I mentioned last year that I was not planning to contribute heavily to the retirement account as it may create a tax burden in retirement. Since there is little chance retirement will be delayed beyond age 55, there will be at least 10 low-income years to pull it out before social benefits kick in. Combine that with a history of very long lives in our families and we are playing the tax bracket spread strategy game again this year.
Each of these three contribution amounts individually (the cash we contributed from our income, the transfer, and the tax refund) are separately more than the initial value of the portfolio! This only makes me laugh! Together the contributions added 8.7% to the portfolio. Of course, I will not be able to replicate this every quarter or even every year, but hey, it deserves another moment of celebration!
Dividend income was the star of the portfolio this quarter. The purchases made in December and January have started to produce. A few of the stocks even had special situations. Boardwalk REIT TSX:BEI.UN, (OTCPK:BOWFF) had a special $1 per share dividend and I was put excess shares of Boardwalk doubling my holding for January's regular dividend. Some of these shares have been donated. I was also put excess shares of Enbridge (NYSE:ENB) in January, some of which have also been sold more recently, but this also juiced the dividend income. Dividends added up to 0.79% of the portfolio. The growth of dividends quarter over quarter is 47.68%! Definitely time for celebration!
Of course some of this was temporary so I do not expect similar growth for next quarter, and maybe even a downdraft. I still have some funds from the sale of our house, plus all the contributions in cash awaiting deployment, so it is hard to predict what next quarter will bring. Meanwhile, it is lovely to celebrate increased security and taking steps towards the end goal. Even if the dividend growth rate falls 10% next quarter, the average is still great!
Option income was much smaller this quarter and might end up being the most volatile factor in the portfolio, which is just fine with me. I am certainly not about to chase income for income's sake. This is definitely a strategy game I thoroughly enjoy, but I am not a risk taker. Unless the option is a certain win-win whether I keep only the income or get put the shares (or do not mind having my shares called away) I am not willing to play. Much of my cash earmarked for options was tied up during November and December in options expiring in January and February so I needed to wait until those expiry dates arrived. In January and March, I was put all the shares I had options on for that expiry and it has been very good experience dealing with those situations. Some of the shares put have been sold off profitably or tucked permanently into the portfolio. I wrote my first calls this month. Option income this month was a mere 0.48% but was more than half of the dividend income. I am still willing to celebrate this as it is better than nothing, and I learn something from each contract.
Adding up the dollar amounts of options and dividends to make the income for the portfolio makes me very happy. 1.27% of the portfolio. We could live on that no problem!
Finally, the capital gain of the portfolio this quarter was a negative 0.17%. This is due to the investment in Concordia Healthcare TSX:CXR (NASDAQ:CXRX). My husband is thrilled I am taking some risks.
To calculate the total return of the portfolio I take the current value, minus the principal, minus the contributions. This leaves the dividends, option income and capital gain as the total return of the portfolio. For Q1 2016, the total return was 1.55%. I no longer have any specific TR expectations, it is all about the income now that retirement is nearer. If you want to compare to the XIU at 2.6%, or S&P at 0.97% that is fine by me. I know that the purchasing I have done over the last several months has set the portfolio up for future income and I hope that it is set up for some capital gains as well.
This has been a very active quarter for me. I took off some of the risk in stocks I thought were reaching technical highs using calls or sells, all with nice gains. I am looking for reentry points for some of them. Though I am more of a bottom up investor, I look at market and sector trends and expectations. I have not participated in the oil rally (other than through the pipelines) as I do not think it is sustainable. I made a few switches such as WMT for DIS on February 17th. We'll see how that works out, but so far, so good.

Here is the current portfolio, but keep in mind several holdings are overweight only due to being put excess shares. It somewhat skews the snapshot of the portfolio. These will be trimmed whenever I decide it is advantageous to do so - hopefully with some nice gains.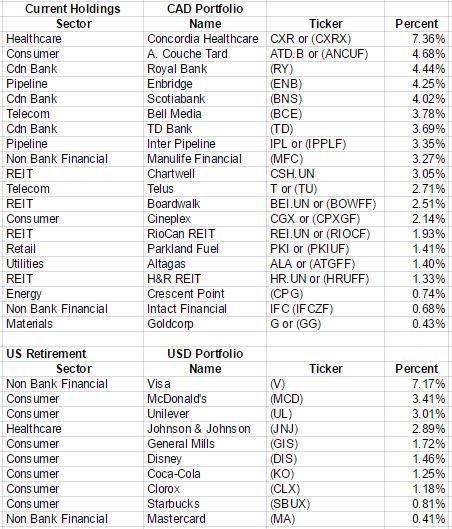 Despite all of the purchasing in December, January and March, the portfolio still has a significant 20% cash position. Some of this cash is tied up as security for put option contracts, and some of it was earmarked for specific holdings, just waiting for an attractive price. I did make some purchases, but I am still on the prowl for new ideas and new holdings at attractive valuations. I look forward to deploying the cash by writing options and purchasing direct on dips for the portfolio if the market shows weakness over the spring.
Disclosure: I am/we are long MCD, KO, GIS, ENB, MFC, CXRX, BOWFF, CPXGF, CPG, JNJ, BCE, RIOCF, RY, V, HRUFF, TD, IPPLF, ENB, TU, ACNUF, CLX, UL, DIS, WMT, MA, PKIUF, SBUX.
I wrote this article myself, and it expresses my own opinions. I am not receiving compensation for it (other than from Seeking Alpha). I have no business relationship with any company whose stock is mentioned in this article.
Editor's Note: This article discusses one or more securities that do not trade on a major U.S. exchange. Please be aware of the risks associated with these stocks.