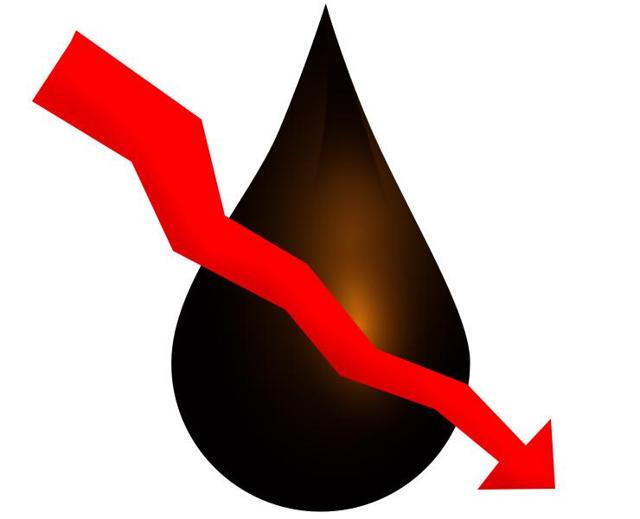 Source: Stock Photo
Even though Saudi Arabia has been saying from the beginning of the initiative to curb production levels that it wouldn't do so if other major producers didn't participate, the majority of the market chose to believe dubious reports that it was reconsidering its position and would enter into an agreement whether Iran did or not.
The Saudis obliterated that idea publicly, as Deputy Crown Prince Mohammed bin Salman said in a Bloomberg interview that the country wouldn't agree to a production freeze unless all major producers agreed too - including Iran. Oil prices plunged on the news, dropping below $37 per barrel.
We'll get into why this was very predictable, and why I have been so confident in saying the production freeze was always a joke and nothing but a clueless media-driven narrative.
Now the question is how far will oil fall now that the artificial prop has been removed.
Reasons a production freeze was never going to happen
There are two major reasons I knew there was never going to be a production freeze, and even if there was an agreement made, it would fly in the face of market realities, as Iran said it would never agree to a production freeze until it at least brought supply back to pre-sanction levels. The idea the Saudis would sit back and allow their bitter rivals to grow market share uncontested was always an easily identifiable fallacy.
The point is this is not only driven by the market, but this battle goes back over 1,300 years, after the founder of Islam died and followers battled for control and the direction it was going to take. This internal conflict resulted in what today are called Sunni and Shia sects of Islam. Iran is primarily Shia and Saudi Arabia is Sunni. Sunni represents about 85 percent of Islam and Shia 15 percent.
Why this is important is Middle Eastern Muslims have long memories; they think much differently than Western people do. As far as its relevancy to investors, we can't think only in terms of market forces when considering Middle Eastern competitors.
It's much different when Russian and Norwegian companies, for example, compete against one another for market share, and Saudi Arabia and Iran compete against one another. It goes beyond simple market forces to an entire way of looking at and interpreting their religion. To not include this in analysis is to neglect a big part of what drives these competitors.
As Iran has emerged from sanctions, it has nothing to do but gain from increasing production, even at the current price of oil, while Saudi Arabia, which had maintained high levels of production, has seen its revenue dwindle.
The second reason there was never going to be a production freeze was the disruption of the oil sector by the burgeoning U.S. shale industry. This is another thing I've been saying for some time that is finally starting to be understood by some following the market: this isn't a supply cycle that is driving the price of oil, but a complete disruption of the oil sector.
Differentiating the two is vital because methods used to extract shale oil are different than those used by companies with other types of oil deposits.
Over the next several years, U.S. shale production will eventually lead the country to be the top global oil supplier. That means there will be winners and losers, with either competitors being forced to reduce production themselves, or the price of oil remaining low for many years if they keep the spigots open.
This is especially important for those countries that have relied on oil revenue to drive their economies and keep their people happy with government benefits.
What is left to be clarified by the market is how accurate the demand projections are, as they have been significantly reduced in regard to the pace of growth, which is one of several reasons why inventory continues to climb while some production is reduced.
Focus on the fundamentals
My view is this announcement by Mohammed bin Salman is extremely important for investors because many have made investing decisions based upon the false idea that a production freeze was imminent, and if it came, it would probably lead to a production cut further out.
A production freeze was never important, which goes back to the Iran versus Saudi Arabia battle. Iran has never been ambiguous about whether or not it was going to increase supply. It said from the beginning of the idea of a production freeze agreement that it wouldn't participate. Once it reached pre-sanction levels, it said it would be open to talks, but even there made no commitment. That meant if others froze production at the high January levels, Iran would frustrate the freeze by continuing to add supply to the market. Essentially, it meant there was no freeze whether or not an agreement was signed.
Now traders can go back to looking at fundamentals without the idea of an intervention from major producers interfering with their analysis.
Why did the Saudis reinforce prior assertions that they wouldn't participate in a freeze if other major producers didn't, specifically naming Iran? Momentum was building toward a belief that the production freeze was going to become a reality, which has generated most of the support oil prices enjoyed. They are heading things off before expectations became so great it would cause the price of oil to plunge to extraordinarily low levels.
My belief is the OPEC and non-OPEC producers didn't really believe people would embrace the idea of a production freeze becoming a reality. It was a ploy to offer some temporary support to the price of oil and buy some time while waiting for a rebalancing of the market. They painted themselves into a corner when media outlets started to run with the story. This is why the Saudis had to cut off the expectations before anticipation grew to high levels as the April meeting approached.
Where should we go from here? That's easy. We need to look at supply and demand in light of the oil sector being in a period of disruption. To give an idea of how we must look at things differently, let's look at oil rig counts.
In the past, oil rig counts were an accurate way of determining the production and inventory levels, as they usually would move in unison with one another. That is no longer true in the U.S. shale industry, as the number of rigs no longer mirror the amount of supply coming from wells. It's why production has remained high even while rigs drop to very low numbers.
Not only does this come from improvements in costs because of increased efficiencies, but rigs can service a number of wells, which when including improved methodology and technology, can produce at very high levels. In other words, rigs don't represent one well, but in many cases, a number of wells. That's why so many rigs can be taken out of service without having the expected impact.
What I'm saying is we must focus on fundamentals, but understand within those parameters, we have to include the ways shale has disrupted the industry. That includes all the drilled but uncompleted wells waiting to be brought into production.
With these thousands of DUC wells, it has lowered the impact intervention methods used in the past have. This, along with the additional oil supply, is what the disruption is. OPEC and others can do nothing about this. If they decrease production, they lose market share, and if they keep production high, the price of oil remains low. More than anything this is what is keeping the price of oil so low.
Over time, this will change as sustainable demand for oil rises, but this is going to take longer than originally believed, which means there are few, if any, catalysts, outside of time, that will push the price of oil up.
Conclusion
It's good to see the illusion of a production freeze finally being admitted to being a fraud. This isn't the fault of Saudi Arabia or Iran, but of some of the financial media which twisted the story into being based on real commitments from the parties. This even after they continued to say, in the case of Iran it wouldn't agree to a freeze, and Saudi Arabia saying it wouldn't either, if Iran and other major producers didn't.
Add to this Kuwait saying the same thing and Libya also saying it wouldn't even show up for a meeting, and you have a illusory media narrative in shambles. Hopefully, my readers believed what I've said and didn't buy into the myth. A lot of people will lose money as a result of this bogus story.
We need to now focus solely on market fundamentals, and in light of those, the next year or so doesn't look good for the price of oil. Inventory levels continue to grow - both in the U.S. and the world - and even if demand grew to a level it would match supply, it would take time to work down existing inventory before it had a sustainable impact on prices.
Now that one piece of the oil puzzle for April has been revealed, the remaining piece will come into play to provide more clarity, as earnings reports give us a glimpse into what major U.S. shale producers are doing with their DUC wells. This will be invaluable to see how it's offsetting some of the drop in production from higher cost producers. That in turn will determine whether or not it will add more supply to the U.S. market, and when added with increasing oil imports, will continue to pressure storage capacities.
Disclosure: I/we have no positions in any stocks mentioned, and no plans to initiate any positions within the next 72 hours.
I wrote this article myself, and it expresses my own opinions. I am not receiving compensation for it (other than from Seeking Alpha). I have no business relationship with any company whose stock is mentioned in this article.