The change is inevitable and happens in every industry. The U.S. processed food industry is no exception, and the shift in consumer preferences is urging the market players to transform their product portfolios. Most of the food makers are revamping their recipes, and the center point of their strategy is to align their products with consumer requirements. Like most of its peers and other food companies, Kraft Heinz (NASDAQ:KHC) also announced it is to go 100% cage-free in North America by 2025. As nutritional values are better in cage-free eggs, using those eggs within its sauces portfolio would complement the company's ongoing series of big bets.
Using cage-free eggs looks like a catching-up practice, but the management is taking some much-needed decisions, including aggressive cost cuttings and investing in growth categories. So far, Kraft Heinz's progress is pretty encouraging under the new umbrella. However, the ongoing initiatives will need more time before Kraft Heinz start bearing fruits.
The Initiatives
The company's pro forma net sales fell 5% during the fourth quarter of 2015 primarily due to 3.8% decline in volume mix despite some positive performance from core brands. On the contrary, improved price discipline, productivity gains, and $125 million in cost savings magnified the profit margins in 2015. Zero-based budgeting, revenue synergy, working media spending, and big bets are the tools Kraft Heinz is relying on, but the potential cost savings of $1.5 billion in 2016 and 2017 will have the prime impact on profit margins.
Slashing the costs cannot generate value for the shareholders in the long term, but Kraft Heinz has a well-diversified portfolio of brands, which could enable the company to accelerate steady and sustainable growth. Although Kraft Heinz suffered from lackluster volumes, the performance of core brands has remained convincing. According to Statista, Heinz Ketchup holds the bigger chunk of the U.S. market. As domestic market accounts for 70% of the top-line, the increasing focus on growing categories will improve the overall revenue stream of the company.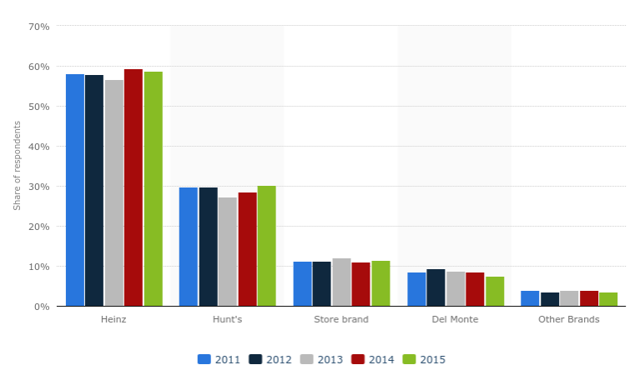 Source: Statista
The U.S. condiments and sauces dressings market is forecasted to grow at a CAGR of 3% between 2015 and 2019. Kraft Heinz, which has emerged as a powerhouse, holds 13% value share of the U.S. sauces, dressings and condiments market. The favorable industry dynamics, new recipes, and expansion new products, such as Heinz Yellow Mustard, pasta & hot sauces, would help to accelerate healthy sales growth.
The company's stance is not to flood the market with new products, and it makes sense. Instead of increasing the numbers, it is important to introduce a few quality products that are capable of building a loyal customer base. While trying to execute successful big bets in the domestic as well as international markets, Kraft Heinz is improving the recipes by removing the preservatives or synthetic colors, as it is doing with Mac & Cheese, which would also improve the customer perception.
According to Beverage Marketing Corporation, the U.S. liquid refreshment beverage market witnessed 2.8% increase in volumes during 2015, the highest growth in five years. However, the beverages business seems to be the weak point of Kraft Heinz. Tassimo coffee gained market share due to increasing coffee consumption in the U.S., but ready-to-drink and powdered beverages registered falling volumes. Perhaps Kraft Heinz has less brand appeal in beverage business against competitors. Kraft Heinz needs quality products, such as recently released CapriSun organic juices, and smart marketing to better compete with beverage giants such as PepsiCo (NYSE:PEP) and Coca-Cola (NYSE:KO). Food & beverage industry is very competitive these days, and market players are spending more dollars on smart marketing to stand out from the crowd. Kraft Heinz is no different as it plans to spend more than $50 million on working media this year in the U.S. to highlight big bets.
Kraft Heinz is a multinational player, but its international markets exposure is comparatively less. With more than 34.5% share of the global sauces and condiments, European markets are in leading position while Kraft Heinz generates only 9% of total sales from those markets. I don't expect a dramatic expansion in international markets, but healthy demand in European markets coupled with new sauces and existing products would be the leverage for Kraft Heinz.
In my opinion, it might be hard to compete with well-established players in European markets, but it would be comparatively easy to strengthen footings in the emerging markets. Condiments sauces market in Asia-Pacific is expected to grow at a CAGR of approximately 6% to reach $8.6 billion by 2020. Kraft Heinz is already performing well in emerging markets, and increasing per capita income in China and India will catalyze demand.
In the previous article, I wrote that new initiatives require time to materialize, and my opinion is still the same to some extent. Kraft Heinz's performance was satisfactory in the previous quarter, but the first quarter 2016 results will paint a better picture. The market share loss in frozen meals, lackluster performance of ready-to-drink and powdered beverage may hammer the top-line, but new products and core brands could stabilize the top-line in 2016.
What About Valuation?
On adjusted pro forma basis, Kraft Heinz reported $2.19 per share earnings for the fiscal year 2015. The consensus estimates earnings per share of $2.94 for the fiscal year 2016, which will be an increase of approximately 34%, and cost savings will be the major driving factor of that increase. Although Kraft Heinz can surprise with its performance in the coming quarters, the stock's valuation is high. Kraft Heinz is currently trading at a forward price to earnings multiple of 26.8 times for 2016 and 21 times for 2017. While consumer staples sector is trading at forward price to earnings multiple of 20.7 times, the valuation metric for S&P 500 index is 16.1 times. Clearly, the valuation is a major concern for defensive investors.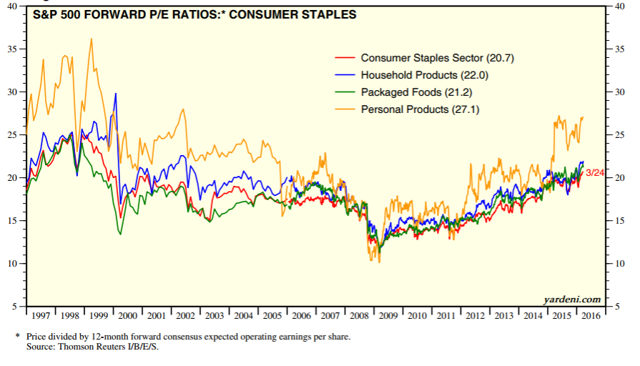 Source: Yardeni
Kraft Heinz has bright spots, which can support the current valuation levels. For instance, the company has yet to realize the full benefits of cost savings program, which will boost the profit margins. The merger dust has settled, thus, focus on industry dynamics and big bets will enable the company to unlock the growth potential. On the other hand, unlike most of the food and beverage companies, Kraft Heinz's debt to equity ratio of 44% is at a comfortable level while its cash flows position is healthy. The company has slashed a significant portion of the debt from its balance sheet and plans to reduce leverage to less than three times adjusted EBITDA over the medium term. Stable cash flows and the reduced financial burden will enable Kraft Heinz to hike the dividends, though its current dividend yield of 2.93% is decent. There are concerns about Kraft Heinz, but the company has the potential to deliver growth, and the long-term investor can enjoy healthy returns.
Disclosure: I/we have no positions in any stocks mentioned, and no plans to initiate any positions within the next 72 hours.
I wrote this article myself, and it expresses my own opinions. I am not receiving compensation for it (other than from Seeking Alpha). I have no business relationship with any company whose stock is mentioned in this article.