Tesla (NASDAQ:TSLA) finally hit the mark dead center with its new Model 3. Pre-orders have already passed 250,000. That is more orders than Tesla has shipped vehicles since the first Tesla rolled off the assembly line.
The question is whether Tesla can make money with its $35,000 car. I think it can and will.
Even in its pre-production concept clothing the Model 3 is a gorgeous car.

Source: Tesla
With demand at 250,000 units Tesla will achieve the production economies of scale typical of Ford and General Motors plants. Anyone who has spent any time in a car assembly plant knows just how important scale of production is to assembly costs - and a line running three shifts at 65 jobs per hour can achieve output of 250,000 annual units.
The scale of production offered by the Model 3 demand will make its way back into battery manufacture as well, and lower those costs. With its simple drive train (a transaxle mounted electric engine) and clean lines, Tesla designs are relatively simply to assemble, avoiding the complex engine-transmission-fuel-exhaust systems found in gasoline engine vehicles.
It is not hard to see margins of 30% on a Model 3 Tesla at full production rates. Assuming only 150,000 Model 3 vehicles sold in 2018 together with 50,000 Model S and 30,000 Model X, I project Tesla could earn as much as $13.70 per share at annual rate by 2018.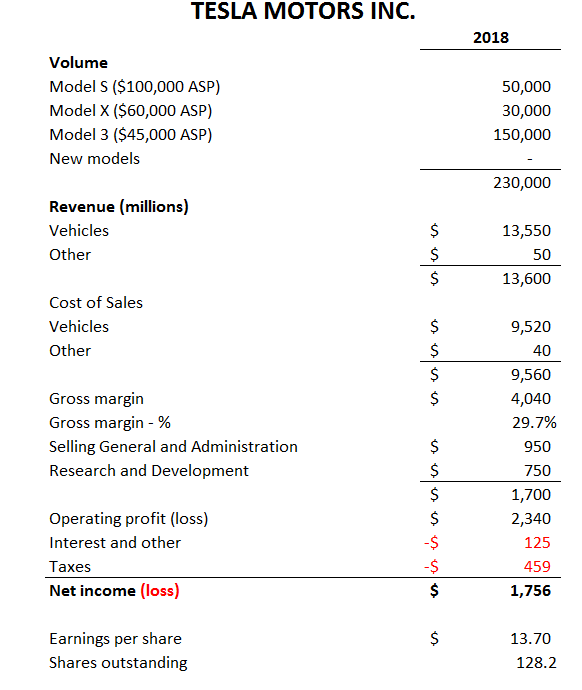 My projections are higher than most analysts for two reasons. First, I am projecting 2018 and most analysts don't project beyond 2017. 2018 will be the first full year of Model 3 production. Also, I don't think the street has given enough pause to the extraordinary leverage that comes from volume in the automotive world.
In any event, with the driving public embracing the new Model 3 as strongly as shown by the immediate surge of pre-orders, Tesla can confidently move ahead with a reasonable expectation of several years of very strong growth. I think a price to 2018 earnings multiple of around 25 is in the ballpark of sensibility. That puts a value of over $340 per share on TSLA stock. At its current price of about $240, Tesla stock is a BUY for aggressive growth investors who can stand the risks.
Like all growth stocks, Tesla shares are likely to be volatile and vulnerable to any slippage in projected growth. That said, I think Tesla shares are a good speculation on the success of its new car.
Disclosure: I/we have no positions in any stocks mentioned, and no plans to initiate any positions within the next 72 hours.
I wrote this article myself, and it expresses my own opinions. I am not receiving compensation for it (other than from Seeking Alpha). I have no business relationship with any company whose stock is mentioned in this article.