The U.S. telecommunications or "telco" industry is largely a duopoly with the two major players being AT&T (NYSE:T) and Verizon Communications (NYSE:VZ). The telco sector has typically been a safe haven of sorts for investors due to the stable nature of the companies and of course the high current yield.
Verizon has long been a favorite for dividend growth investors for that very reason. With an 11 year dividend growth streak and plenty more to come, Verizon has earned the title of Dividend Contender.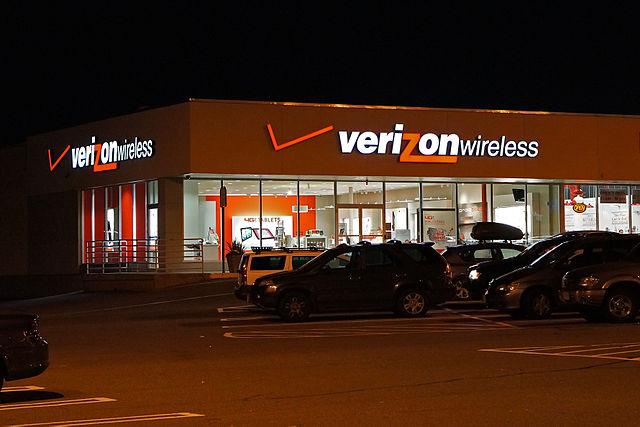 Since initiating a position in Verizon just over 2 years ago I've been more than happy with the results. I've received over 7% of my investment back in cold hard cash and generated over a 9% rate of return. Even better is the two dividend increases that have grown my income by 6.6% at a time when cumulative inflation, according to US Inflation Calculator, has amounted to just 0.2%.
However, After reaching an intraday low of $43.79 on January 20 Verizon Communications share price has since increased over 23% to Friday's closing price of $54.02. The rapid share price appreciation has led me to question whether I should consider taking some profits.
It's important to remember that price does not equal value. The share price only represents the price others are willing to pay for those shares, but does not always reflect the value of the company in question.
Prior to making any changes to my portfolio I always stop and make sure that the logic behind the decision is sound. Sure I could lock in a good short term gain on these shares but that doesn't mean it's the right investment decision. So I always compare the share price in terms of the value that it represents before moving forward on a decision to sell.
How About That Dividend?
The telecommunications sector traditionally offers solid yields and steady dividend growth year after year. Verizon Communications is no exception increasing the annual dividend payment to shareholders for 11 consecutive years.
The following chart shows the annual dividend payment from Verizon Communications from 2001 through 2015 based off fiscal year payments.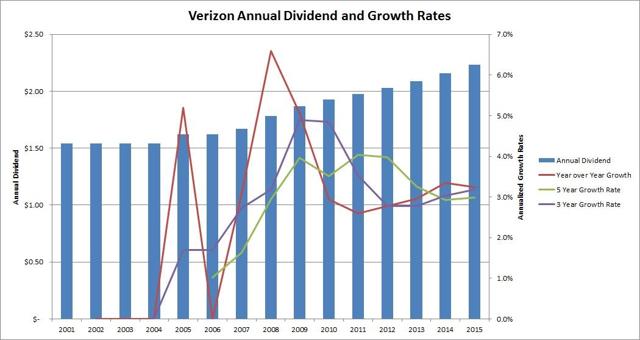 Dividend growth hasn't been spectacular with most annual increases over time falling around 3%. That's fine though since you make up for it with a high current yield that sits at 4.2% as of Friday's close. Going forward dividend growth is likely to continue marching forward in the 2-3% range on an annual basis due to the high debt load that management needs to decrease.
Historic Metrics
Despite the headwinds for the company, declining wireline users and heavy price competition, Verizon has shown a remarkable ability to continually grow the top line. Revenues have only shown one year over year decline, 2010 compared to 2009, which only amounted to a 1.2% decrease.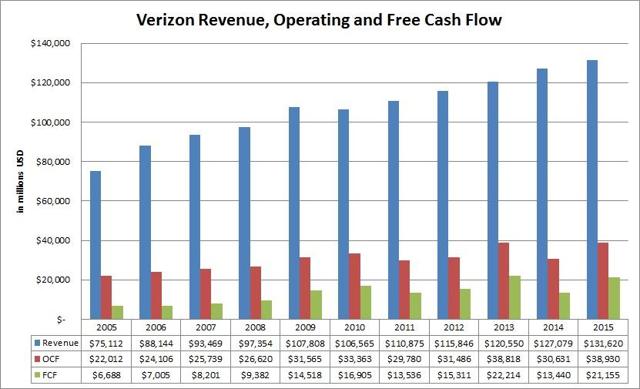 The steady march higher in revenues and cash flow is what fuels Verizon's slow but steadily increasing dividend.
Operating cash flow margin has essentially been flat over the period and ended 2015 at 29.6%. However, free cash flow margin has increased over 80% since 2005 and ended 2015 at 16.1%. That's a very encouraging sign since it means that Verizon is able to generate higher levels of free cash flow as a percentage of operating cash flow.

For the last 3, 5 and 10 year period Verizon has maintained solid operating cash flow margins of 28.6%, 28.0% and 28.3%, respectively. Free cash flow margin has averaged 15.0%, 14.1% and 12.6%, respectively, for the same time periods.
Even more impressive is that Verizon has managed to increase it's already stellar FCF / OCF ratio. Through the end of 2015 the 10 year average is 44.2%, the 5 year average 49.9% and the 3 year average is 51.8%.
Companies such as Verizon typically don't fit into the traditional GAAP income statement due to their large non-cash depreciation and amortization expenses. Due to that I like to look at a few variations of free cash flow to see how much cash management has at their disposal at each step of the process.
Free Cash Flow, FCF - The traditional calculation for free cash flow of operating cash flow less capital expenditures.
Free Cash Flow after Dividend - FCFaD - FCF less the total amount of cash paid to shareholders via dividends.
Free Cash Flow after Dividend and Buybacks, FCFaDB - FCFaD less net cash from share buybacks.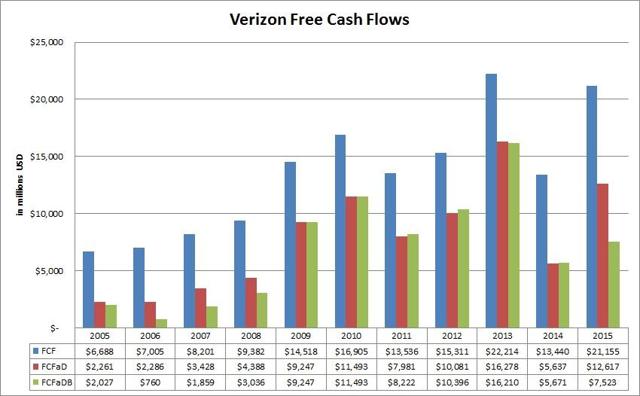 Verizon's free cash flow generation is impressive and remains strong after rewarding shareholders through dividends and net buybacks. Between 2005 and 2015 free cash flow increased by a factor of 3.2. Even after growing the dividend every year the FCFaD has increased 5.6 times. That's led to an improving free cash flow payout ratio over 66.2% in 2005 to just 40.4% for 2015.
Verizon hasn't traditionally opted to use share buybacks as a source of capital return to shareholders returning a net total of $9.25 B over the entire period. Despite the available FCFaD to implement a hefty buyback program the debt load will limit that as an option until the debt can be reduced.
The following table shows the rolling 3 year annualized growth rates for revenue, operating cash flow, capital expenditures and free cash flow.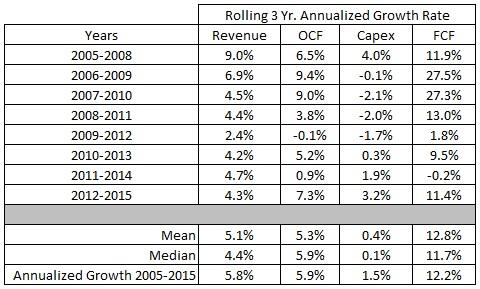 As we've seen throughout Verizon has done a great job at generating free cash flow. Growth in operating cash flow has essentially kept pace with growth in revenue; however, since the network build-out is essentially complete growth in free cash flow has been stellar.
Determining A Value For Verizon
The share price for a company does not necessarily correspond to the value of that share. In order to be successful with investing over the long term you must be aware of the difference between price and value so you can capitalize on mispricing opportunities.
The value of a company is determined by the future cash flows it can generate and discounting them to the present. This process is the discounted cash flow analysis. Before we get started with the valuation let's run through some general information and requisite assumptions.
The current share price is $54.02.
Analysts expect revenue to contract 0.10% for 2016 over 2015, but grow 0.40% for 2017 over 2016.
Assume that total revenue will grow at a 2.0% annual rate for years 2018 through 2025 and at 1.5% in perpetuity.
A discount rate or required rate of return of 10% will be used in order to calculate the net present value of the cash flows.
Diluted shares outstanding at the end of 4Q2015 were 4,087.
Capital expenditures will grow at 3.5% annually through 2025 and then track revenue growth in perpetuity. Management expects capital expenditures in year 1, 2016, to range between $17.2-17.7 B.
Case 1 - Minimum OCF Margin from the 3 year, 5 year and 10 year averages from above. This gives a OCF margin of 28.0% and Year 1 Capex of $17.2 B.
Case 2 - Maximum OCF Margin from the 3 year, 5 year and 10 year averages from above. This gives an assumed OCF margin of 28.6% and Year 1 Capex of $17.2 B.
Case 3 - Minimum OCF Margin of 28.0% and Year 1 Capex of $17.7 B.
Case 4 - Maximum OCF Margin of 28.6% and Year 1 Capex of $17.7 B.
Case 1: Minimum OCF Margin & Minimum Year 1 Capex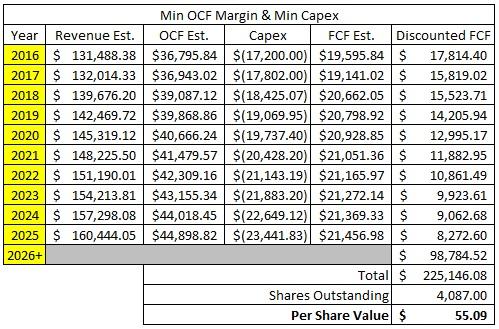 Case 2: Maximum OCF Margin & Minimum Year 1 Capex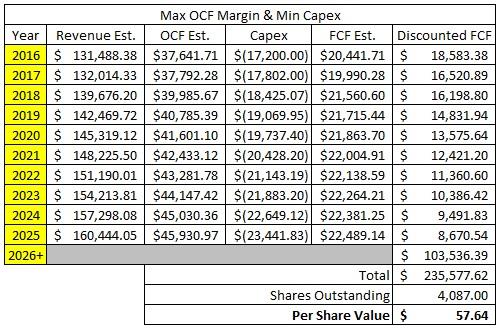 Case 3: Minimum OCF Margin & Maximum Year 1 Capex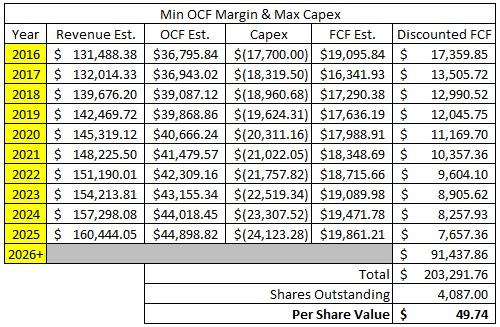 Case 4: Maximum OCF Margin & Maximum Year 1 Capex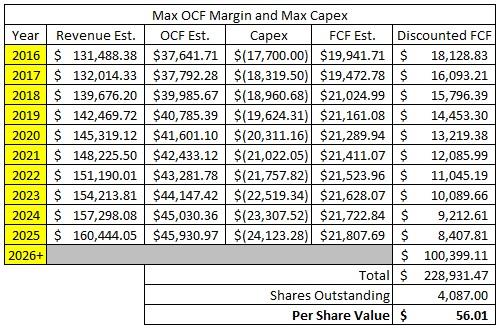 Verizon is currently trading between a 6% discount and 9% premium across all 4 cases in order to generate a 10% annualized return.
Issues With The Model
One thing that I've learned in my investing lifetime is that the future is far from certain. Too often I see authors/analysts speak in absolutes when it comes to analyzing companies that have millions of variables that can effect their future. For the sake of being open and honest I like to point out some potential issues with the valuation model. Plus it helps me to continually improve my own valuation methods.
Issue #1
This model is predicated on static operating cash flow margins and free cash flow generation. In reality these metrics will vary on a quarterly basis. However, the past history is a good guide for the future of a stodgy slow growth company.
If margins increase in the future the current value of the company is higher than presented here. Likewise the opposite is true and lower future cash generation would leaded to a decline in the current value.
Issue #2
This model is highly predicated on future revenue assumptions. Over the next 10 years revenue is assumed to grow at 2.5% annually which is well below the 5.8% annual growth between 2005 and 2015. However, the domestic market is nearly saturated when it comes to wireless/mobile customers and wireless service has largely become a commoditized service in most areas of the country. The commoditized nature of mobile data has led to a focus on pricing to win customers which will mean the lowest cost providers are likely to win out over the long run.
Issue #3
This model does not account for the large debt load that needs to be addressed. As of the end of fiscal year 2015 Verizon had $110 B in debt on its books with over $32 billion due over the next 5 years.
| | |
| --- | --- |
| Year | Debt Due (in millions USD) |
| 2016 | $6,325 |
| 2017 | $4,195 |
| 2018 | $7,072 |
| 2019 | $5,645 |
| 2020 | $8,860 |
| Total | $32,097 |
That's a large debt load and potentially a sticking point as the debt must be paid back or rolled over to new debt. Management has continued to point out their desire to lower the debt load so let's look at whether the cash flow can support full debt payment or if it will need to be rolled over through new debt issuances.
Assuming the worst case scenario, Case 3 from above, in terms of cash flow generation and 2% annual dividend growth Verizon would generate over $40.2 B in excess cash flow after paying the dividend in order to service the debt. Management could fully retire the debt that will come due over the next 5 years and have approximately $8 B in excess cash to repurchase shares or increase the dividend above the 2% annual levels.
Conclusion
Verizon has long been a sought after company for dividend growth investors. With a dividend yield typically in the 4-5% range and steady growth year after year there's a lot to like.
Investors must remember to decouple share price changes from the actual value of the shares. Based on the current prices being offered in the market Verizon is priced to deliver excellent annualized returns should the cash generation of the company follow that used in this valuation model.
There's not much in terms of a margin of safety; however, Verizon is a stable and stodgy company that should continue to experience slow but modest growth over time. Verizon's strong cash generation will allow them to continue to reward shareholders with adequate returns. At this time I'll continue to hold my shares of Verizon and collect the dividends while the company continues to work on my behalf.
Disclosure: I am/we are long VZ.
I wrote this article myself, and it expresses my own opinions. I am not receiving compensation for it (other than from Seeking Alpha). I have no business relationship with any company whose stock is mentioned in this article.
Additional disclosure: I am not a financial professional. Please consult an investment advisor and do your own due diligence prior to investing. Investing involves risks. All thoughts/ideas presented in this article are the opinions of the author and should not be taken as investment advice. Information from this article was sourced from Yahoo Finance and Verizon Communication Inc.'s SEC filings. All chart/images presented in this article were created by the author unless otherwise noted.