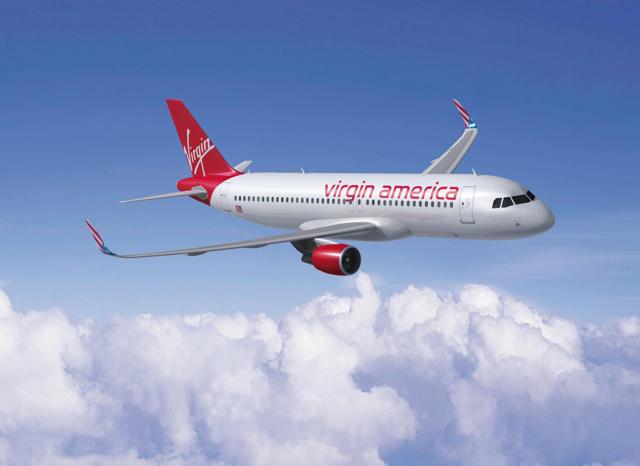 Img 1: A Virgin America Aircraft
The Wall Street Journal is reporting that Alaska Airlines (NYSE:ALK) has made close to a $2 billion bid for Virgin America (NASDAQ:VA) with a deal expected to be announced Monday. American Airlines (NASDAQ:AAL) should be the biggest third party beneficiary if such a deal does indeed come through.
American Airlines - Alaska Airlines Partnership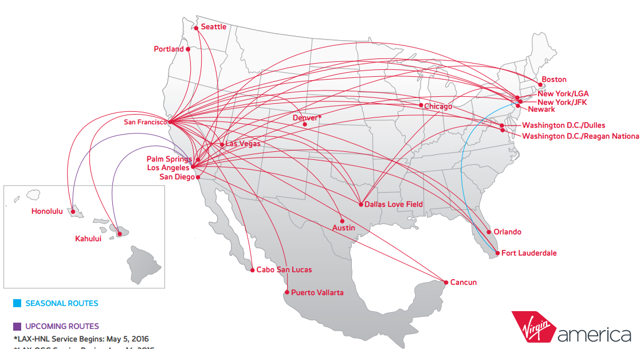 Img 2: Virgin America route map
American Airlines and Alaska Airlines have an extensive partnership in place that allows the two airlines to transfer passengers onto each others network and gives members of American Airlines that have status the equivalent on Alaska Airlines and vice versa. It gives American Airlines access to Alaska Airlines extensive network on the West Coast of the United States/Canada and in Alaska, both areas American Airlines is much weaker. A deal between Virgin America and Alaska Airlines will expand the Alaska network substantially, especially in San Francisco and give American Airlines indirectly also a much larger network. The major benefit for American Airlines is it gets these benefits while putting up zero cash and being exposed to zero risk from such an acquisition. American Airlines already sends 5,000 passengers per day, or about 2% of their total passengers onto Alaska Airlines and this was before the American Airlines and U.S network combined.
| | | |
| --- | --- | --- |
| | Alaska Airlines | Alaska Airlines + Virgin America |
| Los Angeles | 5% | 11% |
| SAn Francisco | 4% | 15% |
Table 1: Market share per airport before and after acquisition
Another area Alaska and in turn American Airlines will see a substantial benefit is at Los Angeles. Alaska Airlines will more than double its share, something that could be valuable to American Airlines as it seeks to grow Los Angeles into a large Asia/Pacific hub and could benefit from the domestic connections from Alaska Airlines. In fact in total America Airlines + Alaska Airlines + Virgin America would have a combined market share of 31%, placing them well above Delta who is number 2 with 17%.
The only issues in such a deal will be Virgin America's presence at Dallas Love Field. Virgin America recently opened a hub there and has been working aggressively to build up a large operation. There have been reports of Virgin America having difficulty filling flights however and it has resorted to heavily discounting flights out of the airport that has in turn hurt American Airlines at its largest hub in Dallas Fort Worth. Such a deal will give Alaska control of the Love Field gates, however it may choose to sell them to another airline rather than compete with one of its top partners and loose money trying to build a hub there.
Corporate Contracts
Img 3: San Francisco, Virgin America's largest hub
Corporations generally look for airlines that can serve their travel needs best in all of the locations that their employees will need to travel to, as opposed to looking for the cheapest price. As airlines are able to capture more corporate traffic, they can focus less on leisure, price orientated traffic which should in turn lead to higher margins.
American Airlines will be a much stronger competitor when vying for corporate contracts from firms in the Los Angeles and San Francisco region in any Alaska Airlines - Virgin America deal. America Airlines can boast in Los Angeles of its massive size between it, and its partners Alaska Airlines and Virgin America. For the first time ever in San Francisco, American Airlines will be a much stronger competitor through Alaska Airlines and American can tout this to win corporate contracts. These two cities have a large amount of high value traffic so the stronger American Airlines can be in these markets, the better.
Conclusion
Despite Deutsche Bank saying to sell American Airlines on Friday I believe a deal between Alaska and Virgin America would make American Airlines a stronger buy than it already is. I was confused when Deutsche Bank upgraded Republic to a buy with a $8 price target a mere 6 months before the airline entered bankruptcy with the stock falling to $1.86 and I am just as bewildered by the bank downgrading American Airlines on Friday. American Airlines may be the best stock in fact to buy to take advantage of an Alaska Airlines - Virgin America deal while avoiding all the risk and integration issues.
Disclosure: I am/we are long AAL.
I wrote this article myself, and it expresses my own opinions. I am not receiving compensation for it (other than from Seeking Alpha). I have no business relationship with any company whose stock is mentioned in this article.