By Kristina Hooper, Steve Malin and Greg Meier
Record-Breaking Growth of US Workforce
Size of labor force hits new high
while participation rate rises sharply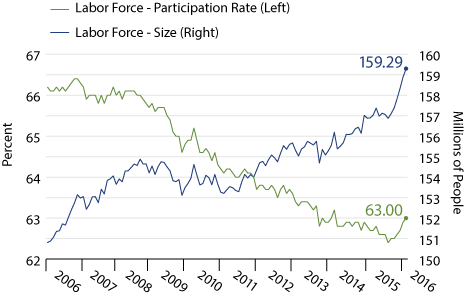 Sources: US Bureau of Labor Statistics; Allianz Global Investors.
Data as of March 31, 2016.
Record number of US workers - While nonfarm payroll gains and unemployment figures will steal most of the media headlines, the big story behind Friday's jobs report is continuing rapid growth in the size of the US labor market. The labor force expanded to a new record of 159.2 million workers in March. Put differently - outside of the tech bubble in the late 1990s - we currently are in the midst of the broadest expansion of the US workforce since at least 1948.
Unemployment rate ticks up in face of workforce expansion - The rapidly growing number of workers has helped stall the decline in the overall jobless rate (which is a ratio of the number of unemployed workers in the workforce). This explains why the unemployment rate increased last month to 5.0% from 4.9% in February.
Increased labor force participation signals broad strength - In addition to dampening overall joblessness, the increase in the labor force has helped reverse declines in the labor force participation rate, which rose to a 2-year high of 63% last month. Participation has been in a structural decline since the late 1990s, and - all else equal - it should actually be falling as baby boomers retire from the workforce. Expanded labor force participation reflects the broadening strength in job market conditions.
Why wage gains remain tepid - The ability for companies to hire new entrants to the workforce - instead of fighting for current workers - is a significant factor keeping a lid on wage growth. Average hourly earnings increased 0.3% in March - reversing the surprise 0.1% decline in February. The latest figure is above the 0.2% Bloomberg consensus forecast, but not much higher than gains over the past several years. On an annual basis, wage gains held steady at 2.3%.
Job gains continue winning streak - Non-farm payrolls last month continued to increase at a 200,000-plus pace. In fact, job gains exceeded 200,000 in five of the last six months. Continuing a recent trend, there were job losses in manufacturing and mining, which are typically higher paying, and gains in retail and healthcare, which are typically lower paying. However, we did see gains in construction, which is also typically higher paying, and reflects strength in housing.
Outlook
While the US labor market continues to expand strongly, the broader economy has hit a soft patch. The Atlanta Fed's GDPNow forecast suggests just 0.7% growth in the first quarter - continuing a downward trend from 1.4% in the fourth quarter of 2015, 2.0% in the third quarter and 3.9% in the second quarter. While Friday's jobs report may not move the needle with regard to the outlook for rate hikes by the US Federal Reserve, continued labor market resilience should take some of the heat off broader economic concerns.